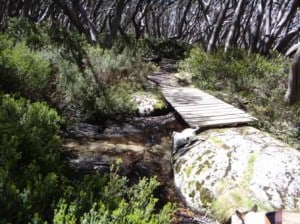 Upper Yarra Walking Track: Update 1:
I reckon the best approach to this track for most people would be to catch a train to Moe, then a taxi to Erica. MTE have a charter service: http://www.mountaintopexperience.com/ If there are four hikers this should not cost more than @ $30 ea. Walk along the old railway line to Walhalla. Maybe catch the train from the station at the Thomson River bridge if it is running that day. Spend the rest of the day (or two) exploring Walhalla and surrounds. Camp at Walhalla that night. Then head off past the Long Tunnel Mine towards Poverty Point, heading for Warburton where there is public transport back to Melbourne. There is secure water (and good camps) at O'Shea's Mill, along the Baw Baw Plateau, from the Thompson River in Newlands Rd and at the Link Rd Recreation grounds on the corner of Toorongo Rd. You should have the maps and App I recommended in my post on 29/11. It will probably take you 3-4 days to get to the camp at the secure water on the Forty Mile Break Rd about 5km short of Mt Horsefall. The next day you would aim to get to the the Ada Tree. There is running water 1 km down the Lock North Track, at a dam 1 km before the 15M track & running water at the corner of Lashos Track; afterwards PLENTY. DO IT! This will be just about the best week of your life!
Upper Yarra Walking Track: update 2:
I suggest you spend a Nov-May weekend first checking it out, as follows: Drive to Walhalla; after you have looked around there, go back to Rawson, then North to the Mt Erica/Mushroom Rocks Rd (off the Thompson Valley Rd North of Rawson). Take a walk all the way to Talbot Peak (about .5 km past Mt Erica – return @ 3 hours). Drive to the lovely little village of Tanjil Bren via the South Face Rd (you will have already passed it (sign says 'Baw Baw thataway). On the way you can check out Mt Baw Baw & hike across to StGwinear or at least to the top (intersection with the Australian Alps Walking Track) if you like. Go through Tanjil Bren, take the Link Rd (right) to Toorongo @ 5km along. Turn left into Toorongo Rd then right onto the Forty Mile Break Rd. Turn left down Boundary Rd, right onto McCarthy Rd, left onto Big Creek Rd, left (follow the signs) to the Ada Tree. Take a 3.5km walk there. Go home down the New Turkey Spur Rd until it joins the Powelltown-Noojee Rd or follow Big Creek Rd, Brahams Rd and Mississippi Rd back to Big Pat's Creek & Warburton. These are ALL 2WD roads. Rooftop's 'Yarra Valley – West Gippsland Adventure Map is excellent ($12). I have some advice and gear recommendations @ HIKING on my blog (Ultralight Hiking).
This post has long since been superseded.
See also:
http://www.finnsheep.com/THE%20UPPER%20YARRA%20WALKING%20TRACK.htm