Last Monday we spent 'beating around the bush' near Downey (Tanjil Bren area). Downey is another one of those 'lost' towns of the Victorian mountains. Pretty much all that remains is this huge sawdust heap in the forest: how many woodland giants went to make it up I wonder? Mostly the trees milled here were fire killed mountain ash from the vast 'Black Friday' fires of 1939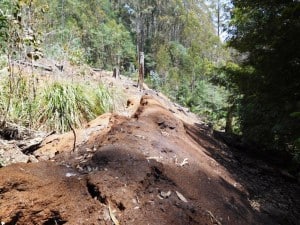 We were looking for a 'closed road' which shows on the map Noojee North T8122—3-N. The GPS claimed it crossed the river around about here, but there was no sign of it.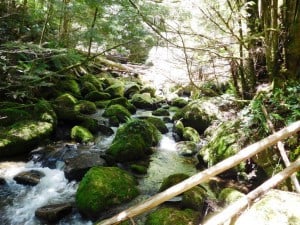 West Tanjil River.
Turns out the GPS and map are seriously 'out of kilter' in this small area of map. I have found this before, eg on my walk to Mt Darling last year (http://www.theultralighthiker.com/snowy-bluff-mt-darling-wilderness/) I guess up to a km wrong! This meant I did a fair amount of bush bashing no doubt along what had once been old snig tracks etc, finding nothing but photo ops. This GPS inaccuracy may be because the phone cannot 'see' all the satellites on account of heavy tree cover, proximity to mountains to the North & etc. I have had the same experience with satellite phones. Epirbs no doubt also have this problem! It draws the lesson that you always need to be able to find your way with your unaided intelligence and experience.
Finally we managed to locate the spot where the 'road' had crossed the river. Several huge pipes still lying in the river bed over which we were able to clamber without even getting our feet wet. This was on the way back actually. On the way across we took off our shoes and waded in our Crocs, as it did not appear we could make it dry-footed across the pipes. The water was so chill Della practically had a seizure. Sissy!
After we had crossed the old road was easy to see and we followed it a couple of kms up the mountain, but not quite as far as Newlands Rd. In places the way was unclear as it was very overgrown, whilst in others three semi-trailers could have passed easily. There were huge cuttings where there roar would have echoed mightily long ago.
Disease can sometimes look beautiful: observe this amazing gall.
Della has not quite recovered from her (second) eye operation, so we turned back without having found our way to Frangipani Saddle where this route meets the 'Upper Yarra Walking Track' thus completing our 'Winter Route'. There is always room for another adventure. It will most likely be a couple of weeks before we get back as we are working in the kids' store Xmas-New Year. The path is  marked the path (with tape) from the end of the driveable section of Saxtons Rd (which begins in Tanjil Bren), so you may have a chance to finish our exploration before we do. Be sure to also check out the 'Tramway Falls http://www.theultralighthiker.com/kirchubel-if-you-go-nowhere-else-in-the-world-at-least-go-here/ on the left fork (this one is the right fork: PS: the map is more or less correct; it is the GPS location which is wrong).
http://www.theultralighthiker.com/western-tyers-river-great-for-crays/
http://www.theultralighthiker.com/the-western-tyers/
http://www.finnsheep.com/THE%20UPPER%20YARRA%20WALKING%20TRACK.htm
http://www.theultralighthiker.com/upper-yarra-track-update-section-one-moe-yallourn-rail-trail/
http://www.theultralighthiker.com/upper-yarra-track-update-section-three-wirilda-to-moondarra/
http://www.theultralighthiker.com/upper-yarra-track-section-four-moondarra-to-erica/
http://www.theultralighthiker.com/upper-yarra-track-summary-cumulative-distancestimes/
http://www.theultralighthiker.com/upper-yarra-track-osheas-mill/
http://www.theultralighthiker.com/a-beautiful-world/
http://www.theultralighthiker.com/upper-yarra-track-winter-route-caringal-scout-camp-tyers-junction/
http://www.theultralighthiker.com/upper-yarra-track-winter-route-western-tyers-morgans-mill-skinners-camp/
http://www.theultralighthiker.com/upper-yarra-track-winter-route-western-tyers-to-tanjil-bren/
http://www.theultralighthiker.com/kirchubel-if-you-go-nowhere-else-in-the-world-at-least-go-here/