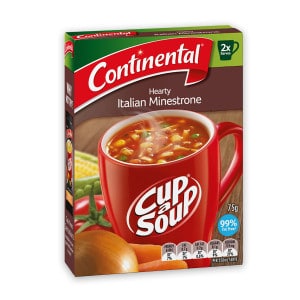 & Hearty Garden Vegetable CupaSoups Soups: I have long lamented the dreadful quality (and undeserved price) of pretty much all backpacking meals. That's why I have largely concentrated on recommending good supermarket meals which fill the bill: well-priced, tasty and nutritious, good calories per gram ratios, quick, energy efficient and easy to prepare & etc. I previously noted this tasty combo: http://www.theultralighthiker.com/hiking-food-soup/
The nutritional info on the Minestrone (& etc) packets is very handy. The current Minestrone (75 grams = 147 calories) recommendation is as follows: add 3 large teaspoons full of Hormel Real Bacon Pieces (20 grams = 75 calories) and a slightly larger quantity of Continental Deb Instant Mashed Potato (great for thickening and adding nutrition – 20 grams = 15 calories). In total we have 110 grams and 237 calories and 2.15 calories per gram. One serve would be fine for breakfast/lunch; two would make a reasonable, tasty meal!
Tip: If you enjoy a bit of tang add eg half a teaspoon full of curry powder or some harissa. Such spices can be carried in mini snaplock bags such as are available on eBay for just a couple of dollars per hundred.
Hardly any fuel needed to bring a cup of water to the boil (approx 8 ml metholated spirits). For further food suggestions try typing 'food' into the search facility at the top right hand corner of the page.