We found this soup to be just about the most delicious we have ever eaten at home – and we eat a lot of soup, so just imagine how delicious it will be on the trail. Again it uses Continental French Onion Soup as a base and makes use only of dehydrated ingredients (or ingredients which will not leak, or which can be 'caught' on the trail).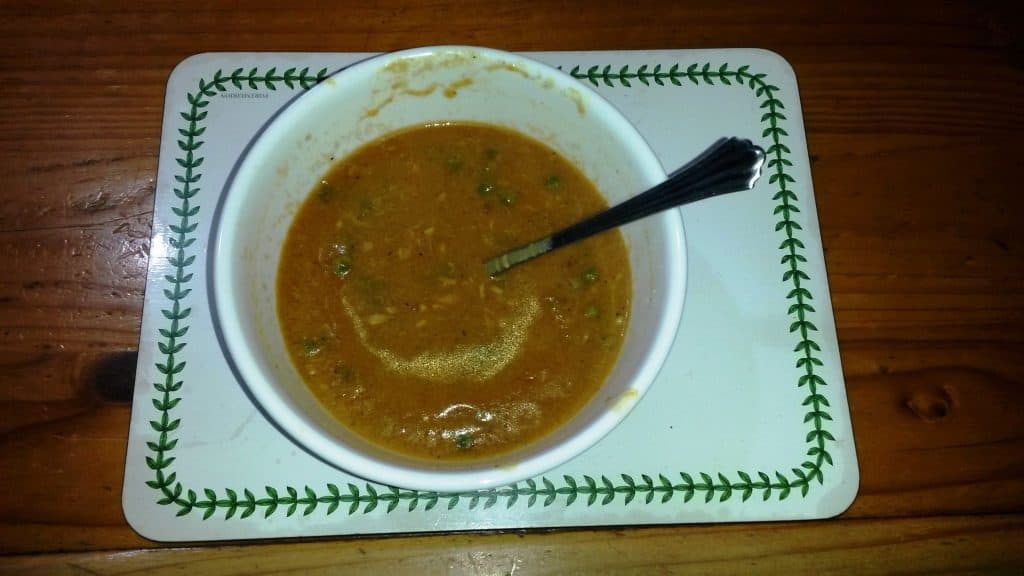 1 Litre water
25 grams of Coconut Milk Powder (comes in 50 gram aluminium sachets. You could use the whole sachet)
50 gram sachet Tomato Paste.
40 gram packet of Continental French Onion Soup
2  Teaspoons (Clive Of India) curry powder
1/2 Teaspoon ground black pepper
Bring to the boil
Add
100 gram sachet Safcol Yellowfin Tuna
16 teaspoons Surprise Peas
Simmer 5 minutes
Add (slowly, stirring as you go) approx 12 Teaspoons Continental deb Mashed Potato.
Serve and eat. Try this at home. You will be delighted.
PS: My daughter, who is more a coconut than a curry person says, 'Halve the curry and double the coconut'. You might try that if you think your tastes are more that way. If you don't like fish (what?) you might also try the recipe with a can of this: http://www.theultralighthiker.com/backcountry-meat/ The cans would also be perfect for a 'Supercat Stove': http://www.theultralighthiker.com/supercat-hiking-stove/
See Also:
http://www.theultralighthiker.com/steves-ultralight-fish-chowder/
http://www.theultralighthiker.com/hand-line-fly-fishing
http://www.theultralighthiker.com/hiking-crayfish-bisque/
http://www.theultralighthiker.com/the-ultralight-fisherman/
http://www.theultralighthiker.com/ultralight-coconut-fish-curry/
http://www.theultralighthiker.com/hand-line-fly-fishing/
http://www.theultralighthiker.com/a-ball-of-string-and-a-feed-of-cray/