I have completed my poncho tent in 1 oz/yd2 silnylon. It weighs a mere 185 grams – as you can see, and fits in my pocket – as the name suggests and the pictures show! This may be the smallest tent in the world unless I make it out of .32oz/yd2 cuben fibre, in which case it will weigh about 75 grams and probably fit in my fob pocket! It requires 9 pegs (54 grams) and two guys to set it up in front of a warm fire. I will be making the zip-in front door soon which will allow it to be shut down for storm mode (approx 50 grams), and I will be making my Bathtub Groundsheet Lounger Chair for it which will weigh under 100 grams http://www.theultralighthiker.com/bathtub-groundsheet-chair/. This complete shelter/groundsheet/chair will then weigh approx 380 grams (but will also double as your raincoat) making it probably the lightest tent in existence. I still have a bit of work to do around the hood, hood reinforcing and some pockets to hold the pegs, a mylar poncho and maybe a couple of space blankets.
This will clearly keep me dry in the heaviest of rain: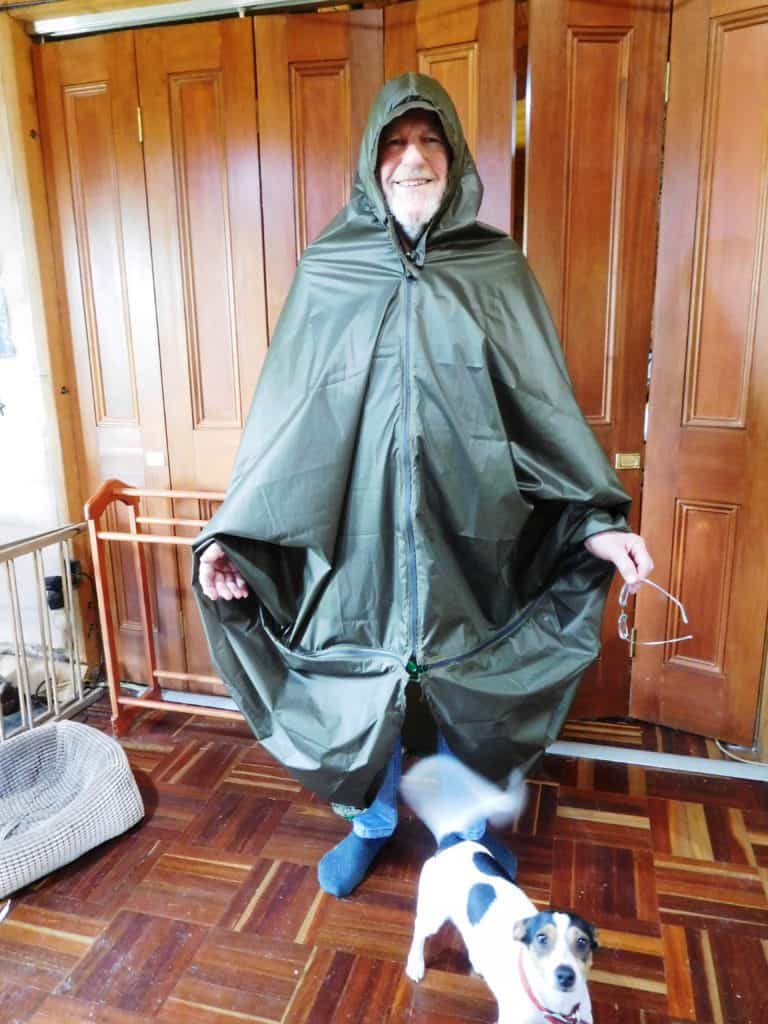 The mylar poncho will weigh about 25 grams but you will want one so that you can go to the toilet or put some wood on the fire when it is raining. The prototype is here: http://www.theultralighthiker.com/more-fun-with-sticky-tape-ultralight-mylar-vest/
I will be having the tent and chair made in Asia somewhere in the not too distant future. I will also try to manufacture the Mini Decagon Tent: http://www.theultralighthiker.com/honey-i-shrank-the-tent/ and the Dyneema Moccasins: http://www.theultralighthiker.com/19-gram-dyneema-camp-shoes/ for a start; maybe more later. For example, The Deer Hunter's Tent http://www.theultralighthiker.com/the-deer-hunters-tent/ which this poncho was to be a floor for (as well as for the Mini Decagon). This is going to be a complicated (and expensive) exercise for me as I have never done anything like this before, but I am sure lots of folk are going to want to own these interesting pieces of gear, so I will give it  a try.
Fits in a pocket as I said: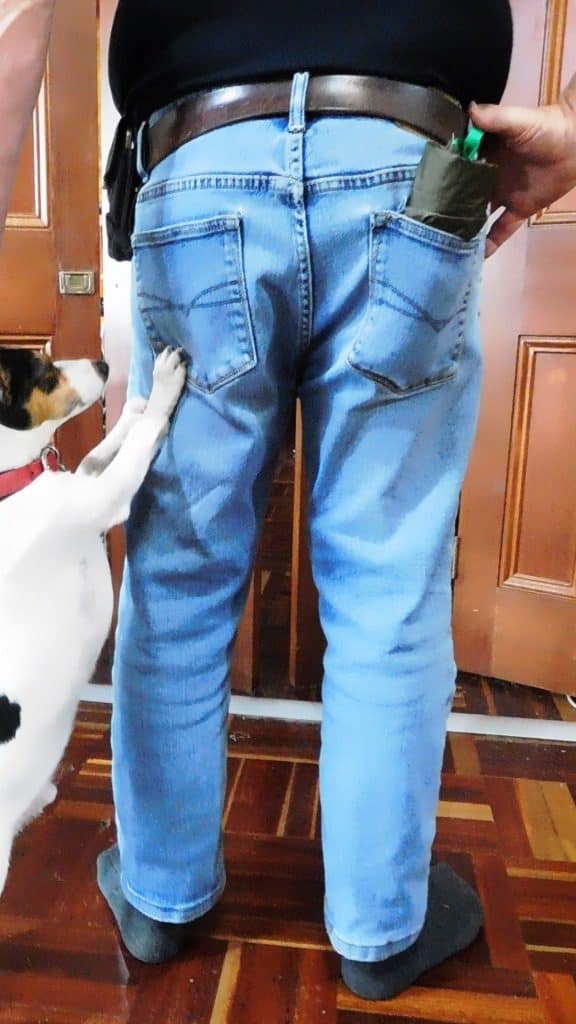 Or the front one: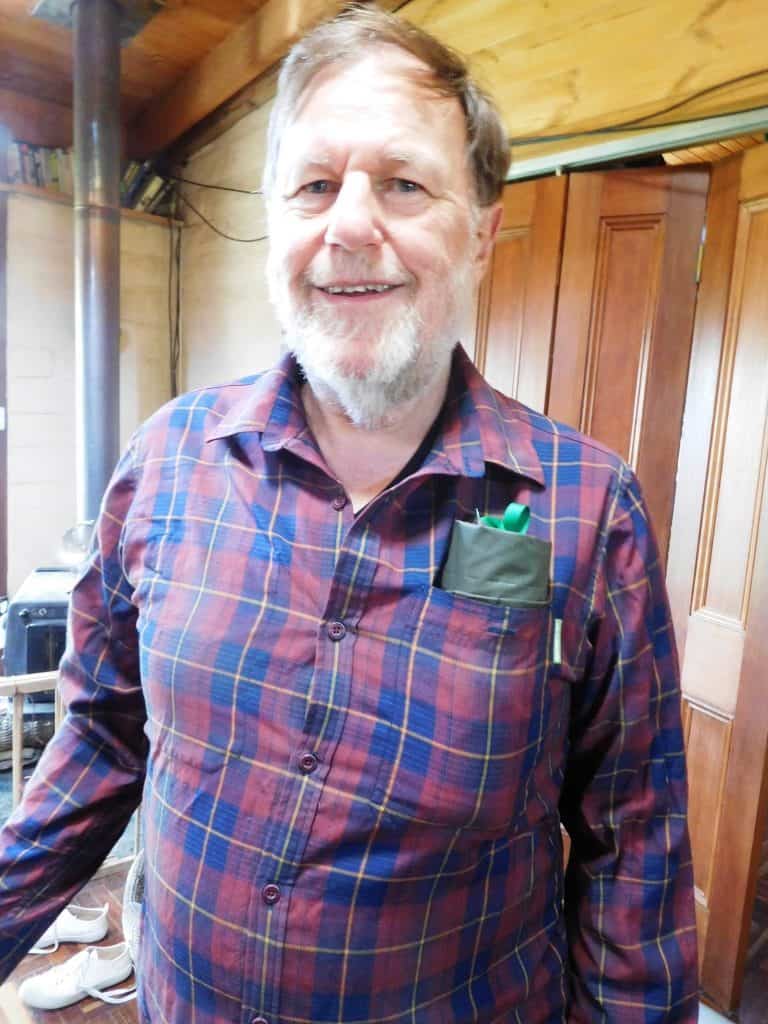 185 grams as you can see: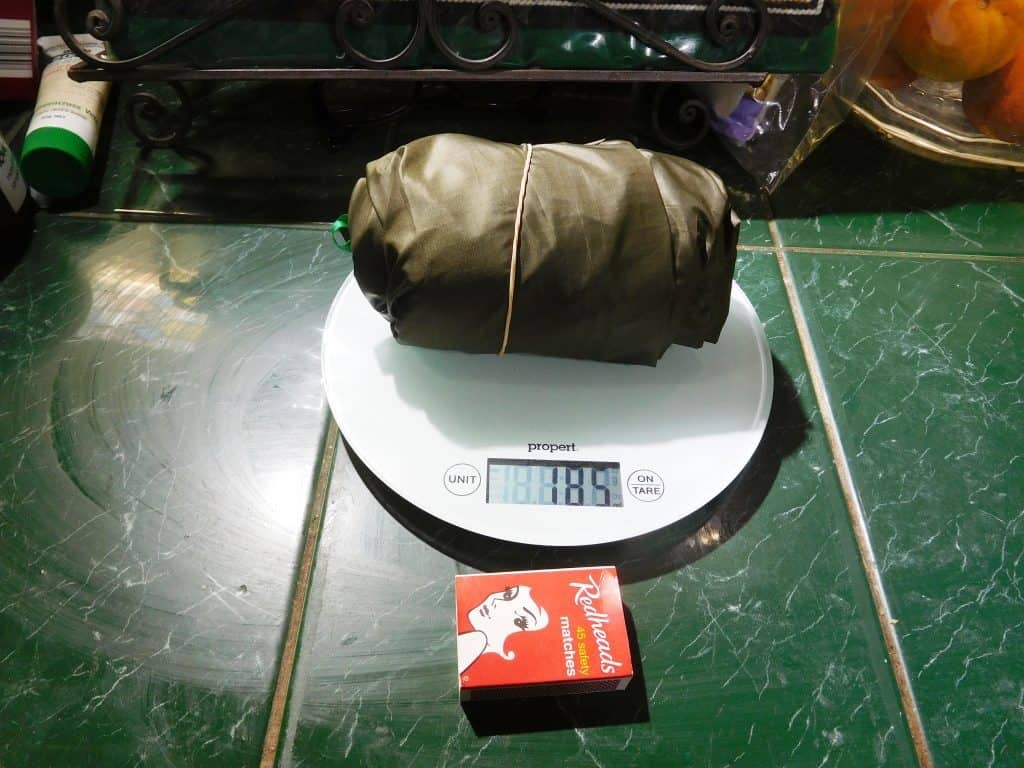 Fits in the palm of your hand – hard to believe it is a tent, isn't it?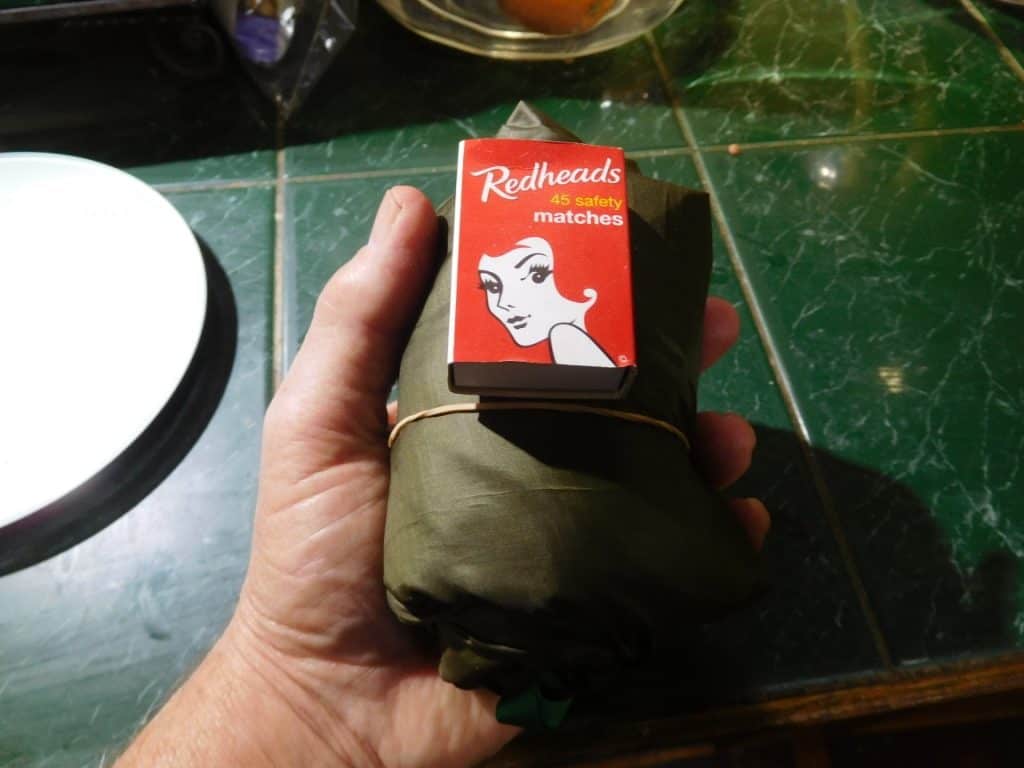 But here it is, much to Spot's delight! Plenty of room for someone 6'6″ plus, and a dog!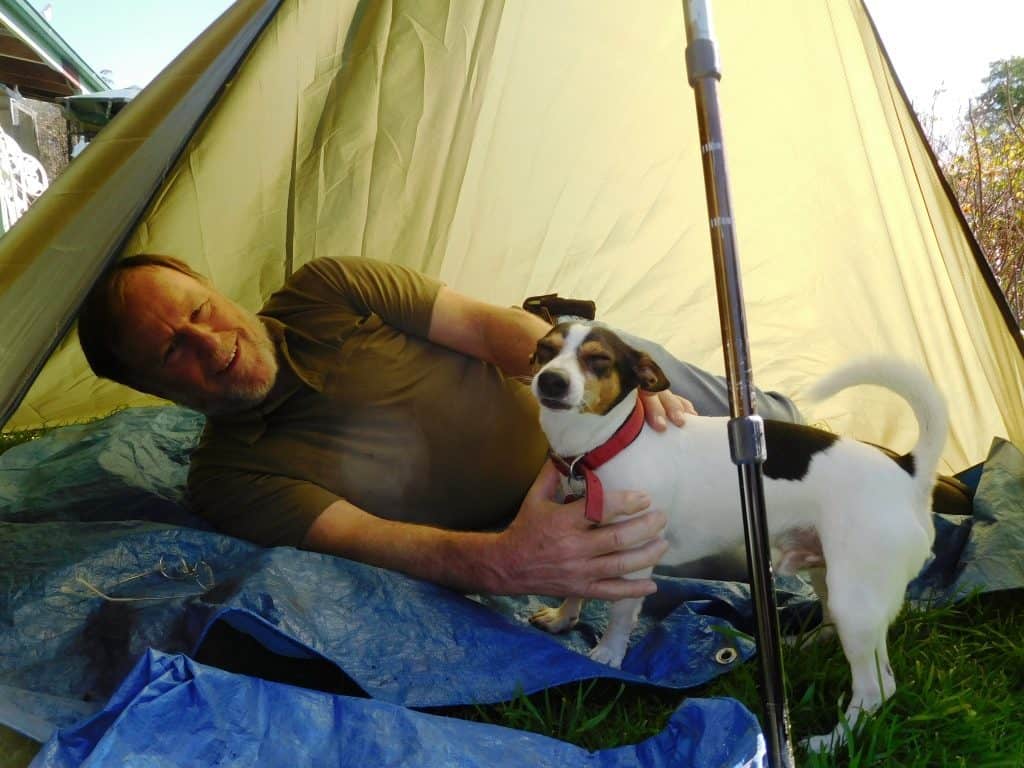 And with room to sit up in front of a toasty winter fire. And lots of room for gear.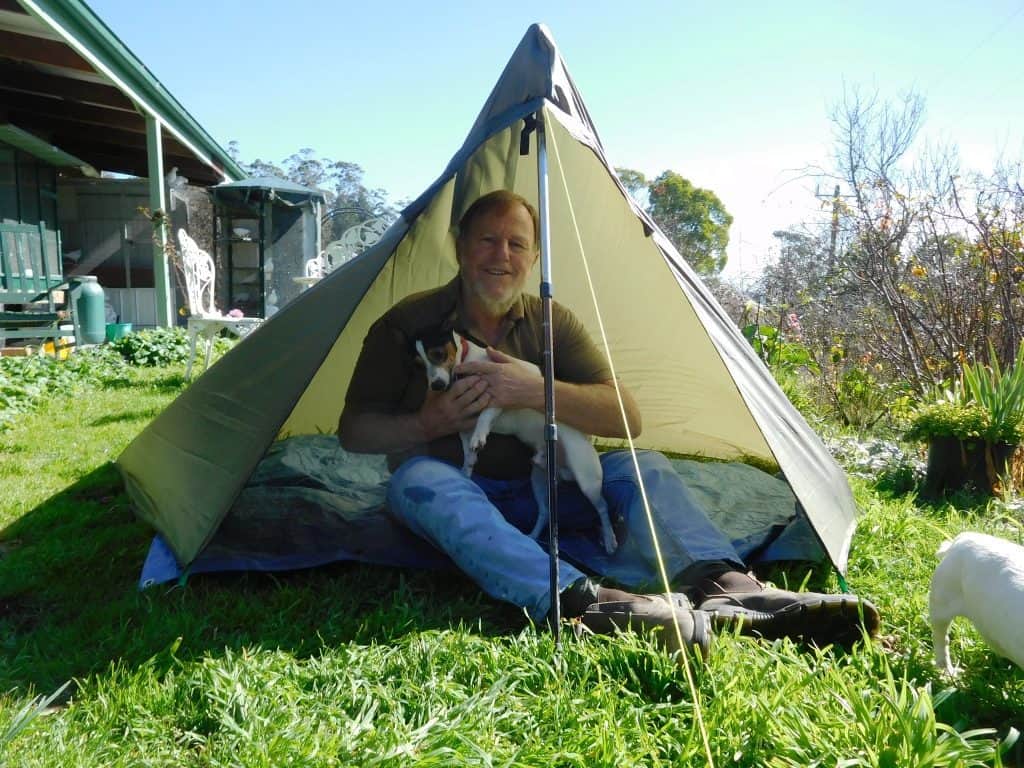 The prototype was here: http://www.theultralighthiker.com/ultralight-poncho-tent/ & here: http://www.theultralighthiker.com/poncho-tent-update/ and this was the original which we made for my first visit to Fiordland (moose hunting) in 2000: http://www.theultralighthiker.com/hole-less-ponchoshelter/
I have now figured out how to make this into a poncho tent for two! To be announced…
My next trick will be to see whether I can turn this poncho tent into a canoe to cross rivers and lakes: http://www.theultralighthiker.com/duct-tape-raft/
See Also:
http://www.theultralighthiker.com/how-to-light-a-fire-in-the-wet/
http://www.theultralighthiker.com/rope-dont-leave-home-without-it/
http://www.theultralighthiker.com/finding-your-way/
http://www.theultralighthiker.com/the-lie-of-the-land/
http://www.theultralighthiker.com/the-importance-of-a-roof/
http://www.theultralighthiker.com/carry-a-knife/
http://www.theultralighthiker.com/if-you-could-only-carry-two-things-in-the-bush-what-would-they-be/
http://www.theultralighthiker.com/ultralight-poncho-tent/
http://www.theultralighthiker.com/the-pocket-poncho-tent/
http://www.theultralighthiker.com/naismiths-rule/
http://www.theultralighthiker.com/weather-lore/
http://www.theultralighthiker.com/walking-the-line/
http://www.theultralighthiker.com/follow-your-nose/
http://www.theultralighthiker.com/how-long-till-sundown/
http://www.theultralighthiker.com/man-is-the-measure-of-all-things-pythagoras-some-handy-estimation-tricks/
http://www.theultralighthiker.com/how-to-avoid-being-wet-cold-while-camping/
http://www.theultralighthiker.com/fire-on-the-snow/
http://www.theultralighthiker.com/river-crossings/
http://www.theultralighthiker.com/an-open-shelter/