As you know we have recently spent ten days car camping there. As this was Della's trip, I will mostly let her tell it: 'And so we have been to Scotland…Such a trip, to the land that bore my parents and countless generations of ancestors before them, has been a dream of mine for as long as I can remember. Bryn, who is without doubt the best son in the world, gifted us with the return air fare several Christmases ago, so all that was left for us to do was to master our procrastination!
We have finally done that and now returned, having driven around most of the country and avoided most of the cities. We have seen beautiful countryside, barren and forbidding highland landscapes and countless picturesque ruins of generations past: My camera has recorded amazing panoramas of it all! But the tourism thing, while interesting, had little impact on us. So much driving ( almost all of it generously undertaken by Steve)!
For me, what mattered above all else was the time spent in the small town that was home to my father and his people for at least as long as records have been kept. I have always told people that my father was Scottish, but until now, I have had no real sense of what that statement meant. Now, after spending some time in Hawick, I have gained a stronger sense of family and, more strangely, a sense of belonging to a place that I have not experienced as a first generation Australian. To stand on the same soil and see the same hills as my forebears saw every day – now that is really something: A life-changing shift in the perspective of who I am!
Della at Glen Orchy: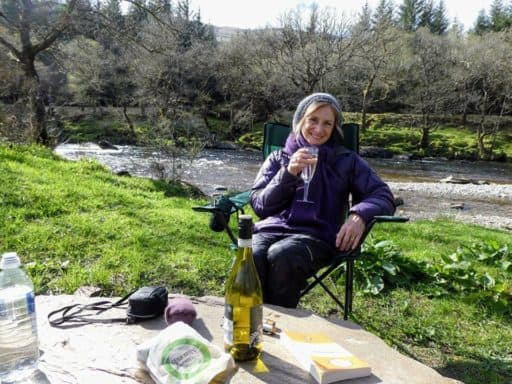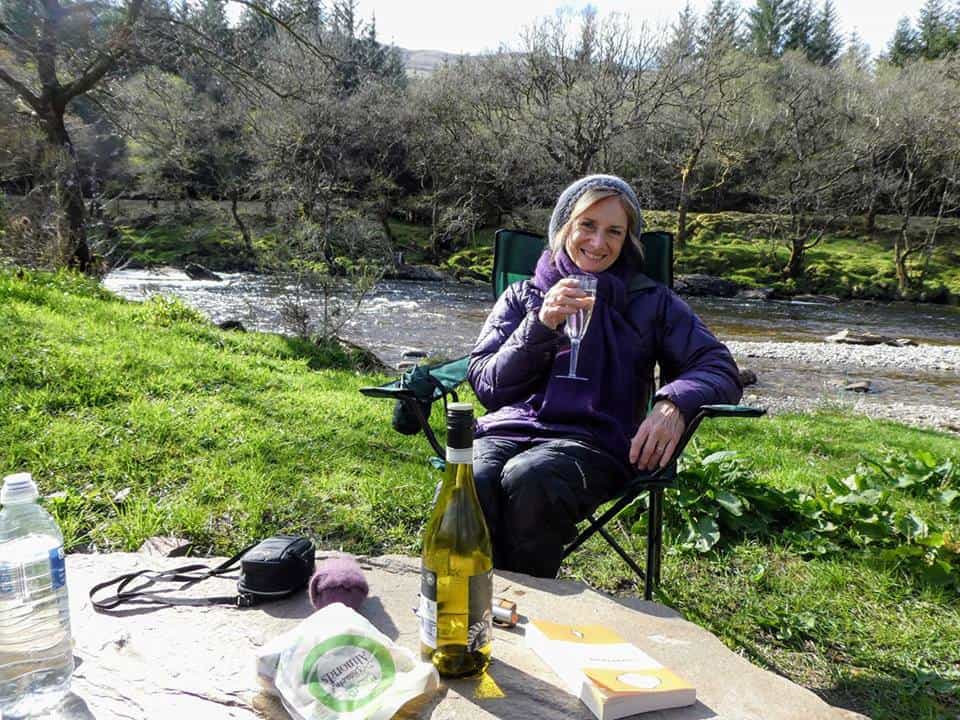 And so it is a different me who has returned to our relatively new home of Australia: To the children ( and grandchild!) who have worked hard to care for our farm and beloved dogs, sheep and birds in our absence, and for whom it has ever been important for me to create a home in this wonderful new country to which we all now belong!
I will share some pics over the next few days as time permits!
Some photos of Hawick, the town in the Scottish border country which has been home to my father and his people for innumerable generations: A solid town with beautiful vistas of the fertile sheep country that encircles it. It is now falling on hard times as many of the woollen mills that made it a prosperous centre for centuries have closed. So many of my forebears worked in these mills as knitting frame workers, who were artisans skilled in the production of knitted stockings, underwear and outerwear for much of Britain. More recently (and still) the town is renowned for its cashmere and lambswool luxury items and my father also worked in one of the major mills before heading off to serve during WW2.
Hawick and the hills beyond.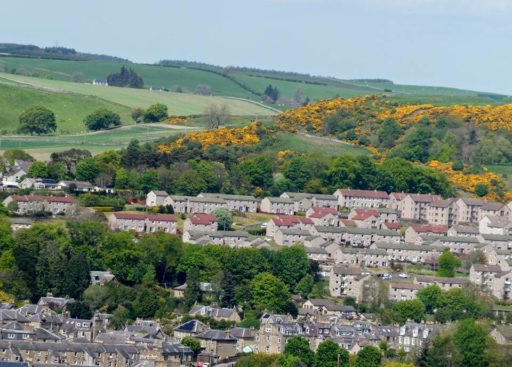 Some lovely parkland in the centre of town and an abundant water supply from 2 streams that have ensured the viability of the many woollen mills.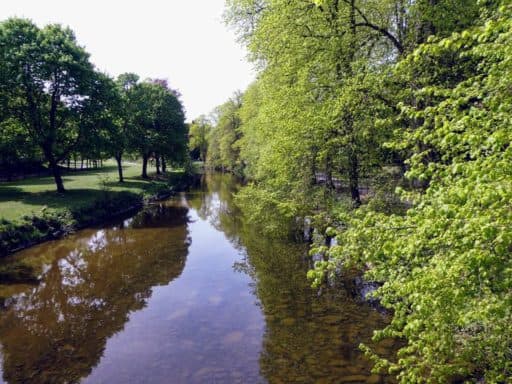 Butcher in the High Street who was also displaying his haggis as well as black and white pudding.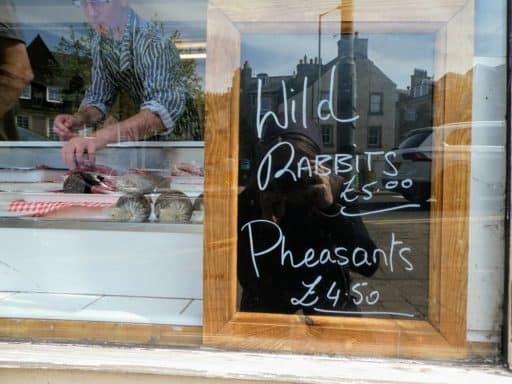 So many of my forebears buried here, but despite hours of walking up and down we were unable to locate any family headstones. I suspect my family ghosts were happier to have me wander in their presence for longer, and I confess that it was a very congenial occupation in the warm spring sunshine.
Wellogate Cemetery, Hawick.
"Beneath those rugged elms, that yew-tree's shade,
Where heaves the turf in many a mouldering heap,
Each in his narrow cell for ever laid,
The rude forefathers of the hamlet sleep."
From "Elegy Written in a Country Churchyard", by Thomas Gray.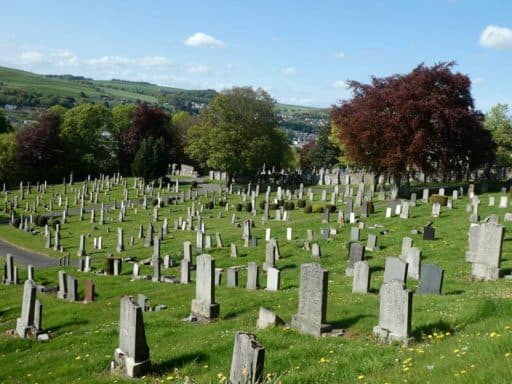 This is the older part of Hawick, the west end, and the censuses reveal that all my recorded forebears lived here for generations within a stone's throw of each other. Of course, the houses have all been demolished and rebuilt since then, but the streets remain the same and this is the view of the town that would have been a part of their daily lives.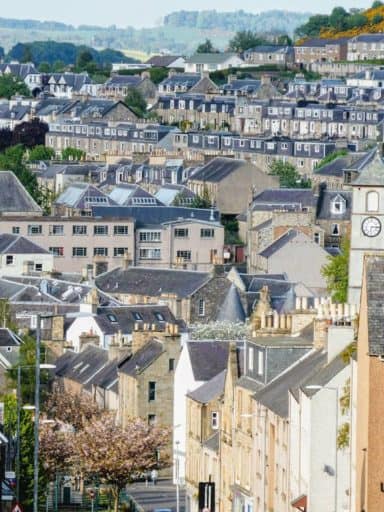 Wellogate.

I had planned to post some of our Scotland pics after getting back home around 10 days ago…but normal life kicks in and dredging through countless photos saved in ridiculous places on various media is easy to put off! After posting about my reaction to Hawick, the rest of the country seemed less important, but there were lovely things to see nevertheless! Here is a little selection of the first couple of days – some snaps through the car windscreen to illustrate how impossible it is to actually stop anywhere to take a picture in Scotland due to a combination of narrow roads, too much traffic plus the ubiquitous stone walls and deep ditches! And 2 shots from our "bedroom windows" – well, one was our hotel on the first night in Scotland and the other was our campsite on the second where we car-camped! I will note the locations on the individual shots.
View from our bedroom in the small town Glenrothes, near Edinburgh.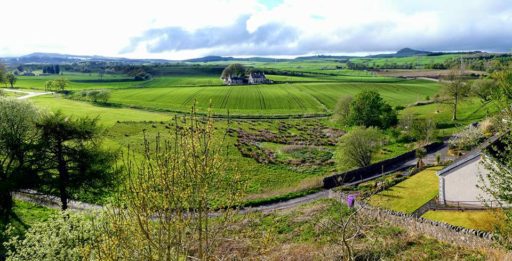 Our second night camped by the Glen Orchy river, below Glencoe.

Car window snap of a typical roadway near Kenmore. Pretty scenery all about, but by the time you get to place to pull over, the scenery is gone!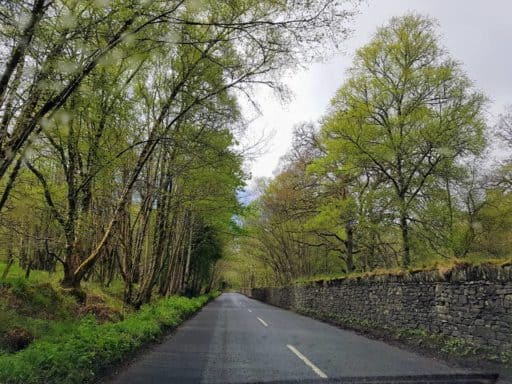 Another windscreen shot while driving: Nowhere to stop here either – just the norm in Scotland.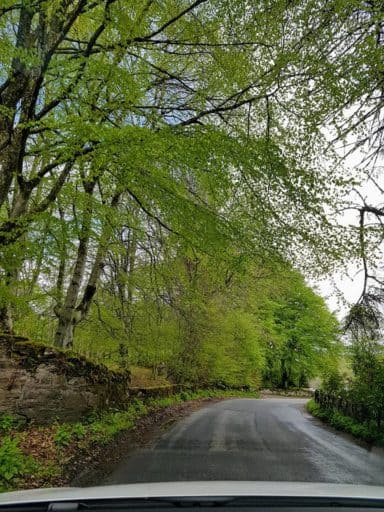 Falls of Dochart – this was in the heart of town and I had to scramble out of the car while Steve went on to find somewhere to wait for me. I had to stand on a one lane bridge to grab this pic – being harassed by tourist buses and cars thundering past at a gallop and threatening to mow me down! Photos are hard-won in Scotland!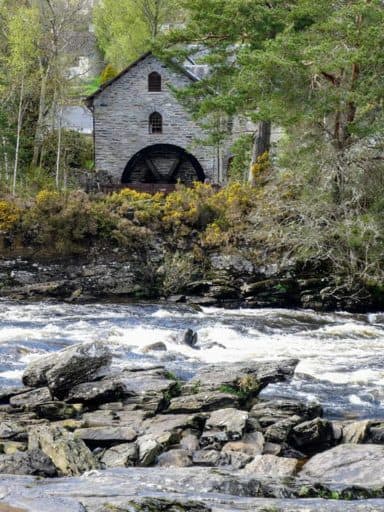 Into the Scottish highlands: The northeast coast. This was a delightful section of the trip. The Camster cairns were amazing, 5000 year old dwellings, one large complex of which has been reconstructed and into which it is necessary to crawl to inspect the large inner chambers. We also climbed the Whaligoe Steps (all 365 of them) at Lybster to access the tiny fishing harbour which had a long history of herring fishing. We camped overnight at Dunnet Head, which is the most northerly point in Scotland (not the oft-cited John o' Groats).
Steve emerging from the crawl-tunnel to access the inner chamber of the cairn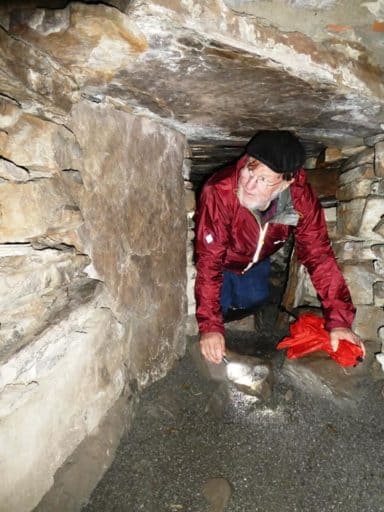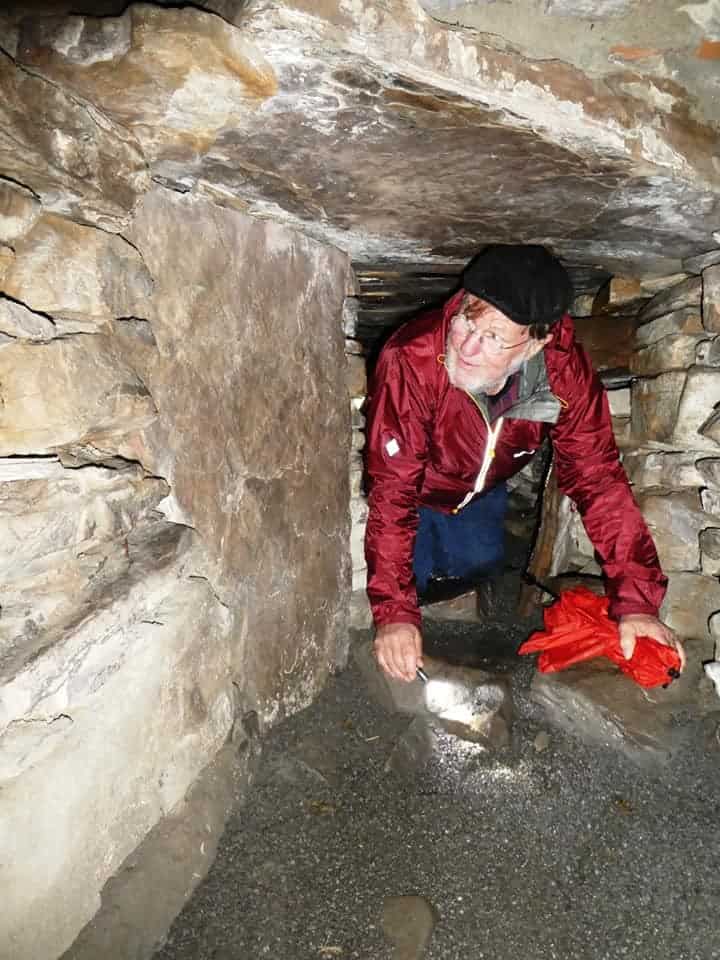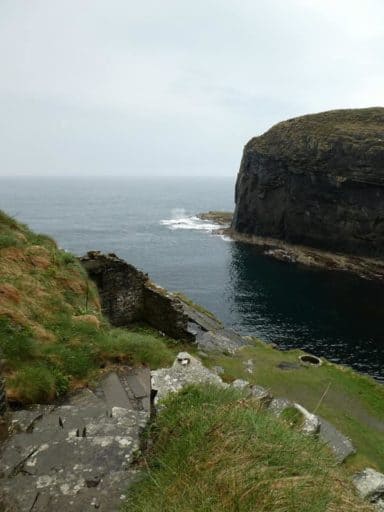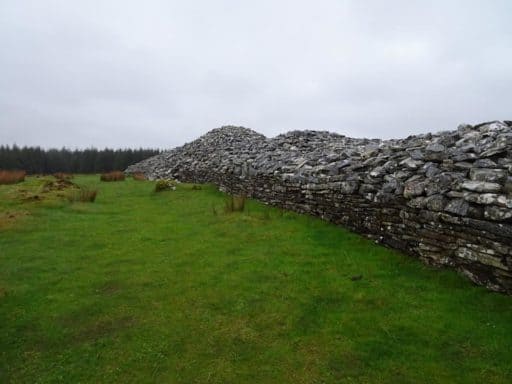 Inside one of the cairn's chambers
A sweet harbour at Dunnet (Brough)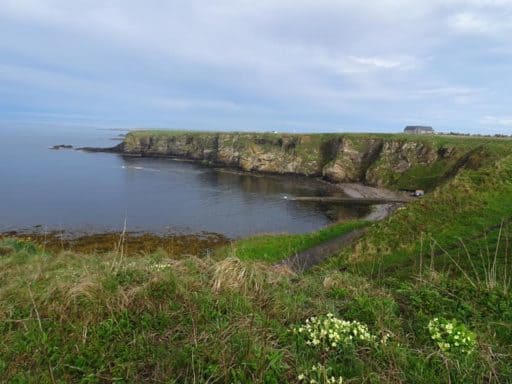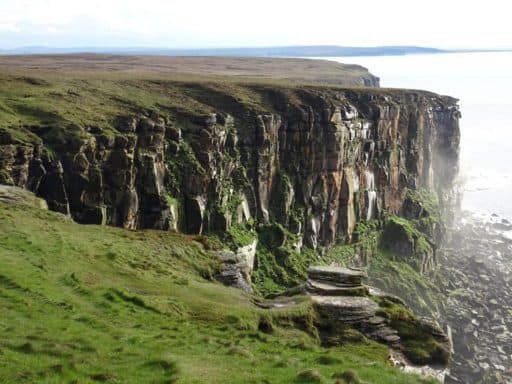 Scotland's north coast- Dunnet Head to Tongue (with an excursion inland). Some picturesque coastal scenery to be found in this section, which was a welcome relief from the rather bleak outlook along the main coastal highway (unavoidable when traversing this part of the country). A brief turnoff towards the sea did reveal wonderful coastal farms with crofter ruins suggesting centuries of habitation. Scotland's "Right to Roam" laws allowed us the freedom to climb stiles here
and enjoy the vistas. We also headed inland for a while on what was called the "Strathnaver Trail" and were rewarded with less tourist traffic and excellent historical sites of ancient brocks and other stone relics still in situ dating from neolithic times. The area also abounded in stone ruins registering the lives of countless generations that were uprooted in the highland clearances.
Plenty of space at Autiphurst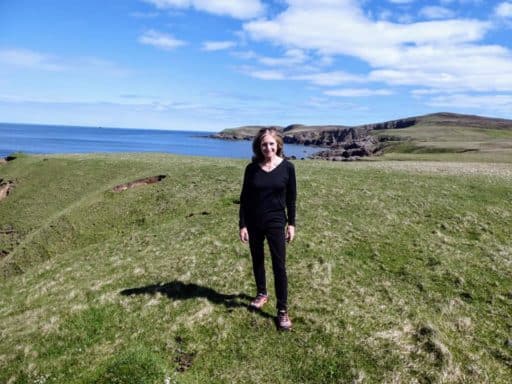 Autiphurst – just a mile or so off the main drag.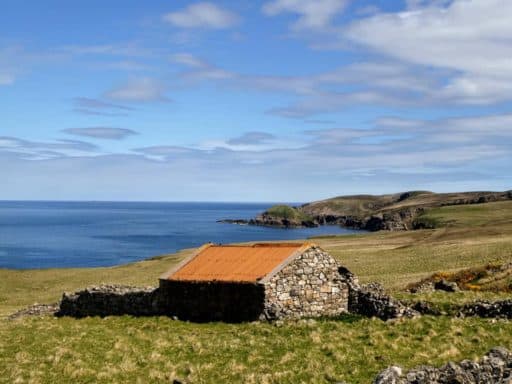 "Right to Roam" at Autiphurst.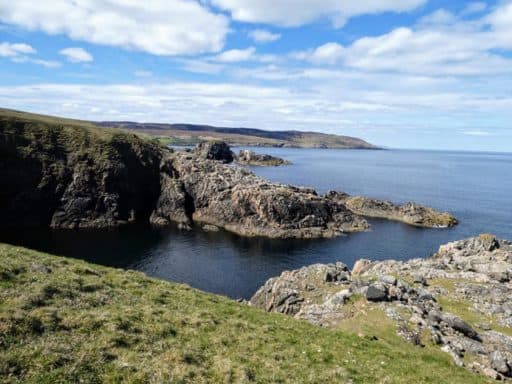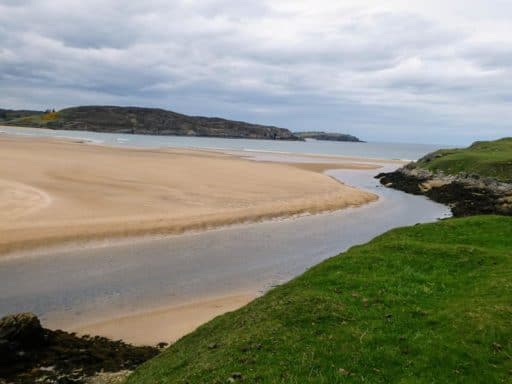 Along the Strathnaver Trail: The ruins of centuries. (I don't mean Steve!)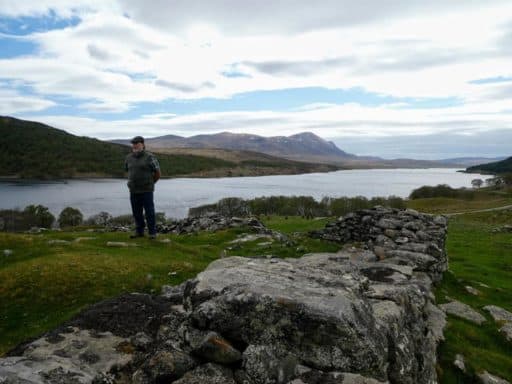 Nearly at Tongue on the Strathnaver Trail. We were sorely tempted to camp the night here next to the old croft and would have, had the need for a shower and laundry facilities not forced us on to the Tongue Backpackers.'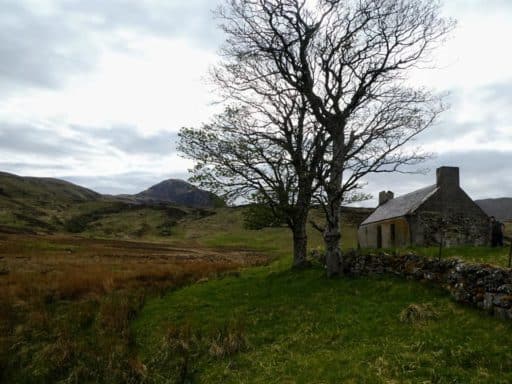 Steve: We found the West Coast rather bleak and forbidding. No doubt it's OK of you like treeless hills covered with weeds (heather, gorse, fern) but having been farmers most of our lives we felt that they needed to spend some money on 'Brushoff, and plant a few trees.Of course it is hard for trees to grow when even the forestry blocks have to be deer fenced else they too would be barren wastelands.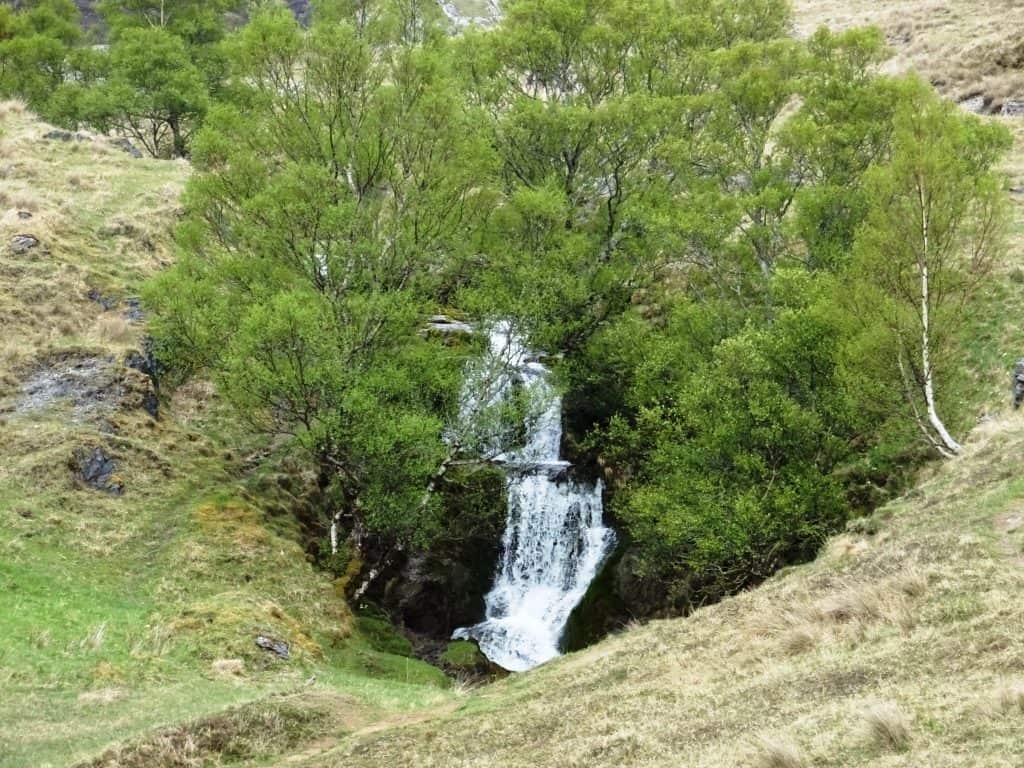 We stopped to take a pic of a depressing small castle on a dismal lake – somewhere it was hard to imagine anyone would ever have wanted to fight over, and there was a brace of mangy stags sitting on a crag by the roadside watching us.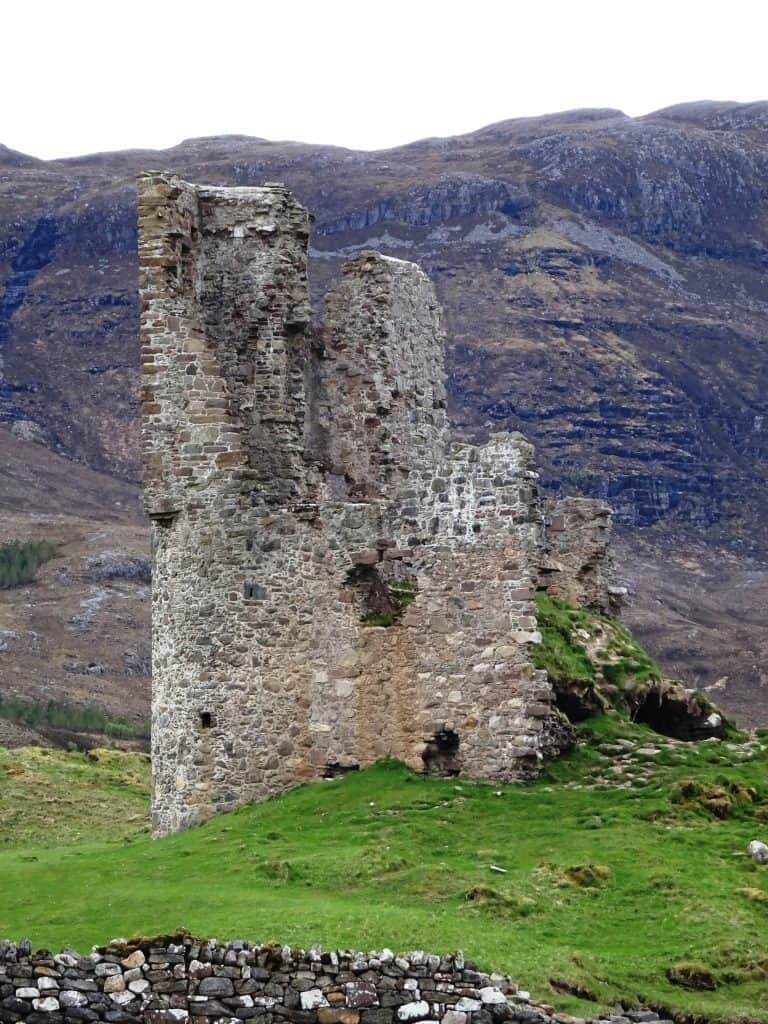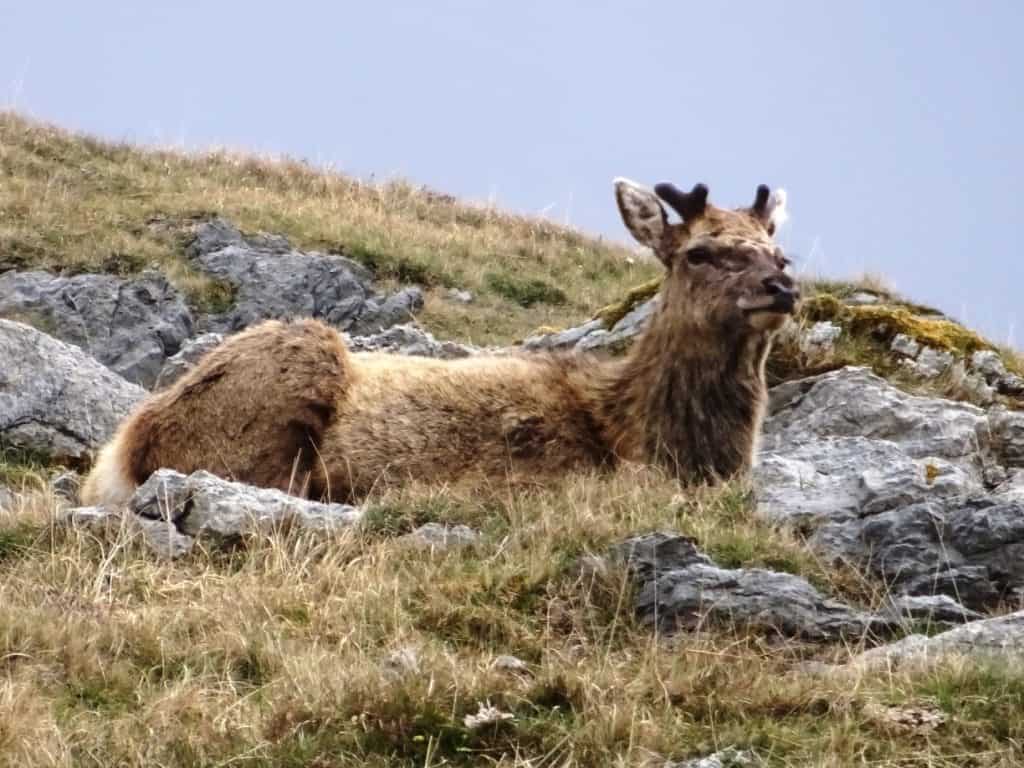 We camped for the night on Skye next the best stream we could find. Again this island was bare neglected and barren but utterly overrun by tourists. We had intended to visit Harris and Lewis, but the barrenness and the innumerable tourists put us off. At the point we turned around(with some difficulty) we could see the road ahead for many miles wending its way across bare hills and dotted all the way with a double string of vehicles.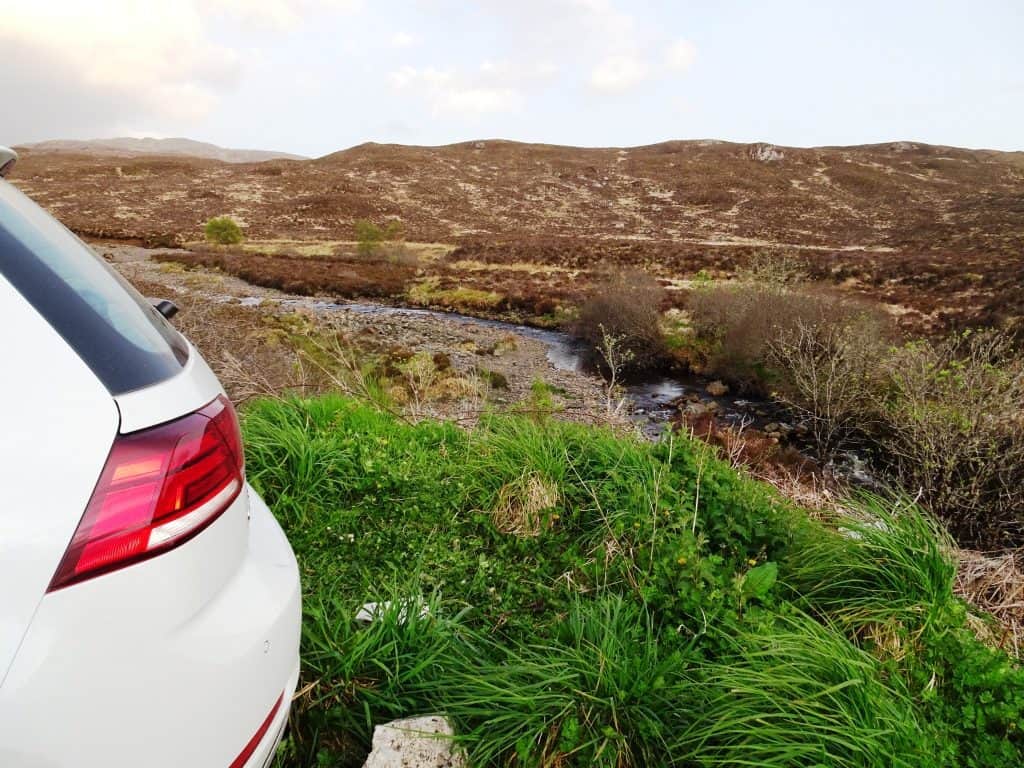 We do like to get away from folks more than that. Besides, Steve had fallen and dislocated his hip, which remained very painful, so we decided to foreshorten our trip and flee home via Hawick, Della's father's birthplace. It is a bit ironic when he goes to all sorts of truly wild places and comes back whole, yet falls on a virtual lawn in a paddock near the ruined keep above and hurts himself badly…We had planned to be away too long anyway. We should stick to a maximum of ten days, I think. Three weeks is just too long. I worry about the sheep – and the dogs.
On the way, there was one place which was deserving of further exploration along the River Spean: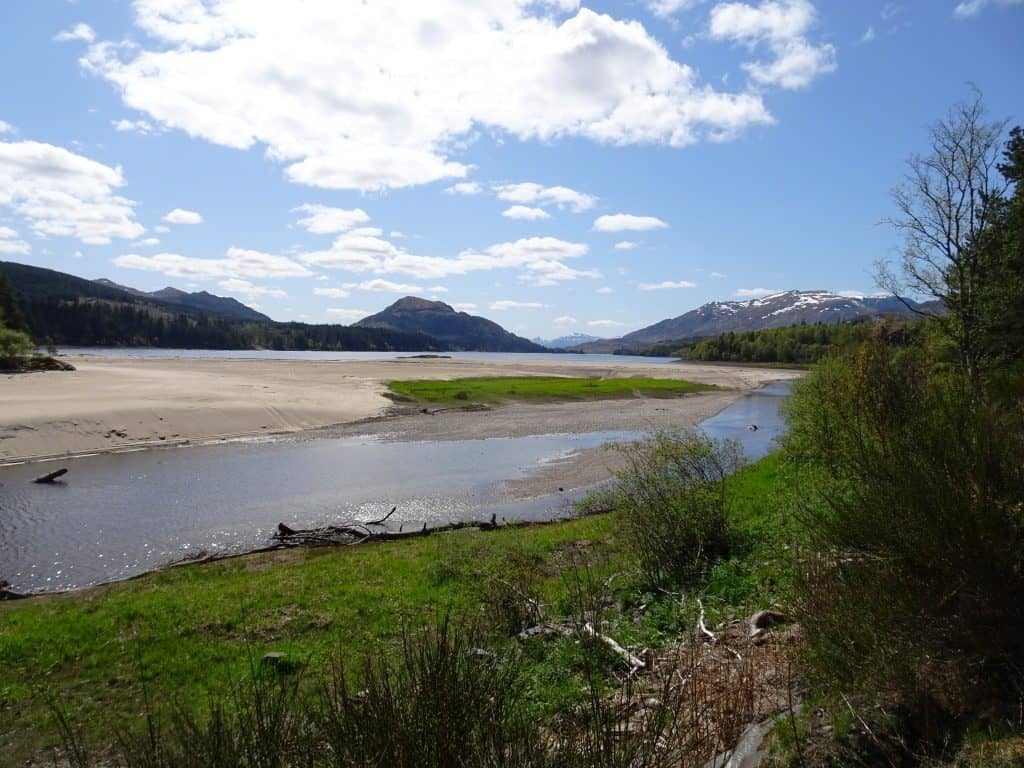 The Cairngorms though seemed to us to be just a repetition of the West Coast and Skye. Dreadful (Steve Ends)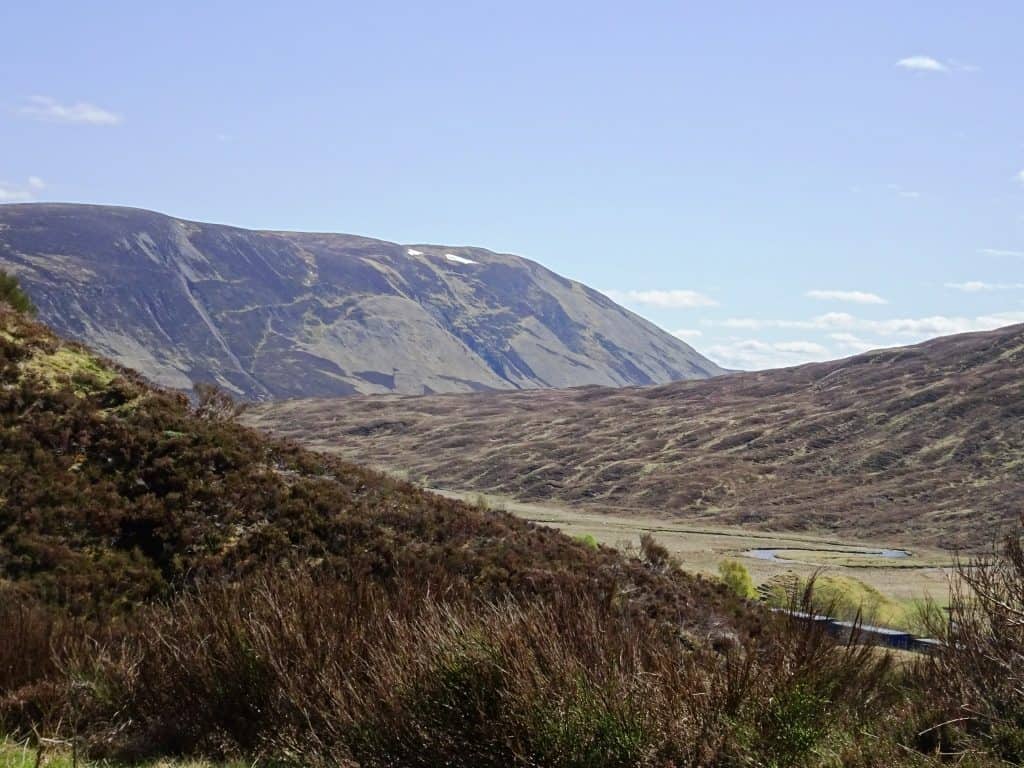 Della again:
'I love old traditions and pride! Hawick, the little Scottish border town of my forebears, is currently holding its annual Common Riding, a festival dating back centuries that celebrates the annual tradition of riding out to check the security of the town borders as well as a famous historical victory when a group of youths overcame an English raiding party and seized their standard whilst the men of the town were all off at war. The celebratory events are spread over several weeks, reaching a peak this weekend. I just love this little video of yesterday's pomp and splendour, compiled by the local newspaper. What a wonderfully joyous town to be part of!
Common Riding Thursday | HCR18

WATCH: Highlights from Common-Riding Thursday so far… See your Cornet Gareth Renwick with the banner blue for the very first time. #weknowHawick #PeoplesPaper #HCR18 🐴💙💛

Posted by The Hawick Paper on Thursday, 7 June 2018
See Also:
http://www.theultralighthiker.com/convert-a-car-to-a-camper-for-50/
http://www.theultralighthiker.com/great-scot/
http://www.theultralighthiker.com/genius-strainer-post/
http://www.theultralighthiker.com/happy-birthday-ultralight-hiker-2/
http://www.theultralighthiker.com/mattresses-i-have-known/
http://www.theultralighthiker.com/beach-burial-2-the-cat/
Hits: 248