It is easy to make an ultralight alcohol stove which will boil water (instructions here and here – and in the comments below) but a bit more difficult to make one which will simmer. Many of my recipes require that the food simmers for 10 minutes or so (usually to soften lentils etc). I guess you could use a cosy, but it is easier to just turn the heat down. 10 minutes at simmer is <5 ml of alcohol. You can make your own using simmer rings or similar devices to reduce the air intake or you can buy someone else's. There are a number of models available which are cheap and effective – if you want to deprive yourself of the many pleasures of DIY!
There are Aaron at Brasslite's wonderful offerings for example which I have written about before. I cannot recommend these too highly. You should buy one or a half dozen of these beauties while the going is good.
Personally I think if you are still using a canister stove you have rocks in your head. You may also have a number of bricks in your pack too – just to improve your fitness I guess. The empty canister weighs more than an alcohol stove, fuel bottle and enough fuel for several days. The lightest burner (usually around 80 grams – though they can be as light as 25) again represents enough weight of fuel in alcohol for at least a weekend. It just does not make any sense to me to lug these things around!
It is also just so easy to work out beforehand just what meals/cups of hot drinks etc you will be eating on say an 8-10 day hike (eg the Dusky Track) then work out just how much alcohol you will need and take that amount in a Platypus bottle. Less than 500 mls in this example. How many canisters would you take for the same trip – and what would be the total weight? When the jet on the gas stove blocks (as it will sometime), what will you eat then? That cold, uncooked pasta is going to get rather tiresome!
I always carry a Trail Designs Caldera Cone as a windscreen. They only weigh from about 20 grams depending on pot size. Along with a couple of tent pegs it can always be used to make a twig fire to boil the billy with – if you run out of fuel. You can buy a 'floor' for it if you worry about leaving miniscule scorch marks in the endless wilderness. Personally I think such 'trace leaving' is largely beneficial – and should be encouraged! You can buy the 'cone' as a stand alone (for about US$35) – though it comes with the 12-10  (or Kojin) stove gratis – and only costs US$9.95 for 'simmer rings' (for the 12-10)
PackaFeather used to make a couple of very neat alcohol simmer stoves. I own both from the days when they used to sell them. They still offer plans for them if you would like to make your own.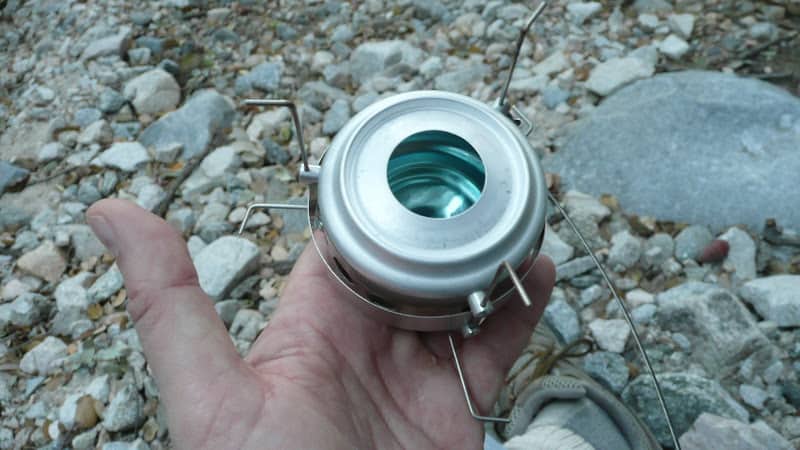 Zenstoves has instructions on building simmer rings for various alcohol stoves. They suggest eg something like this for your pepsi-can stove (hope they don't mind my re-posting their illustration), but have many other interesting ideas. If you have not yet discovered this site you have a wonderful adventures in stoving ahead of you!
Again if you have not yet discovered 'Tinny's' astonishing Minibulldesign you are in for a treat. His Youtube channel will explain a lot of his concepts, but as you will discover he has a number of different alcohol simmer stoves at a simply wonderful price (like the excellently named Gnomatic from US$15) as well as some of the lightest pots on the market anywhere – and lots of fun! There is his Turbo Gnome Stove with Simmer Ring (for example) at US$20. I have owned a number of Tinny's stoves for over 20 years. The lightest and simplest has been his 'Elite' at 7 grams. He has changed the design slightly since I bought my two, adding some wicking material for example. It has been my 'go to' boiler for many years and certainly features in my Ultralight Deer Hunter's kit on every trip.
PS: Another interesting alcohol stove is Mark Jurey's Penny Stove.
PS: I'm sure there are other simmer stoves out there. The erstwhile Trangia (and its many imitators) comes to mind. I did not mean to leave anyone out. Reader Rigby recommends UK manufacturer Stormin Stoves for example. If you know of an excellent alcohol simmer stove please let me know.
See Also:
https://www.theultralighthiker.com/2013/05/08/supercat-hiking-stove/
https://www.theultralighthiker.com/2015/03/09/diy-side-burner-metho-stove/
https://www.theultralighthiker.com/2018/03/04/new-fancy-feast-stove/
https://www.theultralighthiker.com/2013/11/05/alcohol-simmer-stoves/
https://www.theultralighthiker.com/2018/09/28/how-much-weight-in-fuel/
https://www.theultralighthiker.com/2017/09/22/ultralight-windscreen/
https://www.theultralighthiker.com/2018/05/15/corrugated-heat-diffuser-3-grams/
https://www.theultralighthiker.com/2017/06/21/adventures-in-stoving/
https://www.theultralighthiker.com/2016/05/11/soda-can-stove-mark-2/
https://www.theultralighthiker.com/2016/01/26/cookset-woes/
https://www.theultralighthiker.com/2017/07/29/a-hiking-food-compendium/
https://www.theultralighthiker.com/2017/10/28/the-ultralight-deer-hunter/