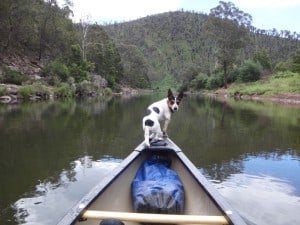 I have had some feedback to my posts about the Tanjil River (http://www.theultralighthiker.com/tanjil-river/), Latrobe Rivers & etc. Some people phoned to thank me for an enjoyable trip on this section of the Tanjil. They are WINTER canoeists employing sit-on canoes and wet suits to access the much higher river levels usually available in the cooler months (.65 metres as compared with .45 metres in February). This extra 200mm (8") of water fair scooted them along so that they finished this section in 2 ½ hours, half my February time! They were kind enough to invite me along on their next expedition- even offering the loan of a canoe (I would also need a wetsuit). I AM more into hiking/hunting in the cooler months and canoeing in the summer, but we will see. I am also not sure how my balance (Menier's) will cope with sit-on-top canoeing.
Certainly the winter months give access to MANY more of the smaller streams in Gippsland. Update: They have now completed the section downstream from Costins Rd (bridge) to the Rowleys Hill Rd Bridge in 5 1/2 hours at a gauge height of .6 metres. They said the first half (to the Staircase Track) had more than a dozen logs which needed portaging (or chainsawing), and that the second half was more enjoyable. The trip from Costins Rd to Casuarina track therefore takes over 7 hours at these heights (which is probably an overnight trip). In summer (above at .45-.5 metres it is likely to take half as long again, so might be spread out over 2-3 days with some clearing work along the way!
They told me they have canoed the Morwell River – a surprise – (downstream from the bridge at the East Branch Confluence) to Monash Way, the Traralgon Creek (from ABOVE Traralgon), & the Tyers from the W12 down to the pumping station. They have also completed two sections on the Latrobe: Hawthorn Creek (Bridge) to Camp Creek (4WD needed for take-out – 4 hours at a gauge height of .95 – Willow Grove), and a section upstream of Lake Narracan. They have also completed a section on the Wellington from one of Tali Karng Track road bridge downstream to Licola. As I have (20 years ago) canoed the Western Tyers from Growlers to Tyers Junction, and from there to Delpretes Road (in summer) on the Tyers, I think we can say that with some work the Tyers CAN be made into an excellent long-distance (local) canoeing adventure – likewise the Latrobe (from the Noojee Bridge just upstream of the Toorongo confluence (perhaps even further upstream!) to Lake Narracan and beyond). Each of these rivers would provide multi-day trips very close to the Latrobe Valley towns.
If people would take a small bow saw when they attempt a section, leaving plenty of time for removing small timber, later folk can come along with a chain saw and remove the larger timber. In summer, it is pleasant and easy to stop and move some rocks from pebbles races and chutes to make them more navigable too. There already are some lovely campsites along each river. I'm sure a handful of others will not go astray!
The prospect of winter canoe trips invites some exploration of other of the regions smaller waterways, eg the East & Western Tarwin (I have years ago summer canoed from near meeniyan on the South Gippsland Highway to Tarwin Lower), the Freestone Creek, the Wellington, Wentworth & Dargo, Moroka, Upper Macalister, Barkly, the (upper) Nicholson, the Avon & Turton (perhaps), the Tarra Rivers. It may even be worth looking at the Bunyip, Tarrango, Tarago, Bass…Once you get into East Gippsland, the possibilities are well-nigh endless…PS: I see some others have been exploring the Tyers UPSTREAM of Christmas Creek – so I think we CAN say the river IS canoeable from there to the Latrobe River Confluence (which MAY take close to a WEEK), but MUCH work need to be done on it:  https://www.adventurepro.com.au/paddleaustralia/pa.cgi?action=details&id=uppertyersriverwestbranch#.VXN-REb0ncs & https://www.adventurepro.com.au/paddleaustralia/pa.cgi?action=details&id=Tyers_River#.VXN-dUb0ncs
See also:
http://www.theultralighthiker.com/videos/thomson-river-canoe-trip-2006-complete/
http://www.theultralighthiker.com/canoeing-the-thomson-river-gippsland-victoria/
http://www.theultralighthiker.com/dusky-track-canoeing-the-seaforth/
http://www.theultralighthiker.com/canoeing-the-macalister-2/
http://www.theultralighthiker.com/canoe-clearing/
http://www.theultralighthiker.com/tanjil-river-canoeing-update/