I guess I started doing this over 50 years ago before I was 13 (or so). One of my first projects was (what is now called – there was no name, or thing then) a bivy bag (or swag) which I sewed out of PU coated 2oz green ripstop nylon as I didn't have a tent, and my (kapok, Yes! – how many today know what that was – or could recognise a kapok tree?) sleeping bag and any available tent would not have both fitted in my A-frame pack! Quite some years I didn't have a tent. One of my first was a sort of one boy GI 'Pup Tent' something like those ex-WW2 affairs, also in PU ripstop mayhap called a 'Rancho Poncho'.
Gossamer Gear's G4 Pack 60 + litres, < 500 grams.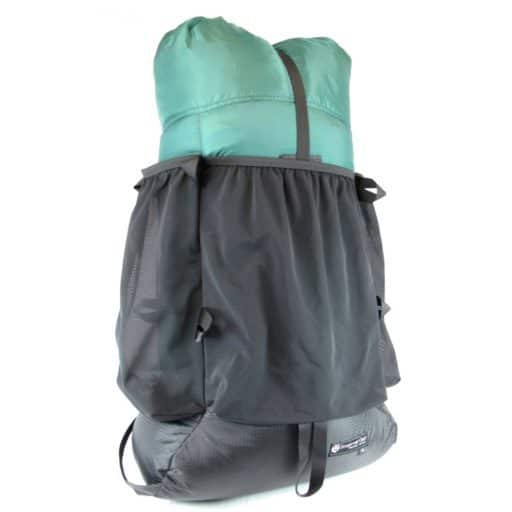 First few times I took Della camping (on my Honda CB175 motorbike!) we just slept under the stars with maybe a nylon poncho over us to ward off heavy dew. I have slept under a poncho many times since then. Finally we bought a two-person hiking tent, the forerunner of many. Now, in old age, we are back to some sort of tarps again such as THIS homemade one: (http://www.theultralighthiker.com/tyvek-solo-fire-shelter/) I posted about the other day. Instructions have been updated. Others 2 + person ones are in preparation.
There IS a great deal of pleasure and satisfaction to be gained in MAKING and USING your own gear, so we do. Here and there in these pages you will find other suggestions for homemade gear; I have had a lot of fun making various hiking stoves such as you might find here: http://zenstoves.net/ or in earlier posts. We have made quite a lot of clothing over the years, as well as hammocks, hammock insulators, quilts, tarps (obviously), tents, a variety of bags, pouches, pockets, leashes, belts, harnesses, ponchos, fishing gear…all sorts of things. For example, you can make a pot which weighs a couple of grams from a beer can which you can boil with an esbit on a stand made from some 1 cm mesh. A wide rubber band will prevent you burning your mouth when you drink your coffee.
Quest Outfitters (http://www.questoutfitters.com/ http://thru-hiker.com/materials/index.php) have some very good patterns (and kits) and are very helpful and expeditious in sending materials. For example, their 'Bilgy Tarp Tent' looks quite interesting. I will adapt some of its features for a new two person 'fire shelter'. Obviously it would be much lighter in cuben, or more fireproof in Tyvek.
Their G4 pack pattern and kit are excellent. The G4 was my first ultralight pack, a brilliant concept (approx 450 grams & 60 litres!) from Gossamer Gear founder Glenn van Peski – one I still use when I am packrafting, as it is a HUGE pack. Della sewed two webbing tubes into it vertically on each side into which we slipped carbon fibre arrow shafts to simulate a pack frame for weight distribution. This added less than 40 grams and worked quite wonderfully. http://gossamergear.com/ have some GREAT ultralight gear (and an interesting website – eg see 'Tips & Tricks). I have spent quite a few dollars with them over the years. Their featured product this month is an 18 gram trowel. Well, if you need one! Their carbon fibre hiking poles are wonderful!
Ray Jardine (http://www.rayjardine.com/) pretty much 'invented ' the ultralight pack (and concept). He is known as the 'father' of ultralight. He has a kit for one, and an excellent tarp. I still use his 'Bomber' hat (30 grams) every time it's a really cold night. His quilt kit was an original great idea too. His website details his many amazing adventures, including skiing to the South Pole when he was over 60! He also sells some of his own excellent hiking books.
Ray Garlington was one of the first to devise a 'wood gasification' stove for backpacking: http://web.archive.org/web/20130820032105/http://www.garlington.biz/Ray/WoodGasStove/ I have spent many hours trying to make this work. Another guy perfected it with his 'Bushbuddy' stove: http://bushbuddy.ca/ (well worth the C$120) – or you can make your own, eg http://www.instructables.com/id/Woodgas-Can-Stove/ or http://www.treehugger.com/clean-technology/build-ultra-efficient-diy-wood-gasifier-backpacking.html A 150 gram stove which does not require any fuel (other than what you find on the trail) is a great idea. This guy has a lighter – 86 grams – (and more expensive) one: http://www.suluk46.com/products.html
Here is another site which has some interesting plans and kits: http://www.backpacking.net/makegear.html, likewise this one: http://jasonklass.blogspot.com.au/search/label/DIY%20Backpacking%20Gear There are many others, but these will be enough to get you started. Have FUN!
Pictured above: Gossamer Gear G4 Ultralight Backpack
See Also:
http://www.theultralighthiker.com/60-diy-ultralight-hiker-ideas/