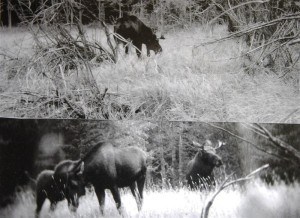 Contrary to popular culture, these monsters are NOT a myth, but are alive and well and living in Fiordland. My own observations are that they are quite widely dispersed. This is more than confirmed by Ken Tustin's Herculean efforts over 40 years to spot just one of them.
During many trips along the Seaforth River (still probably their 'headquarters') I have seen lots of moose sign, a glimpse of one once, another calling once. I also noticed some sign much further East along the South Coast Track: pretty clear (very old) browse between the Francis Burn and the Percy Burn; even some possible sign as far East as the Waikoau River. A moose was seen this far East many years ago. Recent moose sign has been found as far North as Campbell's Kingdom in Doubtful Sound. See eg http://www.theultralighthiker.com/from-dawn-to-dusky/
If this is so. Moose are dispersed over more than half the Fiordland National Park albeit in very small numbers and low density – but they remain THERE! You will not likely see one (and I hope you don't essay to shoot one), but I understand there remains a prize of NZ$100,000 for a new authentic snapshot of one! So, it is very worth the trip: the Dusky Track is very beautiful; a truly wonderful hiking adventure – and you may just see a moose! Put it on your Bucket List. I will certainly be returning once more. The scene in Fred's photo is what I long to see…but in Fiordland!
See also:
http://www.theultralighthiker.com/insects-can-ruin-a-camping-trip/
http://www.theultralighthiker.com/dusky-track-canoeing-the-seaforth/
http://www.theultralighthiker.com/dusky-track-adventures-1/
http://www.theultralighthiker.com/eddie-herrick-moose-hunting-at-dusky-sound/
http://www.theultralighthiker.com/eddie-herrick-moose-hunting-at-dusky-sound/
http://www.theultralighthiker.com/a-friend-i-met-on-the-dusky-track-fiordland-nz/
http://www.theultralighthiker.com/dusky-south-coast-tracks/
http://www.theultralighthiker.com/dreaming-of-the-dusky-track/
http://www.theultralighthiker.com/the-dusky/
http://www.theultralighthiker.com/moose-hunting/
http://www.theultralighthiker.com/fiordland-moose/
http://www.theultralighthiker.com/fiordland-moose-2/
http://www.theultralighthiker.com/hunting-in-fiordland/
http://www.theultralighthiker.com/off-to-fiordland/
http://www.theultralighthiker.com/shadowland-fiordland-video/
http://www.theultralighthiker.com/the-best-toilet-view-in-the-world/
http://www.theultralighthiker.com/10-days-in-fiordland/
http://www.theultralighthiker.com/fiordland-2009/
http://www.theultralighthiker.com/fiordland-nz-with-bryn/
http://www.theultralighthiker.com/fiordland-april-2007/