Just a few kms walk outside the small township of Tanjil Bren in Gippsland Victoria is the most beautiful place in the whole world! You go out along Saxtons Road beginning in the heart of Tanjil Bren.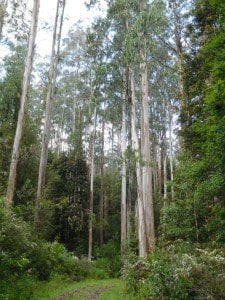 Many beautiful wildflowers carpet the verges: buttercups,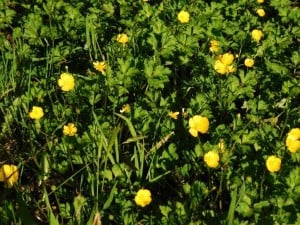 And Alstromoerias.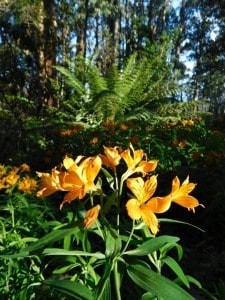 Just before Downey you turn west onto the old tramway. Parts of it are Antarctic beech forest.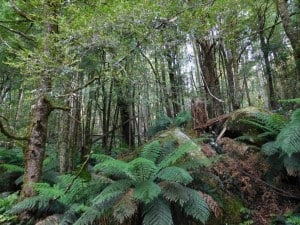 It is so like Fiordland, New Zealand. Why travel?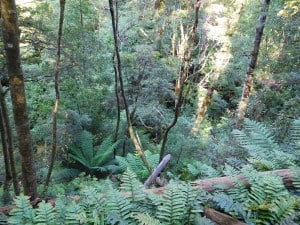 The dogs enjoy the rich, earthy smells of the deep forest litter beneath the majestic gums.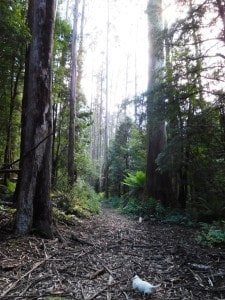 An old (closed) bridge begins Kirchubel's Tramway, its exploration to be saved for another day. Maybe some of the 18 old timber bridges yet survive?
The first of the Tramway Falls is magnificent.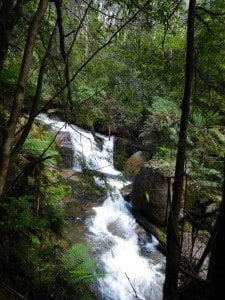 There is a cast iron pipe at the top of the falls. Water supply to the lost township of Kirchubel, perhaps.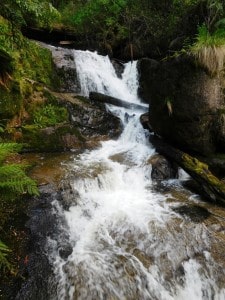 Some recollections of this township (lost over 50 year ago) yet survive: Colin Bigwood writes, 'In the early 40's my dad Roley Bigwood, my mum Elsie, and my younger Brother David and myself Colin went to Kirchubel's sawmill to live. My Dad worked mainly on the breaking down saw, and had a scar on his right upper-arm to show until he died where the saw grabbed his thumb while fitting a packing block to the leading edge of the bottom blade. He also was a leader in on one of the benches. When we first got there Mr. and Mrs. Ireland operated the boarding house (it was more of a mess house, because the single men's huts were a bit away from the boarding house) The men only came to have their meals. We lived in a newly built house next to Gill and Lorna Cooper south of the boarding house and north behind the single men huts. When Mrs. Ireland left ,my Mum Elsie Bigwood took over the running of the Boarding house and we moved from our house to live in the back of the B/house. We stayed until I was seven (1945) when the war ended and (we) returned to Tasmania. I can still remember the layout of Kirchubel's sawmill and little village, even down to where the Dug out in case of bush fires was. Later on this year I hope to revisit Tanjil Bren and to explore the remains.'
See also:
http://www.theultralighthiker.com/western-tyers-river-great-for-crays/
http://www.theultralighthiker.com/the-western-tyers/
http://www.finnsheep.com/THE%20UPPER%20YARRA%20WALKING%20TRACK.htm
http://www.theultralighthiker.com/upper-yarra-track-update-section-one-moe-yallourn-rail-trail/
http://www.theultralighthiker.com/upper-yarra-track-update-section-three-wirilda-to-moondarra/
http://www.theultralighthiker.com/upper-yarra-track-section-four-moondarra-to-erica/
http://www.theultralighthiker.com/upper-yarra-track-summary-cumulative-distancestimes/
http://www.theultralighthiker.com/upper-yarra-track-osheas-mill/
http://www.theultralighthiker.com/a-beautiful-world/
http://www.theultralighthiker.com/upper-yarra-track-winter-route-caringal-scout-camp-tyers-junction/
http://www.theultralighthiker.com/upper-yarra-track-winter-route-western-tyers-morgans-mill-skinners-camp/
http://www.theultralighthiker.com/upper-yarra-track-winter-route-western-tyers-to-tanjil-bren/