What a way to escape the heat! Others may flock to the beach. We give our hearts to the mountains. Mt Baw Baw was to be 8C cooler than home (with no power) and with a delightful cooling 30 kph breeze. When we left our car at the bottom of Candleheath Drive (Go down Frosti Lane next to the shop until you come to the sign for Mueller's Track) it was a balmy 24C with a cool breeze blowing. So suck eggs!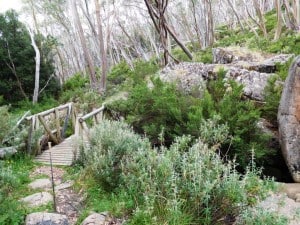 Take Mueller's track. Just cross this magic bridge – watch out for trolls!
Once more into the bush dear friends!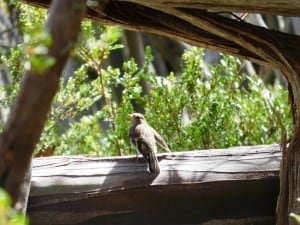 Jackie Winters are as common as sparrows up there.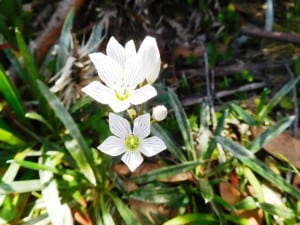 So are native snowdrops! Follow Mueller's Track. Take every turn to the left until you come to here: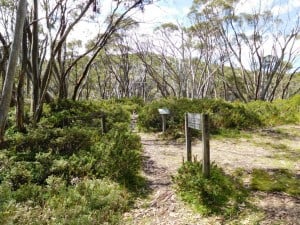 The turnoff to the new (St Gwinear) track near Baragwanath Flat (where the old track also exits – don't take that!) is impossible to miss. On the way back take every turn to the right. Mt Baw Baw is a maze of tracks. You can wander round in circles for hours! It is very lovely though! The track follows a ridge but crosses two gullies – so water every km.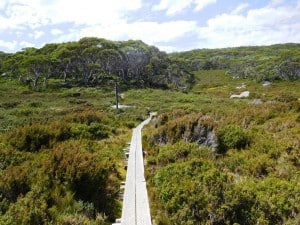 This one is West Tanjil Creek.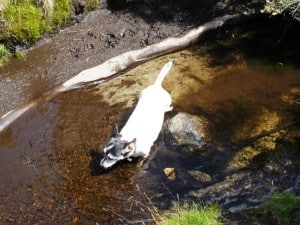 Time for Tiny to have a bath.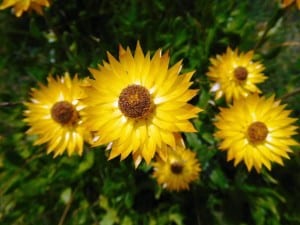 A host of golden everlasting daisies – so much better than those fleeting daffodils!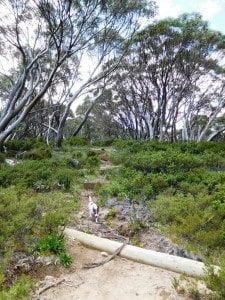 Spot races ahead, then races back. I was calling him back for fear of snakes. We saw none, but there were innumerable very fat skinks. They must store it against the winter cold.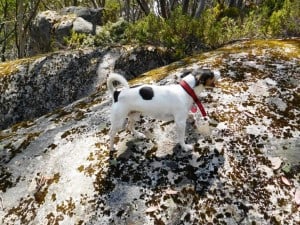 He leaps on a giant tor having similar (lichen) spots to himself.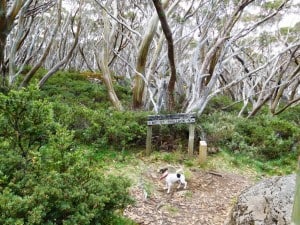 The intersection with the Alps & Upper Yarra Tracks. 'This is the way we went last week', says Spot.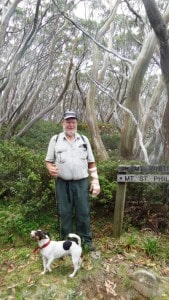 The hand op. the day before (& cast) were supposed to slow me down!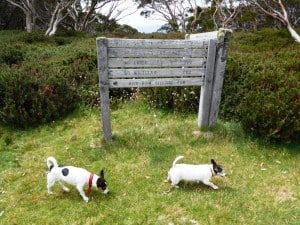 Here we are again at Phillack Saddle (http://www.theultralighthiker.com/upper-yarra-track-section-nine-phillack-saddle-to-block-10-road/ ) Such a delightful place to camp. You can read the track distances if you zoom in (double click). Are we staying again, the dogs want to know. Not this trip.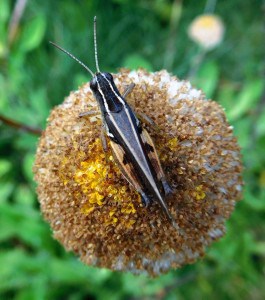 'To see a World in a Grain of Sand And a Heaven in a Wild Flower' (Blake)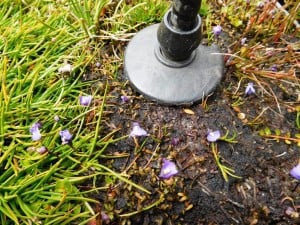 Wonder too at these amazing miniature native violets! The tip of my hiking pole for comparison.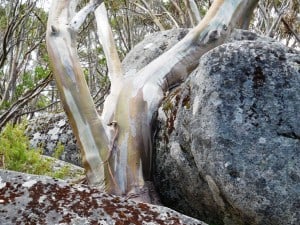 This snow gum has loved this stone ever so long…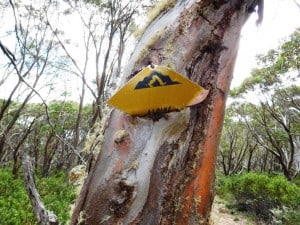 And this one galled by man's cruel sign – anthropomorphism is fun, but do not seek truth that way!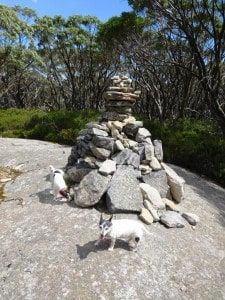 At last (after 1.5 hours) Mt St Phillack: Spotty barked several times at the cairn. His opinion is cairns ought not to be there – but Jack Russells…they can go anywhere!
This is a walk you might do on a summer trip to Mt Baw Baw. There is plenty of accommodation – even a restaurant: https://mountbawbaw.com.au/
Hits: 62