They are the solution to tarp/tent problems. I have known about them for so long and done nothing. Well, yesterday I was having a problem getting my new project, a Tyvek octagon/decagon shelter to sit properly. I created the curve you see on the piece of plywood by hanging a piece of rope between two screws then, using the pattern produced as a template I cut the curves out. Instantly the tent wanted to stand upright nice and taut. It will be much better when it is properly sewn with tie-outs and etc. The tent looks to be a winner. In this (its largest configuration) it creates a 'fire tent' which is 10.5' (350cm) long and 7' wide (210cm) and 6'6" high (195cm), big enough to sleep four adults and their gear out of the rain eg on a hunting expedition (anticipated). The weight (floorless model) 550 grams in Tyvek. It will be less than 150 grams in cuben fibre! I will be posting about it soon and reworking all my old plans too with what I've learned. Watch this space!
Catenary curve and template.
Largest configuration: opening height 2'9" (85 cm)
Nice and roomy inside. The turquoise object is a 7' x 5' (210 x 150 cm) poncho used as a groundsheet. Room for two of these!
NB: Here is a neat way to do the catenary curves: (http://www.tiergear.com.au/25/-make-your-own-adventure-blog) 'using a length of 6mm dowel (or some other equivalent), and some heavy weights to keep it in place position the dowel so that it intersects the two corners and the mid catenary cut mark, and draw a line along the dowel.'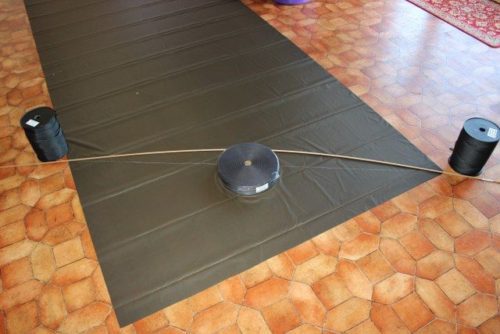 See also:
http://www.theultralighthiker.com/does-spot-like-to-hunt-deer/
http://www.theultralighthiker.com/tyvek-solo-fire-shelter/
http://www.theultralighthiker.com/tyvek-tent-designs/
http://www.theultralighthiker.com/tyvek-twin-fire-shelter/
http://www.theultralighthiker.com/one-pole-tyvek-tipi/
http://www.theultralighthiker.com/tyvek-bivi/
http://www.theultralighthiker.com/new-tyvek-forestertent-design/
http://www.theultralighthiker.com/tyvek-jack-russell-rain-coat-13-grams/
http://www.theultralighthiker.com/catenary-curves/
http://www.theultralighthiker.com/ultralight-chairgrounsheet/