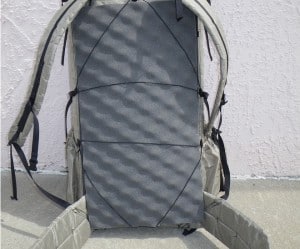 If you don't own a Gossamer gear pack but want to add an Air beam to another frameless pack for load transfer you could try this idea: http://www.zpacks.com/large_image.shtml?backpacks/options/sleeping_pad_l.jpg
We added this system ourselves with some elastic to a pack (plus one Klymit Air beam) with spectacular results, not least being a dry back! Mountain Laurel Designs also have a load transfer system (http://www.mountainlaureldesigns.com/shop/product_info.php?cPath=25&products_id=208 using a Klymit pad (See also: http://gossamergear.com/gg-airbeam-pack-frame.html) which goes inside your pack).
You could try that (ie putting it inside your pack) anyway if you aren't handy at sewing. I suspect the idea originated first with Ray Jardine (http://www.rayjardine.com/ray-way/Backpack-Kit/index.htm?g_page=9).
I prefer it on the outside of my pack for the dry back option, what a winner (!) and as a handy trail seat for rest stops.
See also: http://www.theultralighthiker.com/air-beam-pad/ & http://www.theultralighthiker.com/klymit-air-beam-inflatable-pack-frame-update/
Zpacks Zero plus Gossamer Gear Sitlight pad shown.