I decided it was time to upgrade my Tyvek Solo Fire Shelter (http://www.theultralighthiker.com/tyvek-solo-fire-shelter/) into something much better and which could accommodate two – and dogs! I also wanted to use my 'Holeless Poncho (http://www.theultralighthiker.com/hole-less-ponchoshelter/) as the floor. Such instructions as there are so far are can be found in these two posts.
I intended that this should result in a 'roof' (in Tyvek for its 'fireproofness') that was around 400 grams, and a poncho 'floor' in silnylon that would be around 170 grams. Adding another 80 or so grams for tent pegs should still result in a tent which was under 600 grams, and fit for all weathers. It would also provide a raincoat (maybe a spare) which would otherwise weigh maybe half the weight of this tent!
The tent uses only one 5′ pole (probably a stick found up the bush). I have now actually sewn in a Tyvek floor in this prototype, which proves to me that my weight calculations are right, and that the tent works perfectly. Of course I want to try it out on a few more expeditions before I finalise the design. I am thinking of making it a bit longer. The solo was the minimum length for me (I am 5′ 8″) but was a bit shorter than is comfortable really. I may go out to 7'6″ or even 8′.
Try making this one first. It will only cost you $10: http://www.theultralighthiker.com/poly-tent-by-the-ultralight-hiker-on-the-cheap/
The photo below (from The Last of the Mountain Men) shows the version with sewn in floor and floored vestibule area: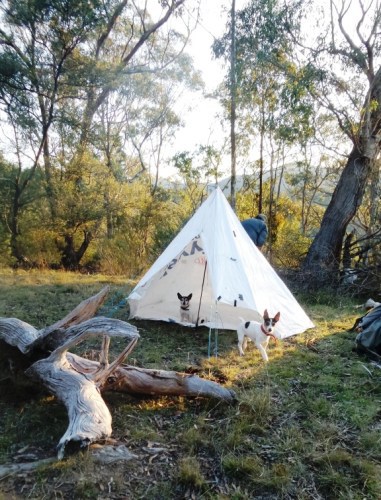 I have now discovered some 1 oz/yd2 silnylon which is reasonably priced at $11.95 a metre (http://www.theultralighthiker.com/australian-outfitter/)  so that I can make the whole thing much lighter (55% of the weight, ie under 400 grams all up). I have made the Siligloo and the Pocket Poncho Tent from it, and am very pleased with them/it. In cuben you could go even lighter but it is very expensive at around $30/yd (http://www.zpacks.com/materials.shtml) I have a piece I can salvage from another project so I will make a cuben model with a 1oz silnylon poncho floor – I expect the whole thing (including floor) will weigh under 300 grams after I have made another one in Tyvek to get the measurements just exact. This one was the prototype. Not bad for a two person tent though!
The waterproof section of the floor would only be 5' by 7' ( or anyway the size of the poncho), less a bit so that you get a 'bathtub floor' effect. However, there is also a floorless 'vestibule area of about 5 square feet for dogs, and gear stowage. I expect if you are vertically challenged like us you will have plenty of room to shove bits and pieces at the ends and side. We will fit. That's my old poncho in the cover photo and at the bottom. The mitten hooks and material have not yet arrived (tomorrow I expect) to make my new one and attach it to the tent to make the floor. It will create a bathtub floor 4'6″ x 6'8″ x 2″ deep.
It was extremely windy when I took the photos below but it is showing no inclination to fall down – and it went up in seconds! That's what I like. It is also raining but it is nice and dry inside. As with all my tents it is intended you will warm it with a cosy fire out the front, a nice touch if you are enjoying winter hunts in Gippsland, as I will be doing. Sparks from a fire never melt a hole in Tyvek which has an ignition temperature about 900F (400C).
There are three different modes. The 'normal' fully open mode which will be easiest to get into. The peak is 5' high. The rainy day mode where you can half close it yet have the entire floor stay dry but still enjoy the benefits of the fire. The storm mode for when it really wants to blow and bucket down and you need to keep it all out and keep the tent from blowing away. If much taller tepees withstood the winds on the Great Plains for centuries I expect this little guy will withstand a rainy night or three in Gippsland! I will figure out how to put a couple of vents in the top for when it is in storm mode.
Just picture yourself sitting in there in front of a warm fire on your Cyclone Chair: http://www.theultralighthiker.com/cyclone-chair/
PS: We have been out and about to test out the new tent: http://www.theultralighthiker.com/the-last-of-the-mountain-men/ and it worked well. It doesn't pay to rush into things though. I have been thinking some more about the Cuben Fibre version of the tent and have realised two things: 1. I can make the tent bigger than I envisaged with the poncho floor. For some reason I was thinking of the floor as stretching across from the widest parts of the tent which is just not so.
Changing this will increase the floor area quite a lot. 2. I now also realise I can devise a bug screen which can be deployed when using the poncho for a floor. The bug screen will add only about 40 grams. It will consist of a 6″ 'skirt' of flyscreen which drapes down onto the poncho, and at the front two overlapping 'wings' which you push through to get in/out. No zips to break. It will keep out 90%+ of the nasties. I will be making another Tyvek version (someone could get lucky!) to get the dimensions/details just right before I make a silnylon version or use up my very expensive cuben.
In the meantime, this one is really easy to make and works well: http://www.theultralighthiker.com/honey-i-shrank-the-tent/ Here is a photo of it taken on our recent canoeing trip; http://www.theultralighthiker.com/wonnangatta-waterford-to-angusvale-day-one/
Below: the 'Honey I Shrank' Tent on the Wonnangatta/Mitchell, Gippsland, Victoria, Australia.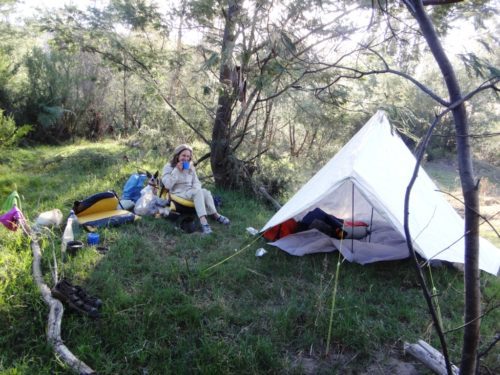 Here are the photos of the first prototype I mentioned above. Top: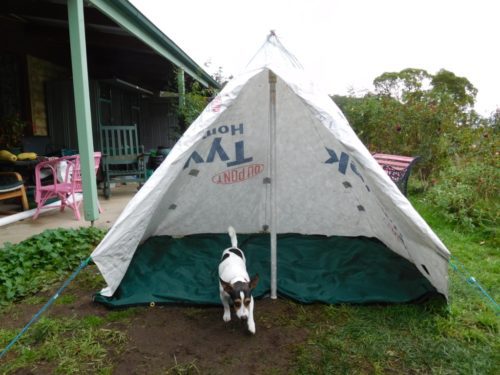 Open Mode: As you can see, it has Spot's 'seal of approval'.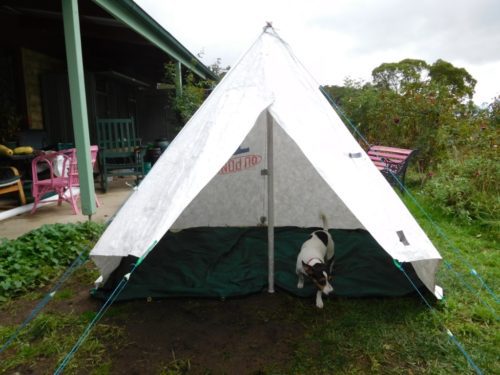 Half Open Mode.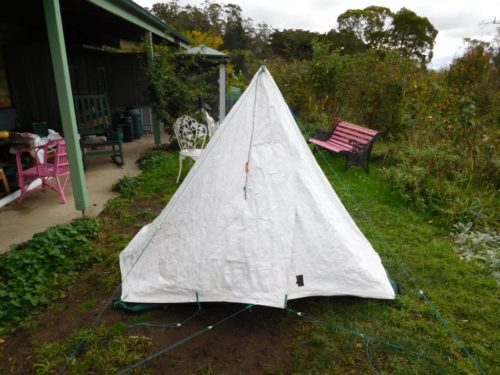 Storm Mode.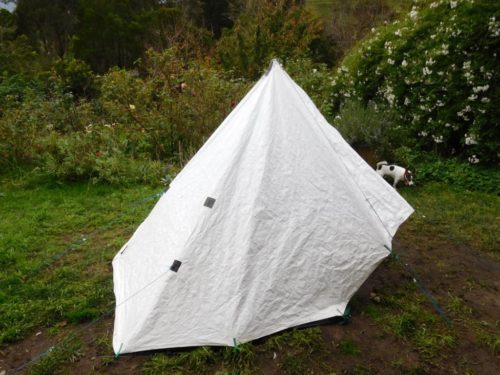 Side View.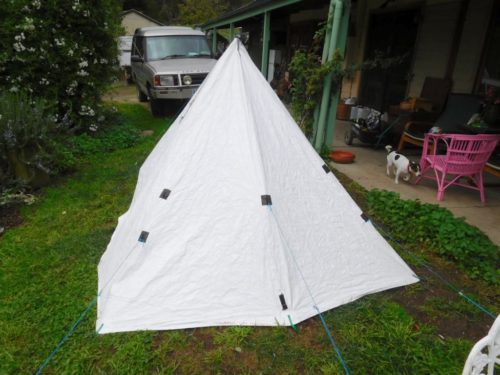 Rear View.
See also:
http://www.theultralighthiker.com/new-decagon-octagon-tyvek-igloo-tent-design/
http://www.theultralighthiker.com/honey-i-shrank-the-tent/
.http://www.theultralighthiker.com/the-deer-hunters-tent/.
http://www.theultralighthiker.com/does-spot-like-to-hunt-deer/
http://www.theultralighthiker.com/tyvek-solo-fire-shelter/
http://www.theultralighthiker.com/tyvek-tent-designs/
http://www.theultralighthiker.com/tyvek-twin-fire-shelter/
http://www.theultralighthiker.com/one-pole-tyvek-tipi/
http://www.theultralighthiker.com/tyvek-bivi/
http://www.theultralighthiker.com/new-tyvek-forestertent-design/
http://www.theultralighthiker.com/tyvek-jack-russell-rain-coat-13-grams/
http://www.theultralighthiker.com/catenary-curves/http://www.theultralighthiker.com/ultralight-chairgrounsheet/
Instructions will be added later – as might the facility to buy one.
For now, what I did to make this version: sewed on the entrance flaps (as per instructions here: http://www.theultralighthiker.com/tyvek-solo-fire-shelter/) then set the tent up 5′ high with tarp clips configuring it around the dimensions of the poncho which I marked on the ground (with tent pegs). I also wanted the tent to tie out more tautly so I extended the tie down point at the rear by 3″ and the middle side tie down points by the same amount. I moved the two front side tie down points to exactly conform to the dimensions of the poncho, then I brought the two front flaps together about 15″ out from the pole and cut off the bottoms. Before I cut off the sides of the front flaps I pegged them out into the half open position and pinned them together about 18″ forward of the peak so as to make a rain shelter at the front when the tent was open.
I marked a position to sew a pocket to take a pole at the inside of the peak. I also marked a point on the roof to sew in a loop to hang my torch from. Taking the tent down, I laid it out on the floor and made sure that the sides were symmetrical and marked catenary curves along the bottom sections allowing a curve of about 1″-1 1/2″ in the centre of the curve. When I had sewn in the new tie downs, pocket etc I set it up again and added some stick-on Velcro for the door closures. I will recalculate all the dimensions and make a wholly new model (soon).
On this prototype which turned out to be slightly smaller than the poncho and what it can be, I  sewed in a Tyvek bathtub floor (approx 210 grams) just to see how that works. I had to cut a piece which is slightly bigger than the tent floor then set the tent up on top of it, then carefully trimmed and pinned so that the floor was always bigger than it needed to be (this may mean a little excess at the corners) so that the floor doesn't hinder the tent's pegging out nice an taut
I have now included a floor for the vestibule. I may also add some .7oz/yd2 nano bug mesh to the outside of the vestibule so that one can enjoy a night without beasties biting. This will add little more than an ounce. All the same it will be nice to have a tent which goes up in seconds (just right) and is ready to move right in. This tent goes up so fast I can imagine putting it up for lunch on wet days!
NB: Here is a neat way to do the catenary curves: (http://www.tiergear.com.au/25/-make-your-own-adventure-blog) 'using a length of 6mm dowel (or some other equivalent), and some heavy weights to keep it in place position the dowel so that it intersects the two corners and the mid catenary cut mark, and draw a line along the dowel.'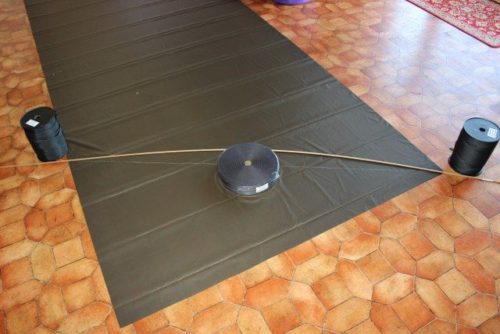 PS: The tent has stood up perfectly to several very windy wet nights – it looks no different to what it did when I set it up. Inside perfectly dry.
As usual, make one of these for your own use but if you want to manufacture them, I would like some credit – and some cash, please! There is a donate facility at the bottom of the page.
PS: I am investigating having some of these tents etc made in Asia this year with a view to putting a shop front on the website and selling them. Just hang in there.
Some Other Hunting Related Posts (there are many more):
Adventures:
http://www.theultralighthiker.com/sambar-stalking-101/
http://www.theultralighthiker.com/does-spot-like-to-hunt-deer/
http://www.theultralighthiker.com/spots-hunting-adventures-1-mystery-river/
http://www.theultralighthiker.com/not-quite-alone-in-the-wilderness/
http://www.theultralighthiker.com/hunting-in-fiordland/
http://www.theultralighthiker.com/moose-hunting/
Survival:
http://www.theultralighthiker.com/finding-your-way/
http://www.theultralighthiker.com/how-to-light-a-fire-in-the-wet/
http://www.theultralighthiker.com/carry-a-knife/
http://www.theultralighthiker.com/how-to-treat-a-gunshot-wound-part-2/
http://www.theultralighthiker.com/how-to-avoid-being-wet-cold-while-camping/
http://www.theultralighthiker.com/river-crossings/
http://www.theultralighthiker.com/river-crossings-2/
http://www.theultralighthiker.com/emergency-dial-112/
http://www.theultralighthiker.com/rope-dont-leave-home-without-it/
http://www.theultralighthiker.com/home-made-pack-raft/
Feet:
http://www.theultralighthiker.com/784/
http://www.theultralighthiker.com/spare-shoes-great-for-river-crossings/
http://www.theultralighthiker.com/keen-shoes/
http://www.theultralighthiker.com/why-you-should-get-your-feet-wet-when-hiking/
http://www.theultralighthiker.com/foot-care/
http://www.theultralighthiker.com/ultralight-mitts-and-gaiters/
Tips:
http://www.theultralighthiker.com/ultralight-personal-hygiene/
http://www.theultralighthiker.com/insects-can-ruin-a-camping-trip/
http://www.theultralighthiker.com/leeches/
http://www.theultralighthiker.com/pack-weight-reduction-tips/
http://www.theultralighthiker.com/securing-hearing-aids/
Equipment:
http://www.theultralighthiker.com/308s/
http://www.theultralighthiker.com/bore-sight/
http://www.theultralighthiker.com/camera-clearviewers/
http://www.theultralighthiker.com/the-worlds-greatest-machete/
http://www.theultralighthiker.com/improvised-bow-saw/
http://www.theultralighthiker.com/lever-actions/
http://www.theultralighthiker.com/blr-lightning-rifle/
http://www.theultralighthiker.com/never-have-to-sharpen-your-knife-again/
Shelter:
http://www.theultralighthiker.com/the-deer-hunters-tent/
http://www.theultralighthiker.com/hammocks/
http://www.theultralighthiker.com/hammock-camping/
http://www.theultralighthiker.com/worlds-lightest-tarp-clip/
http://www.theultralighthiker.com/the-perfect-guy-line-for-a-hiking-tenttarp/
http://www.theultralighthiker.com/tent-stakes-and-tricks/
Hiking Gear:
http://www.theultralighthiker.com/dry-bags-sea-to-summit-ultra-sil-nano/
http://www.theultralighthiker.com/bush-shower-mechanical-advantage/
Comfort:
http://www.theultralighthiker.com/cyclone-chair/
http://www.theultralighthiker.com/best-sleeping-bag/
http://www.theultralighthiker.com/air-beam-pad/
http://www.theultralighthiker.com/ul-pillows/
http://www.theultralighthiker.com/new-hiking-mat-425g/
Dogs:
http://www.theultralighthiker.com/tyvek-jack-russell-rain-coat-13-grams/
http://www.theultralighthiker.com/ultra-light-dog-leash/
Packs:
http://www.theultralighthiker.com/the-ideal-pack/
http://www.theultralighthiker.com/ultralight-pack/
http://www.theultralighthiker.com/hunting-daypack/
http://www.theultralighthiker.com/ultralight-hunting-daypack-update/
Clothes:
http://www.theultralighthiker.com/hiking-pants/
http://www.theultralighthiker.com/rain-kilt/
http://www.theultralighthiker.com/new-cuban-fibre-raincoat/
Hunting/Fishing:
http://www.theultralighthiker.com/how-to-make-a-sling/
http://www.theultralighthiker.com/four-gram-fishing-handlines/
http://www.theultralighthiker.com/solunar-tables/
Cooking:
http://www.theultralighthiker.com/cookset-woes/
http://www.theultralighthiker.com/supercat-hiking-stove/
http://www.theultralighthiker.com/windscreens/
Food:
http://www.theultralighthiker.com/emergency-cb-radios/
http://www.theultralighthiker.com/tasty-hiking-meals/
http://www.theultralighthiker.com/dellas-coconut-rice-hiking-food/
http://www.theultralighthiker.com/lunch-on-the-trail/
http://www.theultralighthiker.com/hiking-food-2/
Water:
http://www.theultralighthiker.com/survival-still/
http://www.theultralighthiker.com/water-hiking-desalinator/
http://www.theultralighthiker.com/water-filter/
Thoughts:
http://www.theultralighthiker.com/free-willdeterminism/
http://www.theultralighthiker.com/you-will-not-live-forever/
4WD:
http://www.theultralighthiker.com/second-air-bead-locks/
http://www.theultralighthiker.com/twin-shock-absorbers/
http://www.theultralighthiker.com/enginesaver-low-engine-water-alarm/
Electronics:
http://www.theultralighthiker.com/mobile-phone-battery-life/
http://www.theultralighthiker.com/get-lost-get-found-plbepirb/
http://www.theultralighthiker.com/mobile-phone-antennae/
http://www.theultralighthiker.com/gotenna/
http://www.theultralighthiker.com/mobile-phones-apps-for-bushwalking/
http://www.theultralighthiker.com/mini-super-torch-a-weeks-light-weighs-50-grams/
http://www.theultralighthiker.com/single-aaa-head-torch/
http://www.theultralighthiker.com/eneloops-rechargeable-batteries/
http://www.theultralighthiker.com/does-spot-like-to-hunt-deer/