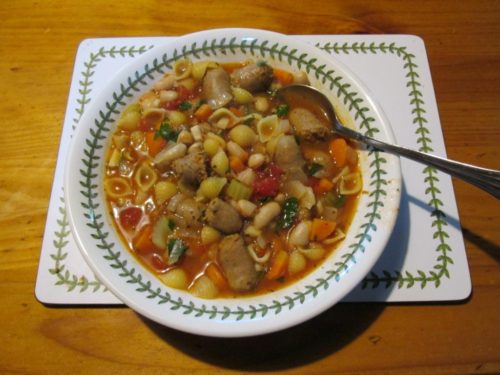 Della was off being crafty again, leaving me a temporary widower – so I had to shift for myself. I made THIS excellent soup. I think it is very nearly the best meal I have ever made, so I will share it with you as the lamb stew (http://www.theultralighthiker.com/steves-lamb-stew/) went down so well! Glad you enjoyed! Again this is not exactly hiking food, but you have to build up your strength when you are off the trail! Coming soon: Steve's Mulligatawny
Fagioli Ingredients:
1 tablespoon olive oil
2 med onions chopped
2 lge cloves garlic chopped
1 lge carrot chopped fine
2 stalks celery chopped 1 cm cubes
500g thin pork sausages (browned &) chopped approx 20mm
2 teaspoons dried oregano leaves
1 teaspoon dried basil leaves
2 Teaspoon sweet paprika
1 400g can chopped tomatoes with juice
4 cups chicken stock
1 400 g can cannelloni beans
1 cup very small shell pasta (1cm)
2 tablespoons fresh chopped parsley
Directions:
Heat olive oil I a large pot medium heat
 Add and brown sausages (chop)
Cook onion in oil 2 minutes
Stir in garlic, carrot, celery and cook 3 minutes
Add basil, oregano and paprika
Toss to coat
Stir in tomatoes and stock
Bring to a boil
Reduce heat and simmer 30 minutes
Stir in beans and tiny pasta
Simmer 8 minutes until pasta is tender
12 Stir in parsley and serve; (Serves 4-6)
PS: To lower the GI I guess you could sub some cauliflower for the tiny pasta and it would taste just as good. Cheers.