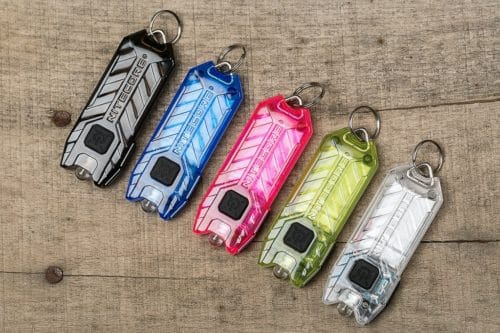 Nitecore Tube. What a tiny delight this little guy is & at only 9.6 grams (less than a AAA battery and only 2 grams heavier than a Photon http://www.theultralighthiker.com/photon-torch/). I have a Bushnell Solarwrap Mini (http://www.theultralighthiker.com/charging/) I can plug one of these little guys into anytime it gets a little lazy. Two of them should be enough for most lighting needs. It ought also to be quite easy to create a head torch attachment for one (http://www.theultralighthiker.com/diy-head-torches/).
Two of them at 19.2 grams would save me the weight of several say4) AAAs @ 10 grams ea & the weight of 1-2 mini torches at 16 grams ea & 1-2 Photons @ 7 grams ea – a saving of 109 grams! I always like to have plenty of lighting options. Probably what I will do at the outset is swap out the Photons plus their spare batteries and reduce the numbers of my AAA batteries and see how I go. It is always handy to have a spare torch (or two) for when they fail (much less frequently nowadays it's true) or for when you need to lend one to someone who has lost theirs (still quite a frequent occurrence!) See:  http://flashlight.nitecore.com/product/tube They have a special deal on them at Massdrop right now!
PS The onboard lithium battery is approx 100 milliamp hours (printed on the battery).
For those who cannot resist tinkering, there is a mod which will produce 73 lumens from this torch: https://www.reddit.com/r/flashlight/comments/3m13l8/how_to_hotrod_a_nitecore_tube/
See also: http://www.theultralighthiker.com/11-gram-rechargeable-head-torch/
Specs:
| | |
| --- | --- |
| Max Output | 45 lumens |
| Max Beam Distance | 24 m |
| Max Beam Intensity | 150 cd |
| Max Run time | 48 h 0 m / 2 d |
| | |
| LED | High performance LED |
| Battery | Rechargeable Li-ion |
| Beam color | White light |
| Length | 56.5 mm / 2.22 in |
| | |
| Head Size | 21 mm / 0.83 in |
| Weight | 9.6 g / 0.34 oz |
| Feature | Infinitely Variable Brightness (1-45 lumen), Rechargeable |
Hits: 82