A work of pure genius. Can there be a better camp shoe than this? Chris Morgan writes: 'The Walmart foamy option is fairly durable (about 20 nights of heavy use, but a pad will make about a dozen pairs), very stable, ridiculously cheap and ultra comfortable. About 1oz for the pair: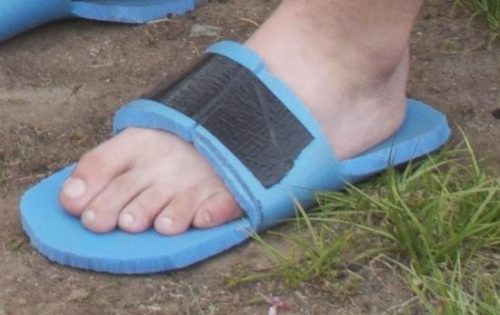 Step 1: Buy a $4 Walmart blue foamy sleeping pad.
Step 2: Trace your foot and add little less than a cm all around (you can trim to fit later, though I find a little extra is kind of nice and you don't trip over it), and add wings so that when folded up together it looks like an Adidas shower sandal.
Step 3: Cut foam.
Step 4: Apply 1 piece of duct tape across the top – you may have to shorten the wings after trying on to get a tight fit.
Voila:
Thanks to Chris Morgan at backpacking light forum: https://backpackinglight.com/forums/topic/46709/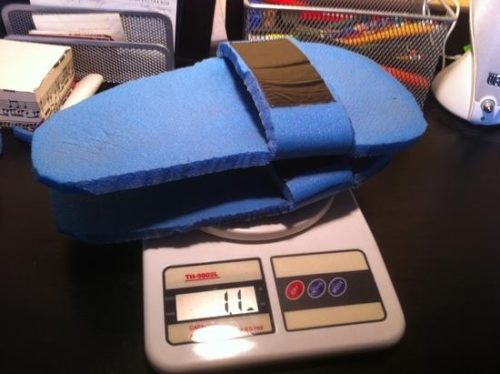 QED' Indeed!
PS: These are better in the toughened foam or rubber – see below. The 19 gram ones (24 grams per pair – read the post)  are even better.
See also:
http://www.theultralighthiker.com/no-sew-sandals/
http://www.theultralighthiker.com/toughened-foam-flip-flop/
http://www.theultralighthiker.com/cold-weather-hut-booties/
http://www.theultralighthiker.com/fifteen-gram-blue-foam-flip-flop/
http://www.theultralighthiker.com/the-ideal-camp-shoe/
http://www.theultralighthiker.com/spare-shoes-great-for-river-crossings/
https://www.theultralighthiker.com/19-gram-dyneema-camp-shoes/