You can readily shave around 300 grams off Gossamer Gear's Gorilla (http://gossamergear.com/gorilla-ultralight-backpack-all-bundle.html or Mariposa, etc) backpack by taking out the aluminium stay, removing the hipbelt and replacing it with an ultralight webbing belt, and replacing the Sitlight pad with an Airbeam pad. The pack will ride just about as well (well, just as well when you are only carrying a few kgs) and transfer weight to your hips, and you will have saved the weight of over half a day's food!
If this is to be a permanent alteration you can also cover over the holes where the stay went through the body of the pack both sides with some Tenacious tape (http://www.theultralighthiker.com/gear-repairs-tape/) to make the pack a little more watertight. You need a double buckle, some 1" webbing and a piece of 1" Velcro and about five minutes on the sewing machine to effect the change. As I have pointed out elsewhere (http://www.theultralighthiker.com/a-tardis-folding-space/), you can make the pack carry a lot more than its rated 48 litres by utilising Sea to Summit's Ultrasil Compression Bags (or similar) and by adding some tie-downs so you can carry another bag on top (http://www.theultralighthiker.com/attaching-tie-downs-to-your-pack/).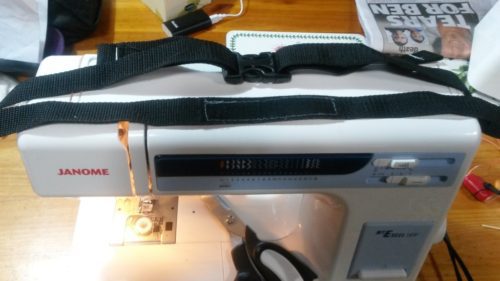 Completed belt ready for fitting. Note piece of velcro sewn on reverse side in the middle for attaching to pack.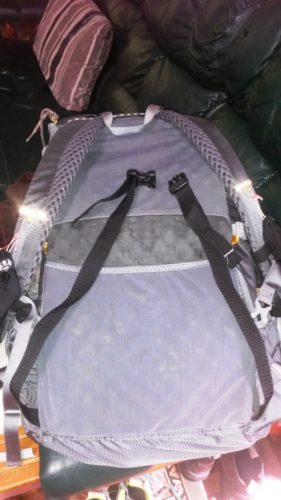 Standard hip belt removed and ultralight belt fitted.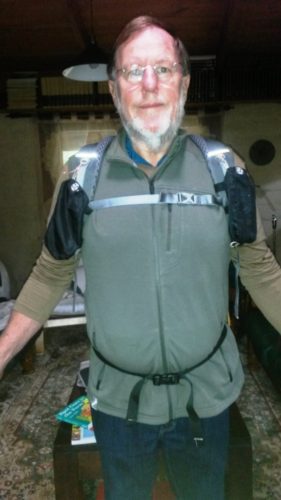 The final result; a very comfy pack which weighs a third of a kilo less!
Weights (my scales):
Gorilla Belt: 275 grams.
Alum Stay: 88 grams.
Replacement Belt: 32.5 grams.
Weight saving: 330 grams.
If you swap the Sitlight Pad for the Air Beam Pad it will add 20 grams to this, ie the weight saving will be 310 grams.
Pockets: If you need hipbelt pockets, you can add these
eg here: http://gossamergear.com/hipbelt-pocket.html 38 grams and US$8.80ea
or here: http://www.zpacks.com/accessories/beltpouch.shtml 21 grams and $US22.50ea.
NB: Gossamer Gear may not have the Air Beam pads at the moment.Mountain Laurel Designs still stock the Klymit (Air Beam) Pad in 11" x 25" size and US$35ea. You can cut it down and reseal with a hot iron to 20" if needed. It will then weigh approx 70 grams as compared with the Sitlight's 50 grams: http://www.mountainlaureldesigns.com/shop/product_info.php?cPath=46&products_id=186 They also stock Pack Pockets (if needed) at US$19ea.
Conclusion: With my Cyclone Chair (http://www.theultralighthiker.com/cyclone-chair/) in behind the Sitlight pad the Gorilla is more comfortable under load (for me) than it was with its original stay and hip belt, yet significantly lighter. According to the Specs it should weigh 644 grams in this configuration, (585 without the Sitlight) not too bad for a very tough comfortable 48 litre pack.  I suspect that a narrow hip belt is normally better for folks who carry a bit of weight around their midriff themselves – as I do! See: http://www.theultralighthiker.com/hip-belts/
See also:
http://www.theultralighthiker.com/a-gorilla-in-the-hand/
http://www.theultralighthiker.com/a-gorilla-in-the-bush/
http://www.theultralighthiker.com/the-best-laid-schemes/
http://www.theultralighthiker.com/pimping-a-gorilla/
http://www.theultralighthiker.com/linelok-pack-tie-down/
http://www.theultralighthiker.com/attaching-tie-downs-to-your-pack/
http://www.theultralighthiker.com/a-tardis-folding-space/
http://www.theultralighthiker.com/air-beam-pad/
http://www.theultralighthiker.com/klymit-air-beam-inflatable-pack-frame-update/