This is the new Gossamer Gear 58 litre pack. Total weight (Medium) 1060 grams with removable options, ie bare = 595 grams (ie without lid, hipbelt pad and frame).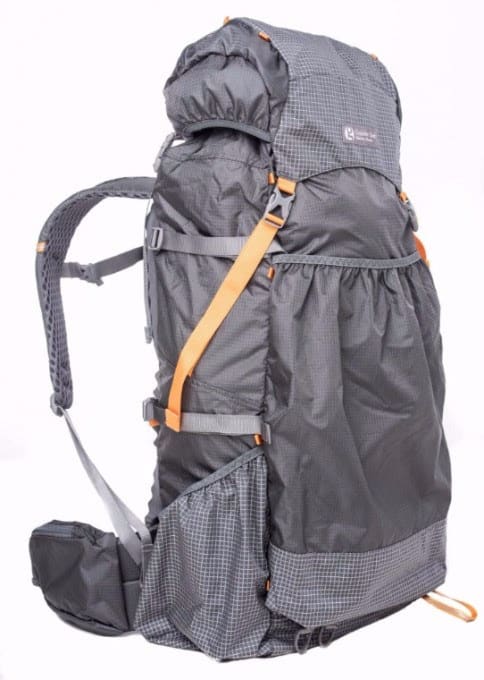 This new pack is the 'Big Daddy' of the Gossamer Gear Gorilla (48 litre total) pack which I reviewed some time ago eg here: http://www.theultralighthiker.com/a-gorilla-in-the-bush/ I also pointed out here http://www.theultralighthiker.com/pimping-a-gorilla/ that you could leave the aluminium pack frame at home and attach a much simpler hip belt and switch in the Air Beam pad for the Sitlight pad to reduce the weight to 644 grams, a very acceptable weight for a 48 litre pack.
If you performed the same mod on the Silverback (and left the lid at home) you would have a 58 litre pack which weighed 651 grams, meaning the extra approx ten litres has cost you just 10 grams, not very much for all that space! If the Silverback lives up to the wonderful standards of past Gossamer Gear packs – I started many years ago with their redoubtable G4 – and I'm sure it will, you will have an outstandingly robust and comfortable ultralight pack at a very reasonable price (from US$215) http://gossamergear.com/silverback.html
If you add some tie outs to this pack (as I did with my Gorilla: http://www.theultralighthiker.com/attaching-tie-downs-to-your-pack/) and you utilise some compression bags ( http://www.theultralighthiker.com/a-tardis-folding-space/) this pack will suit you for the longest expedition. I would be able to carry all my gear and supplies for an unsupported month with this pack.
More good news: Gossamer Gear have listened to my suggestion (above) about lowering the weight of the hipbelt and now offer a much lighter, simpler hipbelt with pockets http://gossamergear.com/fast-belt.html at 82 grams and US$21. This belt will suit folks who are a bit overweight better than their standard belt. It looks something like this:
See also:
http://www.theultralighthiker.com/diy-hiking-gear/
http://www.theultralighthiker.com/dusky-track-canoeing-the-seaforth/
http://www.theultralighthiker.com/hip-belts/
PS: If you find some discrepancy between Gossamer Gear's stated volumes for this pack and mine, note that GG do not state the volume any of its packs above the extension collar ( approx 8 litres) or in some cases the volumes of the pockets (my estimate: 13 litres).
Hits: 83