I made this dahl entirely with dried ingredients so I could make it on the trail. It made over a litre. I had trouble eating half. Very filling, tasty and nutritious. Do try it at home first. I would put the lentils in one small snap-lock bag and all the other dried ingredients in another. This soup will make a welcome change from whatever you are eating now, and is very light and cheap to make. Now with Della's 'seal of approval'!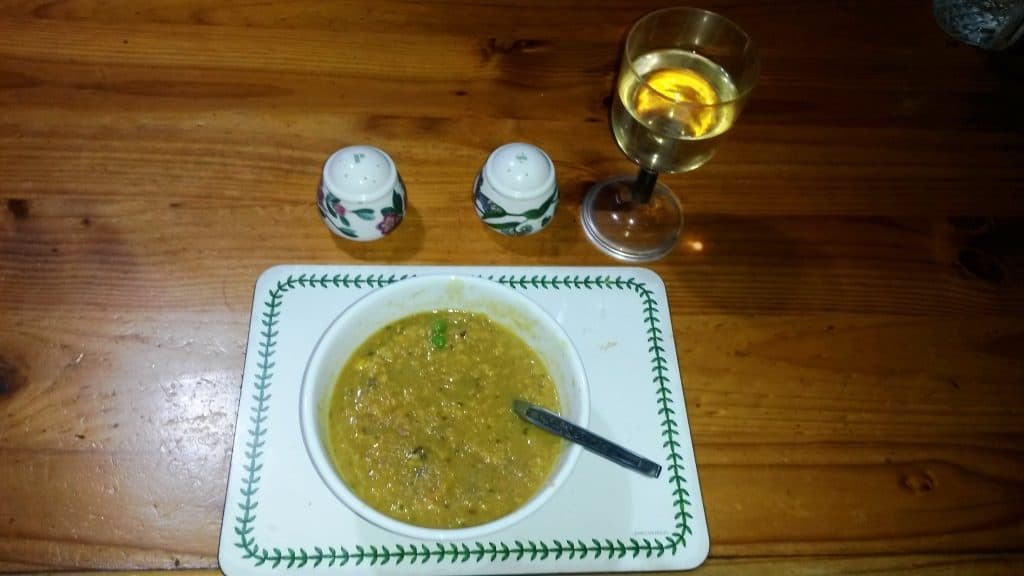 Ingredients:
1 cup red lentils
3 ½ cups water
20 grams Hormel dried bacon pieces
1 table milk powder
2 teas powdered/dried onion
½ packet Tomato cupasoup
½ teas turmeric
1 teas ground ginger
½ teas hot paprika
½ teas garam masala
½ teas coriander
2 teas dried chives
1 teas garlic powder
1 teas cumin
Pinch ground black pepper
Instructions:
Soak lentils 10 + minutes
Add ingredients
Bring to boil, then simmer 15-20 minutes.
Salt/pepper &/or curry powder (not needed) to taste
Thicken with Continental Deb mashed potato (not needed)
Comment: Delicious!