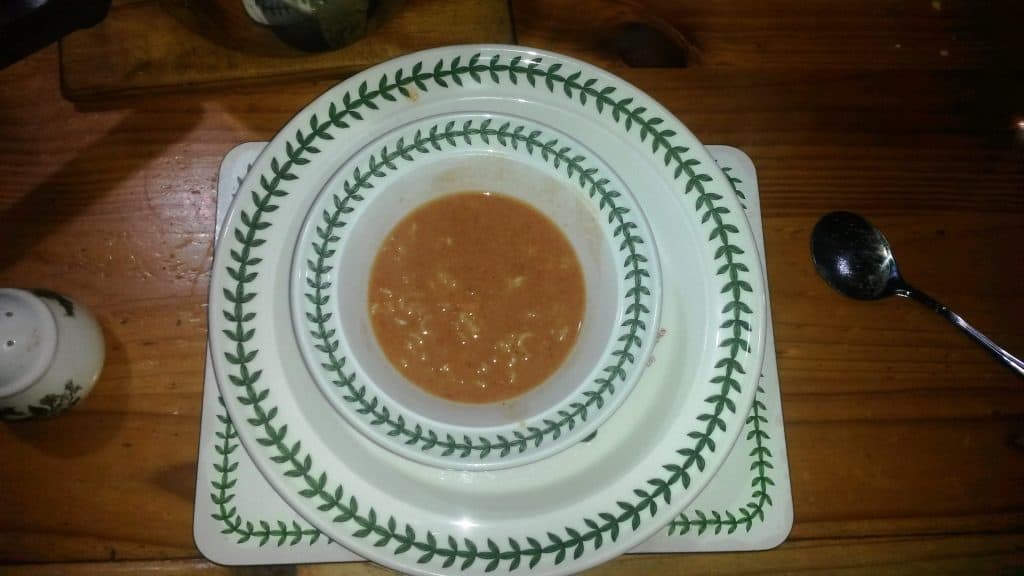 First catch your crayfish…Once again here's a delicious soup to cook in the wild after you have been doing a spot of fishing. Naturally it uses only dried, concentrated and lightweight ingredients. I based it on a traditional bisque recipe we have eaten for years but with ultralight ingredients. My tastes run to peppery and my wife is a lover of tomato flavour, so at just these proportions the dish may be a little intense for you (or not enough), so you can play with the proportions a bit until you get it just right. I hope you enjoy it.
To 1 Litre of water add:
10 teaspoons of milk powder ie 1/2 cup (add cold and stir in – it mixes better)
1 x 40 gram packet Continental French Onion Soup (NB low salt is good)
1 50 gram sachet of tomato puree (to taste)
1 small cubes or 1 teaspoon of chicken stock
1/2 Teaspoon ground black pepper (to taste)
1/2-1 teaspoon garlic powder
Bring to the boil. Simmer 3-4 minutes Stir occasionally.
Then add:
200 gram can of shrimp (if you don't have a cray). A 100 gram can of tuna will do in a pinch!
1 x 85 gram packet of Magi 2 minute noodles well broken up (into 1 cm lengths)
Simmer a further 1-2 minutes, stirring occasionally.
Serve & enjoy.
PS: If you prefer slightly stronger tastes try adding another sachet of tomato paste and 1 Teaspoon (to taste) of sweet paprika.
For other hiking food ideas, try a search for 'food' in the search bar at the top right hand corner of the page.
See Also:
http://www.theultralighthiker.com/steves-ultralight-fish-chowder/
http://www.theultralighthiker.com/hand-line-fly-fishing
http://www.theultralighthiker.com/hiking-crayfish-bisque/
http://www.theultralighthiker.com/the-ultralight-fisherman/
http://www.theultralighthiker.com/ultralight-coconut-fish-curry/
http://www.theultralighthiker.com/hand-line-fly-fishing/
http://www.theultralighthiker.com/a-ball-of-string-and-a-feed-of-cray/