I have been trying out a pair of Topo brand trail shoes. The ones I wanted were the Terraventure but the shop did not have them in my size so I bought a pair of Athletic Mountain MT2s for A$130. The Terraventures would have been 290 grams. These guys are 230 grams which sounds like an insane weight for something you are going to venture into the backcountry in, I know.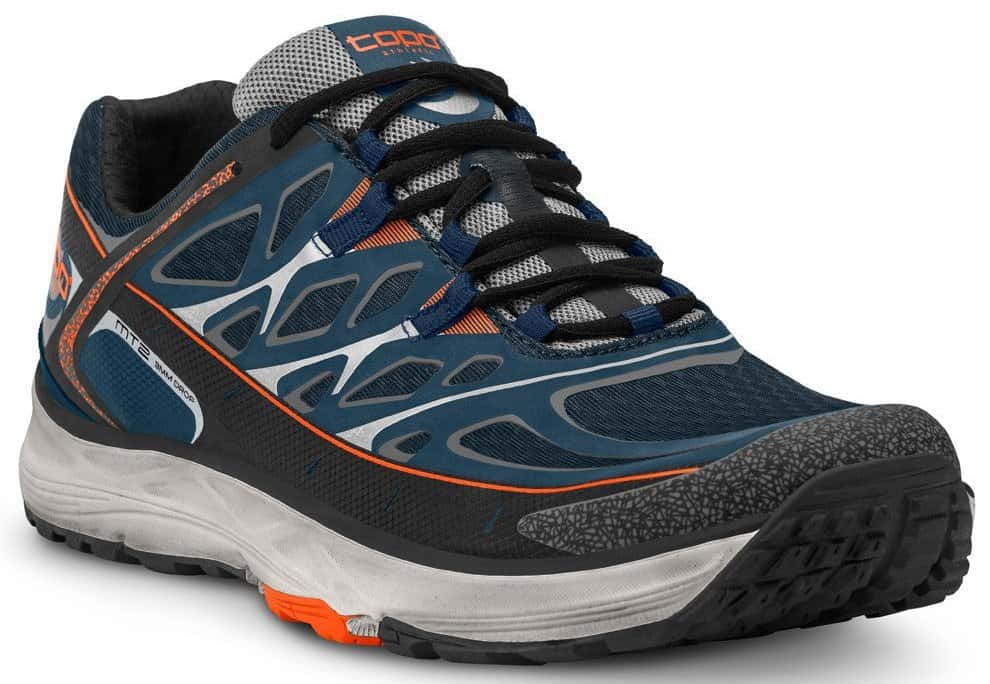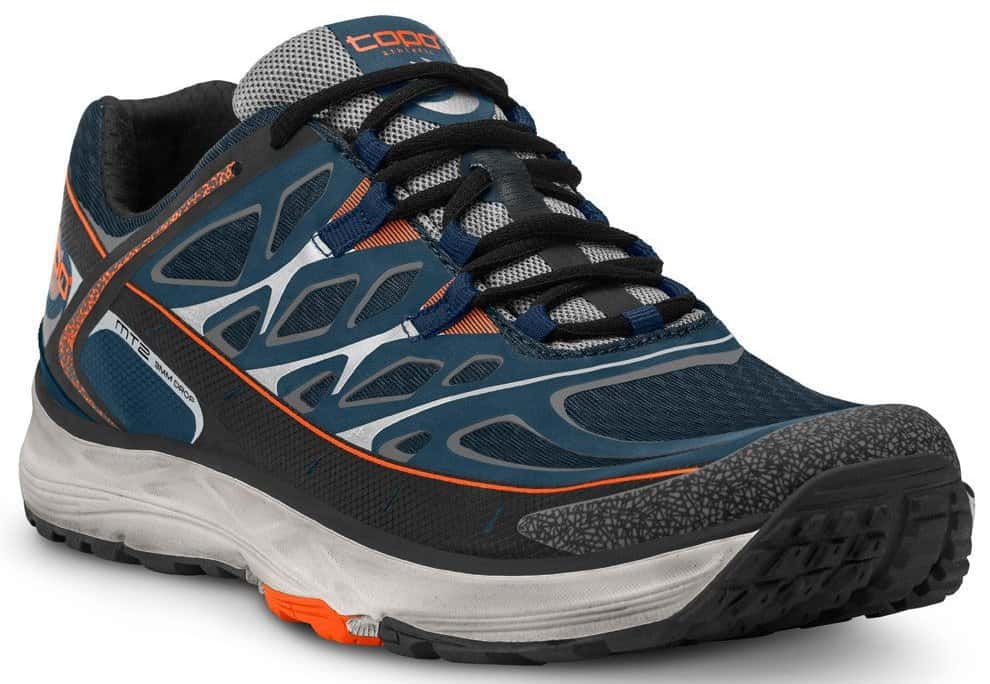 I have been going around the lambs in them of a morning. We have a really steep hill behind the house (over 30 degrees – too steep for any vehicle or tractor). At  this time of the year the frost, wet grass and clay soils are very slippery, so I often slide or fall over. I have to say that these shoes are hanging on to the surface better than anything else I have ever worn. Some days I do ten kilometres on this hillside!
They are also very comfortable. I have been wearing them all week on our evening walks. They handle rough gravel tracks fine. I think they exercise the foot a bit more than heavier shoes. You feel as if your foot is flexing and gripping in them more. They are also a lot easier to walk in though, being so light. It feels like being barefoot, only with more grip actually. This may contribute to my feeling of confidence in my grip and balance when wearing them.
Apparently the main difference between them and the Terraventures is that the sole has about 2mm more tread and a little more cushion in the insole. That is about it. They also have a waterproof model the Topo Hydroventure which is much the same as the ones I have except for the waterproof layer. They weigh around 275 grams. I generally don't favour waterproof shoes. You are going to get your feet wet anyway. The waterproof layer is just going to make them dry out more slowly.
I really like the laces. They are oval in shape and seem to hold a knot better than just about any laces I have ever used. You may remember I discovered some other laces when I was looking for a vendor in Australia for these shoes: http://www.theultralighthiker.com/shoelace-reinvented/
I also really like the no-sew construction and the wide foot box. I have a very wide foot – the result of never wearing shoes until I left school pretty much. I used to take an 8E through G when I could get them, so I am pretty hard to fit shoes  to. They are also very kind and soft on the toes. I notice this particularly with all the hillsiding and downhilling I am doing with the lambs.
As it turns out I was able to try them on and buy them from my favourite Melbourne 'ultralight' shop: https://backpackinglight.com.au/ As usual the owner, Tim Campbell gave me a very good deal on them.
I may yet buy a pair of the Terraventures. I have discovered that Will Rietveld thinks very highly of them for both on and off trail use, and he seems to be a pretty genuine guy. He has a useful review here: http://ultralightinsights.blogspot.com.au/2017/04/gear-review-topo-terraventure-trail-shoe.html  He has a very interesting website there actually, so you will probably be staying quite some time.
He recently wore a pair on the trail for 48 days (which I doubt was a lot less than a couple of thousand kilometres!) I have 'borrowed his photo of what they looked like at the end of that trip. Thanks Will. He says: 'the uppers look like new and the outsoles are only lightly worn. The only evidence of use is some scuffing on the edges of the outsole.'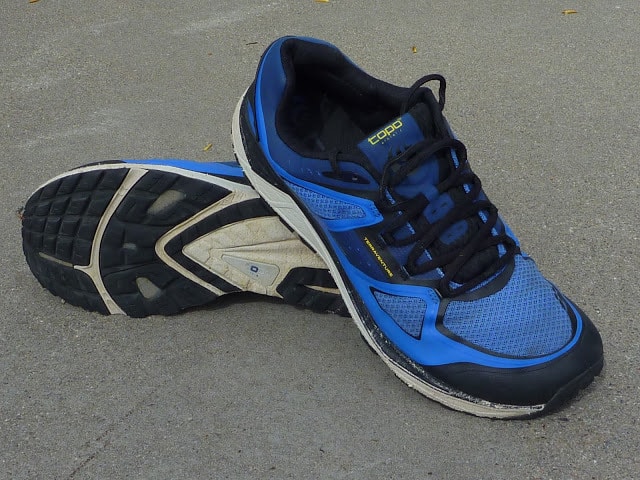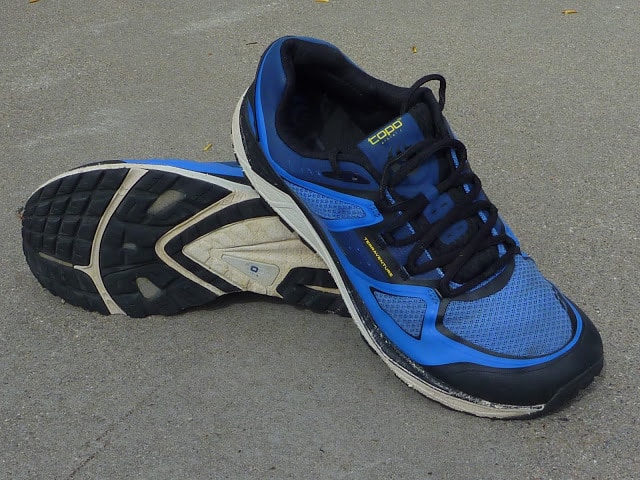 Most other much heavier shoes would probably be starting to come apart after such punishment. Why not try a pair next time your need a new pair of shoes. I will keep you posted on how well these 230 gram shoes last me. I am petty happy with them so far.
PS: They do come in different colours than in the photos.
PPS: Della and I both bought a pair of the Terraventures since I wrote this. We wore them on our walk up Mt Bartle Frere in Qld recently (http://www.theultralighthiker.com/you-can-do-it/ and etc). I will post a review of them soon. In brief though, they are magnificent. Pretty much my best shoes to date ever. More later…
See Also: http://www.theultralighthiker.com/topo-terraventure-shoes/