Make your own 10 gram hiking pillow: These approx 17 grams (small) & 27 gram (large) Graham Medical Flexair Pillows are excellent for hiking and backpacking. The two sizes measure 14.5″x10.5″  & 19″x12.5″  They cost pennies: US $35.16 for the small & $43.41 for the large per box of 50! 70 cents each. Seriously!
Unmodified large pillow and glue heat gun top, two chamber version middle and cut-down two chamber version bottom. Actually I have not cut it off yet, as you may have noticed.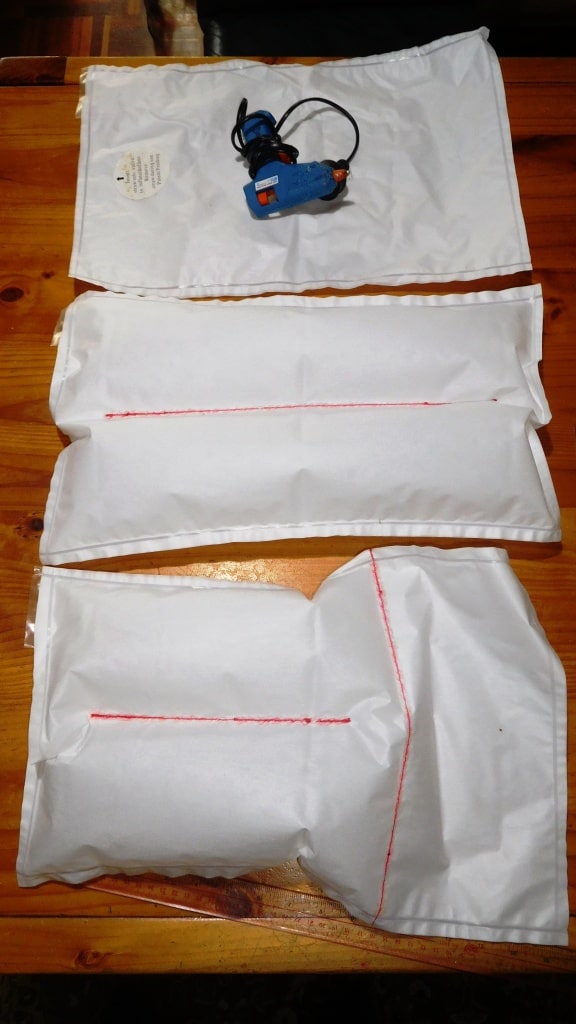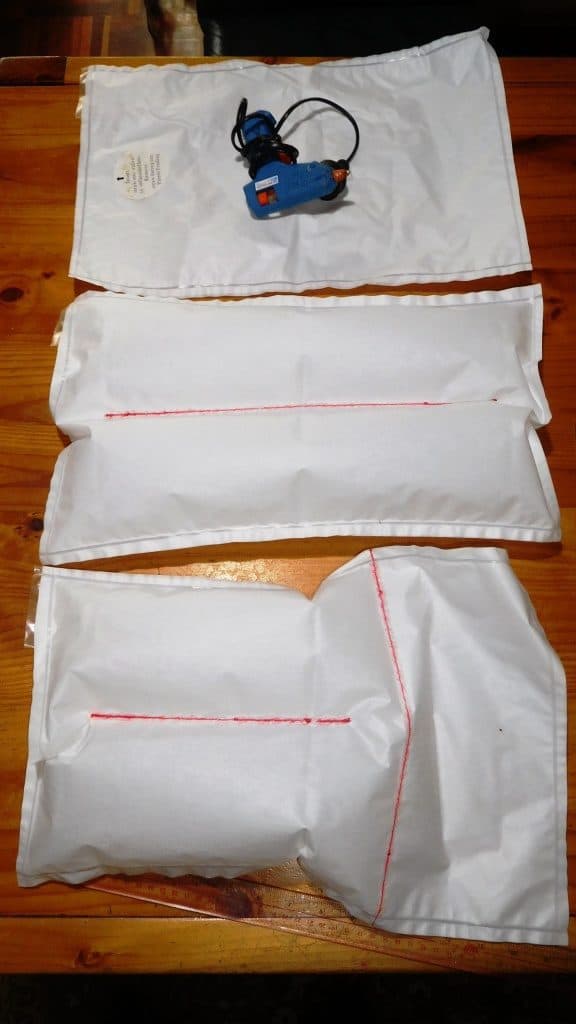 It is possible to modify them with scissors and a with eg a hot glue gun (without squeezing the glue trigger – very carefully with a soldering iron, maybe with a hot iron…). You can cut one down and re-seal it, or make it into a double or multi-chamber pillow, eg something like Klymit's ultralight pillow http://www.theultralighthiker.com/klymit-ultralight-pillow/ (which weighs 48 grams). My own modified ones weigh about 15 grams. With a strategic 'valley' moulded into them they will be much more comfortable. You will get a superb (and cheap) night's sleep. I would guess you could make a comfy, useful pillow for about 10 grams.
Hot Tip: You can buy Teflon sheets from haberdashery suppliers (eg Spotlight in Australia) which will mean you can use a hot iron without melting the material.
I am also going to cut two down and use each of them for side insulation and arm support for my (too narrow) sleeping pad. I will make sleeves (as I have mentioned before) in this http://www.theultralighthiker.com/bathtub-groundsheet-chair/ to fit them in. Each side cushion will weigh about 10 grams. They should work just perfectly, keeping my arms both warm and at the correct height from the ground for when sleeping on my back, and effectively widening my sleeping mat by approx 8" (20cm).
They store flat for easy transport and space-saving. They save on laundry costs being disposable products which only cost about $1 each. They have an adjustable valve for ease of use and comfort – but do not lose the straw which inflates/deflates them. They are made from a soft and quiet material which is pleasant to the touch and does not 'strike cold'.
Available here: https://www.grahammedical.com/product/pillows/
If you only want a small number, they are also available from Jacksrbetter for US2 each in large size: http://www.jacksrbetter.com/shop/graham-flexair-pillow/
I used to use these pillows all the time when they came in a dual chamber version like the one in the centre, but when I could only purchase the single chamber ones I found them not so comfy so I opted for a heavier pillow such as the Exped here: http://www.theultralighthiker.com/exped-ultralight-pillow/ but I may well go back to these little guys which (in the cut-down form bottom) will save me a whole ounce or 30 grams. A saving not to be sneezed at!
PS: I am grateful to 'Thomas533' over at Reddit for drawing my attention to this video which opens up a whole new world for me involving welded fabric construction. I can now see how to complete the above project expertly. You can expect to see much more about this from me in the future. My 'inflatable bathtub groundsheet' http://www.theultralighthiker.com/inflatable-bathtub-groundsheet/ can now become a reality (along with a whole host of things I have in the back of my mind). You will have less difficulty modifying the pillows if you purchase Teflon ironing sheets (and maybe the correct iron – as specified in the video)
PPS: Tried the fabric welding – couldn't get it to work. Did find that I could seal the pillows with one of these: https://klevarange.com.au/products/kleva-seal-bag-sealer-instantly-reseal-the-original-bag