Posted Monday night on Facebook: 'Listen to the birdsong: 6:30am Monday morning in one of the most remote spots in Victoria, Wonnangatta River Alpine Nat Park. From Melbourne it would take you 7 1/2 hours by car (1 1/2 of them 4WD) and either a solid day's hiking or 4 hours in a pack raft to get there, but it is worth it! (Another 7 hours paddling and 6 hours driving to get home – 4 for me. I will sleep well tonight…well I did last night actually despite the dingo chorus rolling around the mountains. Trip report here: http://www.theultralighthiker.com/pack-rafting-the-remote-wonnangatta/'
I had to get out at this rapid (about half way between the Moroka and Eaglevale anyway, so I thought i would record it. The sound alone should kindle a desire in your heart to be there yourself:
As you can see my Pocket Poncho Tent (185 grams) worked a treat, though it did not rain actually. If it had I would have been snug and dry. There was ample room for myself and all my gear scattered around the edges. I could manage to not touch the top or sides so my sleeping bag stayed dry, though there was of course the normal condensation you get from the inside of the shelter being warmer than the outside.There is nothing to be done about 'dew point'. It is a physical reality – but you don't need a double skinned tent (or all the weight). A simple tarp like this (and a Polycro groundsheet – at 46 grams) is quite adequate: http://www.theultralighthiker.com/ultralight-ground-sheet/)
My breakfast view.  There is certainly plenty of firewood here – which I find very sad. The two big fires which came through here back about 2008-9 killed vast numbers of trees (and even vaster numbers of animals and birds). This fire-killed wood is now dropping everywhere (you have to be careful where you camp) and blocking up the river awfully in places. Curiously, it burns not unlike pine. All the goodness has been 'cooked' out of it somehow. A small pile of wood which used to last you overnight is now replaced with about a trailer load's worth (which does not). Morning and night the well-nigh deafening echoing valleys of morning and evensong are mostly silent. Along the rivers the birds are starting to come back, as the video – well the audio actually above illustrates.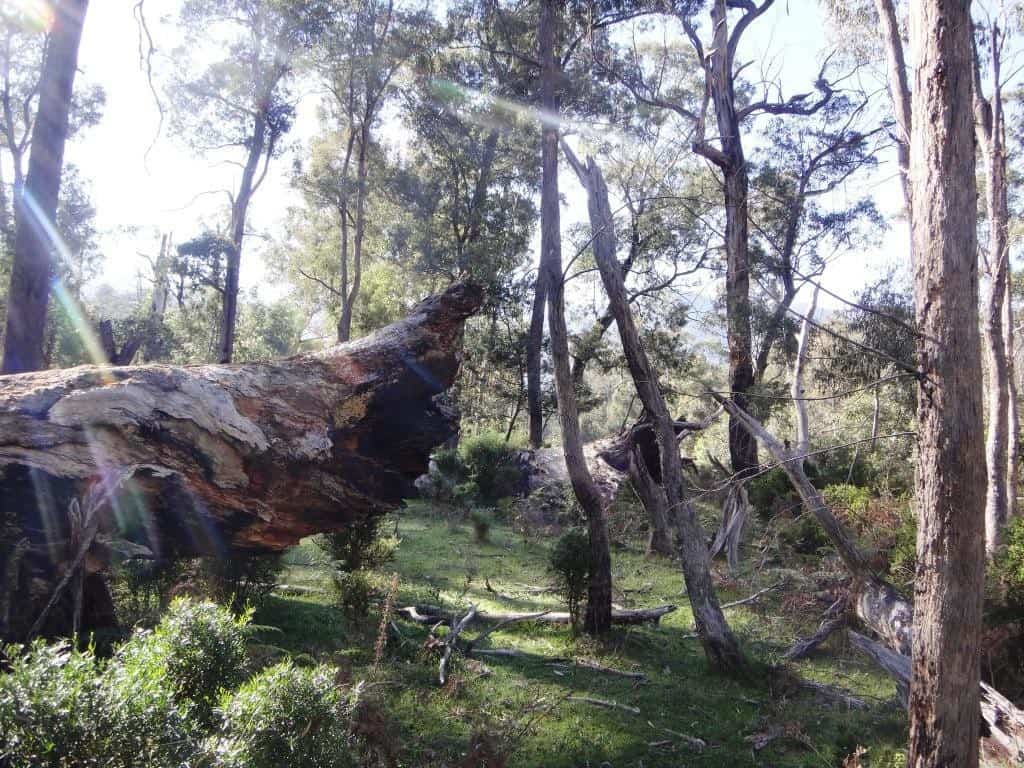 About to set out – looking up towards the top flat.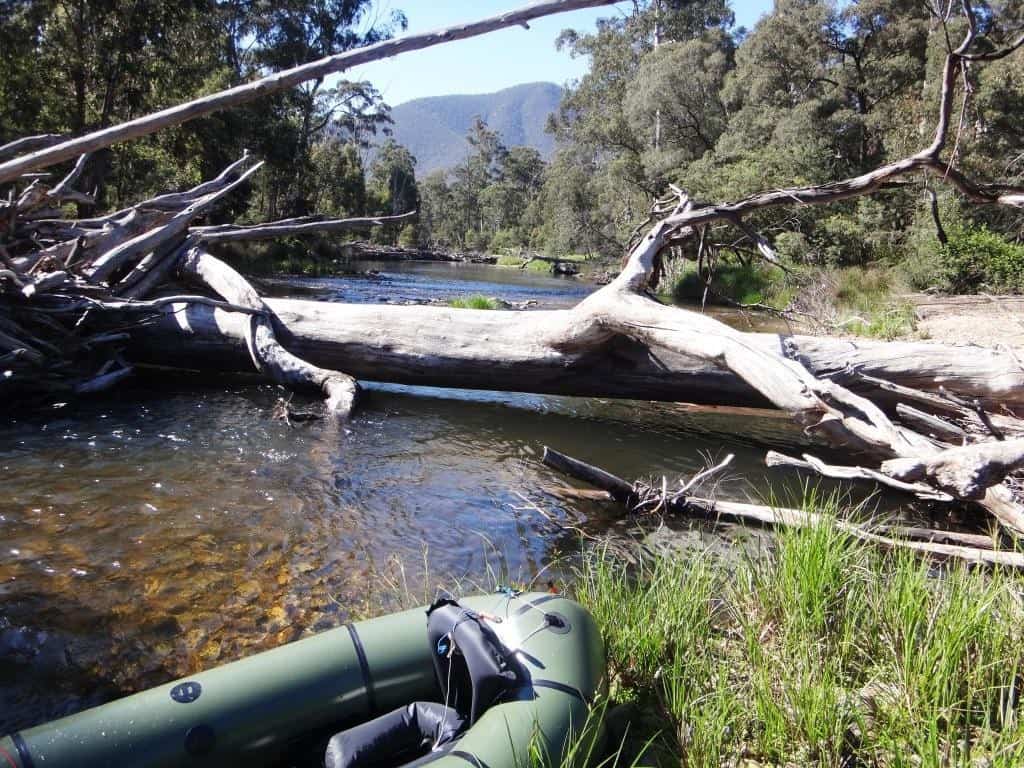 And downstream.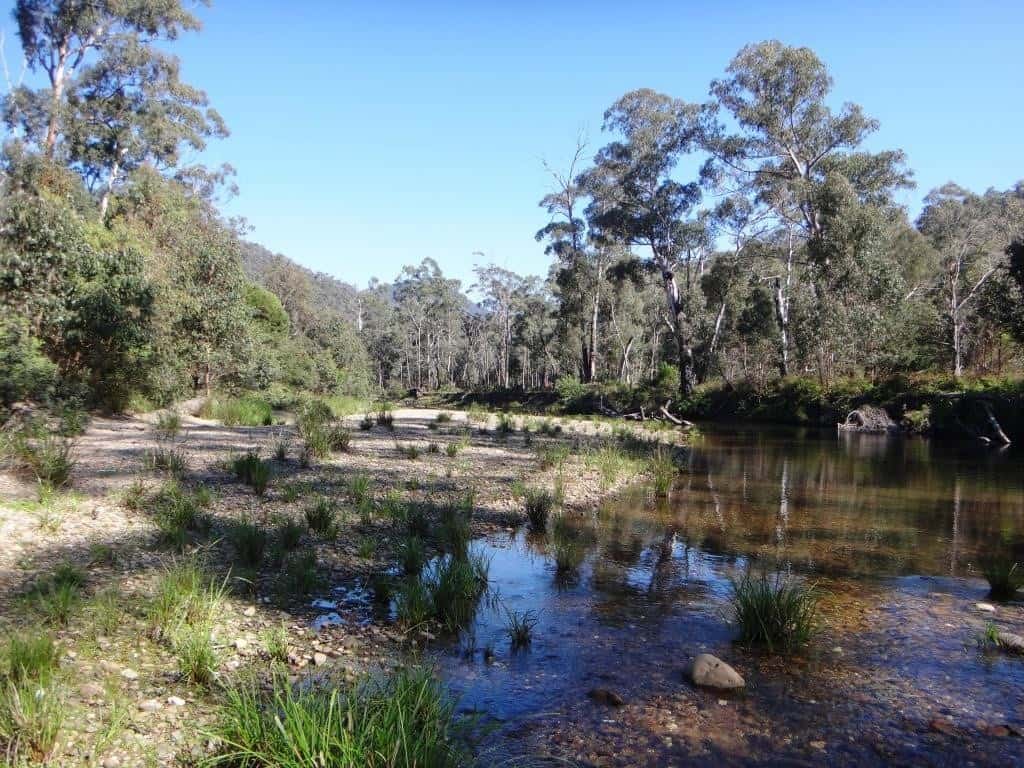 And off I go again!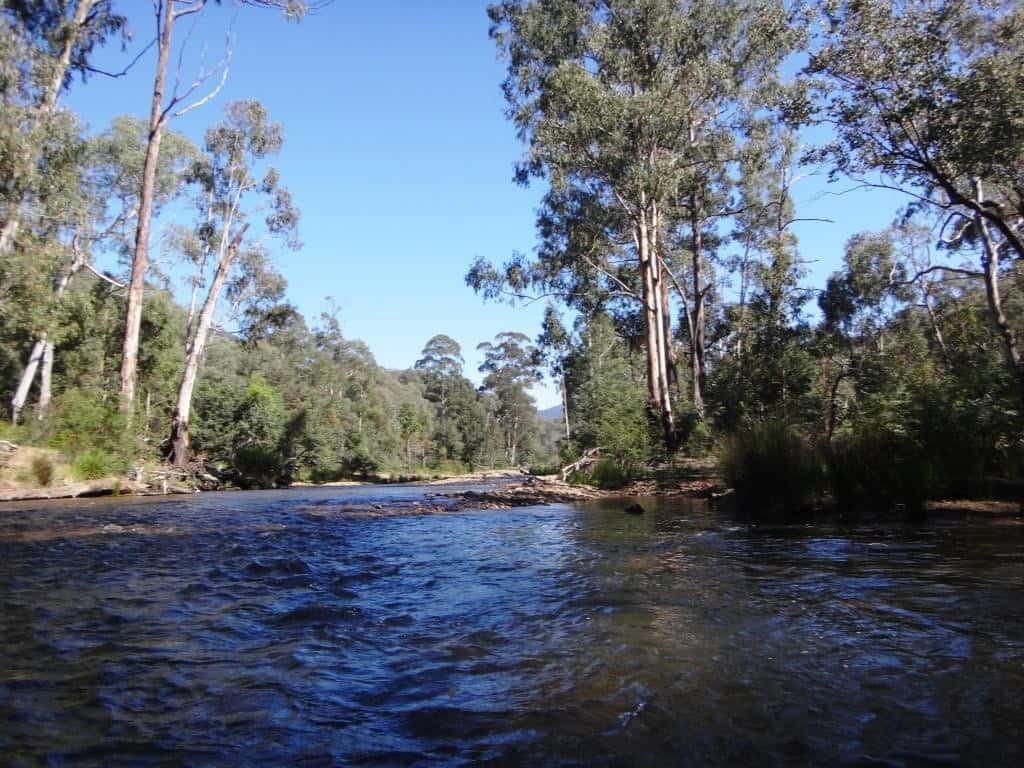 Mt von Guerard Creek confluence – notice the tiny waterfall. Just below here there used to be a giant log jam I guess an acre tor two) which made for a very difficult portage. It persisted for 30+ years I guess. Eventually the river changed its course!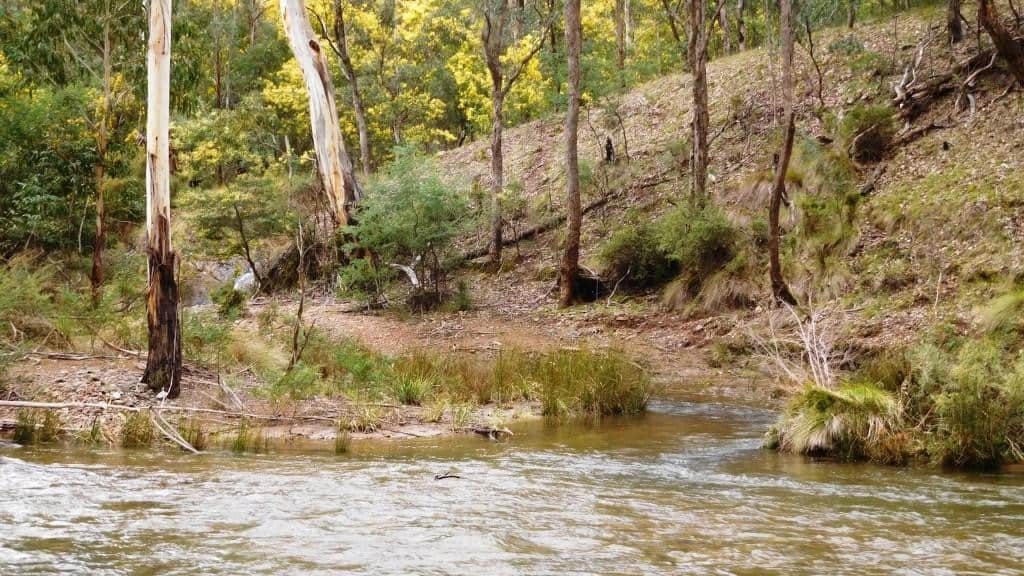 Looking back at the beginning of the bottom flat.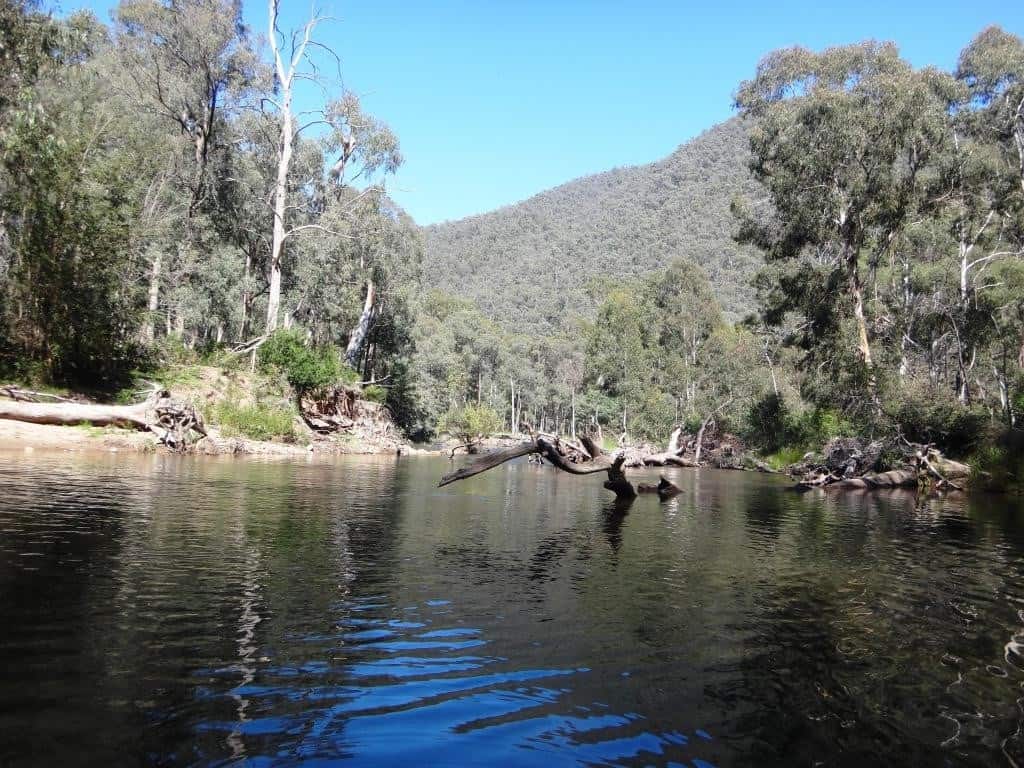 Rounding the bottom flat.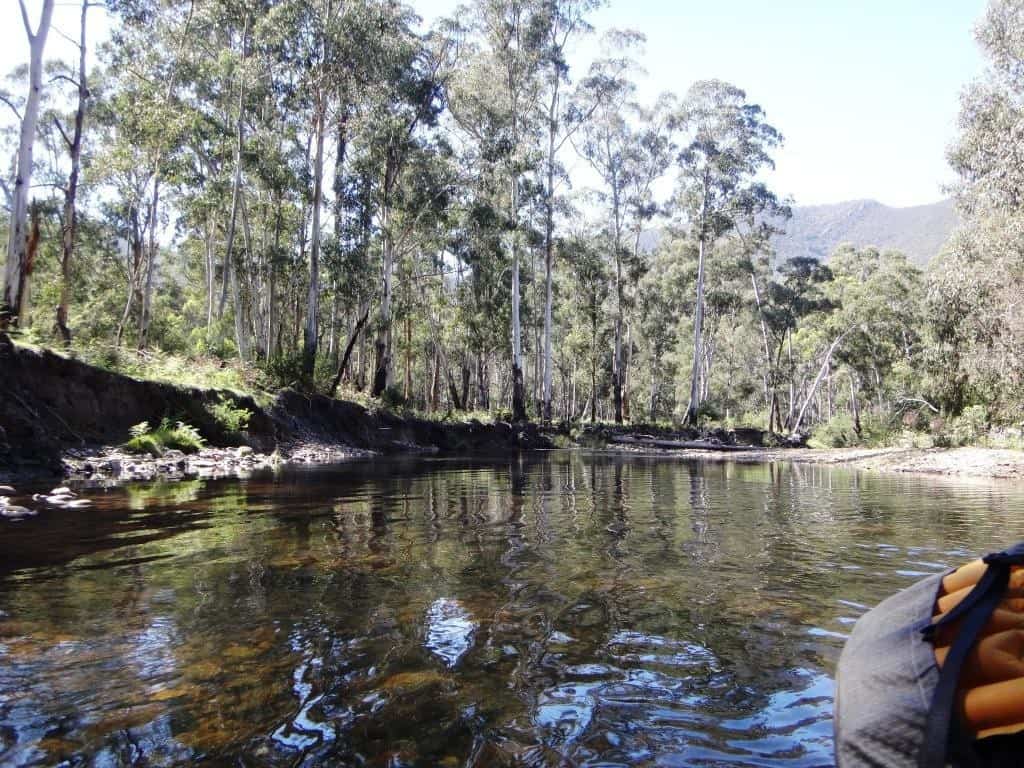 There is a bit of a rocky run below the bottom flat (and below the small flat below it).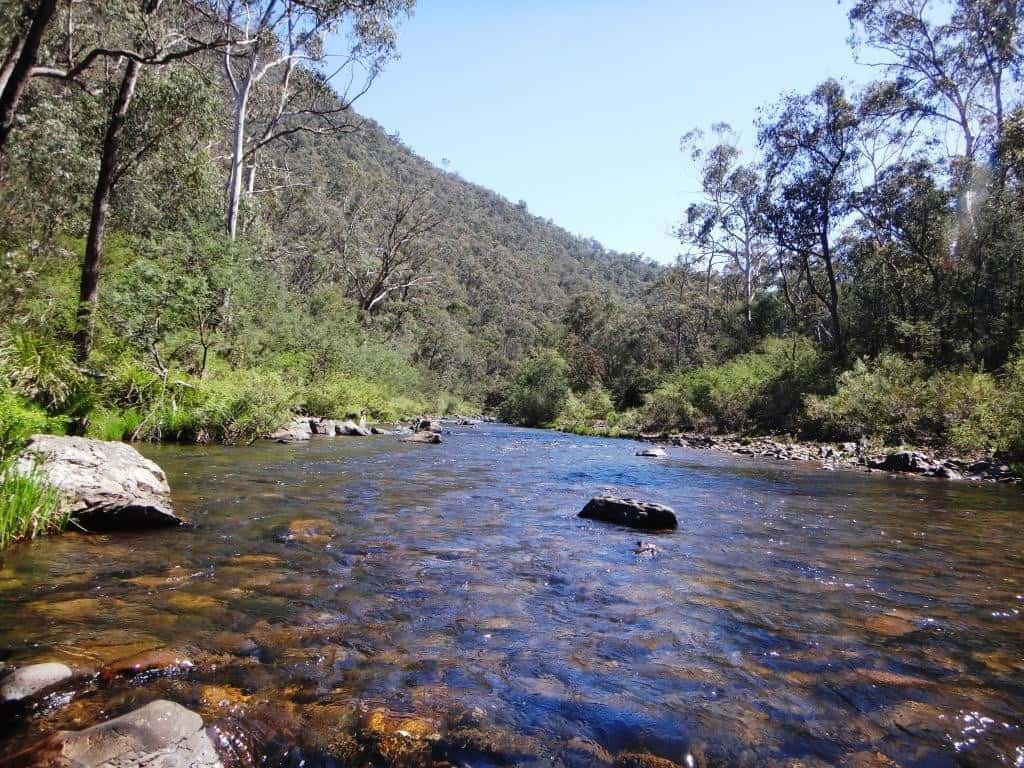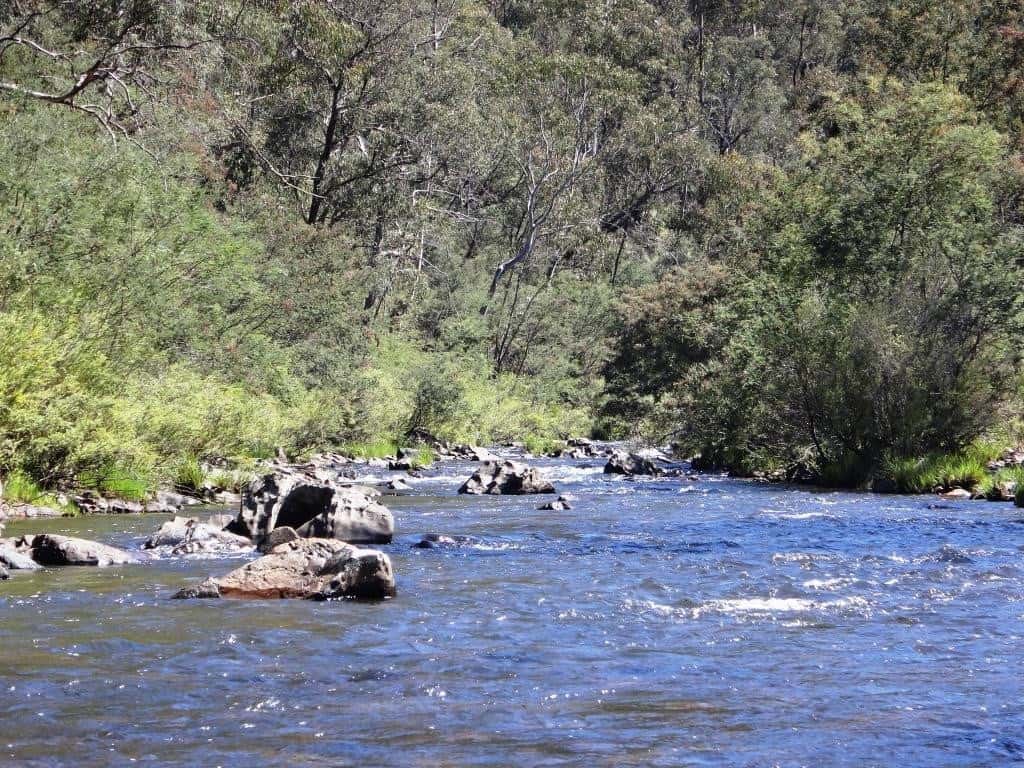 Looking back up river in the deep pool above the small flat.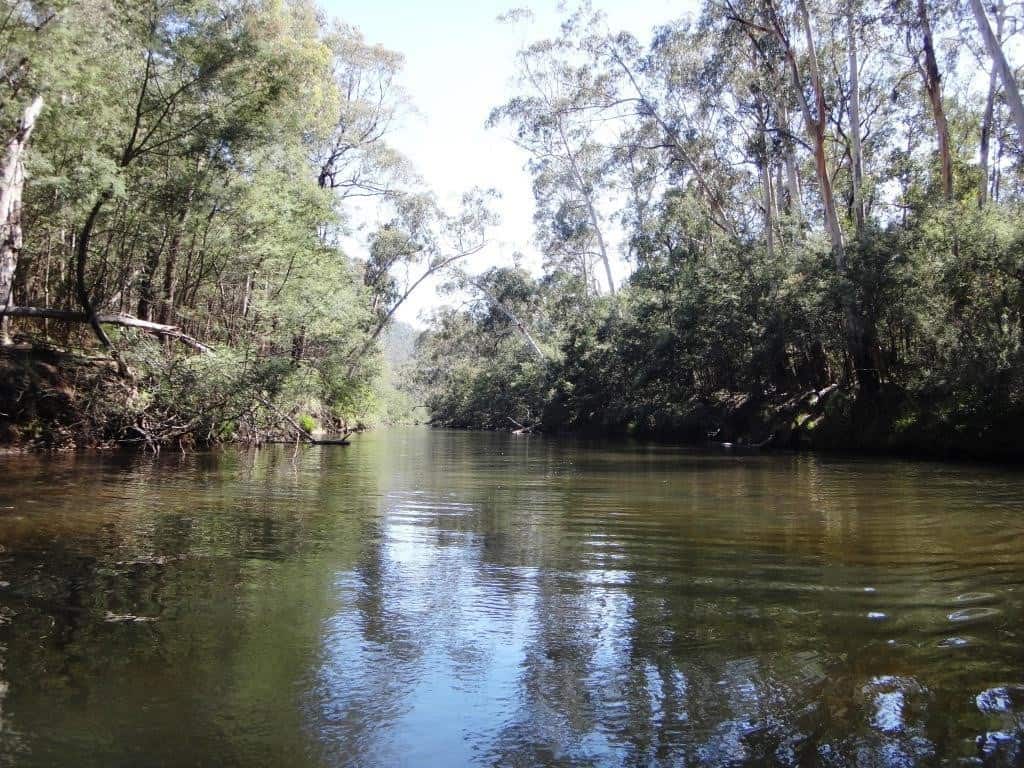 It's a great pool isn't it? I have eaten a few trout out of this one, I can tell you!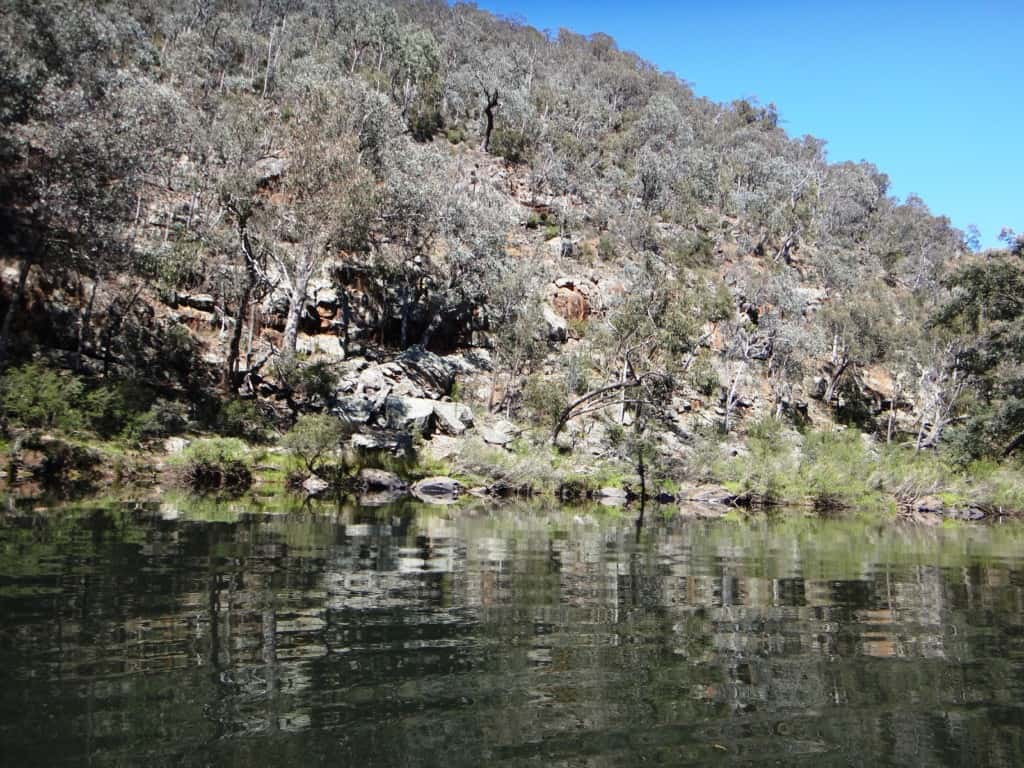 As I said there is another rocky run below the small flat.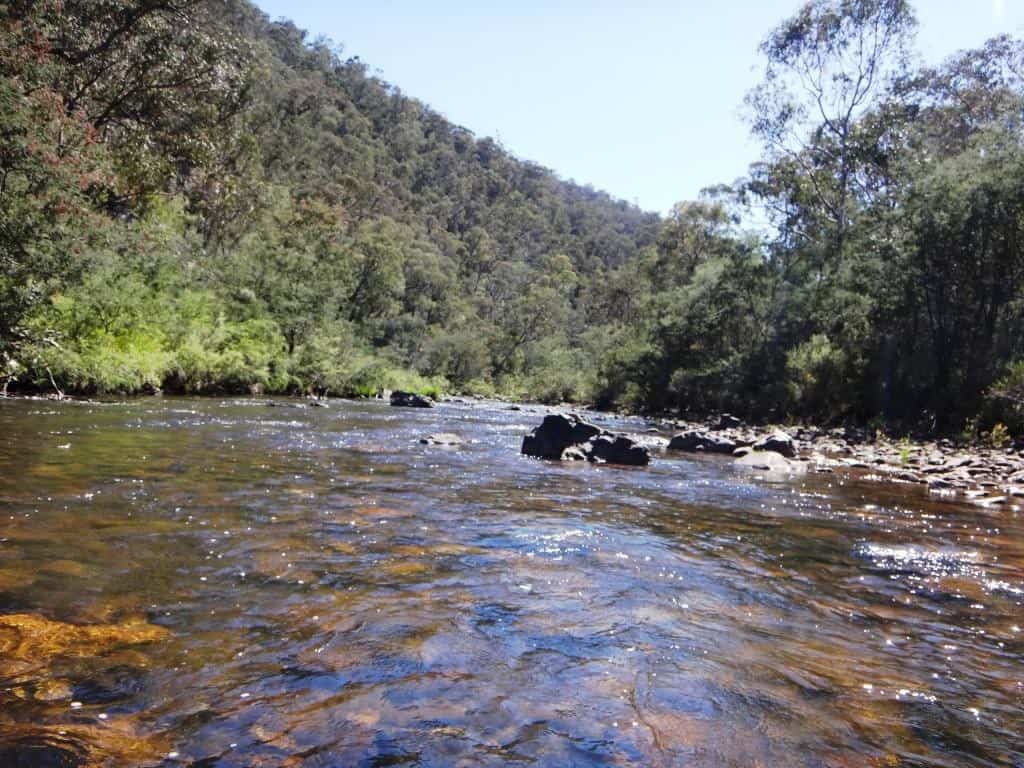 Lots of dragons: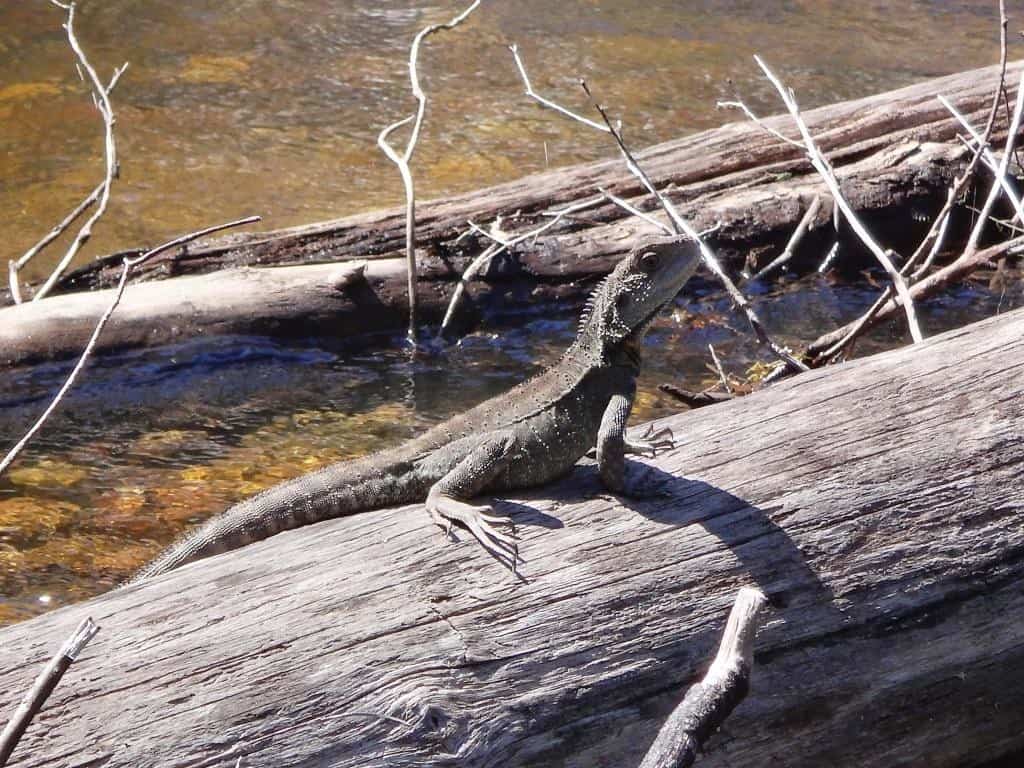 And I am at Mt Darling Creek confluence.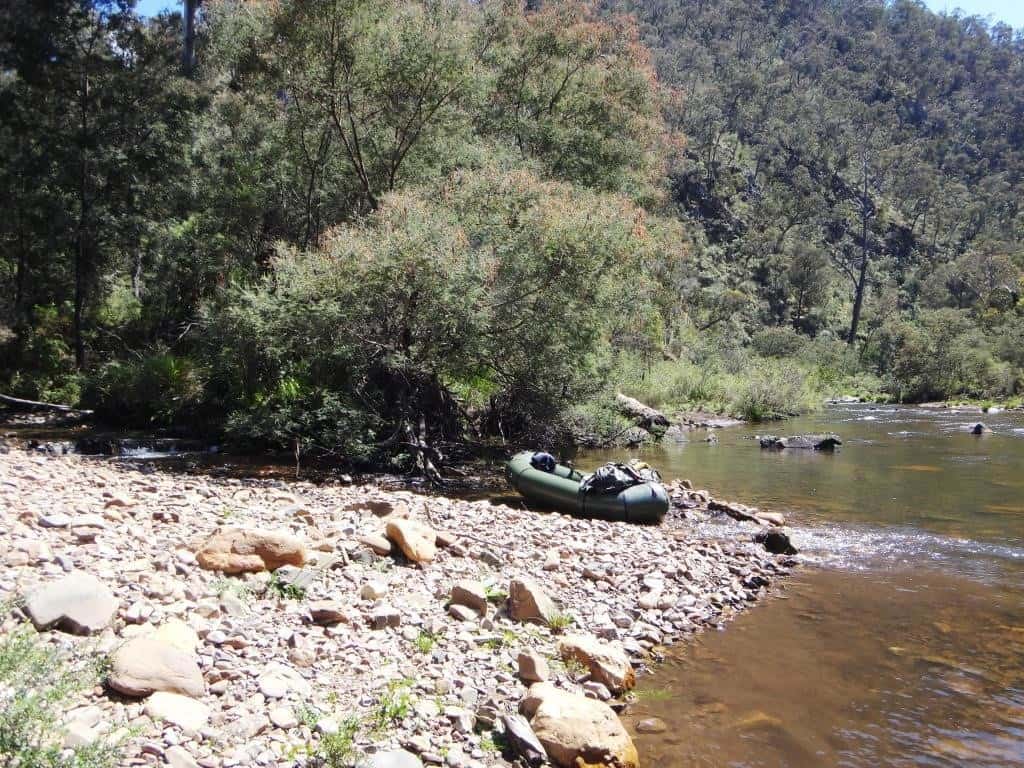 Looking downstream from Mt Darling Creek, looking upstream.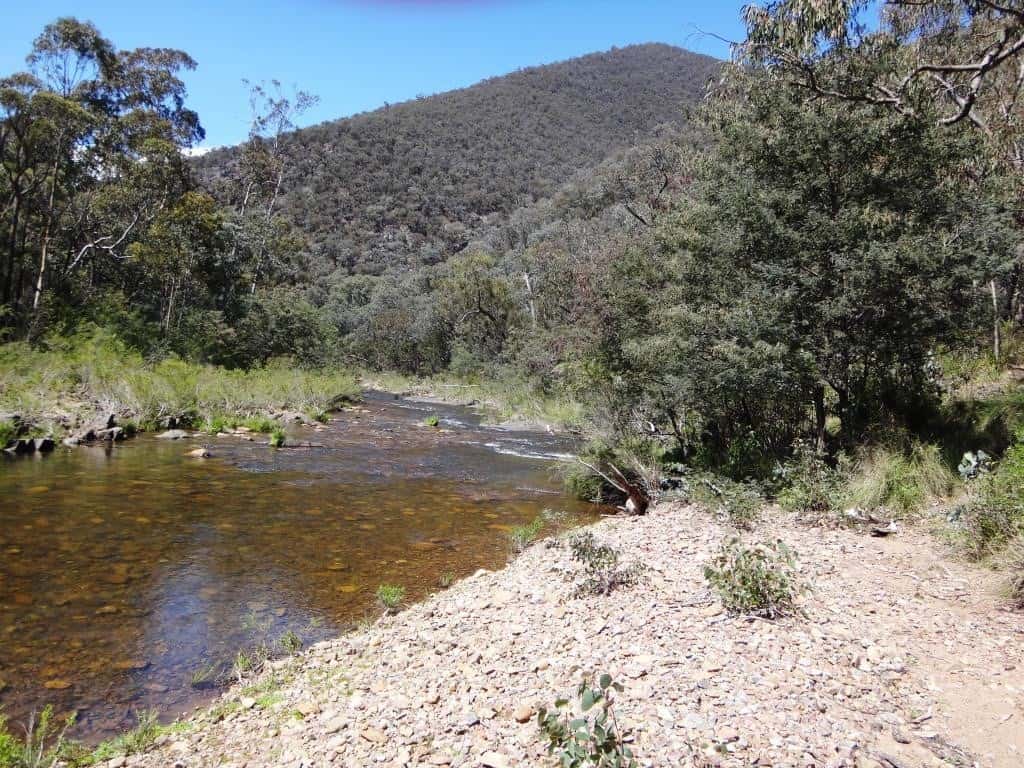 At Mt Darling confluence: Look at this. I was there about six weeks ago and some guy had purloined an old tent (and other things) I had wrapped in a garden bag and hidden under a tree to shelter all his possessions with. He had also bagsed my campsite which I had long ago cleared – and burned my gathered firewood. And it it still just the same – but no-one around. This is apart from having made use of the walking track I had cleared – to this point. Now it is just his campsite alone apparently (and I will have to make another, a more discreet one for myself). Usually I expect more civilised conduct in the bush, but yobbos get everywhere nowadays! How many dozens of times I have camped here. I should have left him a note, except I don't really want to know him.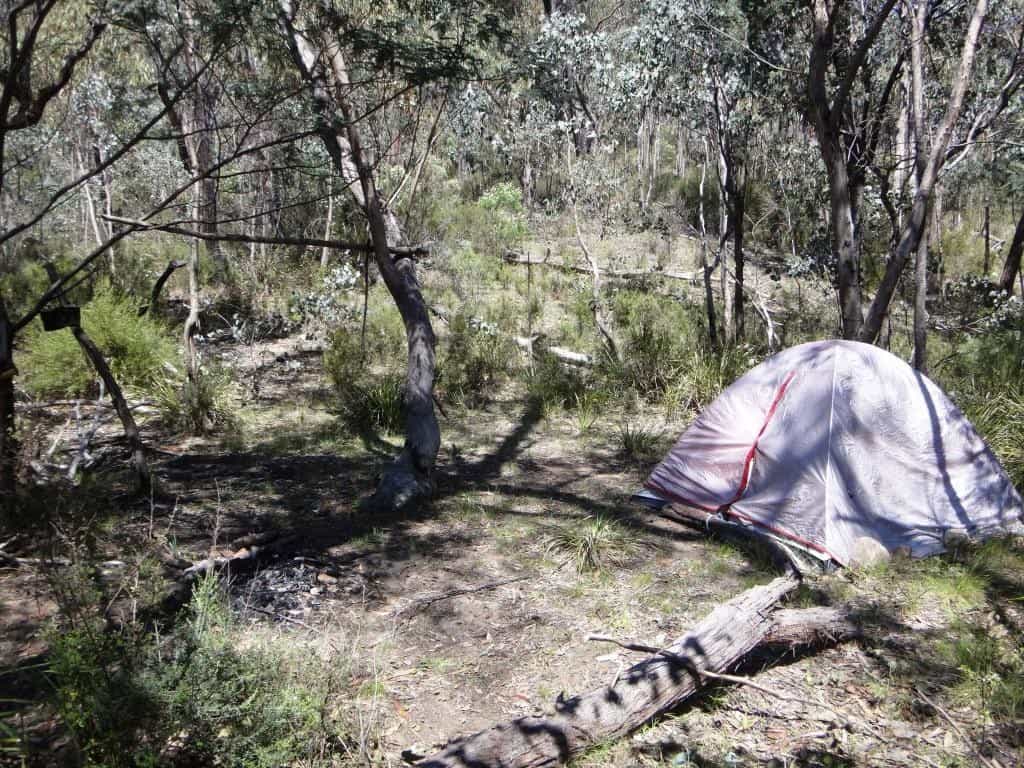 There is another rocky race below Mt Darling, then a nice little rapid.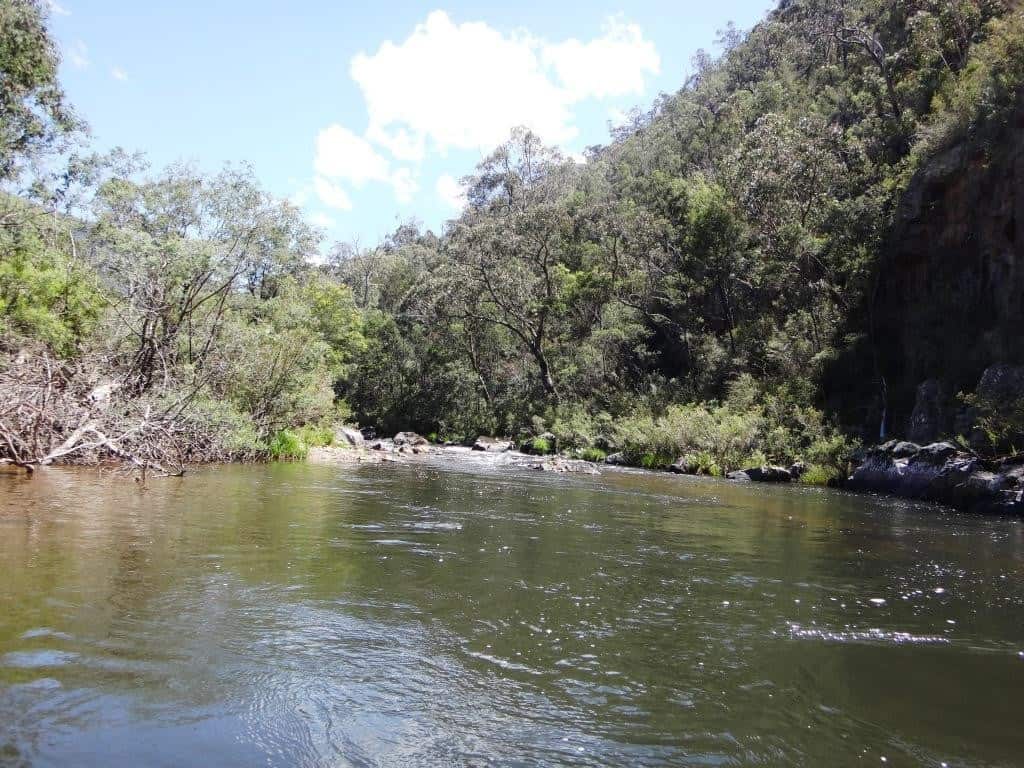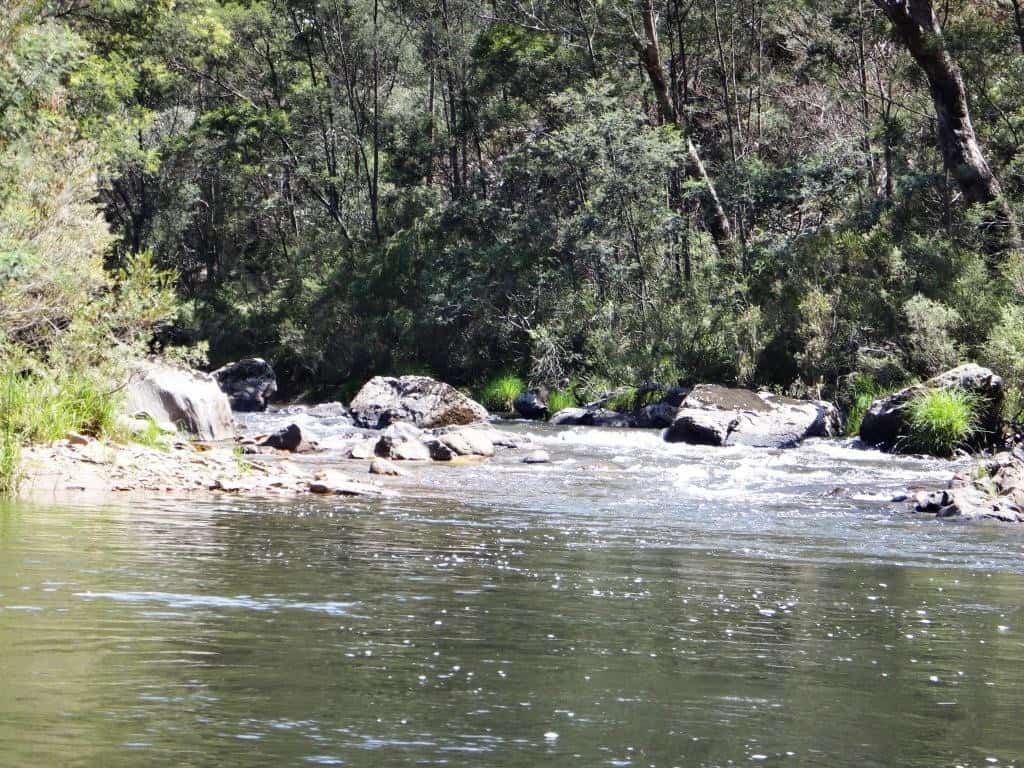 The Snowy Bluff looms on your right.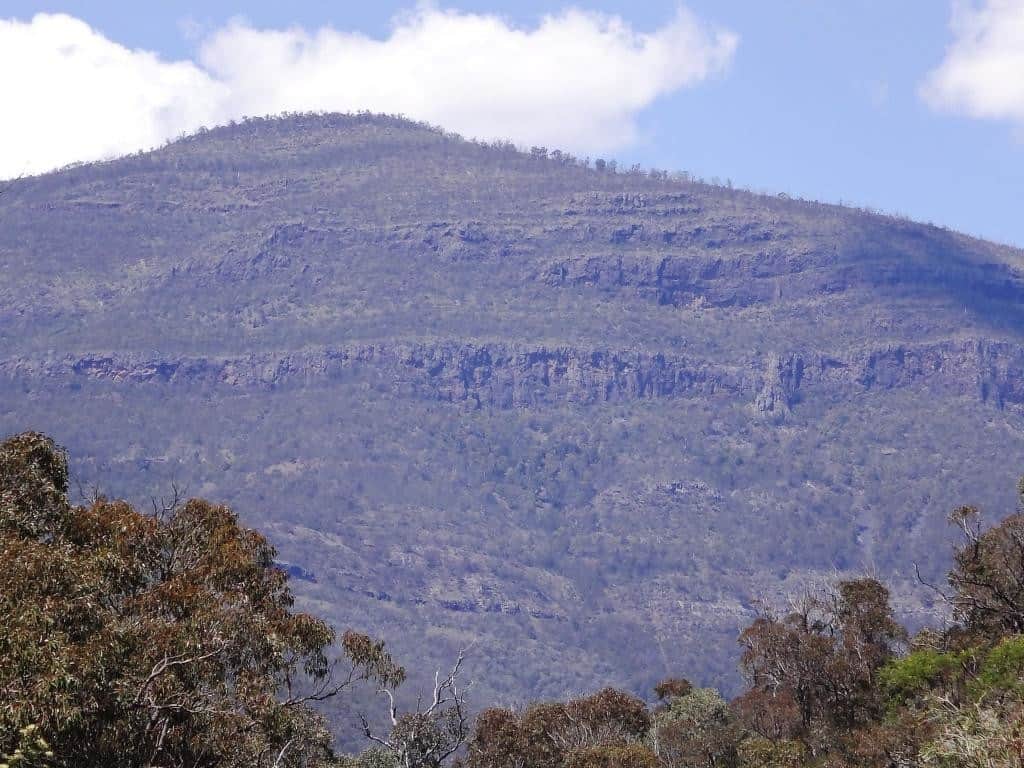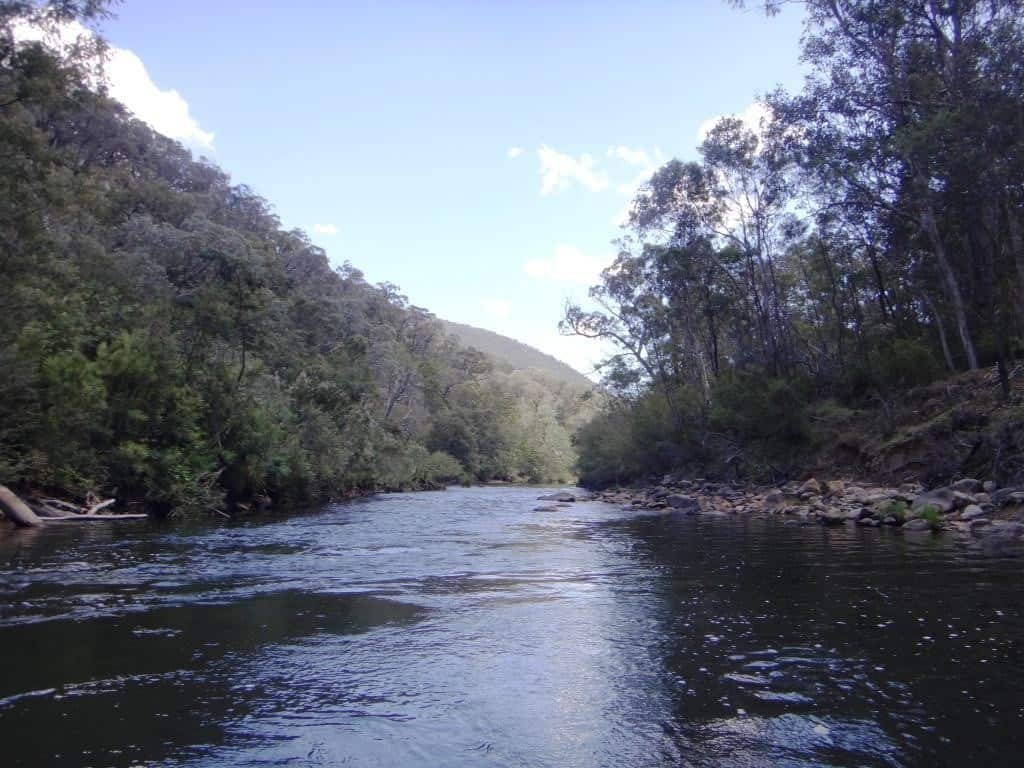 There is a huge deep pool on a left hand corner. What monstrous fish it harbours. The river does a big remote loop to the left then.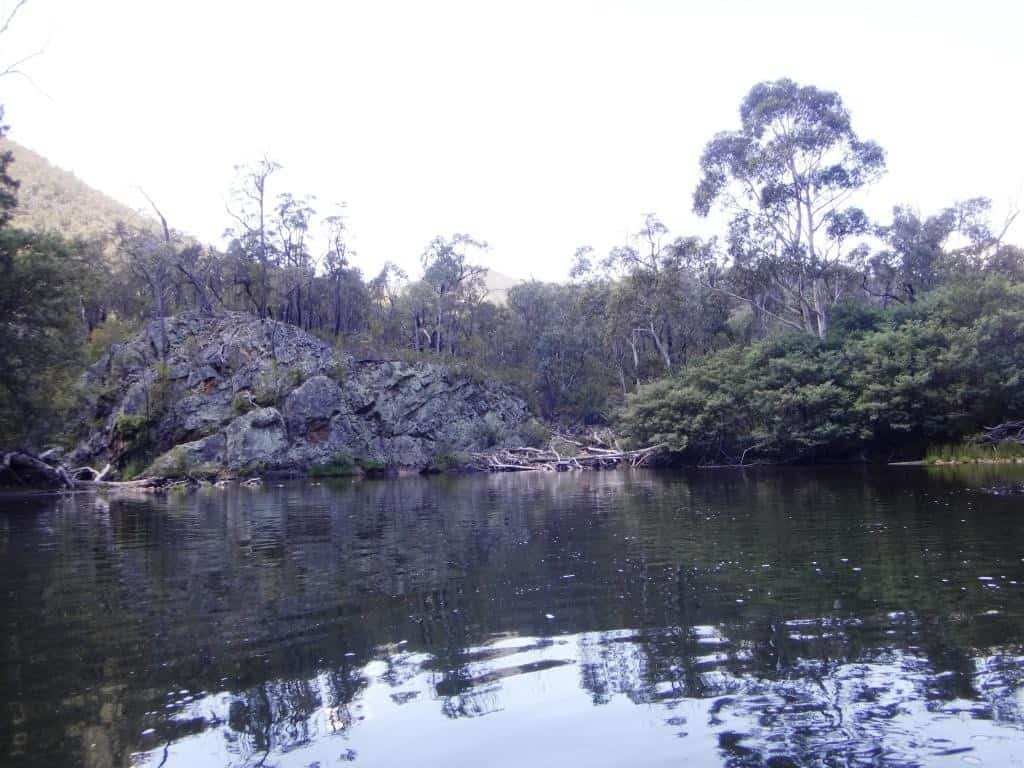 The deer have been wallowing right in the river on this loop!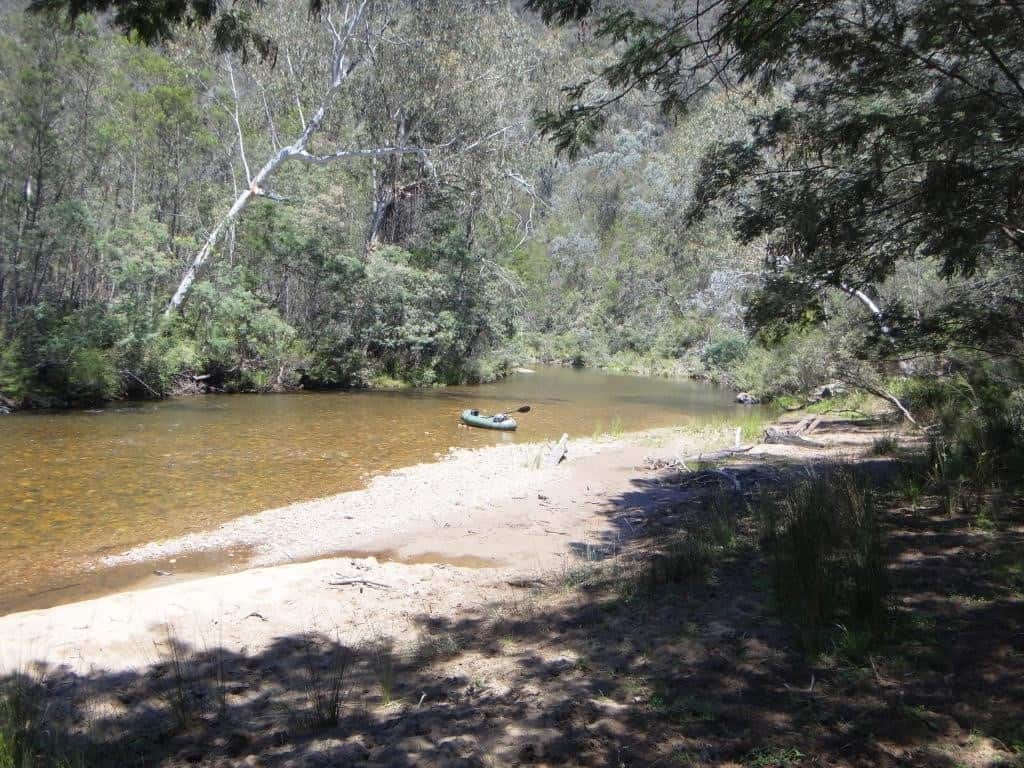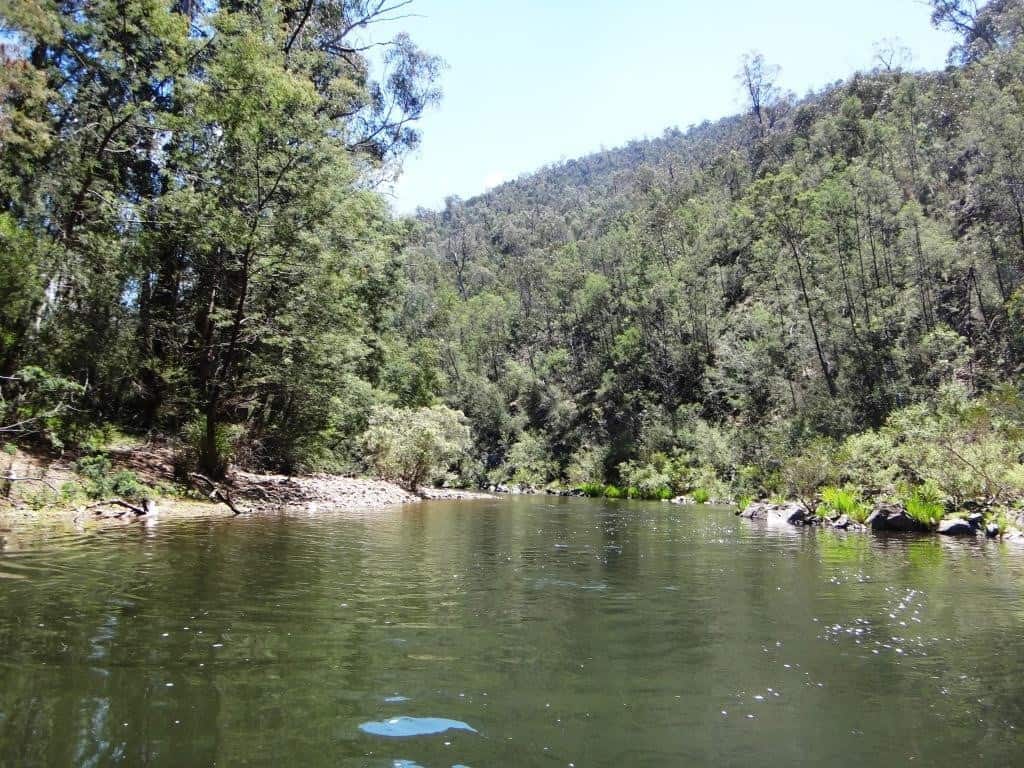 Coming out of the loop into straighter, deeper sections.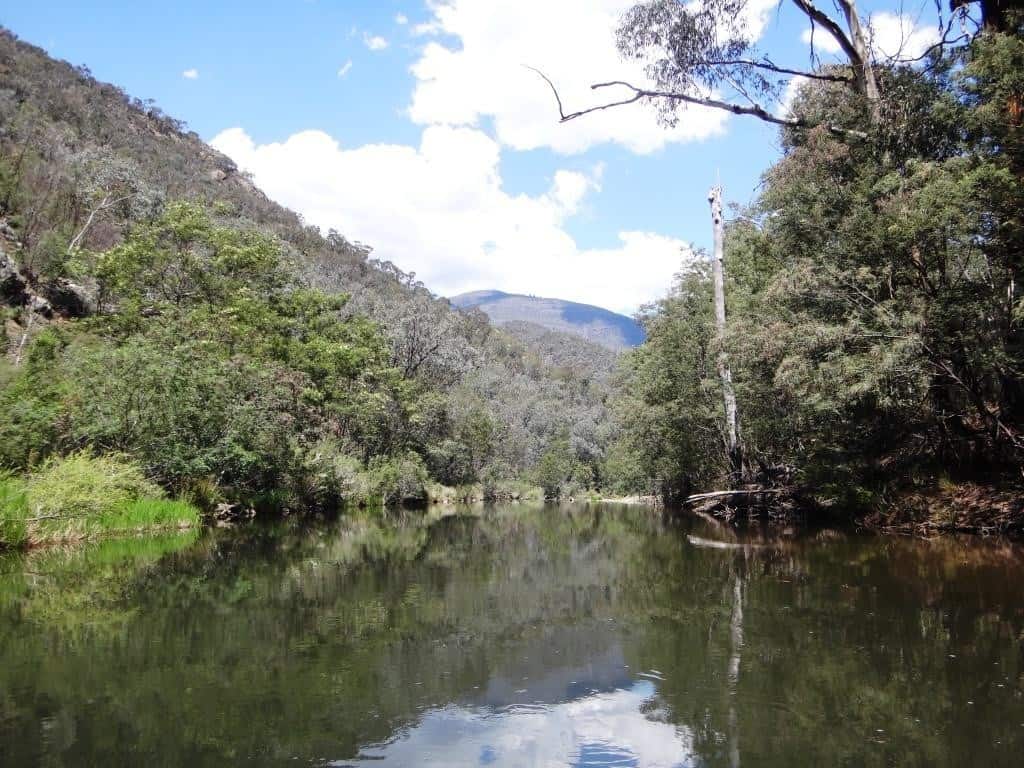 And soon I have come to the Moroka confluence! At about 4 1/2 hours from Hernes Spur I am a bit over half way to Eaglevale.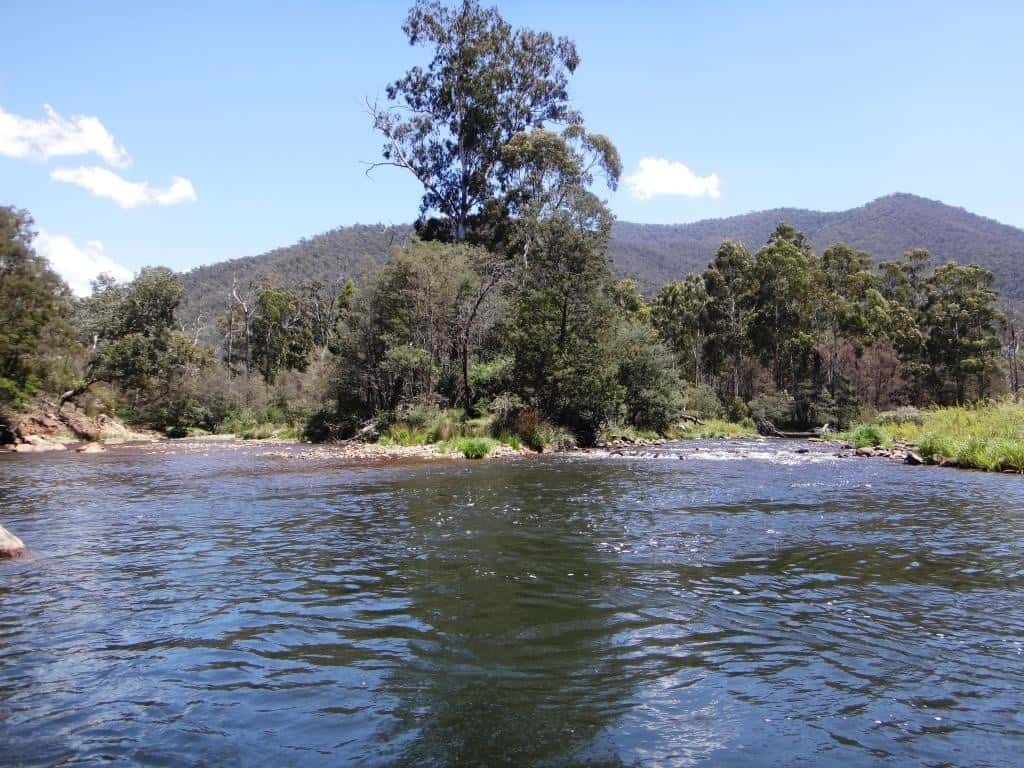 Another view looking up the Moroka. What a splendid little river and an excellent trout stream it is…but that is for another day!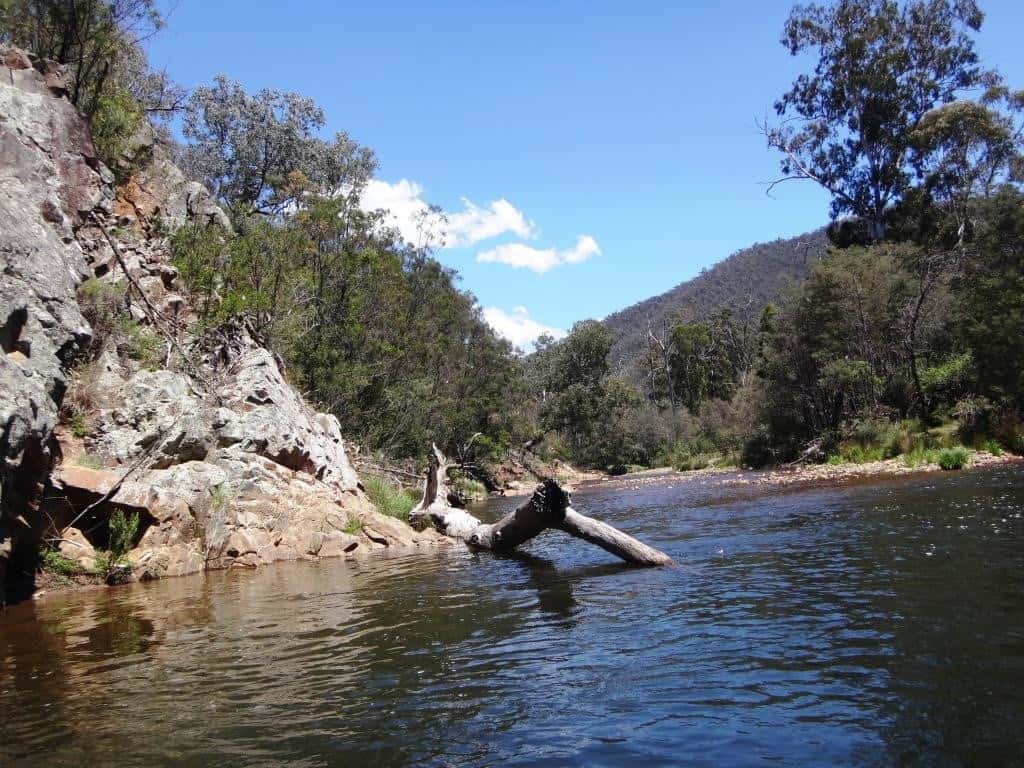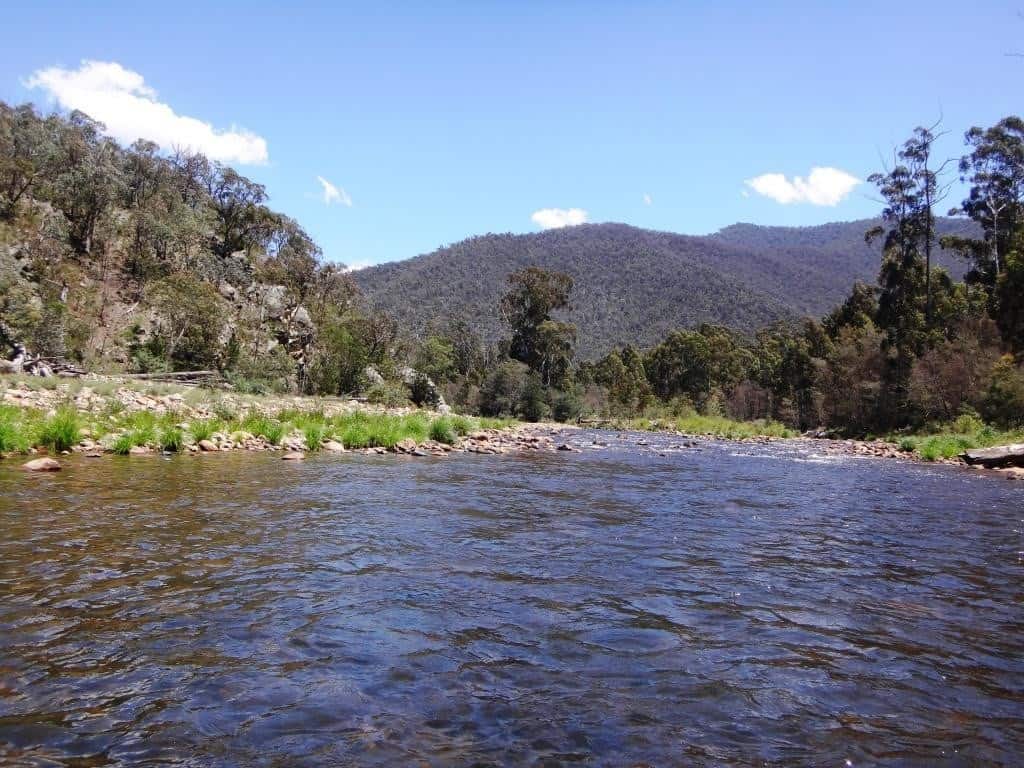 Looking upstream to Moroka Glen (road's end). I forgot to take a snap of it as I passed.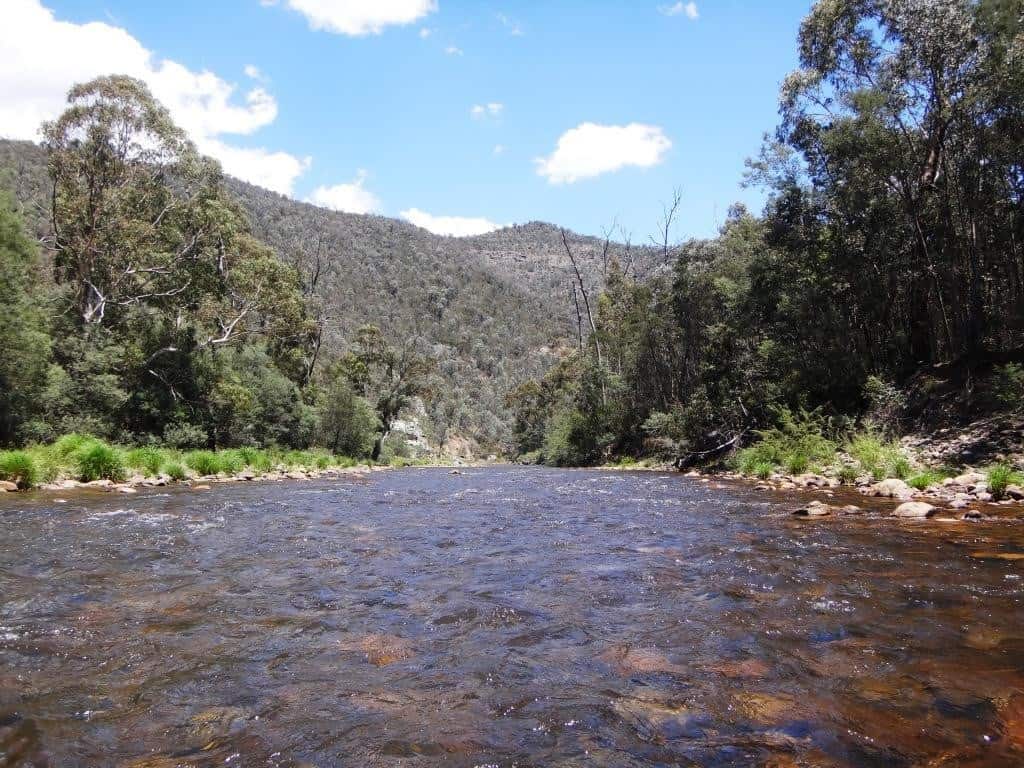 Time for a spot of lunch under a shady tree – actually there are not so many of these since the parks vandals removed all the willows – and all but destroyed the river. Given enough time they will destroy all our public lands! There is going to be a lot of work for such as you and me replanting all those willows and poplars!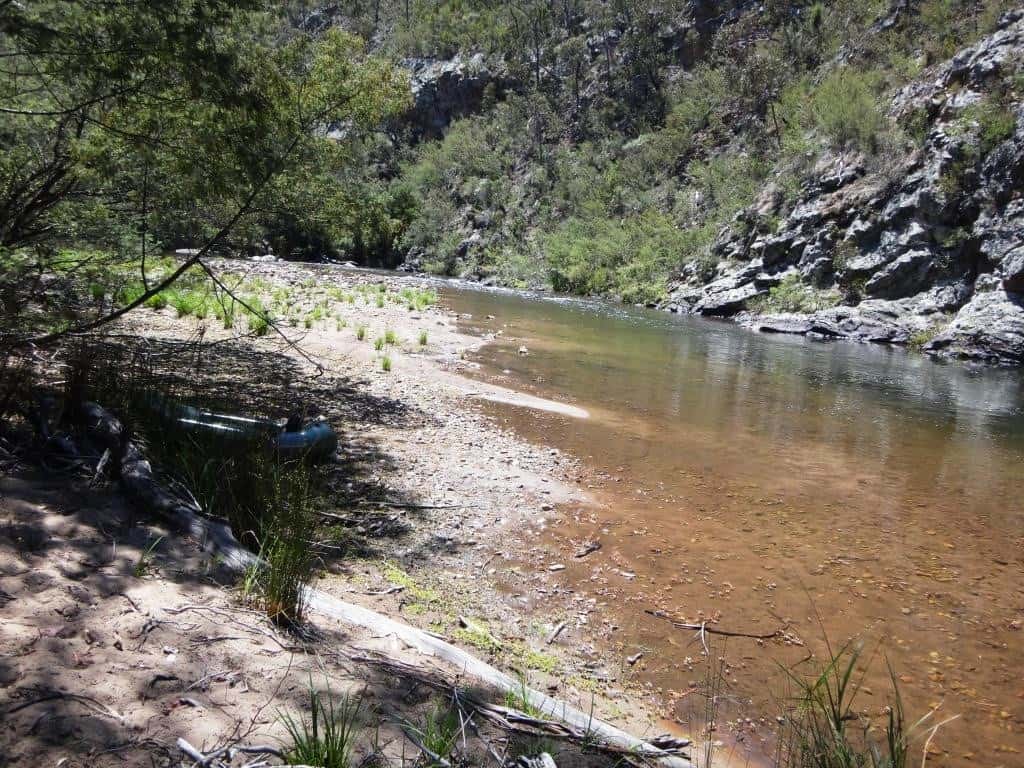 Off again. Another tree down across the river.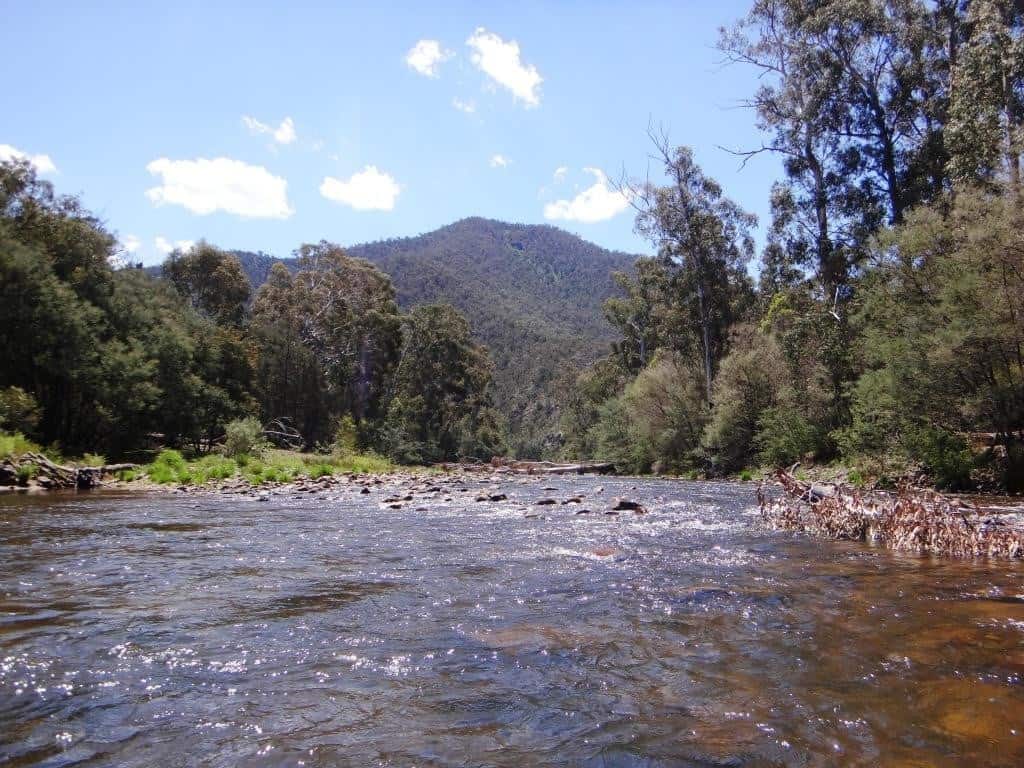 And my signature finger again.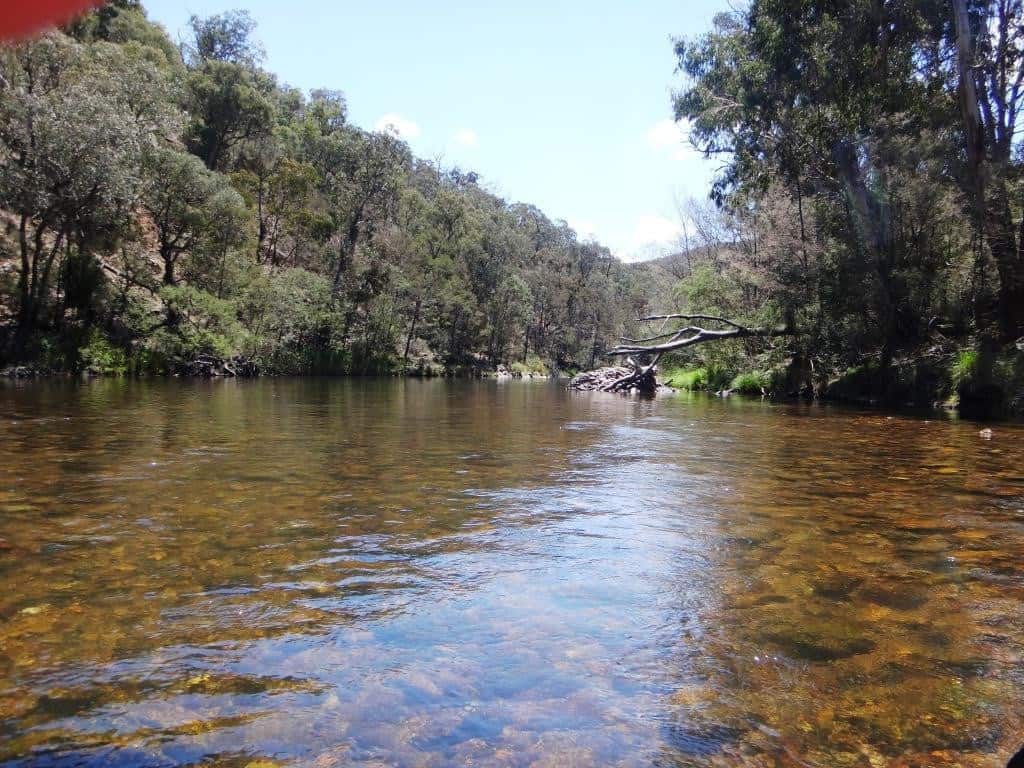 Look at this mighty granite extrusion. What awesome cataclysms there have been in the past. I'm glad I wasn't standing here when this happened. It looks like a mighty alien spaceship has crashed into the earth, and coalesced.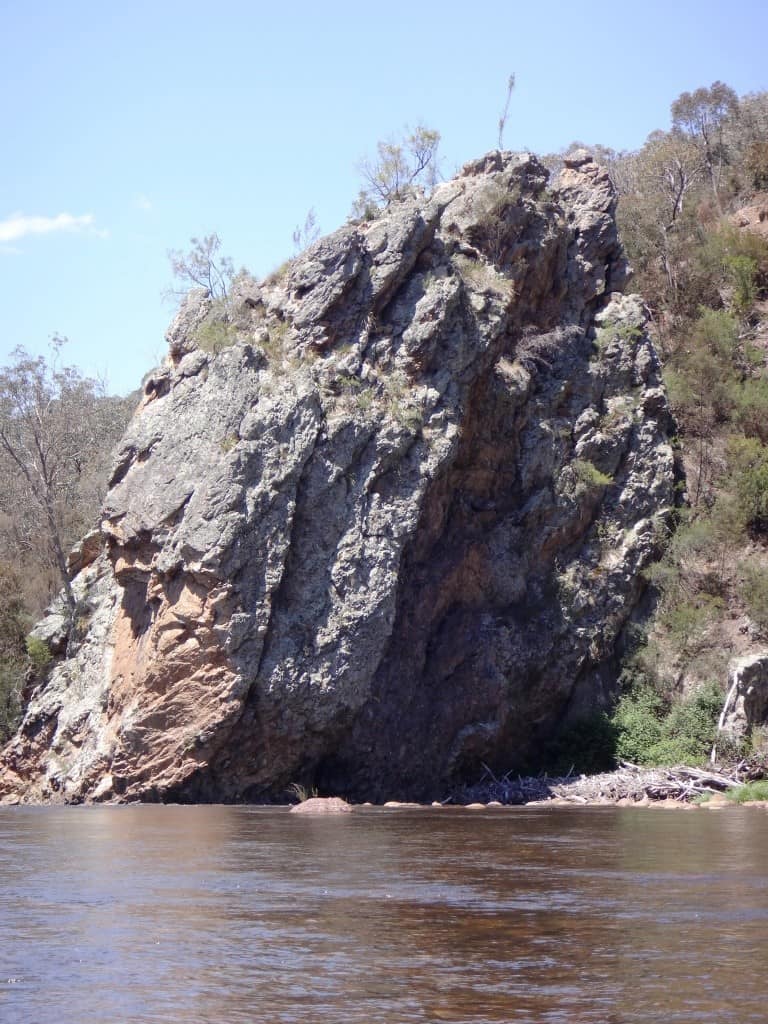 The view from behind it.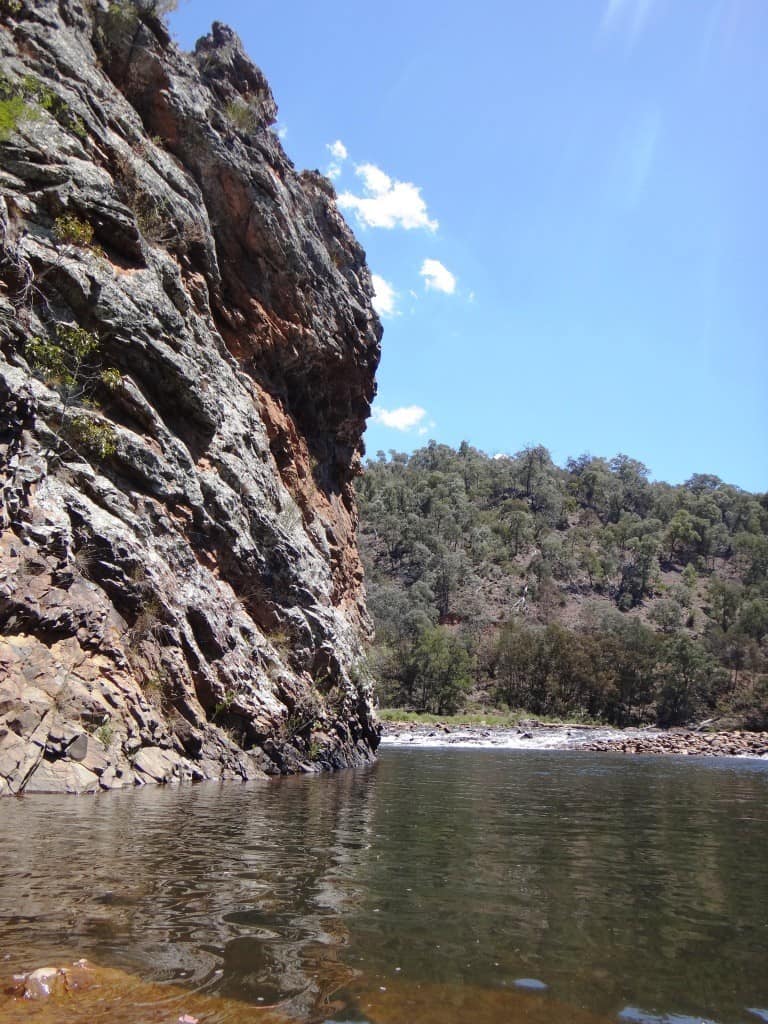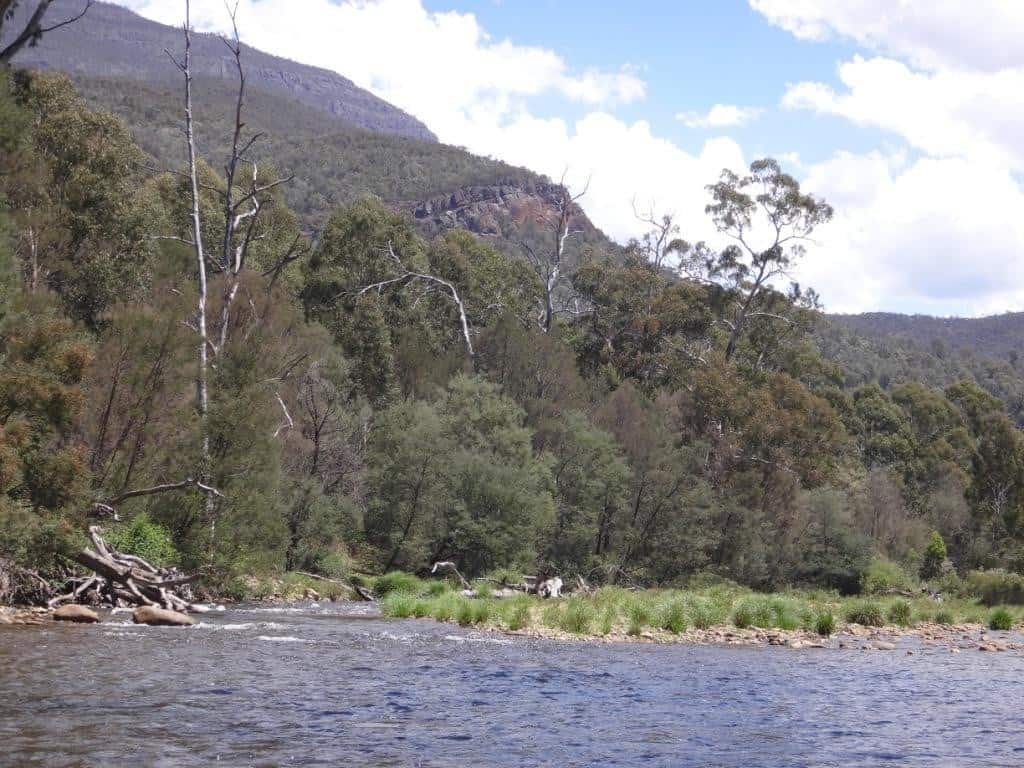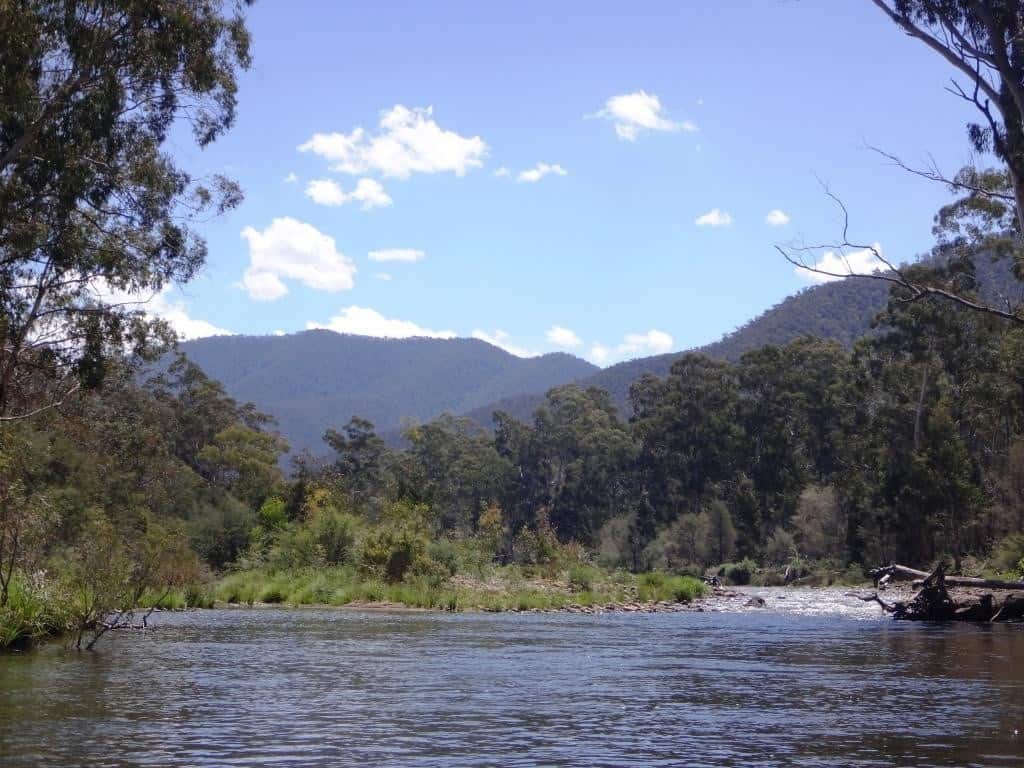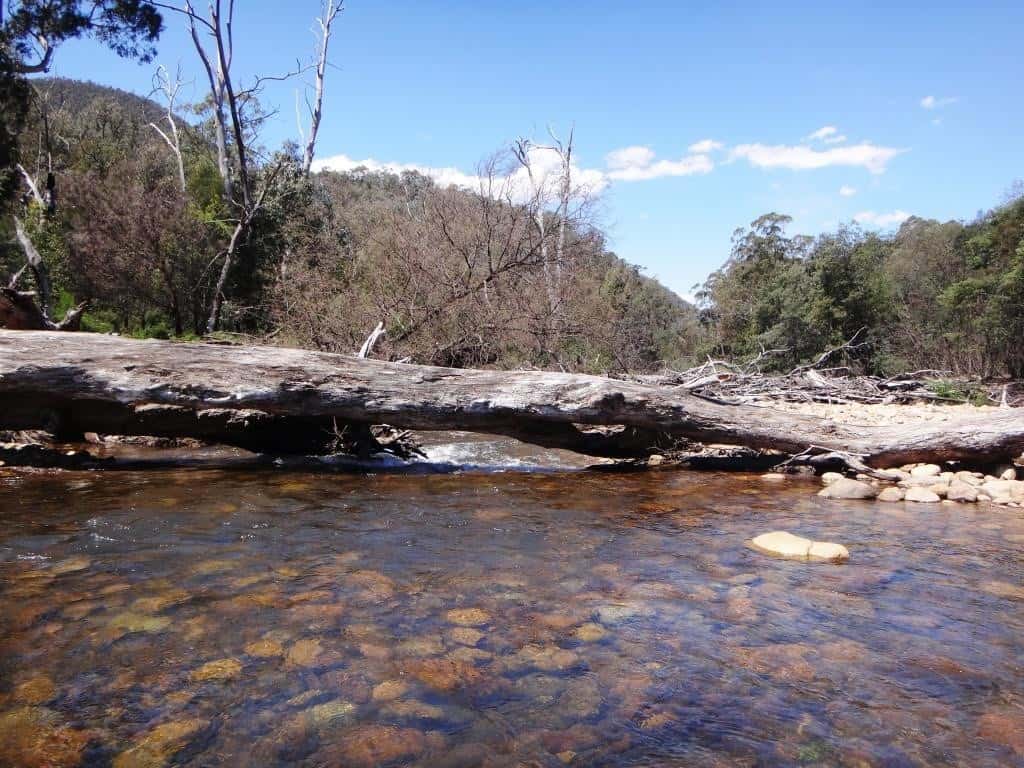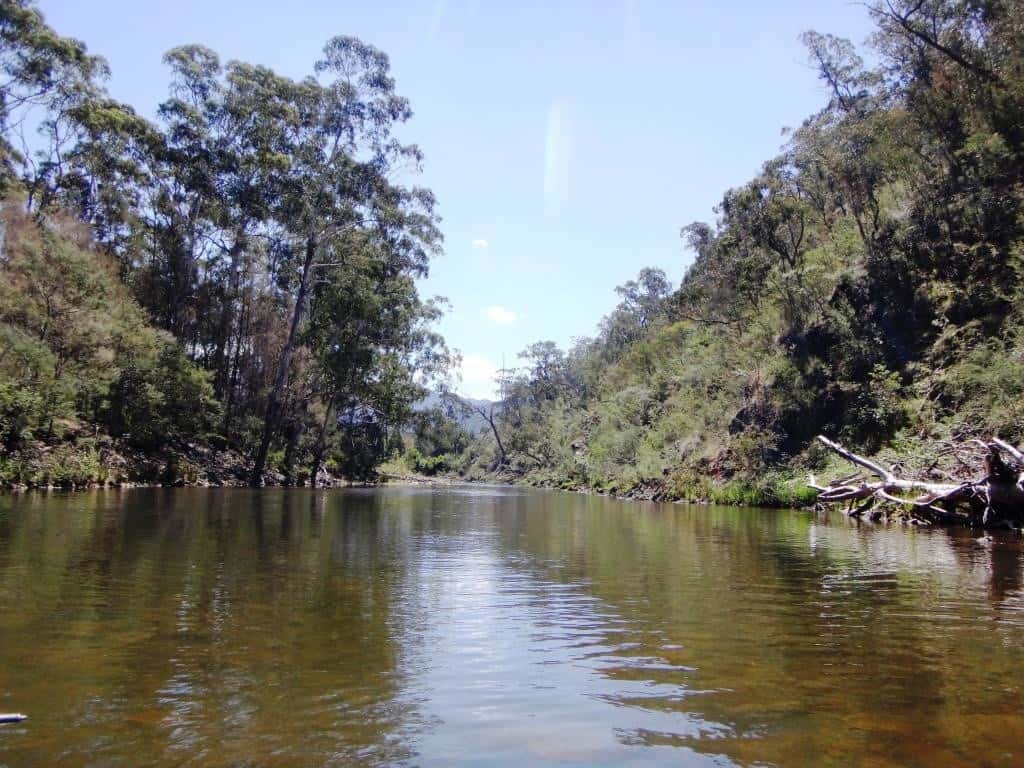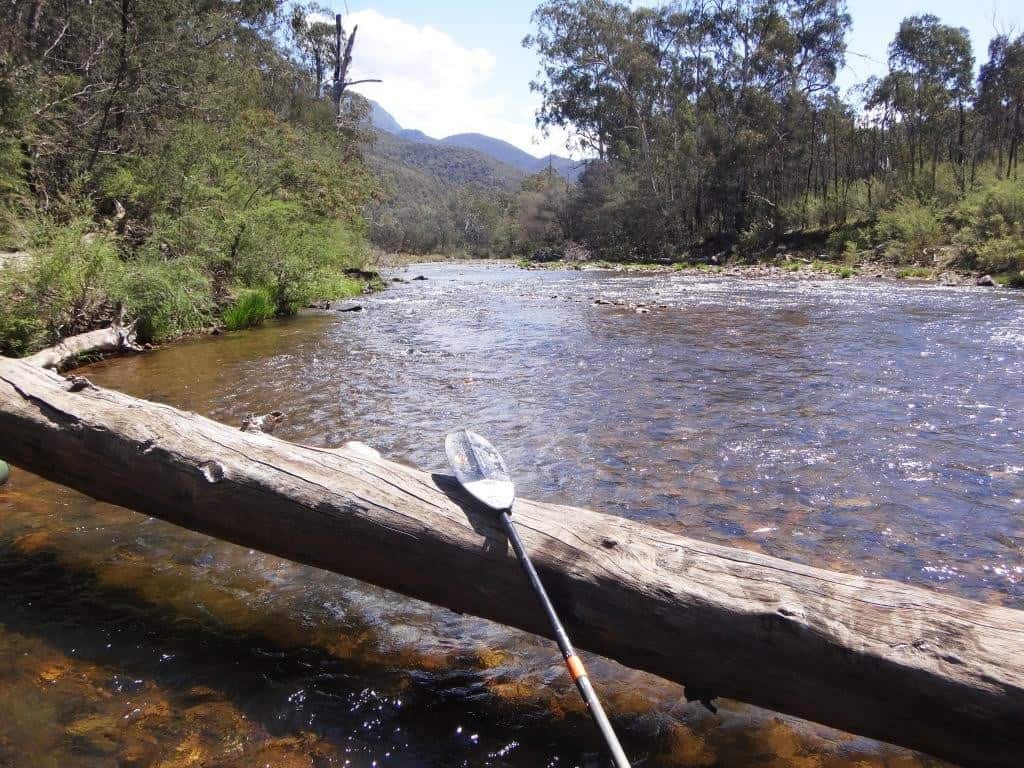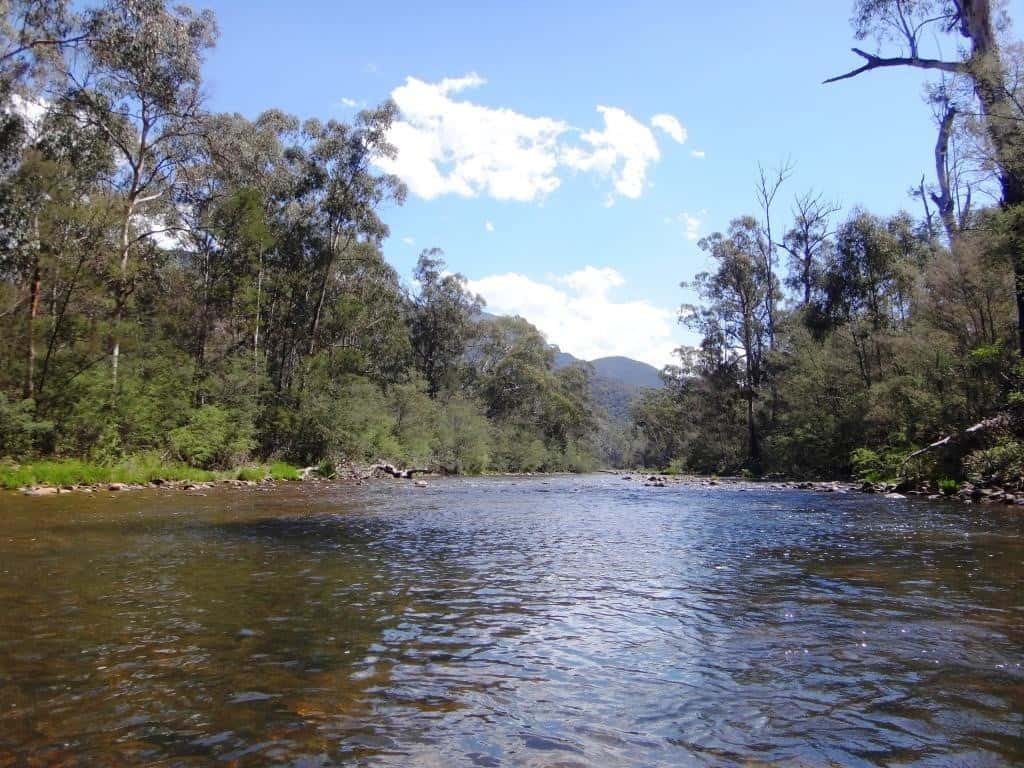 If you scan this bare hillside you will discern innumerable animal paths. Della and I camped here once (see the lovely beach around the bend in the next shot). This bare face was just opposite us. A deer honked at us loudly for nearly an hour from right in the middle of this clear hillside, yet neither of us was able to make it out at all. They are such geniuses at using the slightest bit of cover to disguise themselves!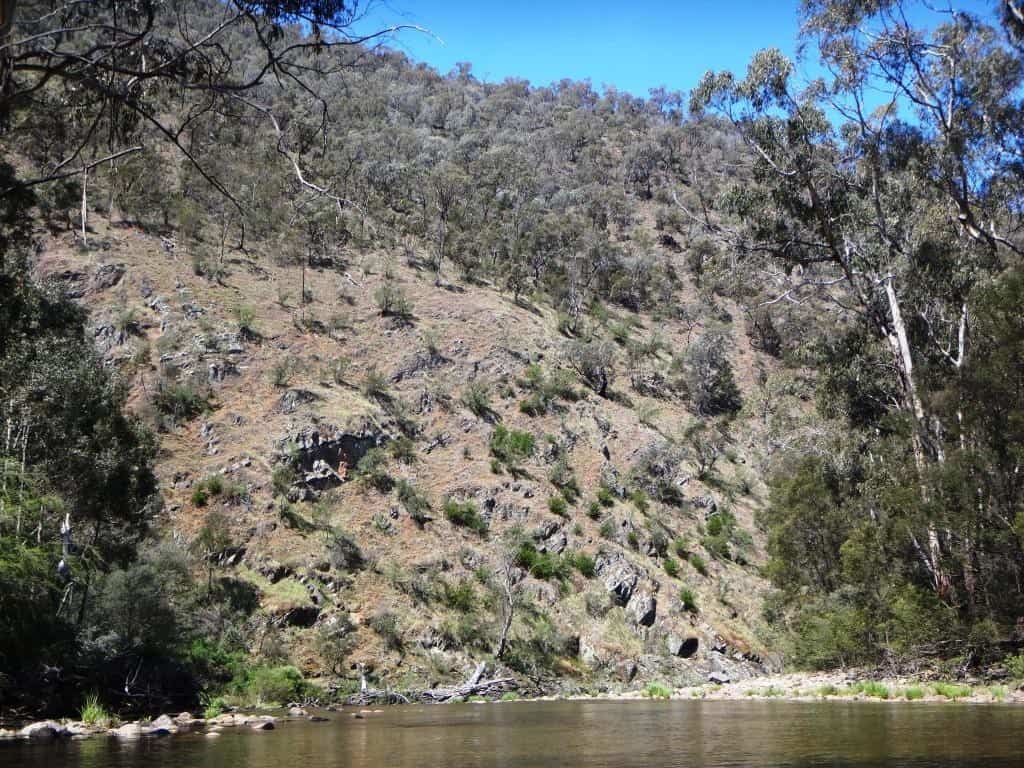 Great beach isn't it – and what a swimming hole!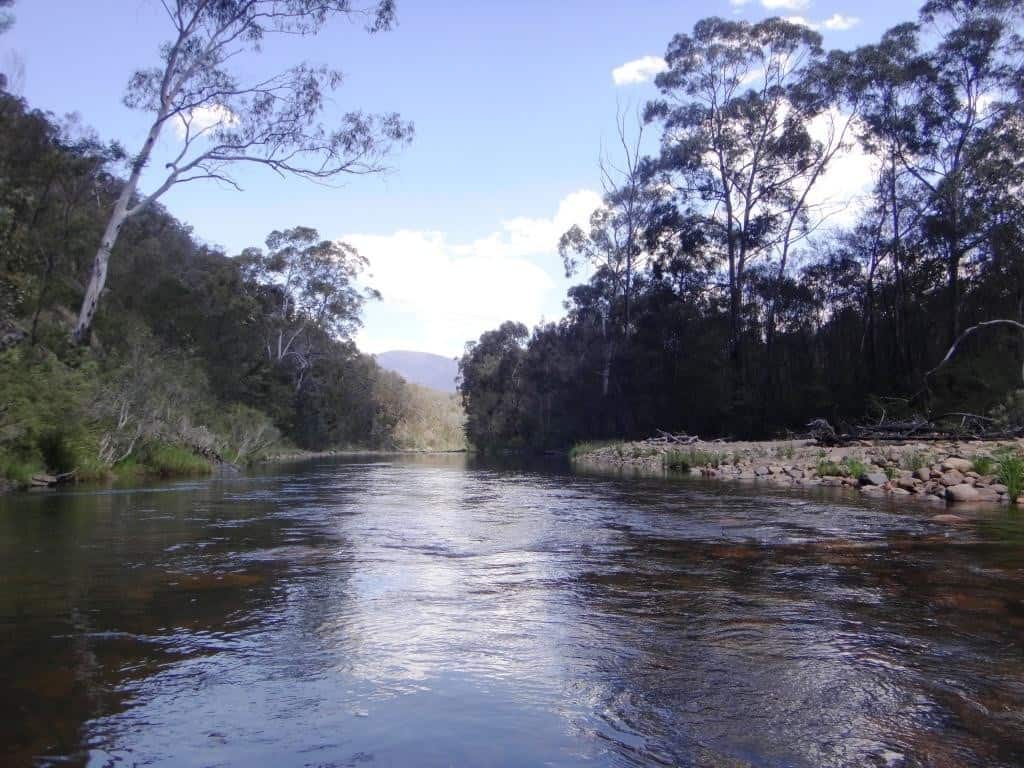 I just love this wonderful syncline too. Earth in upheaval!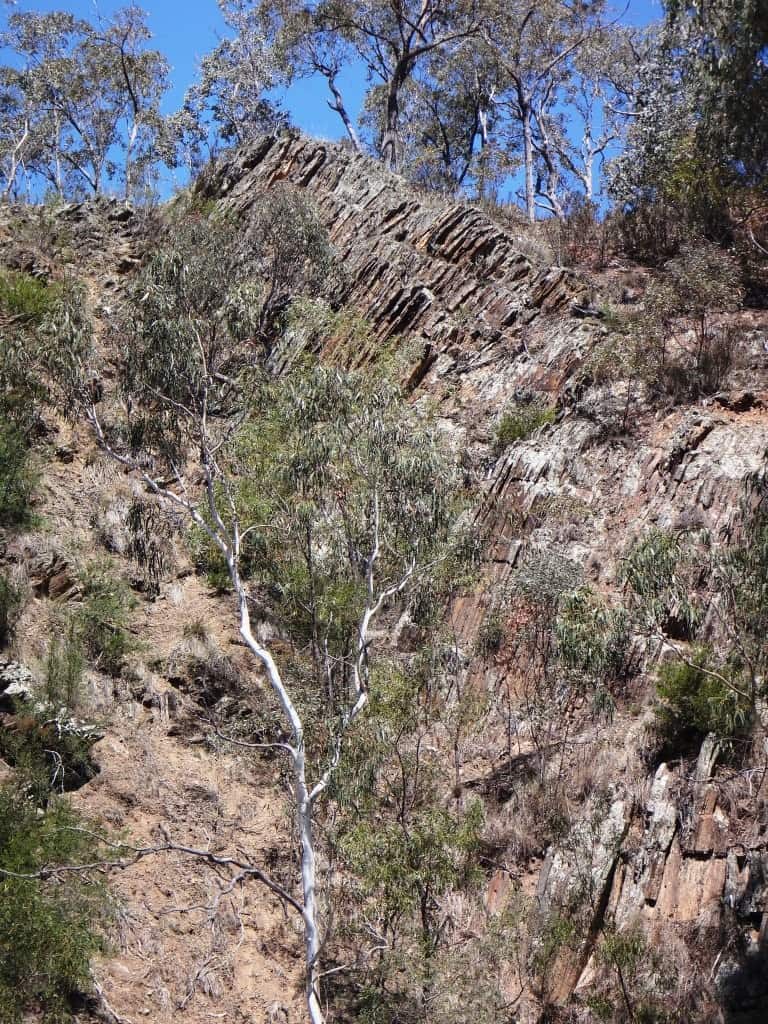 Another fine beach.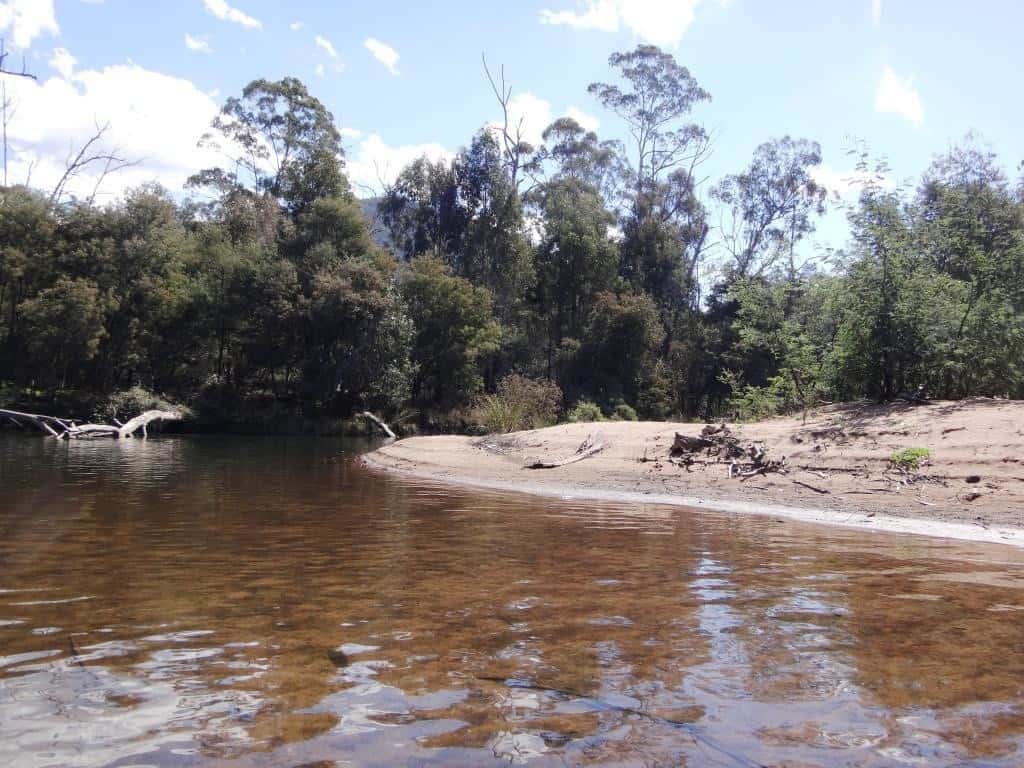 And another syncline.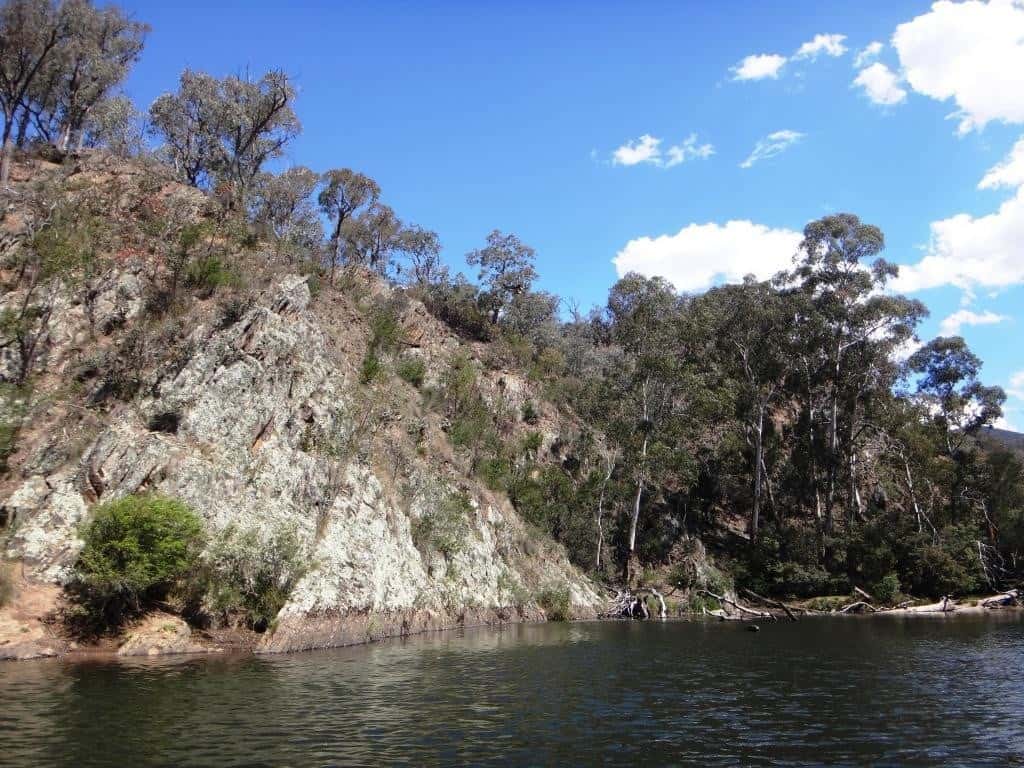 And yet another log jam. Thank goodness the pack raft only weighs a bit over 2 kg.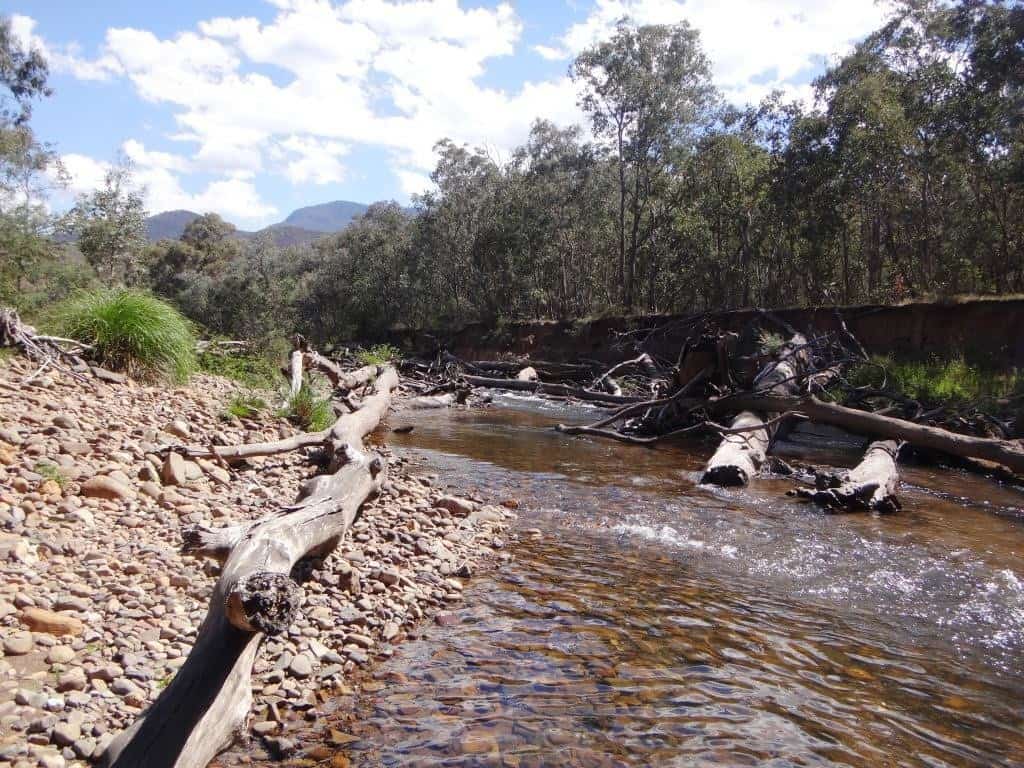 looking back at the confluence of the Sugarloaf Creek. We are now adjacent to private land all the way to Eaglevale (approx the last two hours).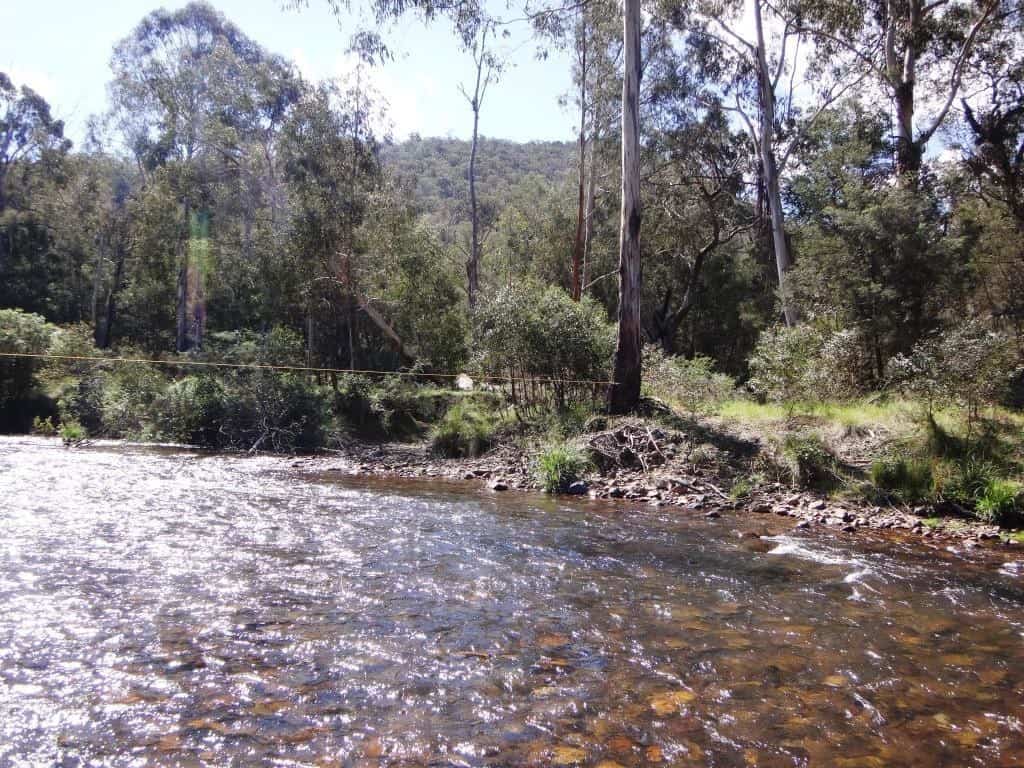 Willows would once (not long ago) have held this bank together.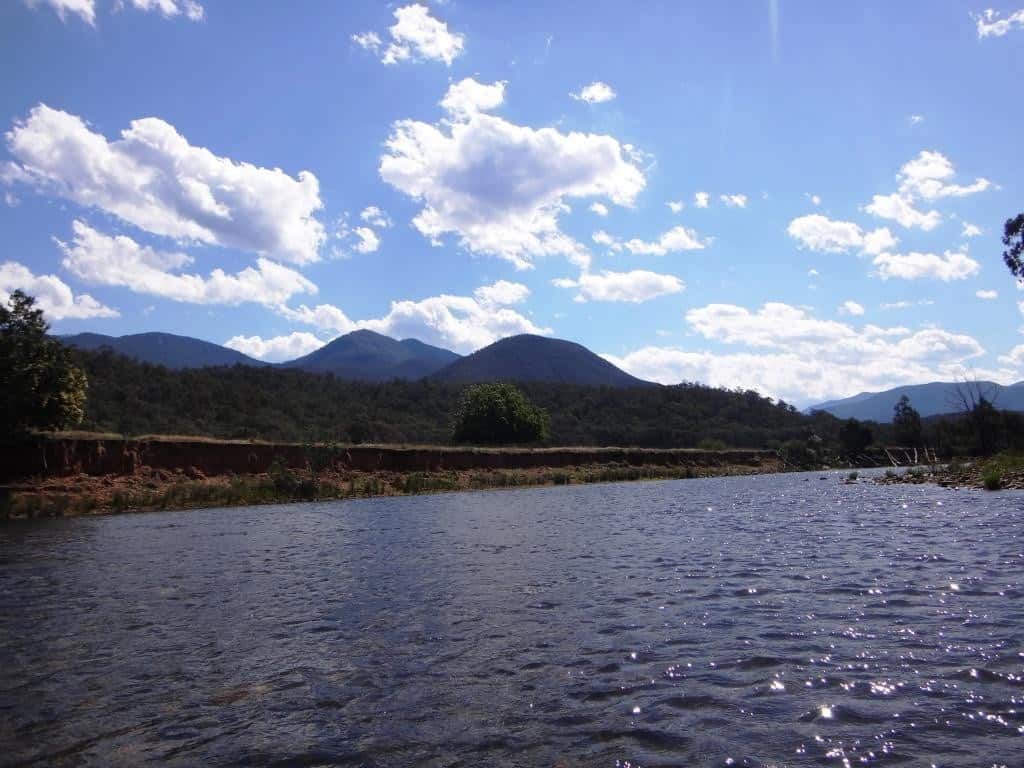 Now the farmer's brand new fence is being swept away every time the river rises. You have to feel sorry for these mountain cattlemen. The statists and bureaucrats have stolen their mountain grazing leases. Now they have stolen their river banks and forced them to fence them off even though (with the willows gone) that will most definitely not work. I do so love government! I would love it to death actually. Perhaps like Oscar Wilde's Kings and Priests (the last of one he hoped to live to see strangled with the gizzards of the last of the other) I will live to see the last Government disappear from the earth – 'not with a bang but a whimper' – as T.S.Elliot said in 'The Waste Land'. Or maybe not. it is awfully triumphant everywhere just now!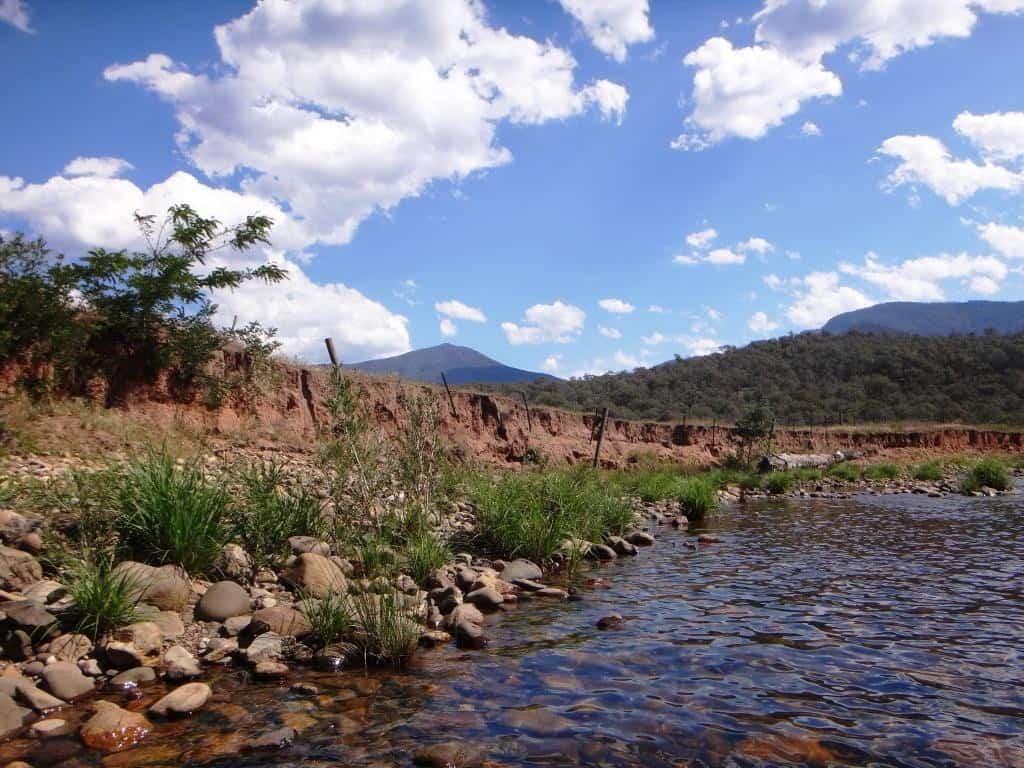 The greenery here attests to the benefits of phosphorus.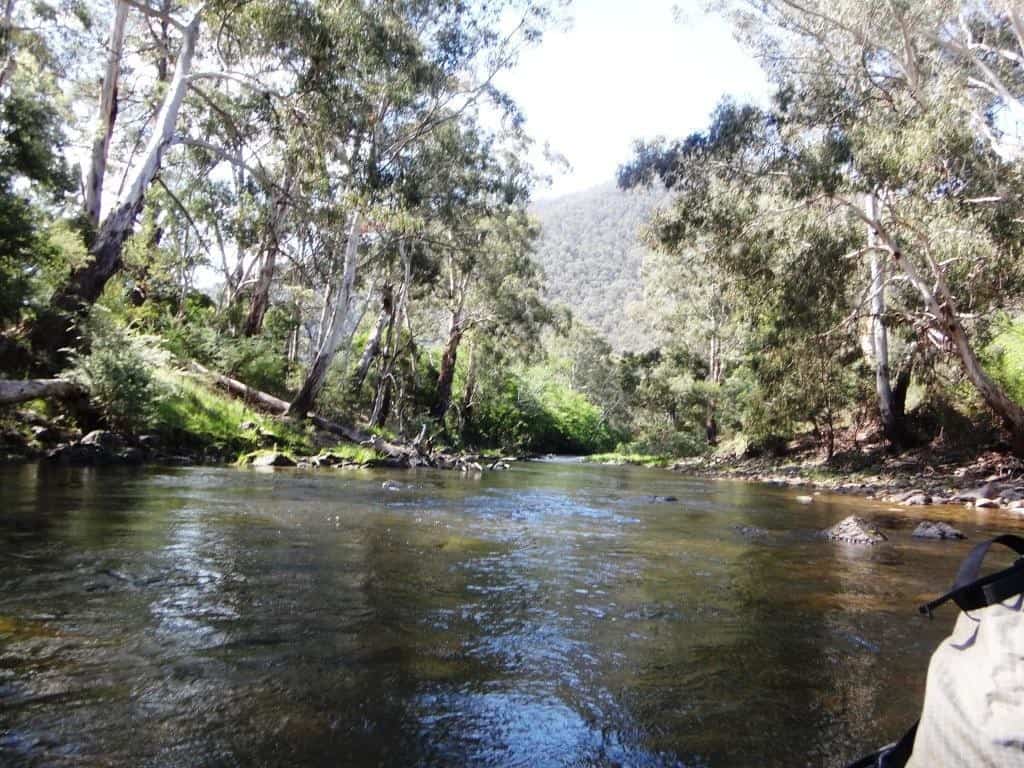 The first swing bridge.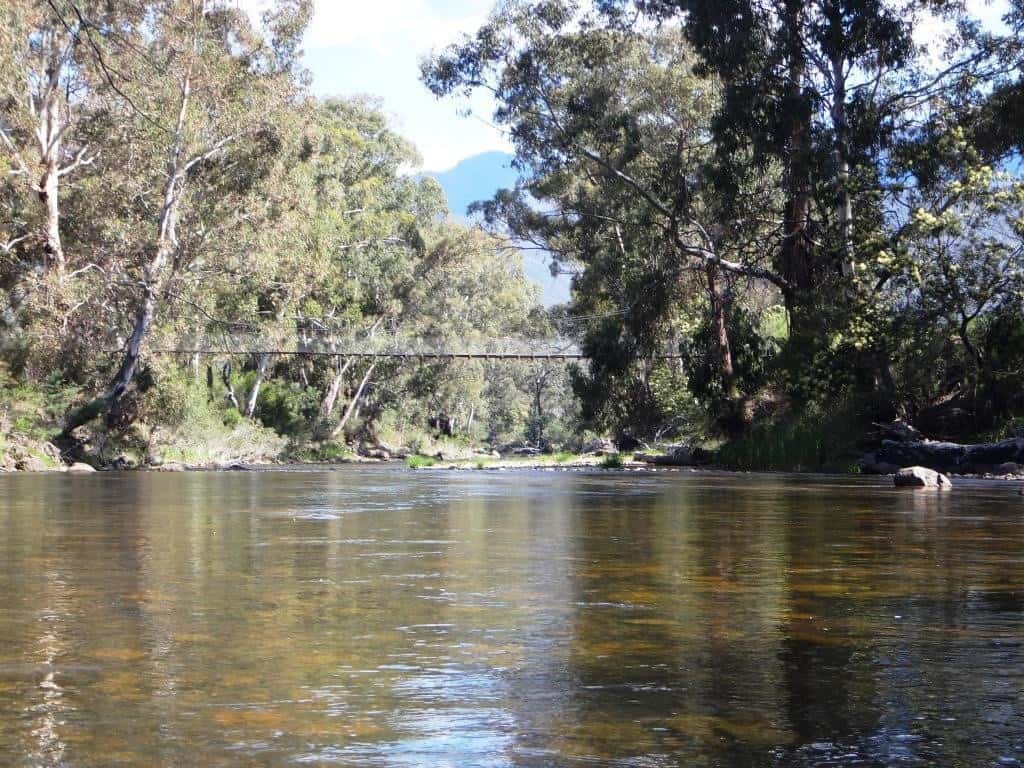 The old pump and the new. The new will not last a smidgeon that the old has. Eventually the farmer will be reinstating the mill – when the solar gibberish expires!
A delightful brace of spur-winged plovers takes flight.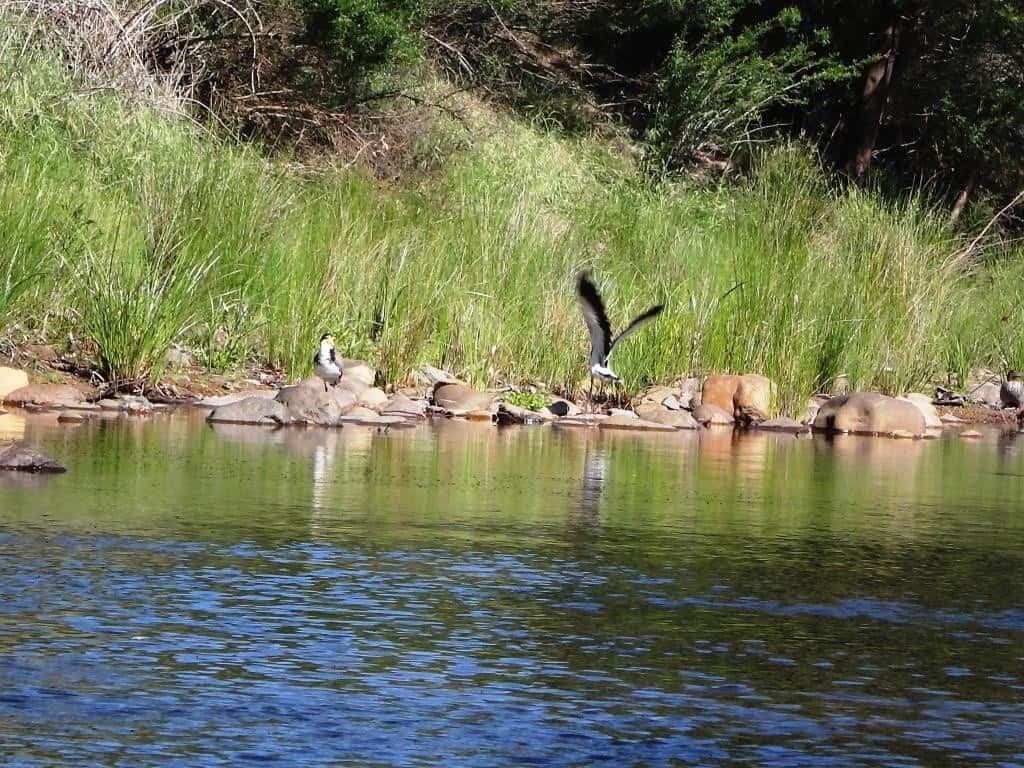 Another great wall. And observe the contrail. Other folks are out and about exploring the world too – in their own way! I would rather be here.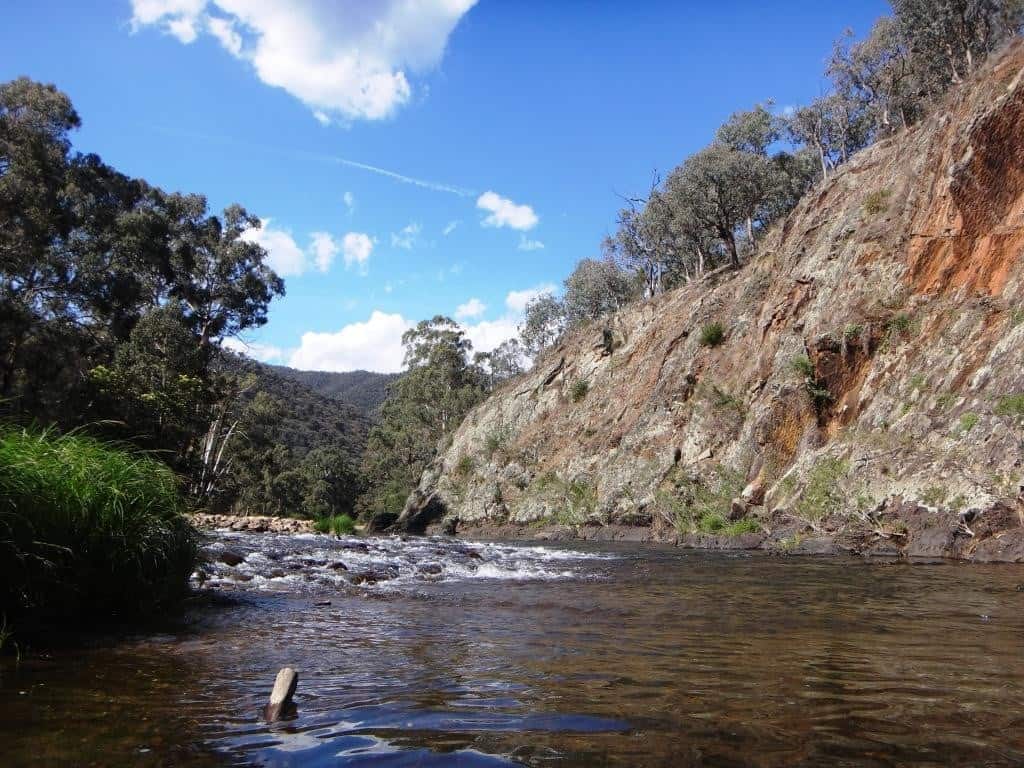 At last, after another hour, the Eaglevale Bridge.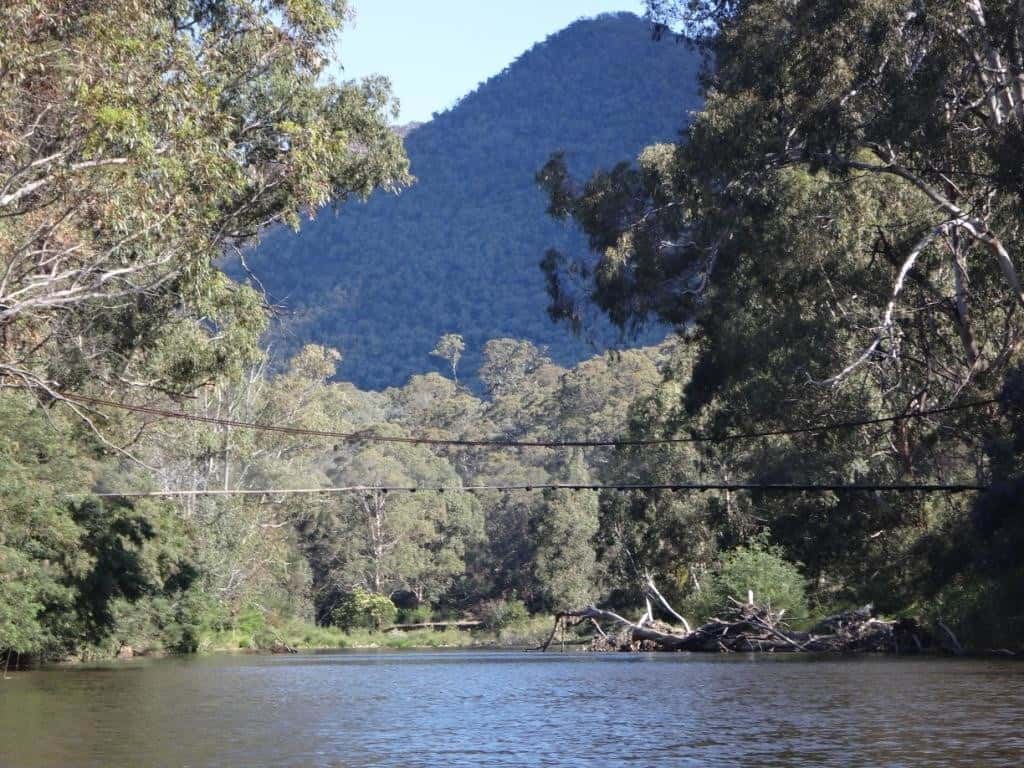 See Also:
http://www.theultralighthiker.com/pack-rafting-the-remote-wonnangatta/
http://www.theultralighthiker.com/remote-wonnangatta-day-two/
http://www.theultralighthiker.com/a-wonnangatta-spring/
http://www.theultralighthiker.com/a-wonnangatta-spring-day-two/
http://www.theultralighthiker.com/a-wonnagatta-spring-day-three/
Section 1: http://www.theultralighthiker.com/wonnangatta-kingwell-bridge-to-black-snake-creek/
Section 2: http://www.theultralighthiker.com/wonnangatta-black-snake-to-hut-creek/
Section 3: http://www.theultralighthiker.com/wonnangatta-hut-creek-to-waterford-bridge/
http://www.theultralighthiker.com/canoe-wonnangatta/
For River Heights: http://www.theultralighthiker.com/canoeing-the-wonnangatta-catching-the-wave/
http://www.theultralighthiker.com/pack-rafting-the-wonnangatta-mitchell/
http://www.theultralighthiker.com/videos/dawn-surprise-rapid-wonnangatta-river-australia-day-2017/
http://www.theultralighthiker.com/wonnangatta-waterford-to-angusvale-day-one/
http://www.theultralighthiker.com/wonnangatta-waterford-to-angusvale-day-two/
http://www.theultralighthiker.com/wonnangatta-waterford-to-angusvale-day-three/
http://www.theultralighthiker.com/videos/canoe-wonnangatta-the-movie/
Hits: 20