Steven Evans' wonderful Suluk 46 website is up and running again, so that I can add this excellent ultralight saw to the recommendations on my previous list. This saw would also make a perfect hunting saw.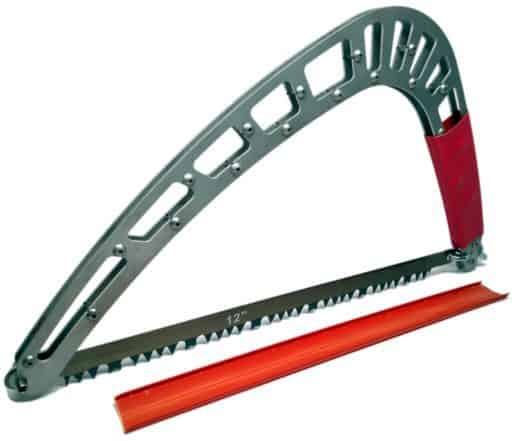 'There is nothing quite like the glow and warmth of a fire in camp after a long day of hiking. At the same time, the burden required to manually break down decent sized wood to feed the fire can be tiresome and sometimes impossible. Let the ultralight 12″ Uki Buck Saw help you!
Weighing only 4.48 ounces (127 grams()and housing a full 12″ blade, this robust buck saw will cut through all the wood you require with ease. The fixed blade design means one can deploy the Uki Buck Saw in a fast and efficient manner. All that is required is to remove the blade guard, tighten the non-rotating tensioning device, and start cutting, while the covered and contoured handle ensures a comfortable grip'.
Weight 127 Grams
Dimensions 14 X 7.25 X .75 in
Available US$74 (Jan 2018): https://suluk46.com/product/uki-buck-saw/
I would partner this saw with these other recommended Suluk products:
Titanium Windscreen: https://suluk46.com/product/titanium-windscreen/
Ultralight trowel: https://suluk46.com/product/tark-ultralight-backpacking-trowels/ & http://www.theultralighthiker.com/the-rolls-royce-of-back-country-trowels/
TDW Stove: https://suluk46.com/product/tdw-stove/ & http://www.theultralighthiker.com/titanium-double-wall-wood-stove/ & http://www.theultralighthiker.com/suluk-stove/
See Also: http://www.theultralighthiker.com/ultralight-saws/
PS: I imagine this saw would also take a 12″ bone blade for removing antlers. A bare blade can be protected with the spiral stationery clips available from eg Officeworks
Uki currently on Massdrop Jan 2018 US$59.99
Hits: 24