I have used the Thermarest Neoair Womens for years. It has an (insulation) R-rating of 3.9. I was quite warm enough in it at around zero Celsius with just a Columbia Silver Ridge shirt and trousers and a pair of thin (Holeproof Heroes) wool socks in my – 1C Montbell bag. If it got a little colder I might put on my down jacket as well.
My new Big Agnes AXL has a lower R rating (perhaps 3). Anyway at approx 4C a couple of nights ago I was still freezing with three layers of wool plus my down coat (upper) and a pair of long johns (as well as my Columbia trousers, a thicker pair of Wigwam wool socks together with down socks  plus a neck warmer and an insulated hat. Though the mat is definitely more comfy than the Thermarest it just does not 'cut it' when it is cold. Della always claims to not be warm enough too. One R rating in a mat makes an awful lot of difference; I would not have believed how much.
I am now investigating an even warmer mat. There are very few (compact) mats which have an R rating over 5. The obvious 'go to' is Thermarest's X-Therm series at R 5.7. They roll up to almost exactly the same dimensions as the Womens but are about 100 grams heavier (430 grams). Mind you, weight wise this 90 grams 'investment' in warmth is a much better choice than trying to add more insulation and weight to go over you. To add 5C extra warmth on top will be more like 500 grams, but the two points of R rating will be more than 10 degrees Celsius.
Thermarest X-Therm: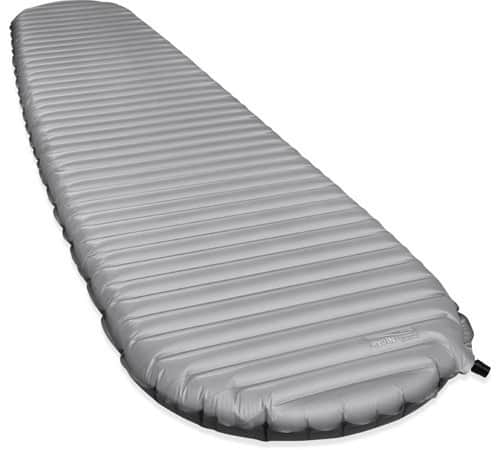 As Jack Stephenson said,  'It's good to minimize weight, but you can carry much more if you get a good comfortable night's sleep…We often hear of people using short or narrow pads to save weight. When sleeping you need more insulation at your feet since you are no longer producing lots of excess heat in your legs and feet as you do when hiking. If your pad isn't wide enough to support your arms when on your back you won't be able to stay comfortable and won't sleep well.' That first sentence is a gem. You should etch it into your brain.
Stephenson DAM below:

Stephensons offer the only other real (compact) choice in cold weather mats, their Down-Filled Air Mat (DAM). You should really read their FAQ page:  https://www.warmlite.com/product/down-filled-air-mattress/ A 5'6″ DAM (their smallest) will weigh 18-20 oz (say 530-590 grams; there is a mis-print on their site) but it is 22″ wide (your arms will thank you for that extra 2″) and it is 4″ thick compared to the X-Therm's 2 1/2″. That gets back to that comfortable night's sleep which will see you with much more energy for hiking/hunting the next day! The R rating of the DAM is somewhere 5.5-15.5!
These photos 'borrowed' from Trailspace's excellent site (see below) show the 6'4″ dam compared to the X-Therm Regular (20″x 72″). The 5'6″ DAM which is all Della or I would need would be very much the same size as the X-Therm, but would add about another 100 grams (for comfort), and would be warmer. Of course the DAM would have to be stored inflated (as with other down things to preserve loft), and you need to inflate it with a bag or a 2 1/2 oz (inc battery) electric Microburst pump which is maybe a little less convenient.
PS: While you are over at Stephensons you should check out their bag 'system' and particularly their Vapor Barrier concept which prevents your sleeping bag from becoming heavier (and colder) from sweat.
Dam on right (blue)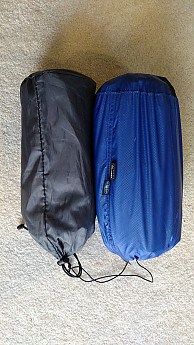 DAM on left (red)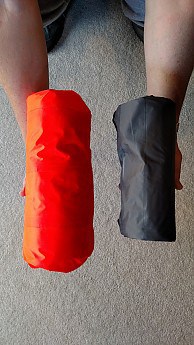 http://www.trailspace.com/gear/stephensons-warmlite/warmlite-triple-bag/
Another pad to consider ( I own one and find it very comfy) but really much more suitable for car camping is Exped's Downmat 7 which has an R rating of 5.9. The packed size though is 24 cm x 15 cm so it is going to take up a lot of space in your pack.and it weighs 870 grams.
Yet another pad to consider the Klymit – R Rating of 4.4 and weight of just over half a kilo (and costing only around A$100!) Thanks to reader Muzza for reminding me about this: 'The Klymit Massdrop pad with a 4.4 r rating,light (is) way comfy. I'm playing with it and the Massdrop Pine Down Quilt (US99 Jul 2018). Slept in 3c the other night in Bendigo with only a cheap thermal top and bottom on. Had a puffy jacket and beanie and socks at the ready and didn't need.'
http://www.theultralighthiker.com/klymit-insulated-static-v-lite-sleeping-pad/ 
& https://www.klymit.com/insulated-static-v-lite-sleeping-pad.html
The pad can now be purchased from as little as US$59.99 (Jun 2018) and can easily be modified. See: http://www.theultralighthiker.com/massdrop-in-stock/
NB: My thanks to reader (Belle) for alerting me to the Exped Synmat HL Winter M which weighs 430 grams and has an R-rating of 5.0 at 183 cm long 52 wide (35 cm at the foot) and 9 thick. You do need a 60 gram bag to blow it up, but this also doubles as a pillow.
See Also:
http://www.theultralighthiker.com/mattresses-i-have-known/
http://www.theultralighthiker.com/unsung-genius/
Of course, you really do need a pillow too:
http://www.theultralighthiker.com/diy-super-ultralight-pillow/
http://www.theultralighthiker.com/klymit-ultralight-pillow/
http://www.theultralighthiker.com/ul-pillows/
http://www.theultralighthiker.com/a-soft-pillow-and-a-warm-bed-under-the-stars/
http://www.theultralighthiker.com/exped-ultralight-pillow/
Hits: 25