I have been busy building a new wood shed and stocking it with rather more than my favourite poet Edward Thomas' 'recommended' 'Fifty Faggots'. I can get the wood to this one no matter how wet the paddocks are, and simply throw it straight off the tray and into the shed. It has plenty of height for block splitting, and a dry place to stand when I am doing so. This is luxury. I am also lining the shed with corrugated iron so that when I throw the wood in it does not shake the cladding off. I have also equipped the walls with several built-in possum nests and don't doubt it won't be long before the possums find them and move in.
There will be 16 possum platforms in the walls of the shed when I have finished cladding it. I  plan to build similar boxes for possums, parrots, kookaburras etc on every strainer post (and elsewhere) over time. It is a delight to share your home with these wild creatures too.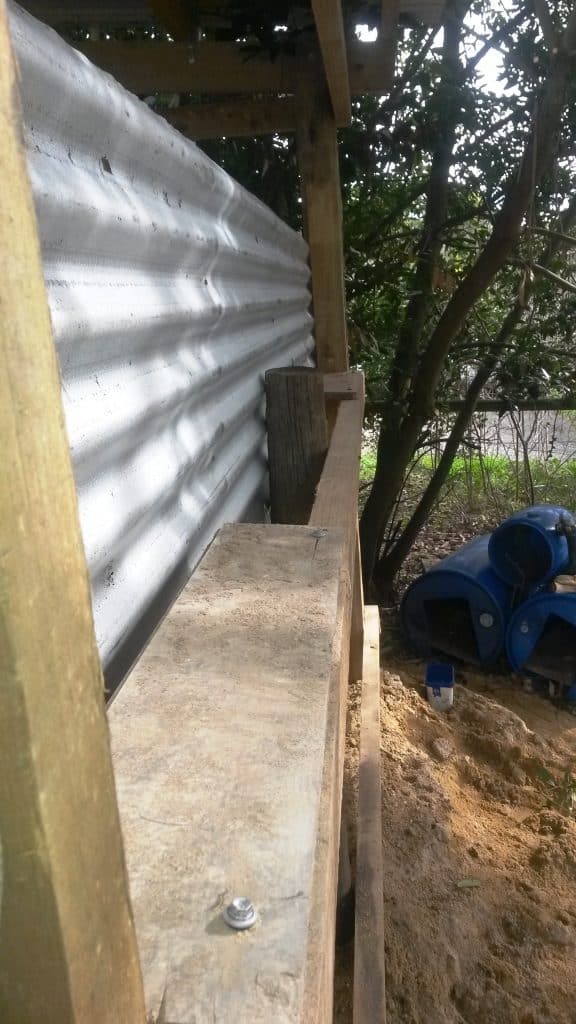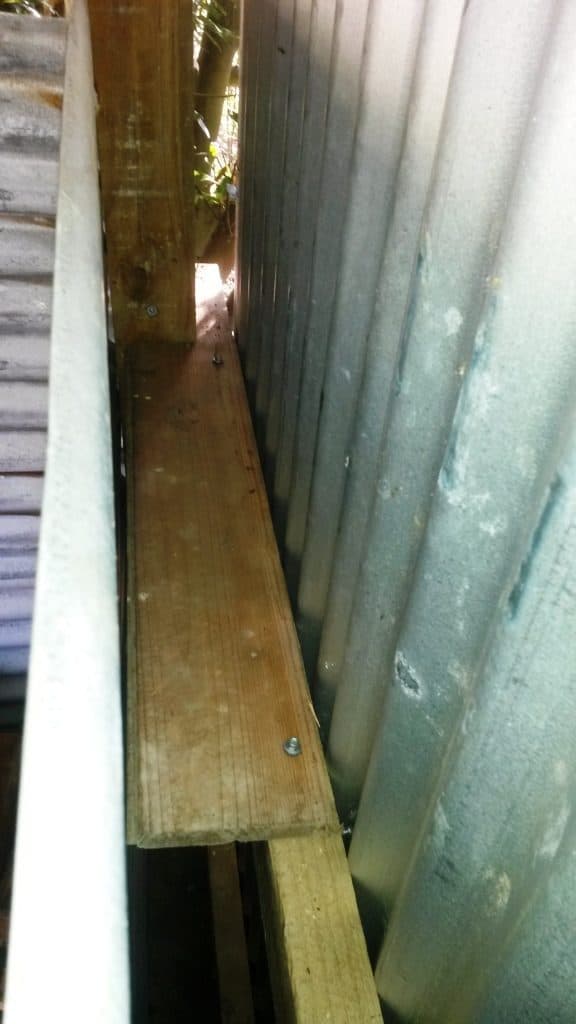 The frame up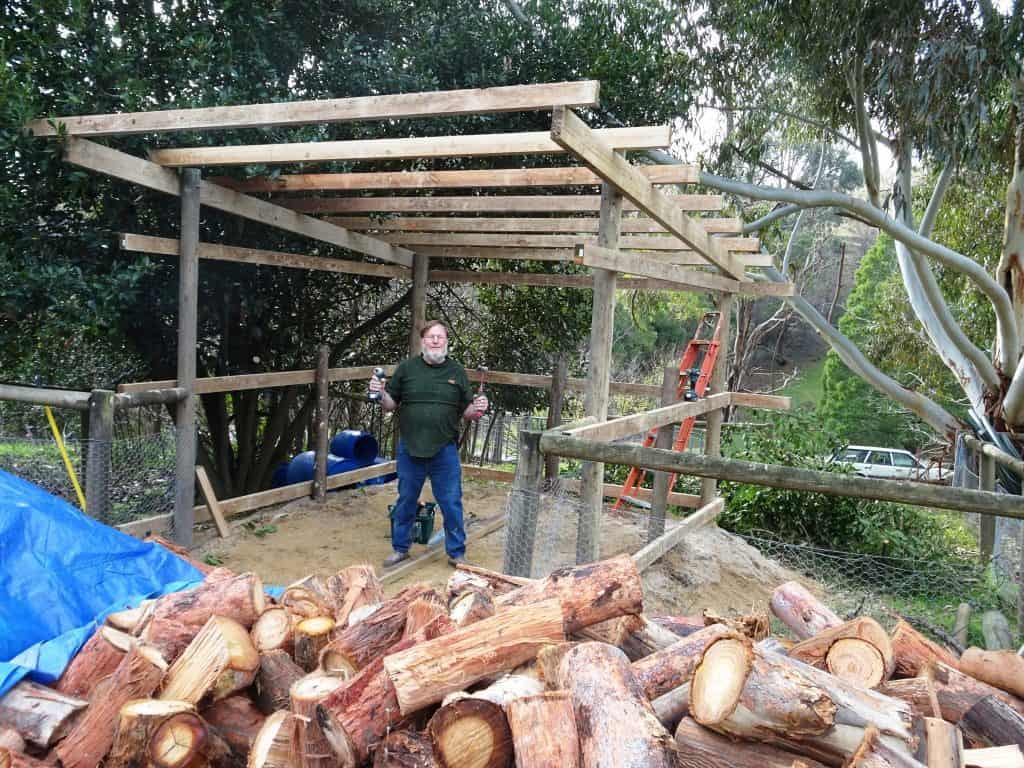 Of course I am not quite finished yet. I have to suspend operations at this point to get the sheep and fences ready for lambing. I have at least a week's hard work on the latter project so that we can minimise losses to foxes. I am finding all this particularly heavy going this year as I seem to have torn the cartilage in my left knee – pretty much just standing in the paddock playing with a new drone which I hope will simplify getting the sheep into a fox-proof area every night during lambing. You can see how well that will work here: http://www.theultralighthiker.com/drone-hunting/
And ten tonnes of wood in – this was hard going yesterday with this agonising knee.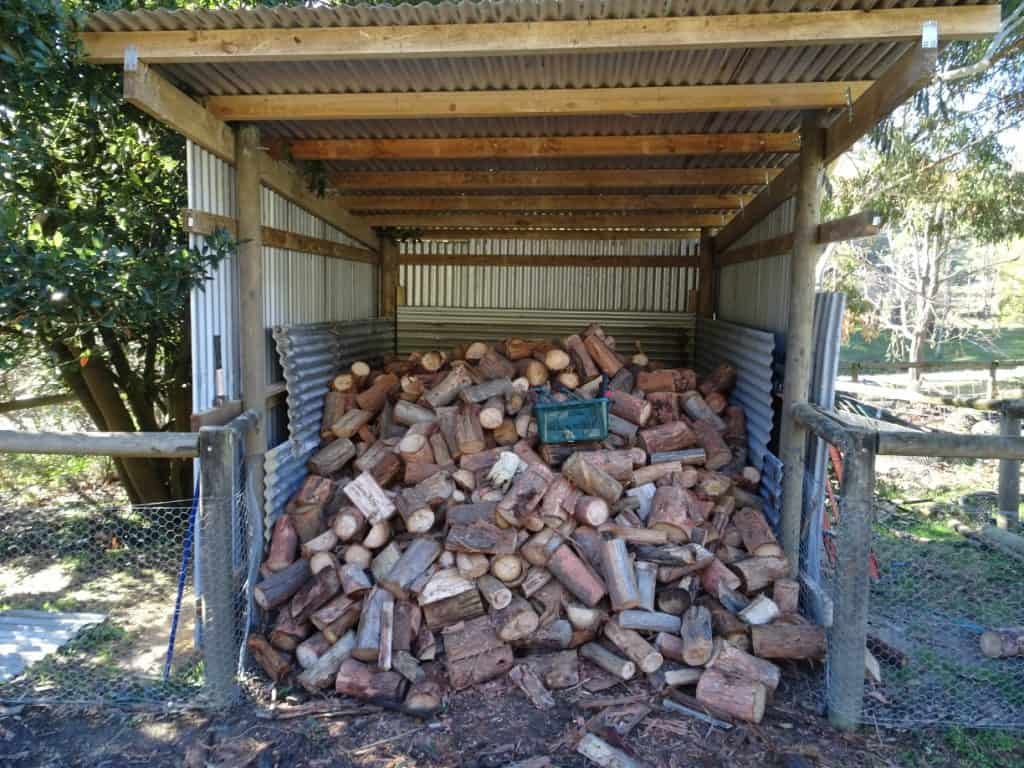 This is the belated beginning of the replacement of the old Buggy Shed (1924) hopefully with something which will last just as long (or longer). Later on in the year I will be building a workshop in its place complete with hoist for working on our many old cars – after nearly half a century of lying underneath them! Interestingly, I am lining the new wood shed with iron off the old one. Lysaghts Newcastle – where I worked briefly during the 1960s sure made good galvanised iron back then. if the new iron on our house roof lasts as well, it won't need replacing for a very long time!
There are six metres of bedding sand underneath that ten tonnes of firewood. (Other people think 'work' is having meetings. They should look up the scientific definition!) The wood should last us through to next summer. We have enough old trees dying, and enough new ones coming along to be largely self-sufficient in wood – besides, we own a wood lot at the Eastern edge of the property, a patch of bush I fenced last year much to the surprise of many local residents who had long believed it was a public space. When they started riding motorbikes in it though we had to act. We could not have the risk of such noisy idiots injuring or killing themselves when trespassing on our land.
Here we usually light our first fire around Easter and our last around Melbourne Cup Day (Guy Fawkes Day if you are elsewhere than Australia). Of course we don't need a fire every night in between. I have known days in July which were over 25C – but i have also seen snow at Xmas. We have weather here in Southern Victoria, whatever the meteorologists may think about 'climate change'.
It is a lovely little warm sheltered valley here at Jeeralang Junction: we can have all the cold season type of fruit (such as cherries – if the birds will leave us any), but also we grow guavas, (sugar) bananas, mountain and American paw paws, sapote – many things which you would expect to have only much further North. I guess we have over a hundred different types of fruiting things growing in our garden, and are adding to them every year. We are legends with all the local parrots and currawongs – not to mention the possums!
PS: A friend informs me that I must not have attended the 'firewood stacking academy' (https://momprepares.com/firewood-stacking-methods/) which is another one of those things for folks who are anally fixated. I made the shed so I could just throw the wood in. Least work is best.
Another old friend (the late Col Francis) many years ago taught me how to correctly 'split' blocks. I had been chopping them in half, then half again as I'm sure half the world does! He pointed out that it was much easier if you 'peeled' the blocks like an onion, and he was so right. i have done so ever since. Cheers, Steve.
See Also:
http://www.theultralighthiker.com/boastful-food-shots/
http://www.theultralighthiker.com/you-must-learn-to-shoot-your-own-dog/
http://www.theultralighthiker.com/you-will-not-live-forever/
http://www.theultralighthiker.com/my-life-was-wide-and-wild-and-who-can-know-my-heart/
http://www.theultralighthiker.com/rich-beyond-telling/
http://www.theultralighthiker.com/deer-oclock/
http://www.theultralighthiker.com/boastful-food-shots/
http://www.theultralighthiker.com/why-do-i-love-my-garden/
http://www.theultralighthiker.com/brer-fox/
http://www.theultralighthiker.com/only-the-moon-and-me/
http://www.theultralighthiker.com/a-tiny-life/
http://www.theultralighthiker.com/fifty-faggots/
http://www.theultralighthiker.com/in-troy-achilles-delivers-this-line/
http://www.theultralighthiker.com/pristine-beaches/
http://www.theultralighthiker.com/the-last-rebels/
http://www.theultralighthiker.com/most-travelled-cat/
http://www.theultralighthiker.com/birds-in-our-garden/
http://www.theultralighthiker.com/swallows/
http://www.theultralighthiker.com/thrilling-tales-daniel-boone/
http://www.theultralighthiker.com/welcome-swallows/
http://www.theultralighthiker.com/the-frogs-the-sequel/
http://www.theultralighthiker.com/the-wildlife-seems-to-get-wilder-everyday/
http://www.theultralighthiker.com/repurposing-camping-gear/
http://www.theultralighthiker.com/you-never-know-when-your-numbers-up/
http://www.theultralighthiker.com/venery/
http://www.theultralighthiker.com/her-craft-or-sullen-art/
http://www.theultralighthiker.com/not-such-a-dam-nuisance/
http://www.theultralighthiker.com/sour-grapes/
http://www.theultralighthiker.com/a-dam-nuisance/
http://www.theultralighthiker.com/things-that-keep-you-from-hiking-hunting/
http://www.theultralighthiker.com/lost-at-fromelles/
http://www.theultralighthiker.com/bend-that-knee-to-no-man/
http://www.theultralighthiker.com/progress-it-always-seems-more-than-it-really-is/
http://www.theultralighthiker.com/hidden-worlds-nocturnal-ants/
http://www.theultralighthiker.com/its-that-time-of-year-again/
http://www.theultralighthiker.com/bright-sky-at-night/
http://www.theultralighthiker.com/everyone-loves-a-good-fire/
Hits: 2