Davek Umbrellas. They are confident: 'Unconditionally Guaranteed For Life: Every Davek umbrella comes with an Unconditional Lifetime Guarantee. If, during its lifetime, the umbrella should fail to function properly for any reason whatsoever, the company will gladly repair or replace it for free.' https://au.davekny.com/
The lightest appears to be: The Davek Mini: https://au.davekny.com/collections/umbrellas/products/the-davek-mini under 1 lb ie 453 grams. Comes in lots of colours – at least seven anyway..
'The Davek Mini is our smallest, most compact umbrella. This incredibly convenient umbrella fits in literally any compartment, from a handbag or clutch to your pants pocket. The stylish Mini is the perfect "just in case" umbrella, hardly noticeable when it's not in use. Keep it with you always—never be caught without an umbrella again. Measures less than 7 inches when closed. Pocket-sized protection, with style to spare. Manual open/close system.'
It costs $A75 (Dec 2018), so it is certainly worth finding out. You are always better off to have good things than cheap things. This is a piece of wisdom which seems to have been lost. For example we drive 1995-6 cars which we expect to last us for the rest of our lives. Most everything we own is like that. We are proud of that fact. We never wanted to be a part of the throw away society.
| | |
| --- | --- |
| Coverage diameter | 38 in (arc-diam); 34 in (straight-diam) |
| Closed length | 7 inches |
| Weight | Under 1 lb—ultra lightweight |
| Open/close system | Manual system |
| Shaft material | Steel |
| Frame system | Fiberglass reinforced 6-rib frame system |
| Fabric | 190 thread-count microweave fabric |
| Warranty | Unconditional lifetime guarantee |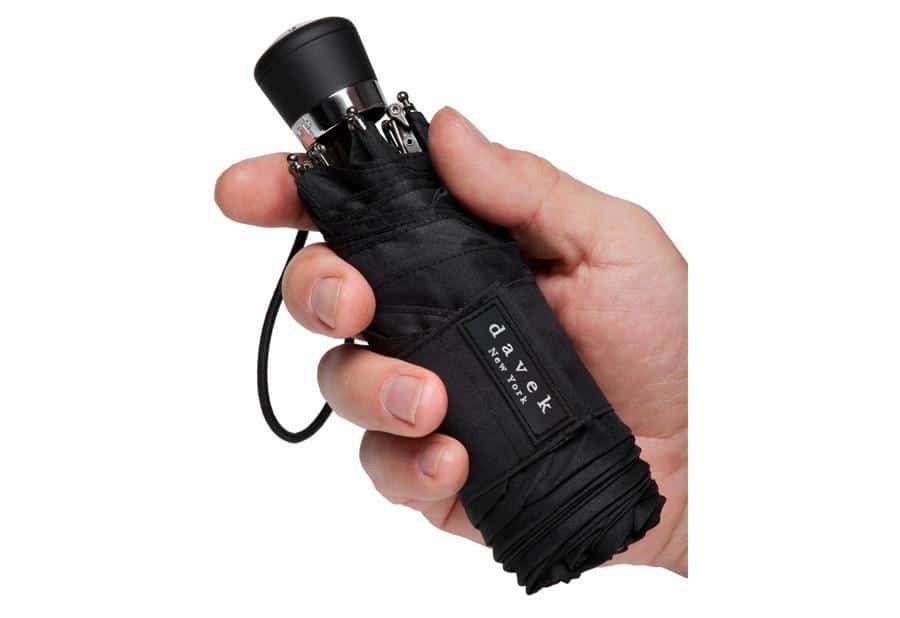 I carry this Montbell one for emergencies which weighs 85 grams, but I doubt it will last me for life – though I admit the last few weeks have made me think that might not be so long as I might wish! So perhaps it would! It might be more sensible to carry this rather heavier one which I could be confident would never fail me as a roof – so I could perhaps dispense with a raincoat altogether – so the weight difference would be negligible – but how much weight is your life worth in grams?
I have seen a man dead in the rain when I was comfortable nearby. I would not want to be the one who is dead. Rain is deadly. You must have shelter. You must have a roof. There is no such thing as a safe walk. Following a defined trail is really no safer than forging your way through the trackless bush, which  I would rather do anyway. How often have I 'found' walkers who have followed a deer trail off into the bush and who then can't find their way back to the marked trail. Some I don't find!
On a lighter note, here is a genius idea for any hiking umbrella: http://www.theultralighthiker.com/2017/12/14/a-hands-free-umbrella/
http://www.theultralighthiker.com/2018/04/29/ultralight-rain-gear/
http://www.theultralighthiker.com/2018/09/28/a-wind-shell-and-an-umbrella/
http://www.theultralighthiker.com/2017/08/18/raincoat-shelter/
http://www.theultralighthiker.com/2016/08/14/hiking-in-the-rain/
http://www.theultralighthiker.com/the-importance-of-a-roof/http:/The%20Importance%20of%20Roof
Hits: 80