I just made this simple groundsheet for my Aricxi tent (and for a new tent I am working on ahead of a trip I am planning next week). It is made from some 1.1oz fabric I sourced from China which I am trialing, so I will let you know how it goes.
The fabric has silicone on one side and polyester on the other. I really like the handle of it (and the dull polyester surface. It is (finished size) exactly 7′ by 4′ at one end and 2'6″ at the other (210 x 120 x 75cm) with just a reinforcing patch and tie-out at each corner (which will tension to one of the existing tent pegs).
You really don't need sides on a groundsheet. If water is running across the ground you can lay some sticks under the uphill side to prevent its running onto the sheet. In the 1.107 per square yard (37 grams/m2) fabric it weighs 95 grams finished. It cost me less than A$10 (September 2020.
PS: The new tent will weigh 320 rams (top) so will come in at under 500 grams complete with groundsheet and tent pegs – yet enough more than enough room for two plus gear and can also be used as a hammock tarp!
It will basically be a slightly 'shrunk' version of my Deerhunter's Tent #2. I am going to order some Membrane Silpoly (at US7.50/yd) to build the finished versions of this tent and groundsheet (for Fiordland trips). This material is .93 oz/yd2 so approx 84% of the weight of this set-up.
In Membrane the completed tent and groundsheet will weigh under 400 grams including pegs! Of course I am also working on an upper tent version in in cuben. That version  complete will weigh only around 250 grams complete! Watch this space! If it works well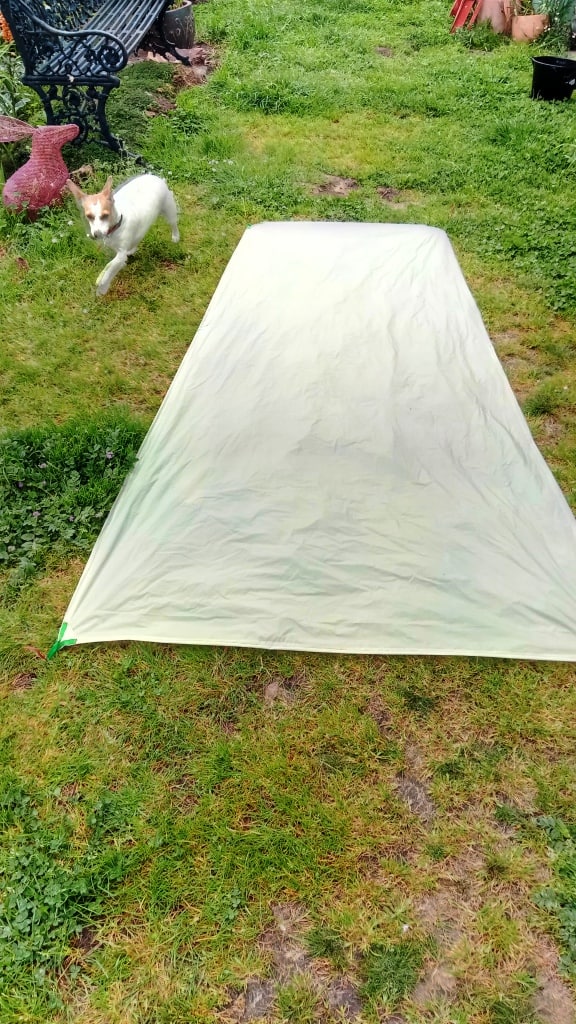 Hits: 266