Steve's back prevented many planned activities in 2010 but it has improved a bit so we have been more active this year. For example, in early March we walked the South Coast Track in Tas with a friend, Kerri Cleaver. This was to be a shake-down for the Dusky Track in 2012 but it was an ad-man's fancy and so much worse than the Dusky you would have had to be there to believe it: knee deep mud, 12 hour days, six days straight, wet tent camping only, not much scenery. We narrowly avoided death on at least two occasions and were more than happy to spend the seventh day shopping and restauranting in Hobart.
Della en route to Lake Tali Karng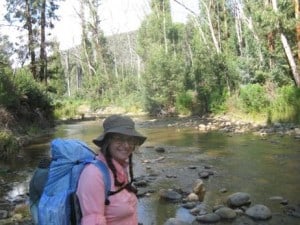 As a reward (!) Steve thought he would take Della to Supper Cove in Fiordland in April, just heli in, laze around the hut, day walks, catch lots of fish etc. We even flew in some bags of coal so we wouldn't have to collect wood. Well…Della fell off a rock after only half an hour and dislocated her shoulder. Had to be medevaced out! Two great helirides – though one not appreciated as much by the wee girl as you might wish. She is all mended now. Enough so that week before last we were going to hike up the Wonnangatta for a few days then drift back down in the packraft, some beautiful weather being predicted. Then she did it again! Came down with pneumonia after the first day, so a good thing we had that raft. Again, she is all mended now. She says she shouldn't go with him just to spoil his fun in future…Is this wholly honest? We do hope to 'do' a section of the Dusky Track in autumn 2012. We'll see.
See Also:
http://www.theultralighthiker.com/10-days-in-fiordland/
http://www.theultralighthiker.com/south-west-track-tasmania/
http://www.theultralighthiker.com/tasmanias-south-coast-track-hells-holiday/