Following my post about Hand Line Fly Fishing I have had several requests for the Hiking Fish Chowder recipe so that I had to make it for lunch, and it was excellent. I doubt you have had a better hiking meal. Try it at home, then make sure you take the ingredients when you next head out to the hills (and streams) with your handy new hand line! http://www.theultralighthiker.com/hand-line-fly-fishing/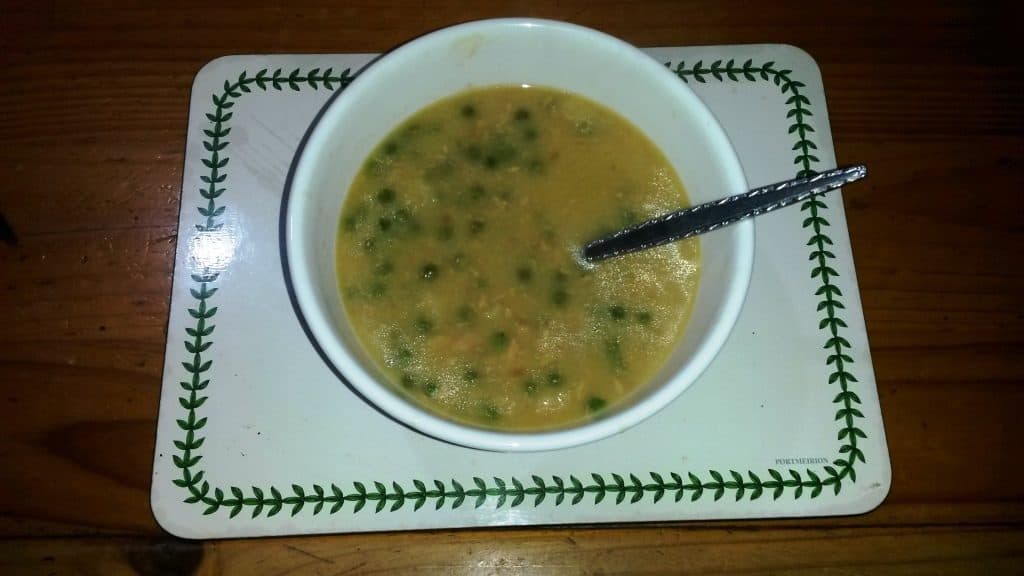 Take:
1 Litre Water
1 packet Continental French Onion Soup 460 kJ 112 calories 40 grams
5 (heaped) Teaspoons of milk powder – approx 350 kJ 80 calories 17 grams (Stir in thoroughly when cold)
Bring to the boil
Add 16 Teaspoons Surprise Peas (4 Teaspoons per 250 ml) – 300 kJ 72 calories 80 grams
100 gram Sachet Safcol Yellowfin Tuna (or equivalent filleted fresh brook trout) – 616  kJ 150 calories
Simmer 5 minutes
Add: 12 Teaspoons (Approx) Continental Deb Mashed Potato to thicken – 150 kJ 35 calories 40 grams
(Add slowly by sprinkling across the surface and stirring in until the correct thickness – otherwise it will clump)
Pepper or curry powder to taste (unnecessary – but would need approx 2 teas curry 1/2 tea ground black pepper)
Delicious! Total 1876 kJ 460 calories. Carry Weight: 177 grams – not including the fish!
PS: The French Onion Soup makes a great base for many meals. I will be adding more! You can just make one cup (2 Teaspoons) of it up on the trail and save the rest for later. Adding some peas makes for an interesting taste and makes it go a little further. The dehydrated mash thickening also makes it feel like you are eating more (and you are). (Weight and calories are approximate)
See Also:
http://www.theultralighthiker.com/steves-ultralight-fish-chowder/
http://www.theultralighthiker.com/hand-line-fly-fishing
http://www.theultralighthiker.com/hiking-crayfish-bisque/
http://www.theultralighthiker.com/the-ultralight-fisherman/
http://www.theultralighthiker.com/ultralight-coconut-fish-curry/
http://www.theultralighthiker.com/hand-line-fly-fishing/
http://www.theultralighthiker.com/a-ball-of-string-and-a-feed-of-cray/