I am always thinking about ways to avoid depending on simple carbs on the trail (and get some veggies in there too) yet also have recipes which can be made up from products readily and cheaply available in supermarkets such as you might be able to put together eg into snap-lock bags at resupply points. This one uses just four ingredients. I thought it was quite tasty:
To a litre of water add:
I x 40 gram packet Contintental Spring vegetable Simmer Soup 460 kj (112 calories)
1 x 100 gram packet Continental Surprise Peas 1200 kj (288 calories)
Approx 42 grams Hormel Real Bacon Pieces 656 KJ (157 calories)
Approx 8 Teaspoons Continental Deb Mashed Potato (for thickening at the end) 133 kj (32 calories)
Total: Approx 220 grams and  2449 kj (589 calories – 2.7 calories per gram)
Bring the first four above to the boil and simmer for 5-10 minutes then add enough mashed potato to thicken.
If you have access to a food processor you may be able to smash up the peas a little which will make them cook more quickly and make the soup thicker, otherwise cook longer and smash them up with your spoon in the pot when they are cooked.
Remark: This makes a surprisingly tasty faux pea and ham soup, and a welcome change from pasta dishes! I made it just for a side dish for my main meal last night, so I had all this left over for Della to try when she comes back from her craft conference on Saturday.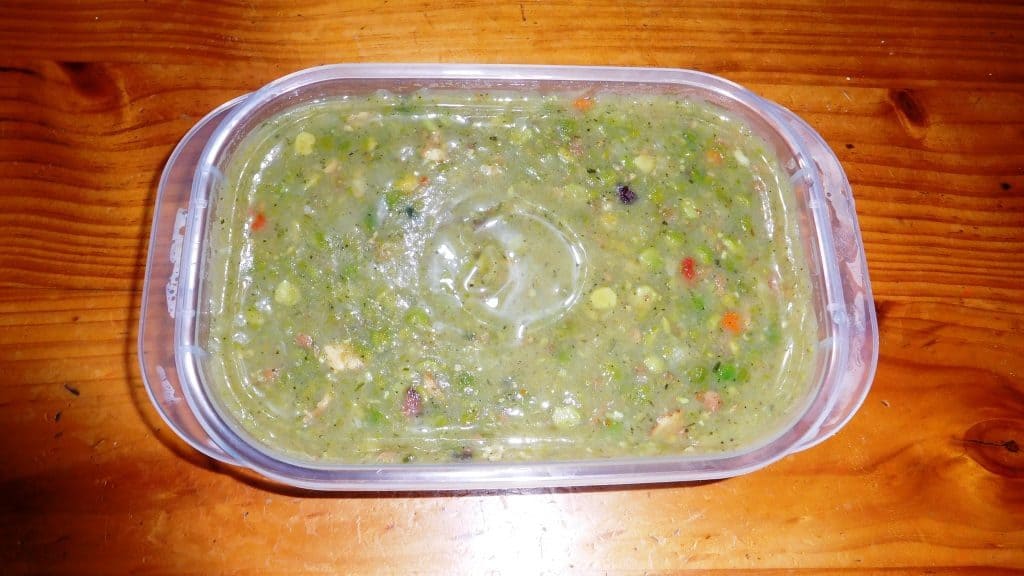 PS: I know these (Australian) ingredients might not be available in your country, but I'm sure there are equivalents to powdered vegetable soup mix, instant peas – and you could use some salami say as the meat content.
For other meal ideas, see: http://www.theultralighthiker.com/a-hiking-food-compendium/