Yesterday was. Our 45th wedding anniversary – so naturally we went for a walk! Mt St Gwinear to Mt St Phillack return makes an enjoyable 12 km on a very hot day down here in the valley (34C). Up there (in the clouds) it would have been at most 21C but with a cool wind blowing (40 kph) and light drizzle it was at least (delightfully) cool.
I have mentioned before that a walk over from St Gwinear car park to Mt Baw Baw (luxury accommodation overnight plus excellent restaurant – book both) makes an excellent 'glamping' trip over the Baw Baws. An opportunity too to experience a little of the wonderful Upper Yarra Track. Or you can walk back to Mt Erica or onwards to Mt Whitelaw, camp the night in a wonderful setting then walk back the next day. Loop tracks are over-rated: the trip back is just as delightful as the trip out. There are always thousands of things you missed seeing or which you can delight in all over again.
Just the drive up the Thomson Valley Way is mind altering: these majestic mountain ash which have grown from the ashes of 1939 to be this size are something to wonder over.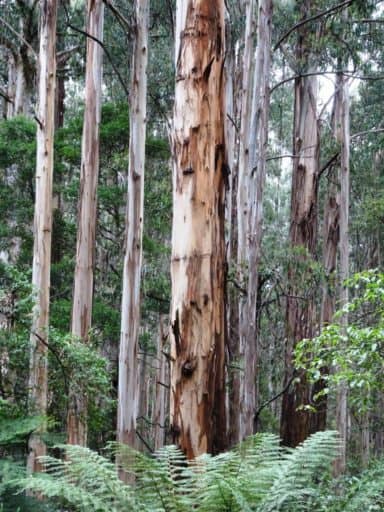 A well-made and beauteous trail begins right at the Mt St Gwinear car park. Spot is keen to be off.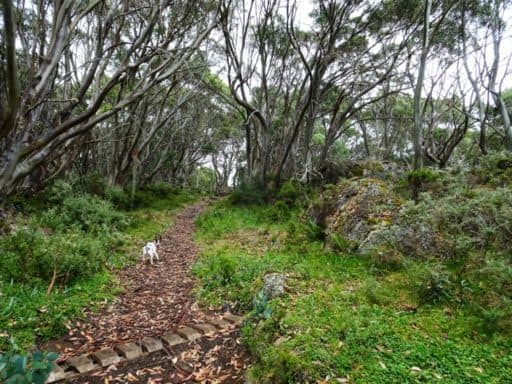 He is proud of his ascent of Mt St Gwinear.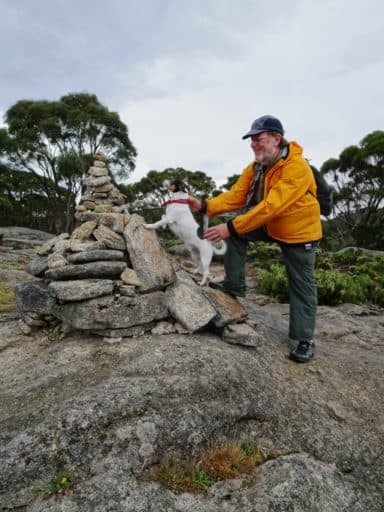 1509 metres, as you can see.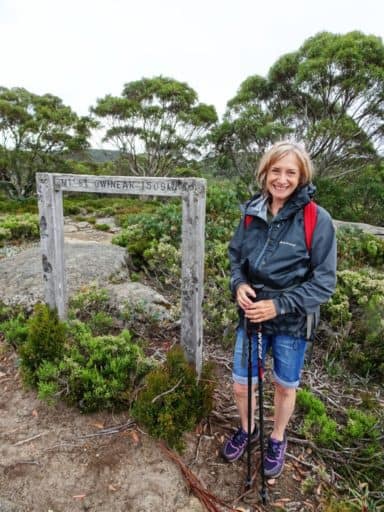 The new JR ('Honey' – seven weeks) has a rest in my day pack from time to time.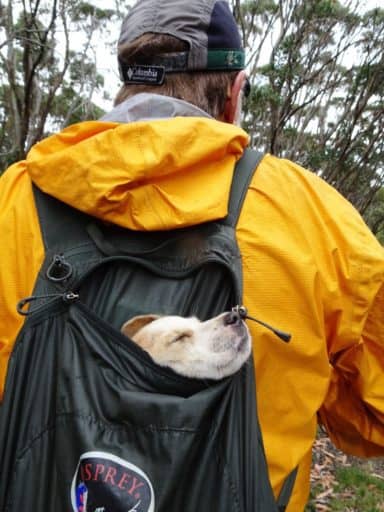 It is a gentle climb up St Gwinear, then a small descent to a little valley.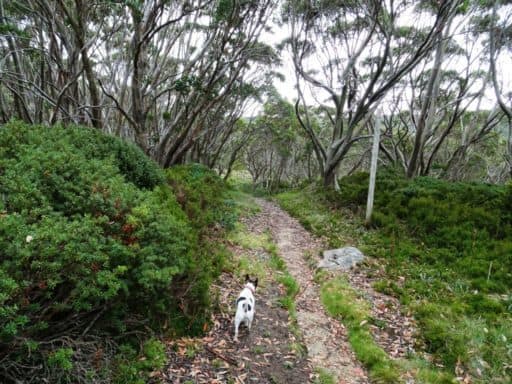 Spot keeps an eye on Honey.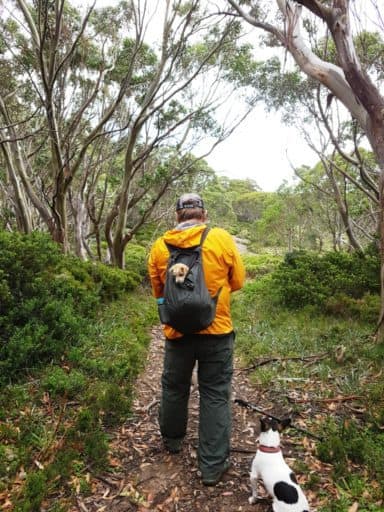 A delightful little valley, a pup's playground really.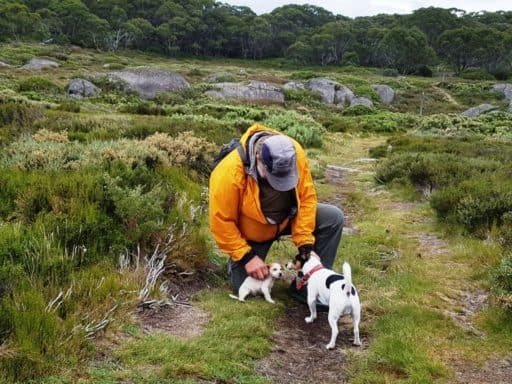 With some splendid velvety campsites amid the heath.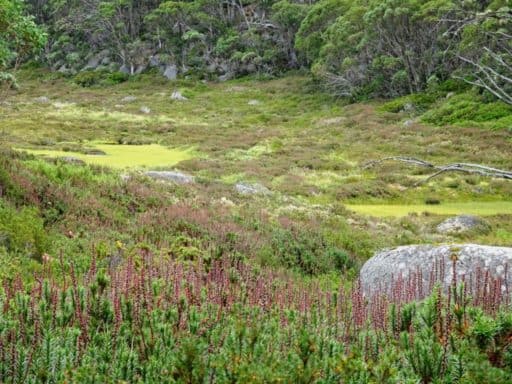 Replete with wildflowers.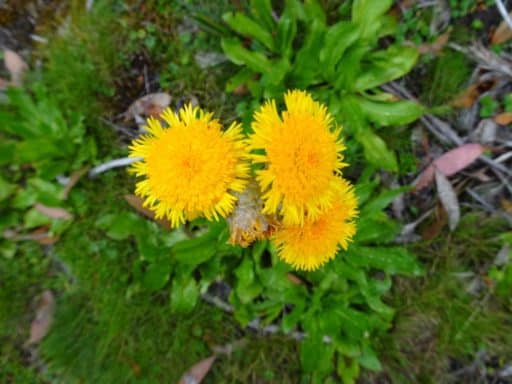 Of many kinds.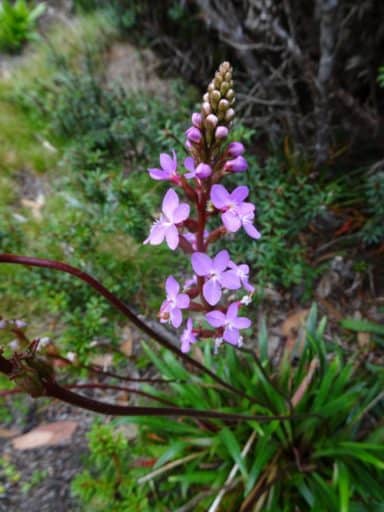 At the Divide where this trail meets the Upper Yarra track, there is a camp site (Camp Saddle) with about a dozen tent sites – and a rocky bivy.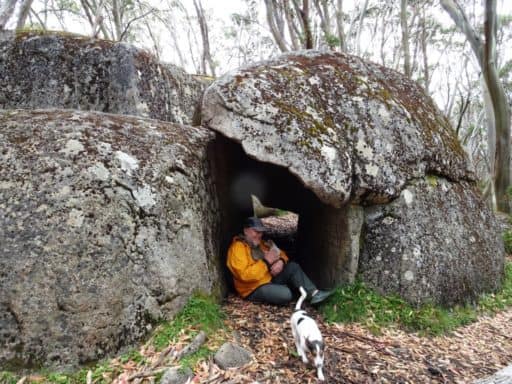 Here would be a good place to spend a 'two dog night' – that is the correct number to keep you warm up here!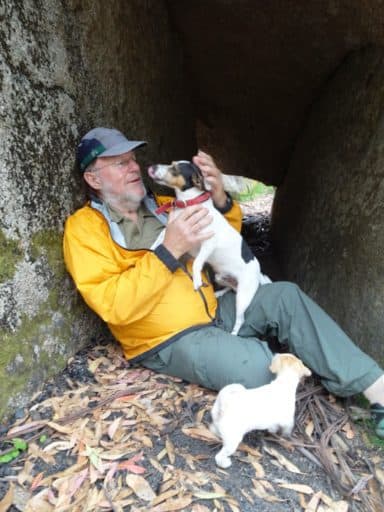 Honey at Camp Saddle. She walked more than half the 12 kms – a momentous trip for a pup. She was the first one out of the den; why I chose her. a JR cannot be too game!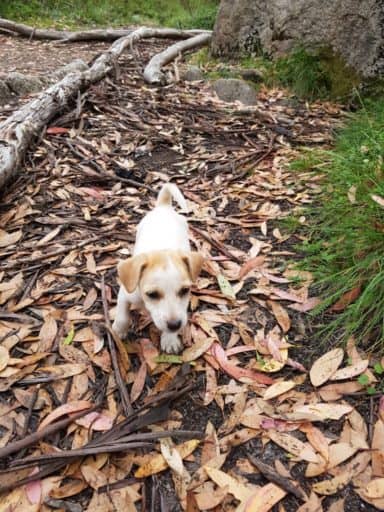 The old signs and the new. The old signs were erected before metriification (1972) and were reflective and easy to follow – even in the dark (I have). The new signs mandated by some twisted green madness quickly disappear into the undergrowth and are good only for barking your shins on!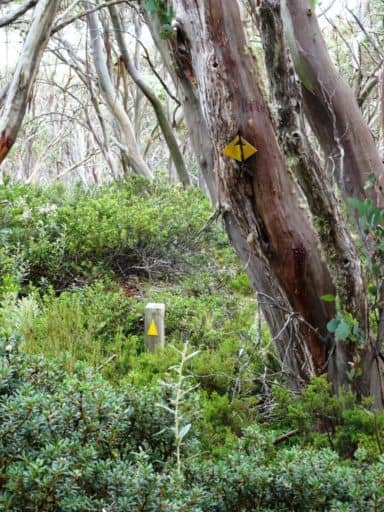 Autumn is coming.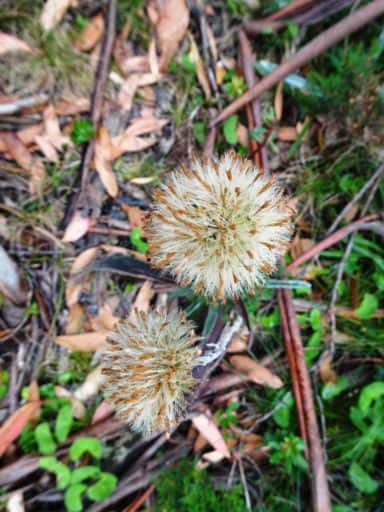 Here is the well-marked intersection and the rock bivy.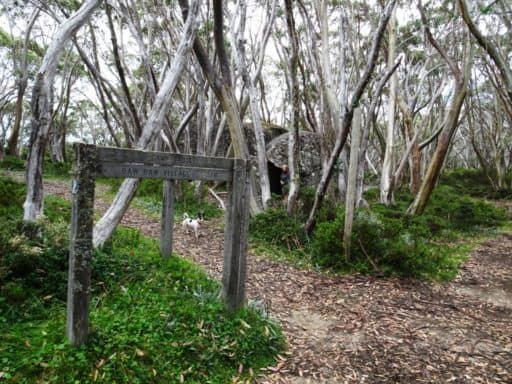 There is a small stream only fifty yards back along the trail towards St Gwinear from the bivy big enough already to form pools inhabited by yabbies.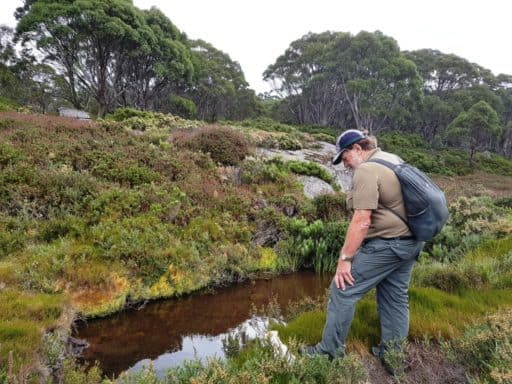 Beautiful fresh, clear running mountain water.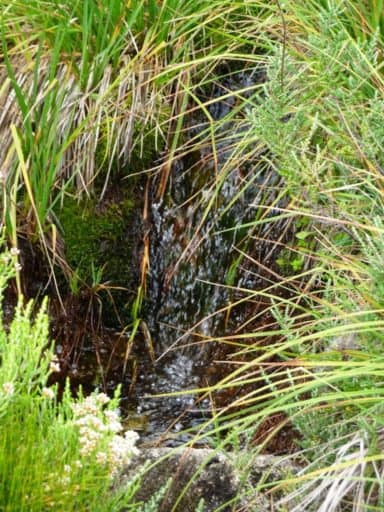 A good spot for a photo opp. You can see why I married her 45 years ago.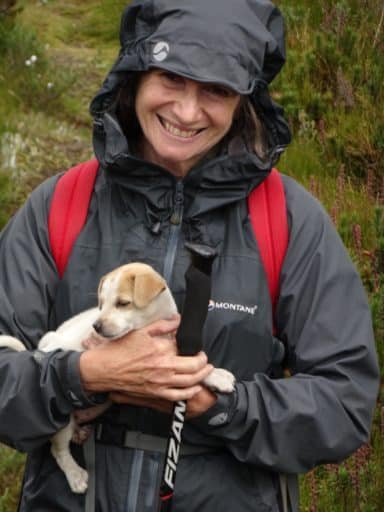 You can walk along this valley and pop out at Mt St Phillack. there is a lovely green lawn you can camp on over there.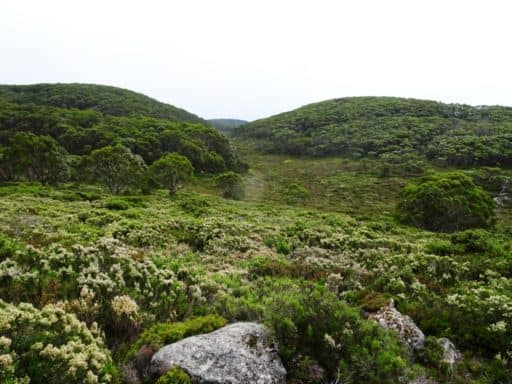 Wherever and whenever you go in the Australian bush there is a myriad of wildflowers. they may not all be showy, but they are amazingly diverse and ubiquitous.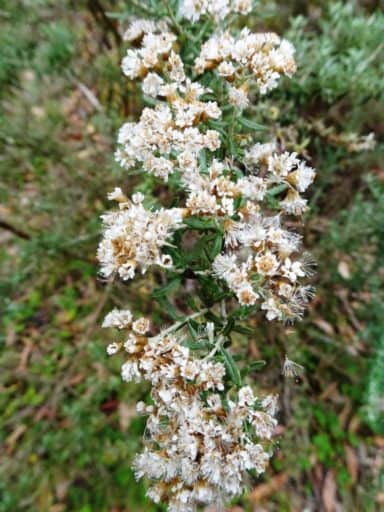 A couple of native bees are loving this large wild daisy.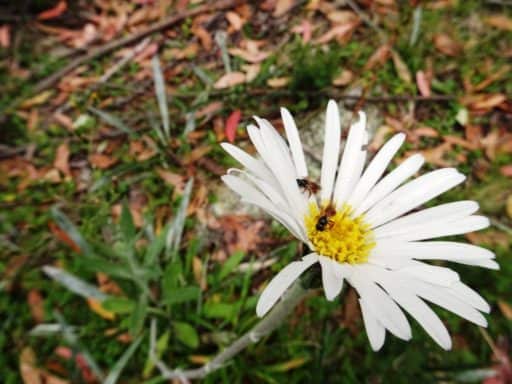 A fox had eaten a rabbit right at the rock bivy. Further back towards Gwinear he had eaten a lyre bird. there were at least a pair of them as I spotted scats from a kit on the path back. Yet, even though I hunted these hills with hounds for years long before folks dreamed of its becoming a National Park, small dogs such as ours are not welcome. As if a small companion dog such as Honey would do any harm in wildernesses where you are most unlikely to ever meet another person. We have over a million public servants in Australia where I think 500 would be excessive. Amazingly they all manage to do practically no work at all – save foment a mountain of onerous rules which none could or should obey.
These tracks were never made by any such. They (the tracks) were made way back in the C19th century (never by public servants who are loath to even maintain them) so you have been able to legally walk your dog on them for 90% of their existence. It will be so again. Meantime such fines as I might garner for going everywhere with my pets, if ever I met a public servant (out of his office or car – unlikely) and if he dared to fine me…would be merely the price of my admission to such places – just as you must pay to go the zoo or museum (nowadays).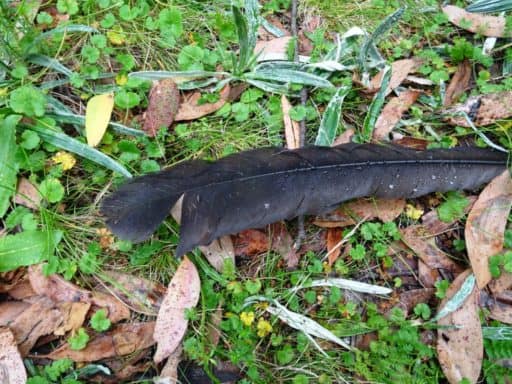 The snow gums make a beautiful sight.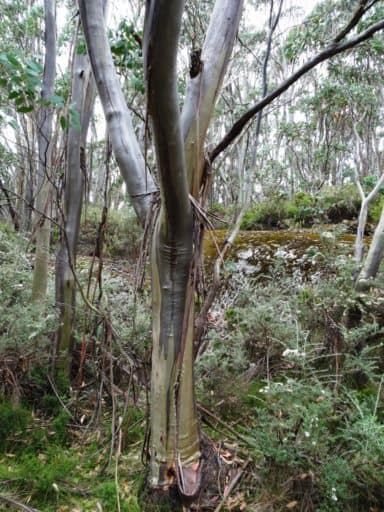 And the manifold granite tors. I am glad I was not on the mountain when it was spitting out these beauties (just a handful of millennia ago too!)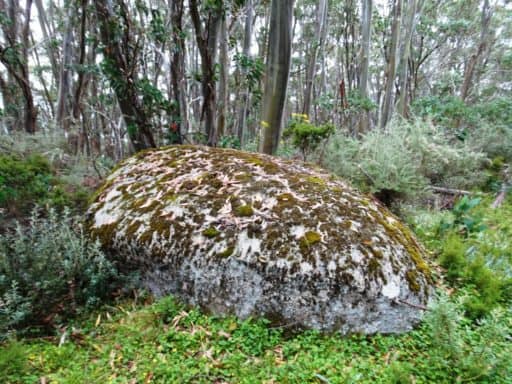 Much of the ground is a beautiful carpet of native violets.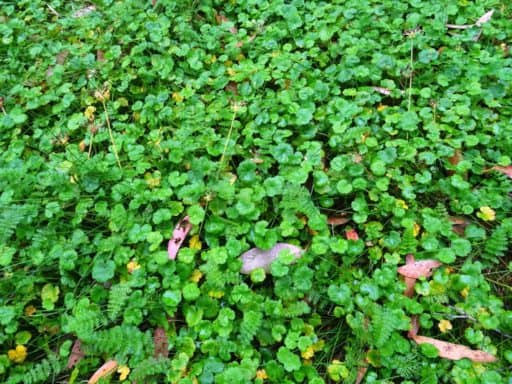 And there are clouds of golden butterflies dancing on the wildflowers.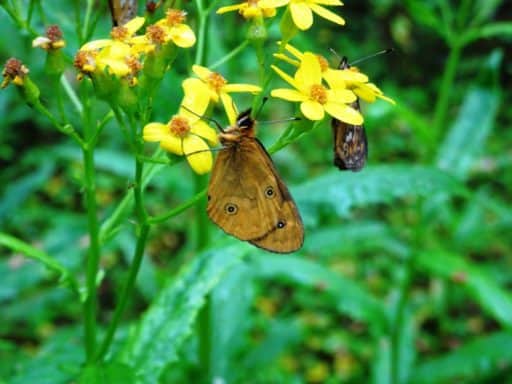 And everywhere shocking displays of these wonderful native berries.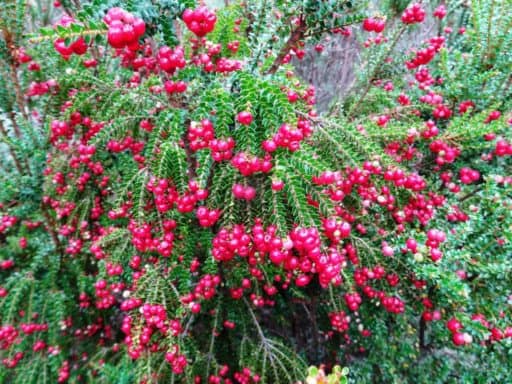 See also:
http://www.finnsheep.com/THE%20UPPER%20YARRA%20WALKING%20TRACK.htm
http://www.finnsheep.com/Track%20Instructions.htm
http://www.theultralighthiker.com/upper-yarra-track-update-section-one-moe-yallourn-rail-trail/
http://www.theultralighthiker.com/upper-yarra-track-update-section-two-yallourn-north-to-wirilda-park/
http://www.theultralighthiker.com/upper-yarra-track-update-section-three-wirilda-to-moondarra/
http://www.theultralighthiker.com/upper-yarra-track-section-four-moondarra-to-erica/
http://www.theultralighthiker.com/upper-yarra-track-section-seven-mushroom-rocks-carpark-to-phillack-saddle/
http://www.theultralighthiker.com/upper-yarra-track-ada-tree-to-big-pats-creek/
See also Upper Yarra Track Winter Route:
http://www.theultralighthiker.com/western-tyers-river-great-for-crays/
http://www.theultralighthiker.com/the-western-tyers/
http://www.finnsheep.com/THE%20UPPER%20YARRA%20WALKING%20TRACK.htm
http://www.theultralighthiker.com/upper-yarra-track-update-section-one-moe-yallourn-rail-trail/
http://www.theultralighthiker.com/upper-yarra-track-update-section-three-wirilda-to-moondarra/
http://www.theultralighthiker.com/upper-yarra-track-section-four-moondarra-to-erica/
http://www.theultralighthiker.com/upper-yarra-track-section-five-erica-to-walhalla/
http://www.theultralighthiker.com/upper-yarra-track-st-gwinear-track-junction-to-whitelaws-hut/
http://www.theultralighthiker.com/upper-yarra-track-summary-cumulative-distancestimes/
http://www.theultralighthiker.com/upper-yarra-track-osheas-mill/
http://www.theultralighthiker.com/a-beautiful-world/
http://www.theultralighthiker.com/upper-yarra-track-winter-route-caringal-scout-camp-tyers-junction/
http://www.theultralighthiker.com/upper-yarra-track-winter-route-western-tyers-morgans-mill-skinners-camp/
http://www.theultralighthiker.com/upper-yarra-track-winter-route-western-tyers-to-tanjil-bren/
http://www.theultralighthiker.com/kirchubel-if-you-go-nowhere-else-in-the-world-at-least-go-here/
http://www.theultralighthiker.com/upper-yarra-track-winter-route-downey-to-newlands/