Over the years I have made many projects out of this wonderful material, particularly tents but other things besides (see below). I use the 3 metre wide 'Homewrap' version which I source by the 30 metre roll from Bensons (Home) Hardware in Morwell  nearby at about A$200 per roll. Each roll is enough to make many, many tents!
The Whelen Forester Tent in Tyvek: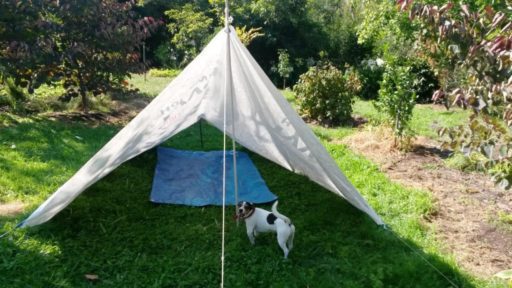 I like that it is waterproof (2500mm), breathable, comes in a wide roll so little sewing is needed, cheap, reasonably light (1.85 ounces per square yard = 63 grams per metre 2), stands up (or drapes) really well, has a great sound in the rain, reflects heat really well whilst blocking wind, is mildly insulative, and has an ignition temperature of 400C which is pretty much a naked flame (which will really just melt it).
It is quite immune (in my experience) to burns and pin holes from wind blown sparks (when you throw another log on the fire). There is a special Tyvek sticky tape which can be used for joining it, and if you can't sew, tarp clips work very well with it. It also makes an excellent ground sheet.
There is a new Fire Retardant Tyvek: 68 grams per square metre = 2 ounces per square yard It seems to come only in 1.5 metre wide rolls though. http://www.dupont.co.uk/products-and-services/construction-materials/tyvek-building-envelope/brands/tyvek-breather-membrane/products/tyvek-firecurb-housewrap-fire-retardant-membrane.html
'DuPont Tyvek is combustible and should be protected from an open flame and other high heat sources. If the temperature of DuPontTyvek reaches 750°F (400°C), it will burn and the fire may spread and fall away from the point of ignition' http://www.dupont.ca/content/dam/assets/products-and-services/construction-materials/tyvek-building-envelope-CA/K-16743_TyvekHomeWrapPhysicalProperties_CanadaEN.pdf
Just a few of my Tyvek designs. You can find lots more by doing a 'Search' (top right) with the word, 'Tyvek'.
http://www.theultralighthiker.com/new-tyvek-forestertent-design/
http://www.theultralighthiker.com/the-deer-hunters-tent/
http://www.theultralighthiker.com/fire-umbrella/
http://www.theultralighthiker.com/tyvek-solo-fire-shelter/
http://www.theultralighthiker.com/bathtub-groundsheet-chair/
http://www.theultralighthiker.com/ultralight-poncho-tent/
http://www.theultralighthiker.com/an-open-shelter/
http://www.theultralighthiker.com/tyvek-jack-russell-rain-coat-13-grams/
http://www.theultralighthiker.com/honey-i-shrank-the-tent/
http://www.theultralighthiker.com/tyvek-twin-fire-shelter/
http://www.theultralighthiker.com/new-decagon-octagon-tyvek-igloo-tent-design/
http://www.theultralighthiker.com/tyvek-bivi/
http://www.theultralighthiker.com/tyvek-solo-fire-shelter/
http://www.theultralighthiker.com/ultralight-chairgroundsheet/
Hits: 63