We have recently been on a car camping holiday in Scotland where we wanted to stay away from people as much as possible on such a crowded island, and save on accommodation costs by sleeping in the rental car wherever we could find a pleasant spot. The car we hired turned out to be a VW Golf which you might think would be a tad small for this purpose, but when the front seats are all the way forward and flipped over there is over 6′ of room. All that was needed was to create a platform to fill up the well in front of the rear seats once they were folded down into the stowage position.
A 4′ x 2′ x 1/2″ sheet of plywood from the local hardware and a few short lengths of 3″ x 2″ were all that was needed to create a platform with two legs which would support our weight. I had my trusty Fiskars pruning saw for this purpose and a $10 hammer. Then it was only a matter of rolling out the hiking mats and sleeping bags – and Voila! Our bedroom for the night. I just used some 3″ flat head nails to assemble this but you could use the nail holes as guide holes for screws if you wanted a more secure permanent structure
Just make the platform like this: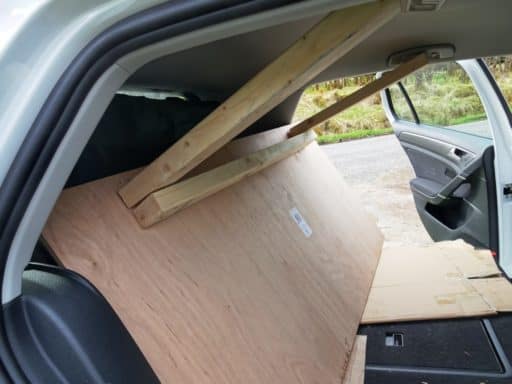 Pop it down like this. We packed some flattened cardboard boxes behind so we did not feel the 1/2″ drop.
And there we are, as cosy as. There was plenty of room too stow all our gear while we slept. We quickly got into a routine of knowing where everything went, and could be quickly in/out of bed and making a cuppa in the front seat with the car heater on those frosty mornings. We did not have to worry about rain/wind carrying off our small hiking tent or being bothered by strangers.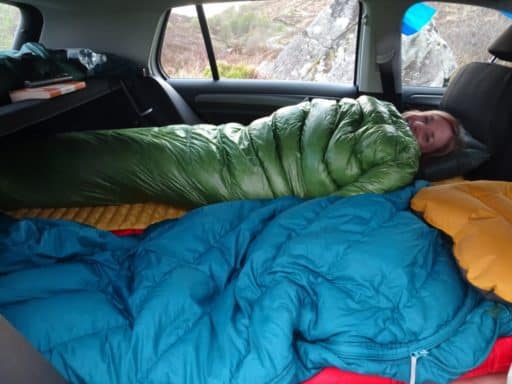 Detail of the window flaps: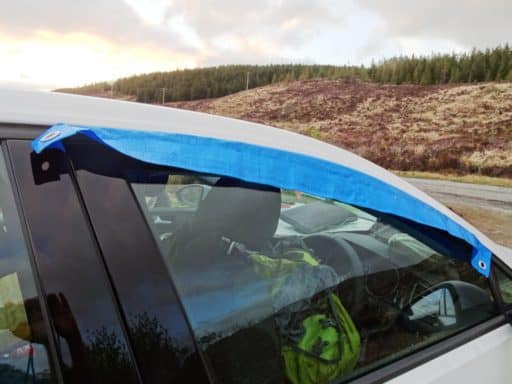 Leaving about a 1″gap: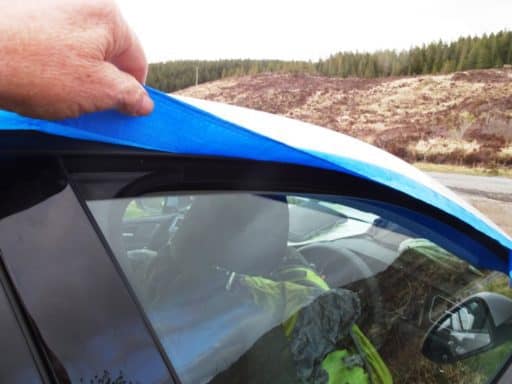 Then we were able to find some lovely private spots – complete with: 'A Flask of Wine, a Book of Verse — and Thou Beside me singing in the Wilderness — And Wilderness is Paradise enow'. — from The Rubaiyat of Omar Khayyam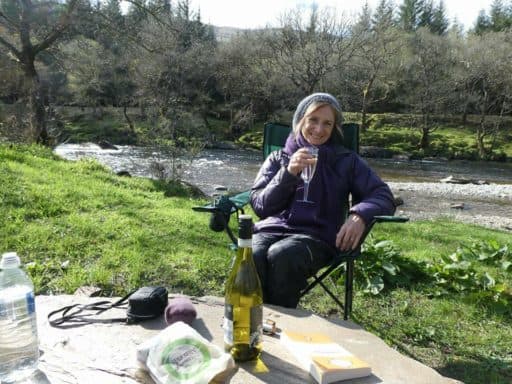 The Loch, the loch the beautiful loch – I wish I was in it up to my hock'!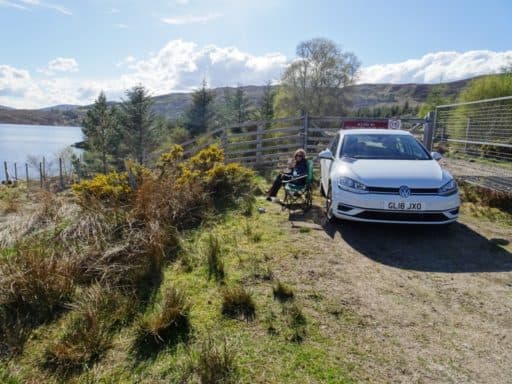 Should be some wild otters along here any minute. Plenty of trout anyway: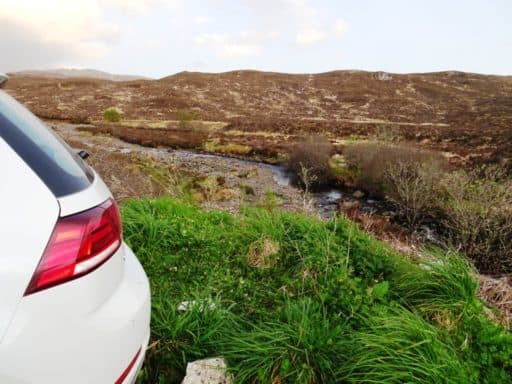 This is where the other 'free campers' stop. You can find better places than this if you get off the main roads. It is quite lawful to car camp pretty much anywhere in Scotland at least. We more or less circumnavigated it – the best bits were definitely on the Borders.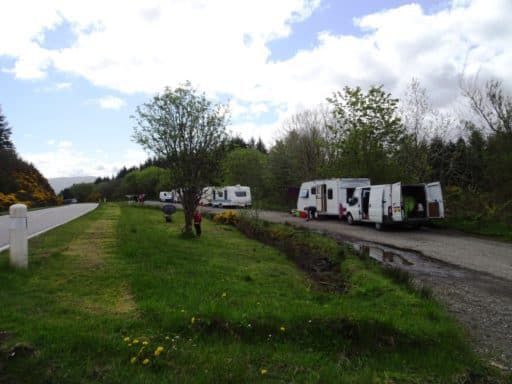 We also carried a Sakura peltier-type cooler bag which kept our food and drinks adequately cool and we have a couple of gas burners for cooking and warming water for a Sea to Summit portable shower. I also cut down a 6′ x 4′ poly tarp into two pieces for standing on when we are getting changed and two strips to keep the rain out of the windows when we have them open about an inch of a night. All of this works very well. It is astonishingly easy to find free, private spots to spend the nights even in an island as crowded as the UK!
Reply to a comment elsewhere eg that we should have handed the car back plus plank and asked for a discount for the mods: No I didn't actually – I suspect they would want to have charged me more as it was a camper! I just gave the cheap camp chairs we bought and the board, water drum, left-over food etc to someone we met along the way who will no doubt get some use out of them. It only took a few minutes to make the board set-up. The pieces of tarp made the windows quite waterproof (it rained a few times) but we did not fill the inside of the car with condensation – so it worked well. Of course no-one suspected we were camping in such a small car so people paid us no mind. It was easy to find spots off back-roads where there was no-one about, but a lovely trout stream or etc out front where we could sit on our camp chairs, drink the wine and generally enjoy life. It didn't get dark till around 10:00pm at night (and was light again around 5:00am) so there was plenty of time. Also, even so early in the season pretty nearly all the hotels etc were booked out going around the top of Scotland, (though you could pay for a shower or to do your washing some places) not so in the Border country which was much nicer anyway. The West Coast and Skye was pretty dreadful. We should have gone up the East Coast and just cut back and forth through the middle.
See Also: http://www.theultralighthiker.com/a-christmas-suprise/
We usually vehicle camp like this:
http://www.theultralighthiker.com/tray-top-camper/
Hits: 1142