OK, so there is a new thing you can do and I had it done yesterday, so it is early days yet. But…It is called Cooled Radiofrequency Ablation. Put simply it zaps the nerves coming from the knee which are causing you the pain and turns them off for around a year, perhaps two. It's costing me $400 plus some extra for anaesthetists, hospital expenses etc – cheap at half the price!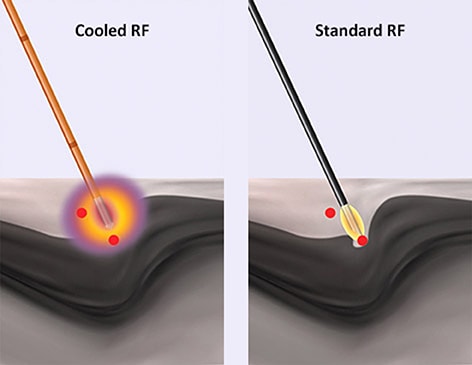 So far I have to report that I now have no pain though over the last few weeks it had become so painful I was about to bite the bullet on a knee replacement! It has been hurting now for eight years, so this is some relief I can really tell you.
It seems to be particularly suitable for knees and hips but people are also having it done to backs and other parts of the body. I will let you Google around yourself to see whether it is suitable for you. I had it performed by Dr Ilan Freedman at the Bays Hospital Mornington, Melbourne. That went very well for me.
Here are a couple of links Della found for me when we were considering this option:
https://www.practicalpainmanagement.com/pain/myofascial/osteoarthritis/provider-perspective-knee-oa-injections-rfa-options?fbclid=IwAR3SMi6LBlGGi013GVOTKh9VAOdgPhyKpU2EQ5QoOpC9eSALClLZKSFOkcg
http://melbournehipsurgeon.com.au/coolief-radiofrequency/?fbclid=IwAR0-Wp3WriQpht6pOSlHSIyDXzOZkFOF3I4iRsEVXfOygUbSJZlHR4RFnkQ
I had been trying a couple of supplements (which are not new) but I had not tried before and they seemed to help quite a lot. As they are inexpensive and readily available you might as well give them a shot! They were Hemp oil and Green Lipped Mussel Extract.
There are also a few of new medications which might help and some other things in the pipeline. For example there is this new cartilage replacement coming: https://www.sciencetimes.com/articles/26336/20200706/scientists-develop-artificial-cartilage-gel-to-replace-worn-out-or-damaged-natural-ones.htm
And a new method for getting the cartilage to regrow:http://www.opnews.com/2020/11/restoration-of-cartilage-can-be-a-successful-alternative-to-knee-replacement/16686
A couple of new medications:
https://medicalxpress.com/news/2021-03-non-surgical-treatment-quickly-arthritis-knee.html
https://www.9news.com.au/national/arthritis-ground-breaking-new-treatment/a5af524d-76cc-4368-b691-3351bb12a6f8
BTW: My surgeon mentioned that my knee was most suitable for a partial knee replacement since it is only worn out on one side. This gives me four bites at the cherry (since the artificial cartilage in the partial replacement can itself be replaced). This too is a big improvement (for me) down the track as the recovery time and outcome will be much better.
See Also:
Hits: 87