Knee problems are probably the (older) hikers greatest enemy. My own left knee has had pain for five eight years (arthritis) but has suddenly given out this week. The MRI says 'severe arthritis', 'macerated meniscus' and 'burst Baker's Cyst'. My GP says there is probably no alternative except a knee replacement. But now (2021) there is . See: Knee Cure News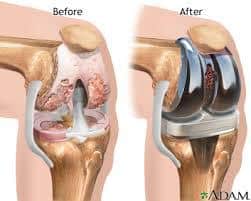 He has made an appointment for me with a knee specialist, but I have no way to know whether the specialist will be 'the best' – he is very old for a surgeon I would have thought (over 60 anyway). And, I will have to wait several weeks and be 'out of action' for at least another six! There goes my winter – and my three weeks in the Wonnangatta!
Dr Google is suggesting all sorts of courses of action for me. For example the Israelis have developed a cartilage 'transplant' Agili-C which sounds promising, but is probably not available yet. Other sites recommend stem cell therapy. I am wondering whether an arthroscopy and meniscal repair is possible. I have a copy of my MRI. This artificial cartilage, the Nusurface Meniscus Implant is probably a better choice. Here are the initial study results:
I am continuing with as much activity as I can, so lots of fencing work at the moment, gym mornings and a shorter walk of an evening. Still 8,000 fairly painful steps today.
If there is anyone out there who can tell from my MRI whether there is a better option for me than complete replacement – and something which will keep these old bones still functioning a little longer I would appreciate the contact. I can email the MRI. My email address is [email protected],com
I imagine these old knees have taken me about to the moon and back, so that if they were any car other than a Land Rover I might need a new one. A pity I wasn't a Land Rover myself as their parts seem to be a lot cheaper than people parts, which are not so affordable even when you have paid your taxes and your private health for 55 years!
PS: Thank you to the people who have been making suggestions and offering advice about this (and to those who have shared it so that others might). I have received some valuable advice. I see a younger and closer  Orthopaedic specialist on Monday, so maybe I am somewhat forewarned, and perhaps i can defer or prevent a knee replacement with alternative therapy. I will keep you posted.
PPS: And as it turns out he thinks I can and should defer any surgery. The current episode will resolve itself with supplements etc (the sooner the better – I am taking them by the handful; everything anyone suggested!) and that there will be better artificial knees and treatments in ten years time…Perhaps it will be settled down after all enough for my Wonnagatta trip maybe in Aug/Sept? PS: August as it turned out. See: https://www.theultralighthiker.com/2019/07/30/the-seventieth-birthday-platypus/
Update 28/12/2019: I have had two treatments with LLLT. The results are astonishing. I have now ordered one of these: https://www.pulselaserrelief.com.au/shop/Pulsed-Low-Level-Laser-Therapy Frequencies and power are important so don't just go and buy any device. Here is (some of) my evidence:
'LLLT reduces pain and disability in KOA at 4–8 J with 785–860 nm wavelength and at 1–3 J with 904 nm wavelength per treatment spot': https://www.ncbi.nlm.nih.gov/pmc/articles/PMC6830679/
I will probably accompany the laser treatment with Synvisc injections. The steroid injections have also helped. There is some evidence of cartilage regrowth using both.
NB. The laser 'dose' is anomalous. You can use too much or to little. If in doubt use very little. 'Less is more' eg the lowest 'dose' every three days.Try that first. (Update) I have settled on the highest setting every second day giving the knee time to heal. Synvysc injection tomorrow. Expect an update soon. I am still dreaming of the Dusky. Maybe April.
See Also: https://activeimplants.com/products/nusurface-meniscus-implant/
Initial study results: https://online.boneandjoint.org.uk/doi/abs/10.1302/1358-992X.98BSUPP_4.ISTA2014-091
Hyaluronic Acid Injections: https://www.synviscone.com/what-is-synvisc-one
I think I have a last found the cure.
Read this post: A Cure for Knee Pain
And Now I really Have Found the Cure. See Knee Cure News
See Also:
Hits: 5264