Supai Adventure Gear say, 'At just 14 ounces, our pack raft paddle is the lightest on the market…When combined, our pack raft (24 ounces) and paddle (14 ounces)…weighs an astonishingly light 38 ounces (2 lbs, 6 ounces).'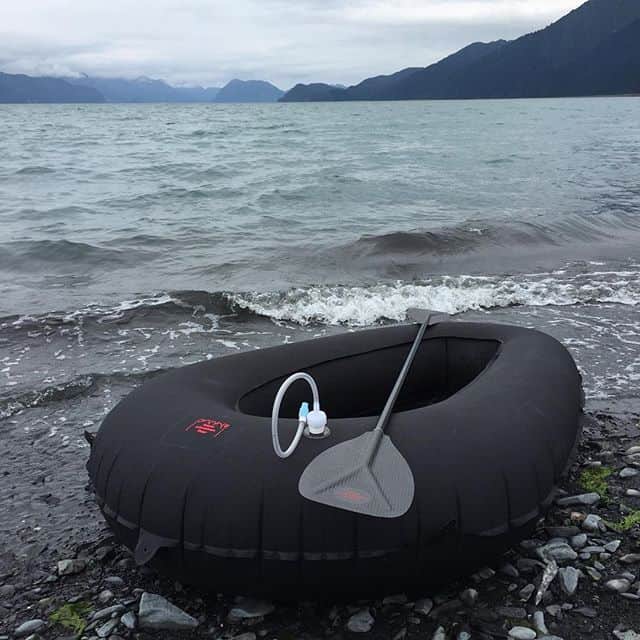 If you want 'light' these guys are the place to go! https://www.supaiadventuregear.com/ Their pack rafts range from US$299-349 and weigh 24-28 ounces (685-798 grams) making them just about the lightest on the market.
Naturally you cannot ruggedise something this light, so they deem them suitable for mainly flat water – but there are many such opportunities out there, and particularly if you are carrying a boat just to get yourself across water obstacles on your route, they might be a great choice (or for emergencies). That being said, these folks who make them have even taken them down the Grand Canyon!
Probably their  nearest competitor is the Klymit Lite Water Dinghy raft I wrote about here: http://www.theultralighthiker.com/klymit-packraft/ It weighs 35 ounces (998 grams)
The lightest DIY packraft is this one: https://www.diypackraft.com/shop/merchandise/kits/ultralight-diy-packraft-kit/  at 815 grams and A$244.64 (Jun 2019)
See Also:
https://www.theultralighthiker.com/2017/01/02/new-diy-pack-raft/
http://www.theultralighthiker.com/how-many-of-these-needed-to-make-a-pack-raft/
or Try a search for 'pack raft' in the Search box at the top. Many pack rafting adventures, including: http://www.theultralighthiker.com/pack-rafting-the-remote-wonnangatta/
Hits: 153