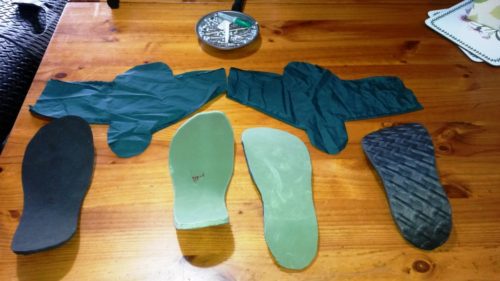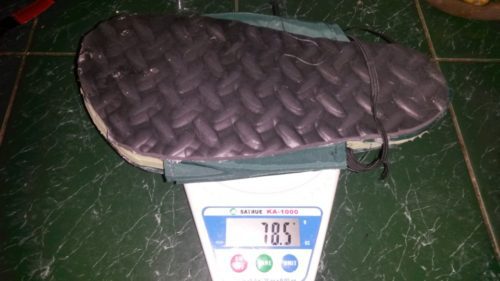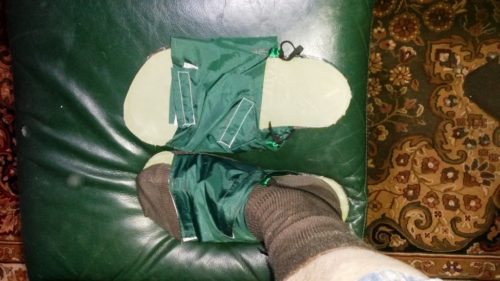 I made two pairs of these (one also for my friend Steve Hutcheson who I am going with) for my upcoming Everest Base Camp and Three Passes Nepal Walk. They weigh 78 grams per pair (as you can see). They are a bit rough as I was in a hurry and they are prototypes really, but I'm sure they will work. (PS: They weighed only 36 grams each next morning after the glue had fully dried)

I wanted something with plenty of insulation (3/4" of closed cell foam) as the unheated floors up there are bound to be pretty cold. I used this toughened closed cell foam intended for making workshop floors more comfortable. I reasoned that if it is up to a bit of wear and tear from walking on it should work well upside down on the bottom of a pair of shoes too.
I figure this pair will last many camping trips, and they cost next to nothing to make. I already had the 2 oz ripstop, the foam mat, the Velcro, the glue, the sewing machine…When I work out a slightly better pattern I will post it. I just cut this one by standing on the material (wedged between the two soles) and trimming it. They work OK.
PS: They worked out fine on the EBC insulating our tootsies comfortably from the otherwise icy floors.
See also:
http://www.theultralighthiker.com/no-sew-sandals/
http://www.theultralighthiker.com/toughened-foam-flip-flop/
http://www.theultralighthiker.com/cold-weather-hut-booties/
http://www.theultralighthiker.com/fifteen-gram-blue-foam-flip-flop/
http://www.theultralighthiker.com/the-ideal-camp-shoe/
http://www.theultralighthiker.com/spare-shoes-great-for-river-crossings/