This is a quite committing section of the river. it also contains many hours of outstandingly beautiful, serene forest containing many beaches and grassy flats where you can swim or camp. It is likely to take you up to six hours (with a couple of refreshment stops). You might prefer to do it as an overnight trip, or even begin at Black Snake Creek which would add about two hours to this trip. Hut Creek is between Maguires Flat and the RPC Scorpion Track. There is a small strip of public land where you can get down to the river here. It is canoeable above about 1.70, and is quite excellent at 1.75 (which is what it was when we did it last). You can get out at Scrubby Creek Track (if you have 4WDs) which would cut about 11/2 hours from the trip. It is also possible to camp along this track. There used even to be a hut you could stay in. The photos are in order, so should give you a good idea of what to expect.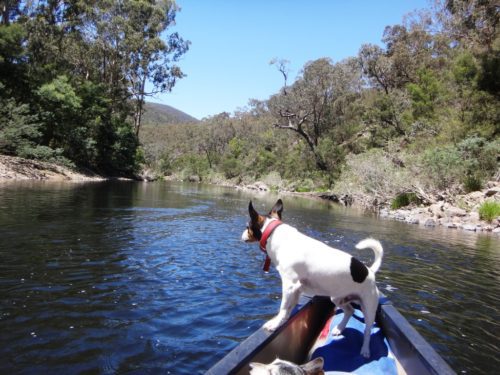 The section begins with a long, deep race down to the Scorpion Track crossing. Until closed, there used to be a couple of kilometers of lovely car camping on grassy flats on both East and the West bank of the river here. Alas, our masters have decreed, 'no more' – and no more fire access, or pest animal management access, etc either. Canoe camping though is a different matter!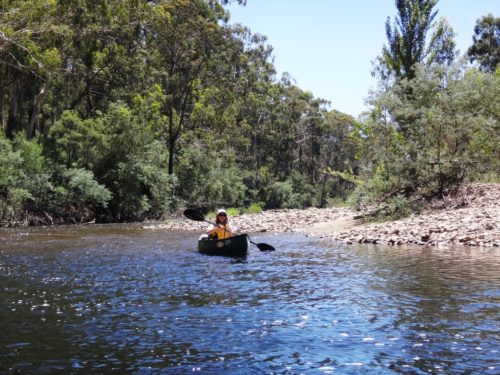 Outstanding swimming beaches.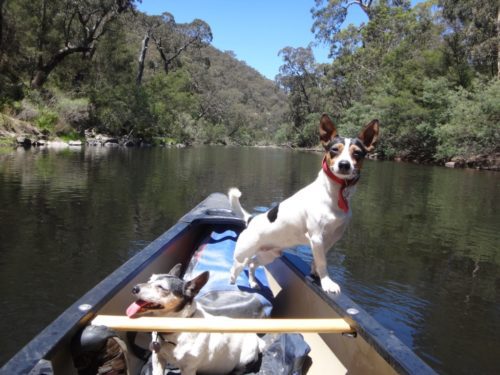 Delicious long, placid pools.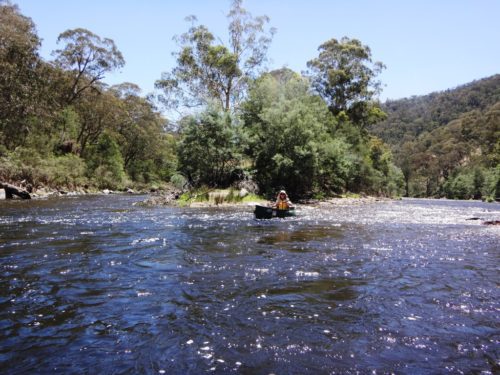 Lovely pebble races.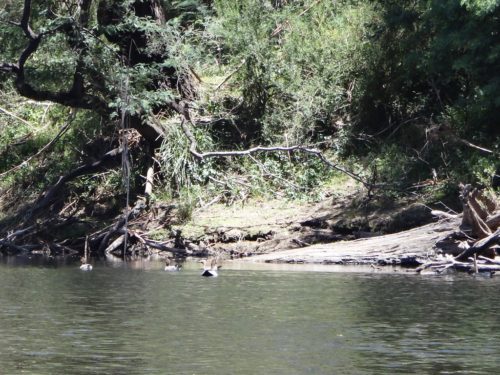 Ducks. Well: birds, lots of birds. This section is a bird watcher's paradise. There were literally flocks of dozens of bee-eaters for example – and enough bell miners to almost deafen one!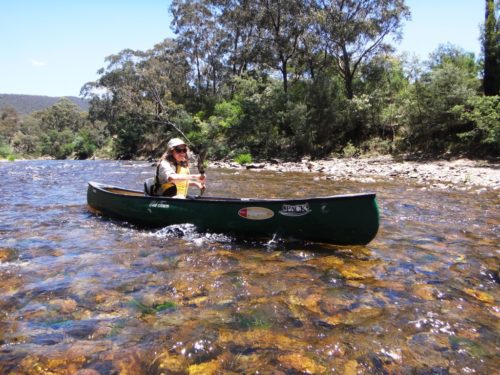 And the water is as clear as crystal!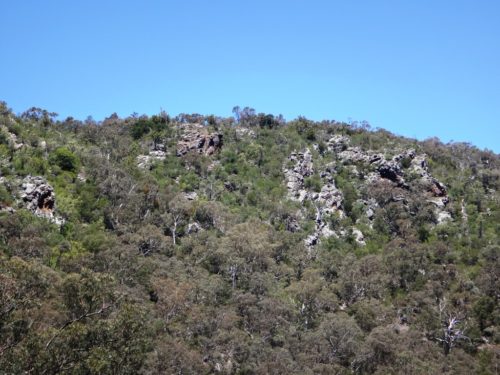 The Rock of Gibraltar looms overhead.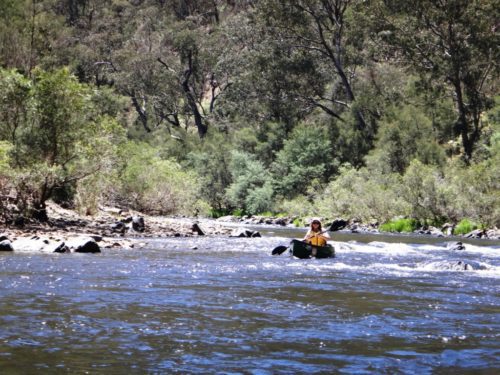 Lots of great Grade 1+ rapids.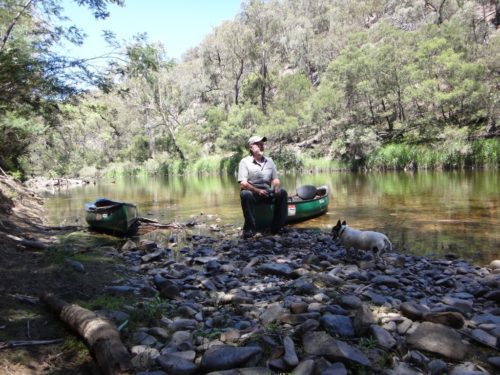 A cool shady place to stop for lunch on a hot day.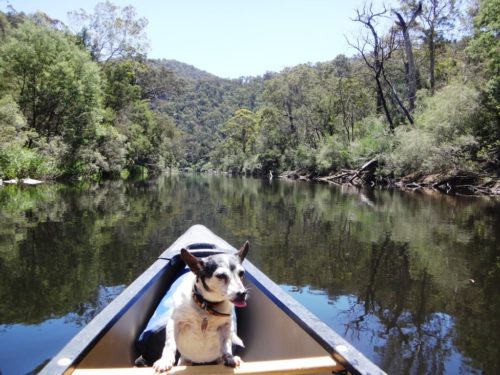 Look at this wonderful long deep pool.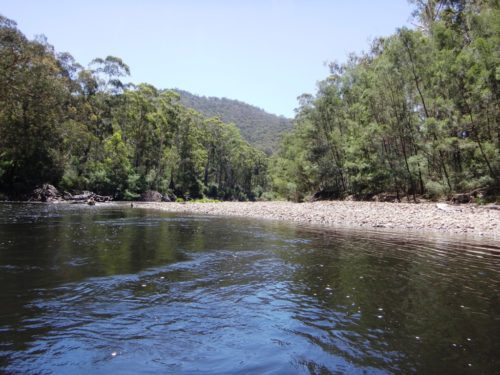 And this beach!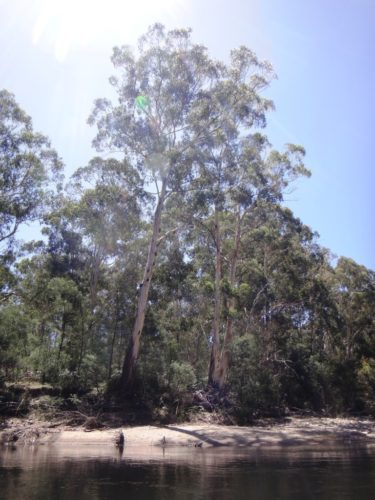 And this one: what a majestic gum!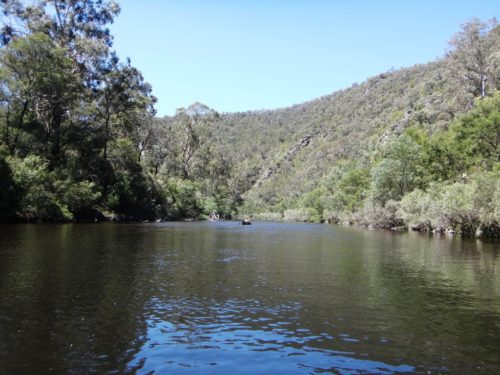 And another vast deep pool. There were giant fish along this section; carp which must have been nearly a metre long!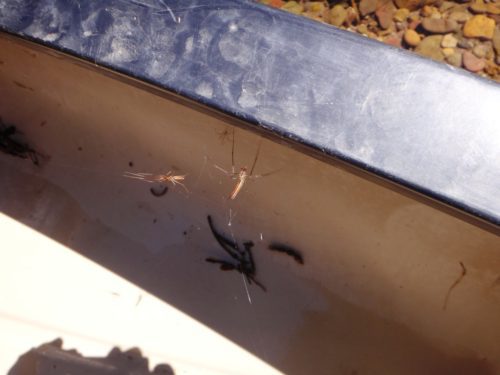 Spot caused me to sweep under a branch and the boat filled up with long-legged spiders – which had built webs in two minutes!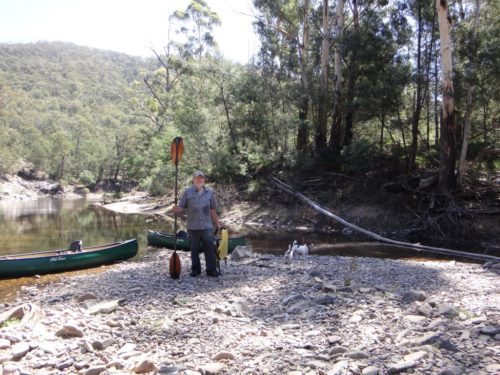 So that I had to get out on this delightful bar and foist them out.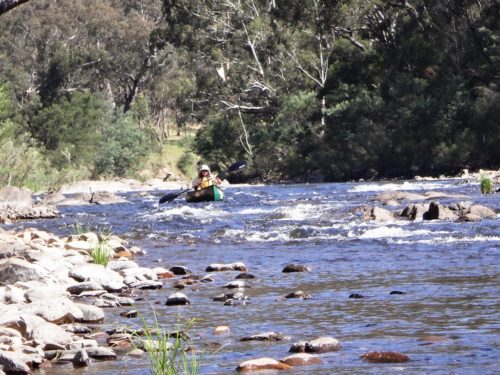 One of the fords (Scrubby Creek Track) is in the background as Della negotiates this interesting rapid.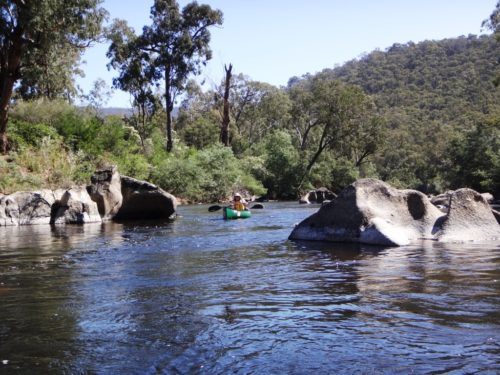 Then comes this enchanting labyrinth.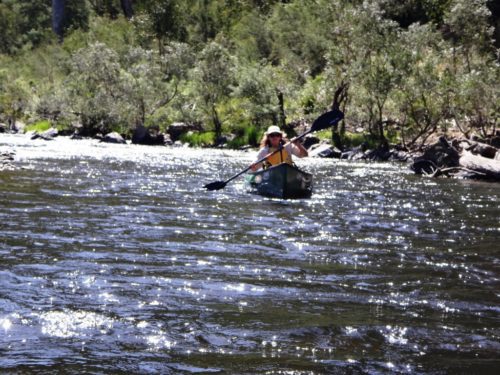 The westering sun is brilliantly glistening off this pebble race.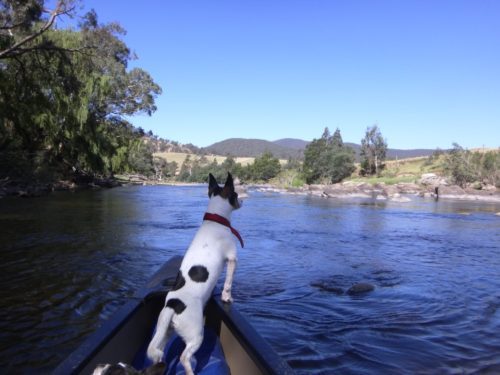 Suddenly you break out into Guys.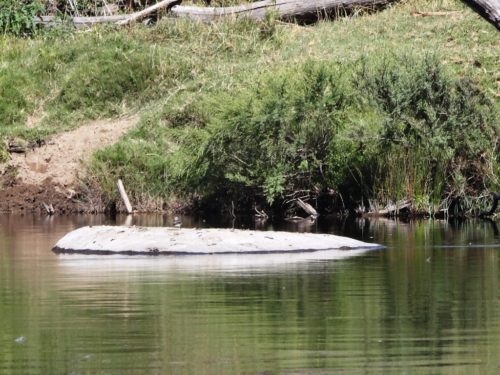 This appeared to be a sandpiper – a long way from the sea.
These spur-winged plovers just took off as I pressed the shutter.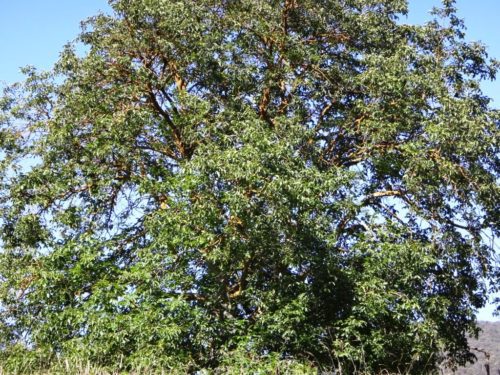 Guys' giant walnuts were loaded with fruit nearly the size of tennis balls!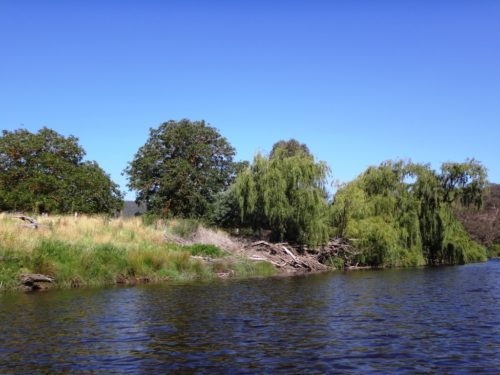 They, and the weeping willows transform the river into a European landscape.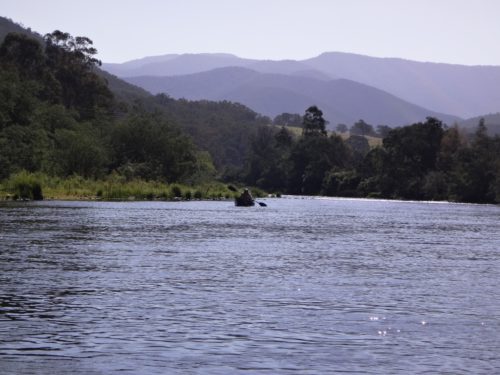 The blue hills behind Della make a delightful backdrop.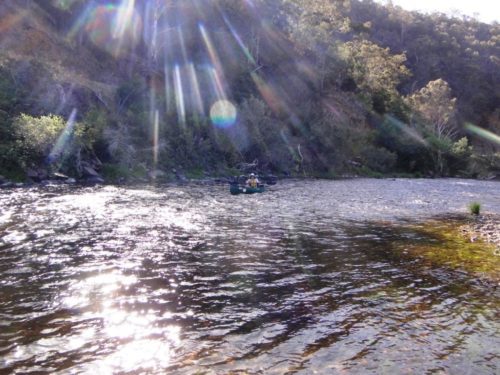 She finishes the very last rapid in a halo of sunlight!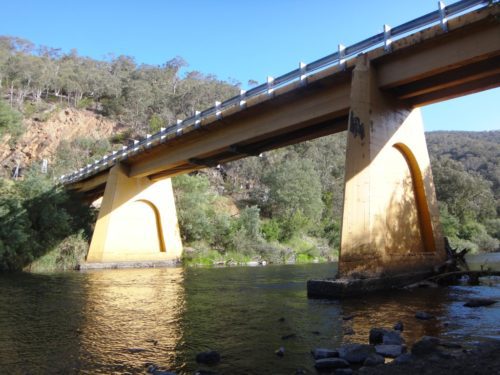 You can drag your boats out on the North-East side of the bridge – or you can go two kilometres downstream (another half an hour) and get them out more easily at Meyers Flat.
See Also:
Section 1: http://www.theultralighthiker.com/wonnangatta-kingwell-bridge-to-black-snake-creek/
Section 2: http://www.theultralighthiker.com/wonnangatta-black-snake-to-hut-creek/
Section 3: http://www.theultralighthiker.com/wonnangatta-hut-creek-to-waterford-bridge/
http://www.theultralighthiker.com/canoe-wonnangatta/
For River Heights: http://www.theultralighthiker.com/canoeing-the-wonnangatta-catching-the-wave/
http://www.theultralighthiker.com/pack-rafting-the-wonnangatta-mitchell/
http://www.theultralighthiker.com/videos/dawn-surprise-rapid-wonnangatta-river-australia-day-2017/
http://www.theultralighthiker.com/wonnangatta-waterford-to-angusvale-day-one/
http://www.theultralighthiker.com/wonnangatta-waterford-to-angusvale-day-two/
http://www.theultralighthiker.com/wonnangatta-waterford-to-angusvale-day-three/
http://www.theultralighthiker.com/videos/canoe-wonnangatta-the-movie/