Once you have your feed of trout (See Below) you will have some heads, tails, fins etc left over. Now you have your cray bait for the next course! All you need to catch them is a bit of string. I have wound 50lb line on my ultralight hand line http://www.theultralighthiker.com/the-ultralight-fisherman/ (because it was what I had lying around) – it would cast a lot further still with lighter line. Certainly though, a few 3-4 metre lengths of this is all you need to catch a feed of crays. You might need to mark the location of your lines with some tiny pieces of fluoro tape as this Dyneema line will be very hard to see.
If I am vehicle camping, as in the photo, I usually use a length of fluoro 'builder's line' because it is hard to miss in the bush. When I am in the camper, I also have a small folding trout landing net with an extendable handle. It is very good for scooping them out. If you are lightweight hiking you will have to make use of a forked stick to pin them down, and maybe get your feet wet as well as you wade in to pick them up just behind the claws (as shown) – but the feed of crays will be worth it. NB: You cannot kiss a cray – definitely don't try this at home! When there are lots of them on the move (they are easy to see particularly if you have polarising lenses) you can often just walk along the side of a shallow stream and just pin them down with a forked stick. I have sometime caught half a dozen in this way in a few minutes!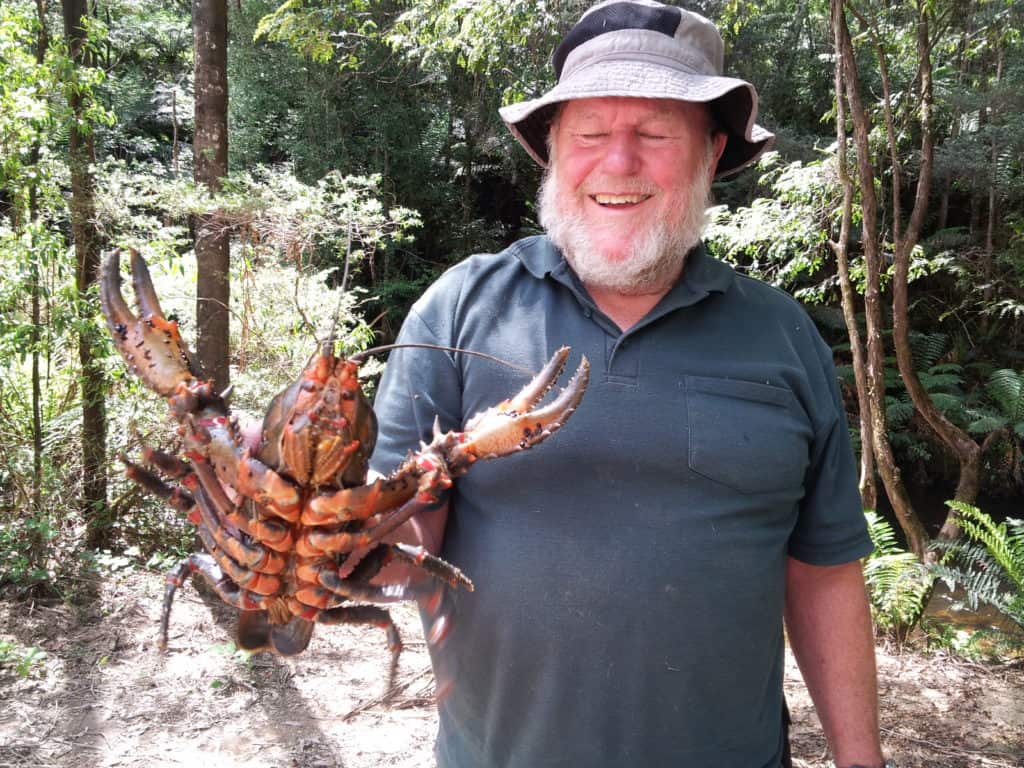 They can grow to quite a size, as you can see! I am going to pretend my eyes are closed as I am dreaming of the Lobster Bisque in the next post, but I was just not ready for Della to take the snap, and in the next one, the cray was blurred from too much wriggling.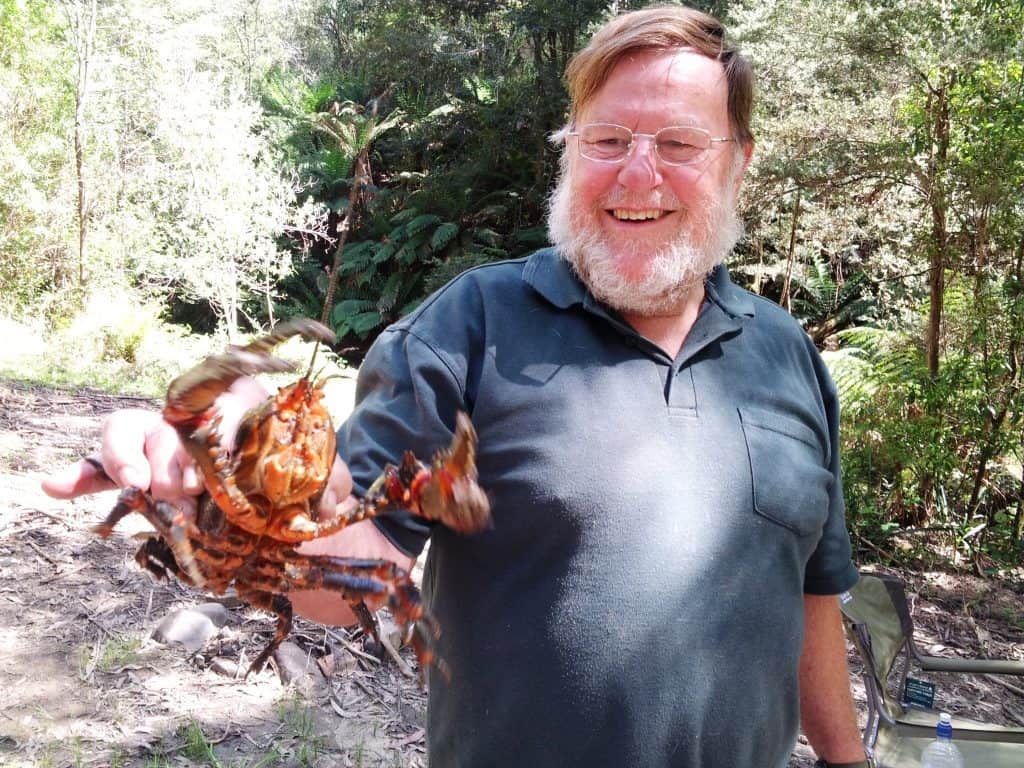 All you need to do is tie something smelly (like the fish heads) to one end of the line. I often use chicken necks because they are cheap and easy to tie on a line. Here and there along the bank in the vicinity of overhangs or upstream from logs, drop a bait into the water then tie the other end of the line to a branch. Don't leave enough slack so the cray can pull the bait underneath his log as you may not be able to pull him out with it. Go have a cup of tea or something more refreshing, then come back in say half an hour. In most mountain rivers in Victoria there will be a cray on the end of the line, indicated by its having grown taut.
Very, very slowly without jerking pull the cray towards you until you can observe him. You need to be patient. He is greedy and doesn't want to let go of his prize, but he will if you are foolish. You need to get him to where you can quietly scoop him from behind (or give him a little slack and he will back into your net). Or, if you only have a forked stick, you need to slowly move it from behind him until you can deftly pin him to the bottom just behind the claws. Then you can step into the river whilst holding him immobile and pick him up with the other hand.Watch those claws. They could almost sever a finger!
There are not so many about in the winter as they are less active. The old saw was that as soon as the wattle was on the water, they would be ready to bite. You can keep them in a bag in a cool place for hours, or tether them to a sapling with a length of string. I brought a bag back from deer hunting once (so they are about even in winter!) put them in the fridge in a supermarket bag for at least a week. When I remembered them, I was surprised they were all alive and ready to bite me!
There is a gender, size and number limit you must conform to if you don't want to incur a penalty – and you want them to remain always abundant. If you have a billy large enough  to boil them in, that is the best solution. If you are car camping you will be able to first anaethesise them by adding some salt to the water (The reverse is true of sea crays – fresh water will knock them out). It is heartless to drop them straight into boiling water and is also likely to get you scalded as they will leap!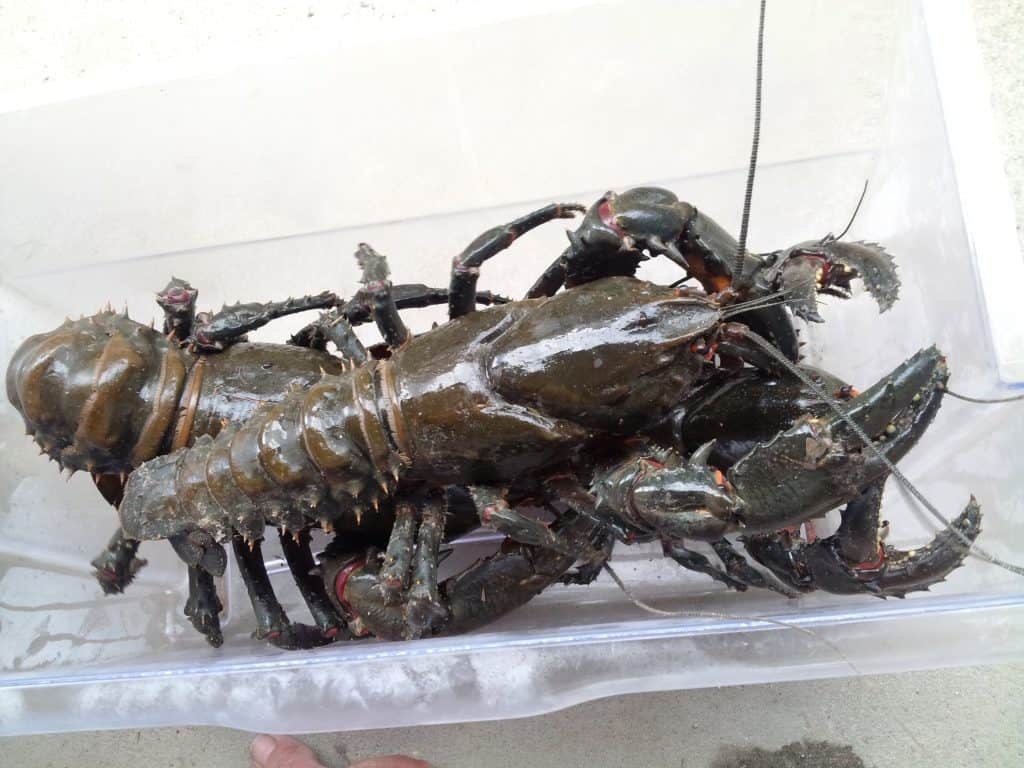 They only need a very few minutes to cook. Watch the colour. They do not go quite so red as sea crays. If you do not have large billy because you are hiking, you will need to kill them first eg by driving a knife (carefully) through their brain. Then you can just cook the bits with the meat. 1-200 grams of fresh cooked meat will be enough to make the accompanying bisque recipe if you are hiking. This will make them 'go' a lot further. There are few things quite so delicious as fresh caught crays, so enjoy!
PS: However, yabbies, their smaller cousins are just as delicious – but you will need more of them, a couple of dozen would be good. Most streams also contain 'ghost shrimp' which are smaller again but a few dozen still make a fine feed. They are very sweet. The method for catching yabbies is the same as for crays. Shrimp will come to all sorts of attractants (eg soap or crushed leaves) and will swarm all over a landing net laid on the stream bottom. Shrimp also make excellent bait for fish – so you can begin again!
See Also:
http://www.theultralighthiker.com/steves-ultralight-fish-chowder/
http://www.theultralighthiker.com/hand-line-fly-fishing
http://www.theultralighthiker.com/hiking-crayfish-bisque/
http://www.theultralighthiker.com/the-ultralight-fisherman/
http://www.theultralighthiker.com/ultralight-coconut-fish-curry/
http://www.theultralighthiker.com/hand-line-fly-fishing/
http://www.theultralighthiker.com/a-ball-of-string-and-a-feed-of-cray/