This is going to be a 160 gram poncho which is also an excellent single person tent. It doesn't get much better than that. This is my second prototype of this wonderful piece of equipment. I have altered the dimensions slightly and changed the taper so it is long enough to lie out in without touching the sides. It is (usually) open at the front so you can enjoy a warming fire. There is plenty enough overhang so you are going to stay dry in a heavy downpour. Its dimensions are approximately 5′ x 8′.
All the sides are catenary cut so it pitches tight and easily, and stands up to any weather. I have added a hood which centres the single pole (which can be a bush stick) and which acts as verandah and vent. There will be a small reinforcing patch inside it which will double as a pocket to take the two guys when not in use. There will be a couple of breast pockets to take the tent stake bag (11 stakes will make it well-nigh impregnable) and a couple of emergency mylar space blankets and a mini bic lighter in case you have no other preparation for your night outdoors.
My prototype is made of Tyvek as usual. I will be replacing the zips with waterproof ones as soon as they arrive. I will be adding another (optional) triangle of silnylon material which will zip in to completely close the front in the event of extreme wet weather – adding about 50 grams to the weight. At a pinch you could shelter two people so there is ample room for one plus all gear and a dog (as you can see)! I will be creating a groundsheet with a bathtub floor (see link below) which can be modified with an inflatable mat and four short sticks to make a comfy chair from which you can watch your campfire. It should weigh less than 100 grams.
The final model may be a couple more weeks in the making, likewise the chair. When I have completed these two projects I will be offering to sell patterns. There will also be an alternative model which has an extra approx 3′ x 8′ added which will add 75 grams. Though it can still be worn as a poncho it will be big enough for a shelter for two. Its dimensions are approximately 8′ x 8′. It can also double as a hammock tarp.
This poncho will also form the floor of either/both of my final models of my Deer Hunter's tent and my 'Honey I Shrank' Tent or for the double model of this tent. If a couple carry one of these each they will have two raincoats plus a tent and a groundsheet for a total weight of 472 grams. Also coming soon!
http://www.theultralighthiker.com/the-deer-hunters-tent/
http://www.theultralighthiker.com/the-last-of-the-mountain-men/
http://www.theultralighthiker.com/honey-i-shrank-the-tent/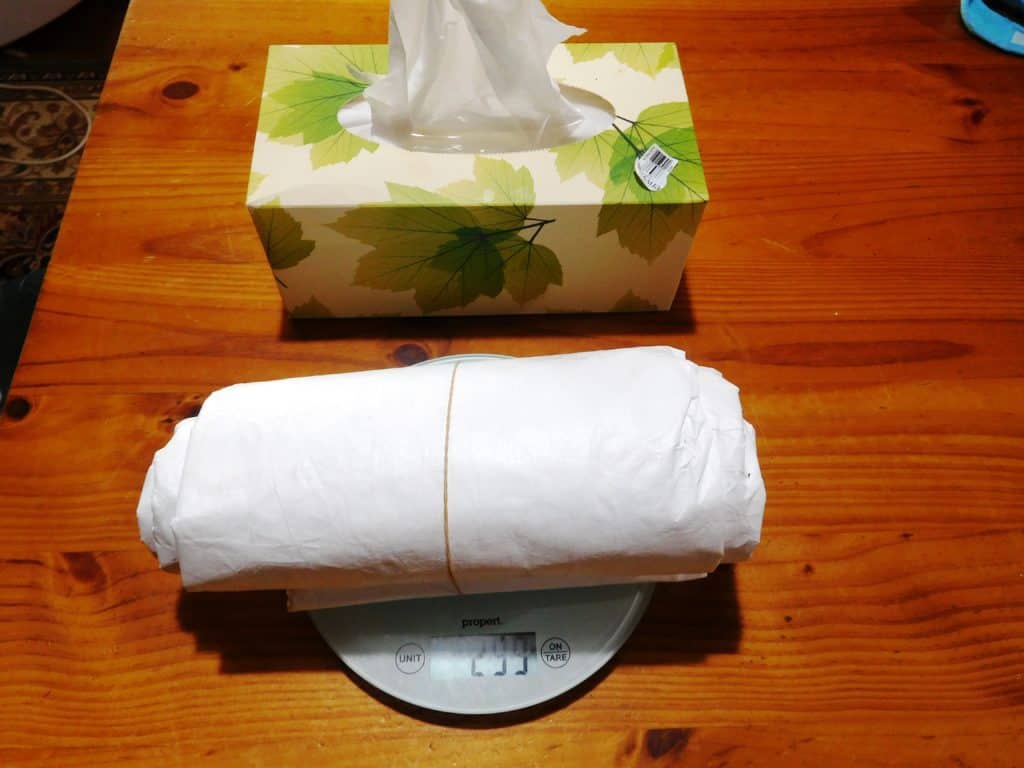 298 grams in Tyvek, smaller than a shoe or box of tissues. The silnylon model will be about the size of a small bottle of coke.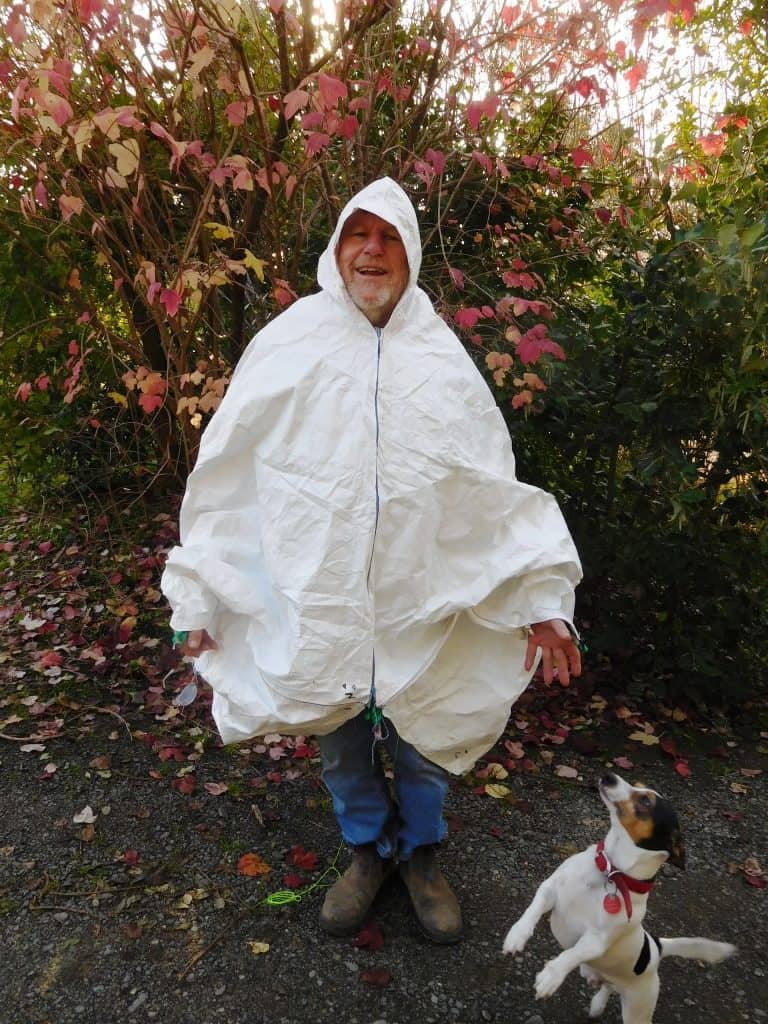 It may be an ungainly looking poncho but it will keep you and your pack completely dry. Spot thinks it will keep him dry too if he stays close.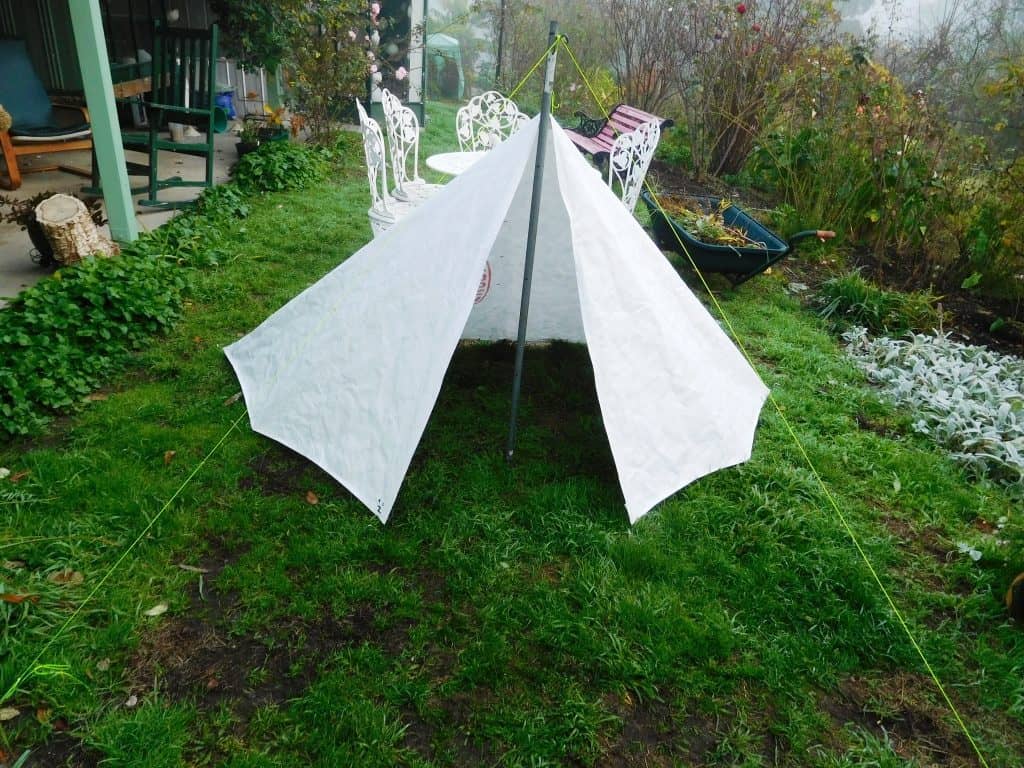 This was my first attempt at pitching it before i added the hood. I hastily put it up in the dark the night before. It rained and blew all night but it was taut and sound the following morning.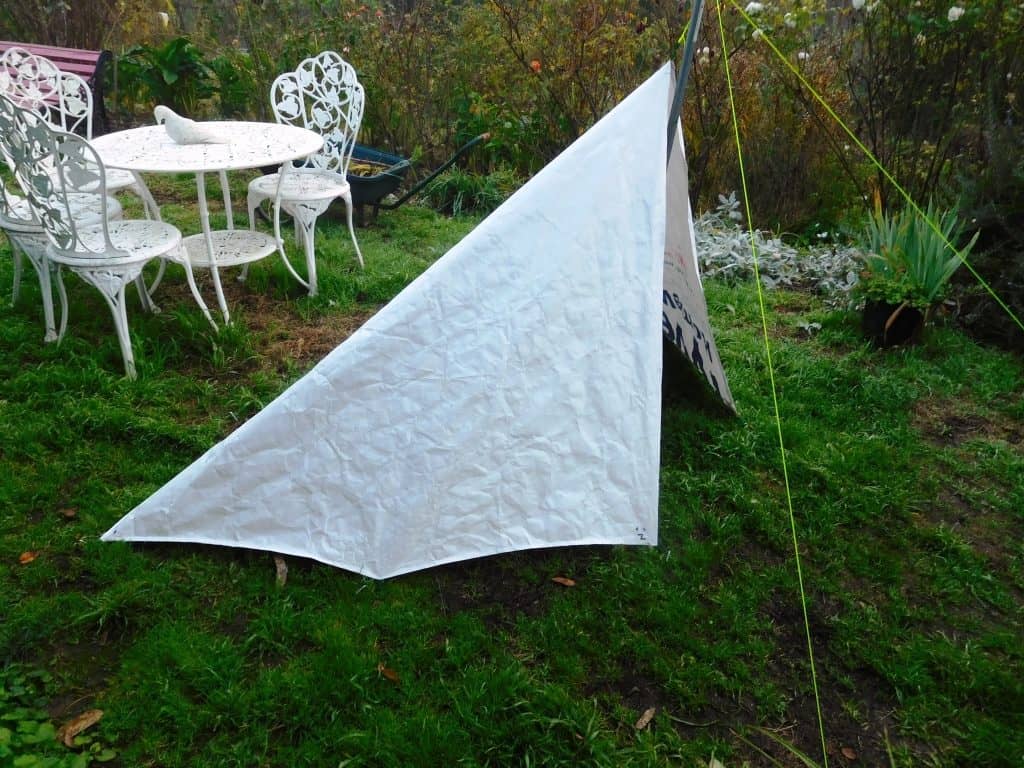 Side view.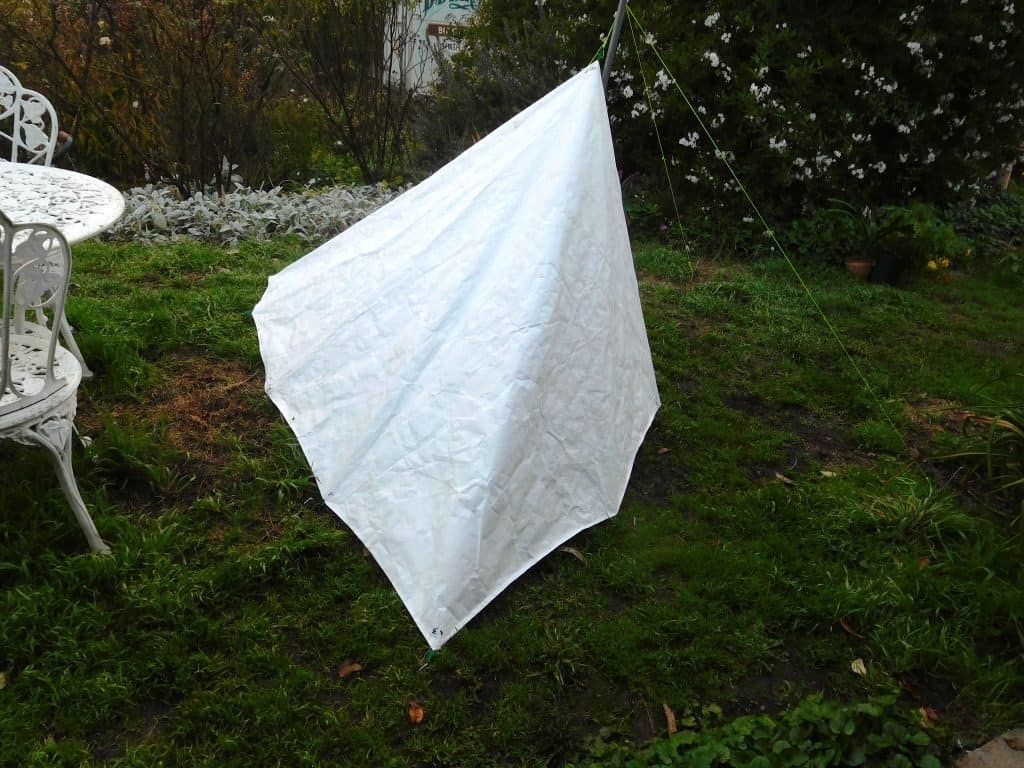 You can see all the ridges stay taut.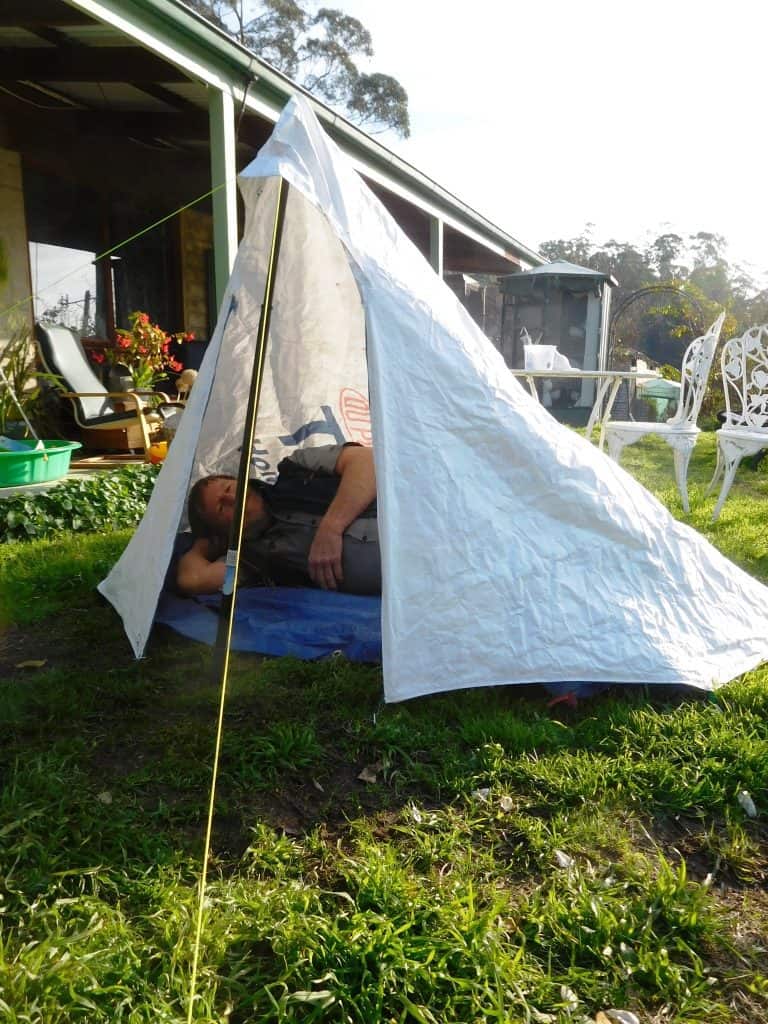 Plenty of room to stretch out.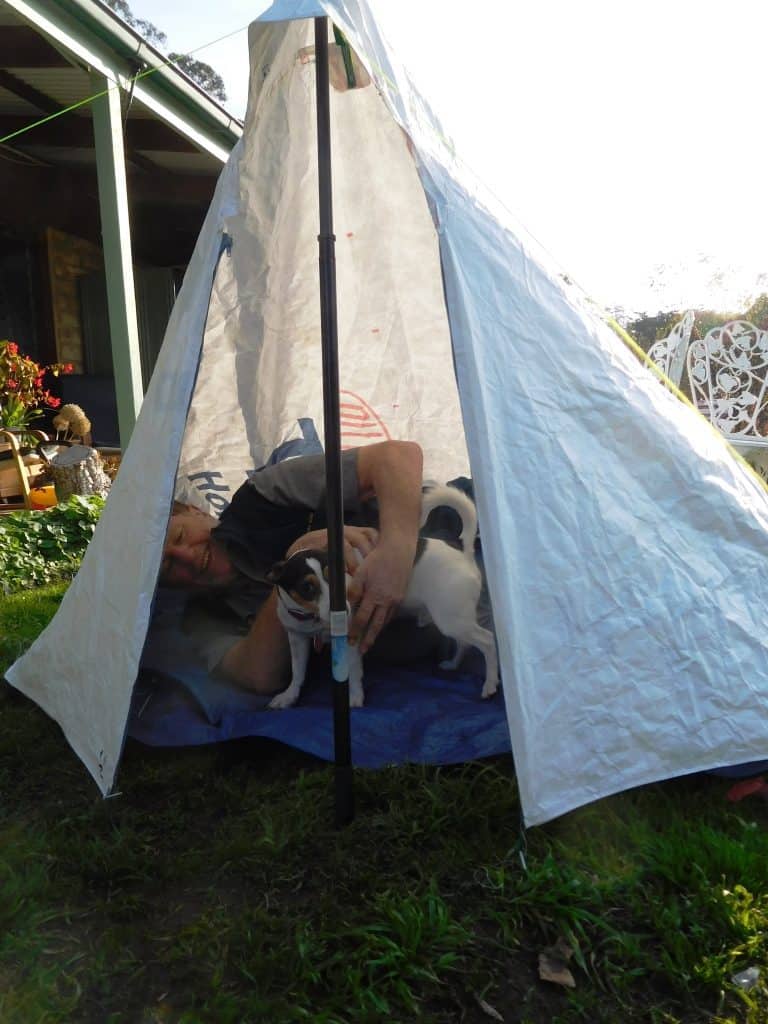 And room for a dog or two!
I will be making this out of 1 oz/yd2 silnylon with a 4,000mm head. It will weigh 160 grams plus 77 grams for the tent stakes, so a total tent and raincoat combo of 237 grams. If I made it out of .35oz/yd2 cuben fibre and used 1 gram pegs for every second one, it would sneak in at 100 grams total weight! To my mind it would be too fragile then, but might interest some people. I will opt for the more durable model which (with the addition of a bit of Tenacious tape in case of emergencies should last me many years.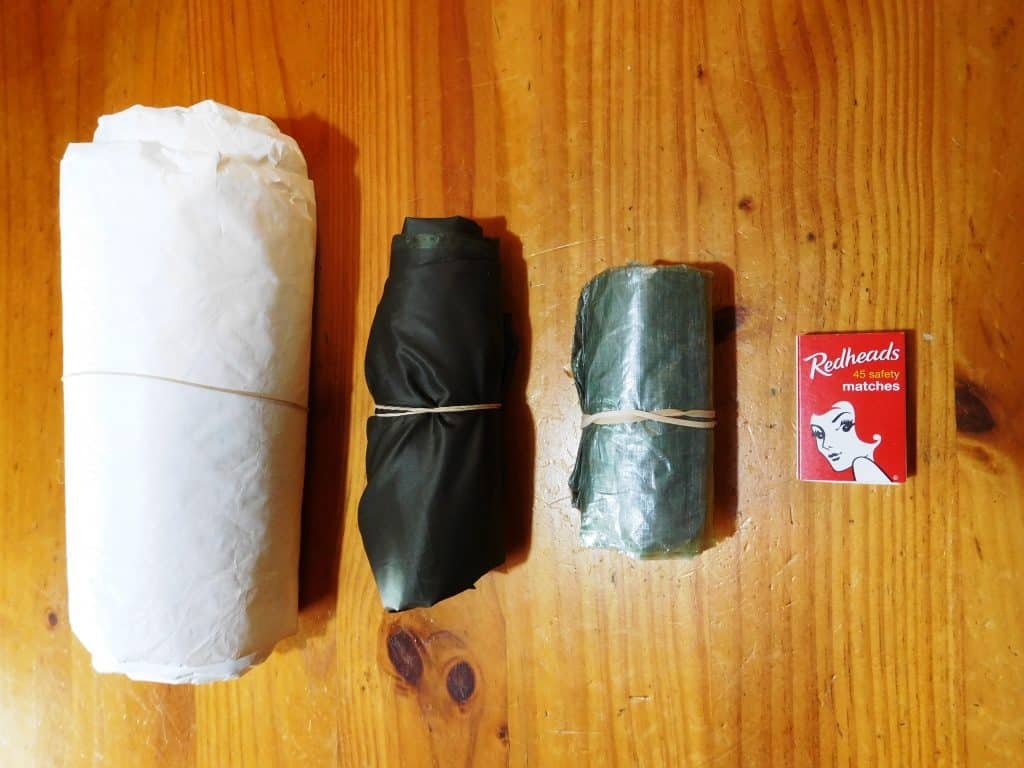 This is how big the final version will be! First in brown 1 oz/yd2 silnylon thn in green .5 oz/yd2 cuben. I do not have a piece of the even lighter cuben but it would obviously not be much larger than a matchbox – see now why I called this the world's lightest, smallest tent?
And this is how it turned out in 1 oz silnylon: http://www.theultralighthiker.com/2017/08/10/the-pocket-poncho-tent/ 185 grams  – as it turned out. Still, pretty much the world's lightest tent I would think.
See also:
http://www.theultralighthiker.com/2017/07/08/bathtub-groundsheet-chair/
http://www.theultralighthiker.com/hole-less-ponchoshelter/
http://www.theultralighthiker.com/pitching-the-poncho-warning-this-may-save-your-life/
http://www.theultralighthiker.com/ultralight-chairgrounsheet/
http://www.theultralighthiker.com/gear-repairs-tape/
See Also:
http://www.theultralighthiker.com/how-to-light-a-fire-in-the-wet/
http://www.theultralighthiker.com/rope-dont-leave-home-without-it/
http://www.theultralighthiker.com/finding-your-way/
http://www.theultralighthiker.com/the-lie-of-the-land/
http://www.theultralighthiker.com/the-importance-of-a-roof/
http://www.theultralighthiker.com/carry-a-knife/
http://www.theultralighthiker.com/if-you-could-only-carry-two-things-in-the-bush-what-would-they-be/
http://www.theultralighthiker.com/ultralight-poncho-tent/
http://www.theultralighthiker.com/the-pocket-poncho-tent/
http://www.theultralighthiker.com/naismiths-rule/
http://www.theultralighthiker.com/weather-lore/
http://www.theultralighthiker.com/walking-the-line/
http://www.theultralighthiker.com/follow-your-nose/
http://www.theultralighthiker.com/how-long-till-sundown/
http://www.theultralighthiker.com/man-is-the-measure-of-all-things-pythagoras-some-handy-estimation-tricks/
http://www.theultralighthiker.com/how-to-avoid-being-wet-cold-while-camping/
http://www.theultralighthiker.com/fire-on-the-snow/
http://www.theultralighthiker.com/river-crossings/
http://www.theultralighthiker.com/an-open-shelter/