I have made an ultralight bathtub floor for my Siligloo tent in preparation for a trip we are soon taking. It replaces the piece of spinnaker fabric we have been using, adding less than 70 grams. You will remember that the Siligloo Tent weighed 385 grams when I made it. I have added some extra guys against really inclement weather which add less than 20 grams. This floor weighs less than 200 grams  (including tie-outs), so the total for the tent including stakes is less than 650 grams, but as you can see it is really huge! It is over 6′ wide and around 8′ long (at its widest). When I am bush camping I usually just use a couple of bush sticks for tent poles.
This is how I sewed and arranged the eight corners. 1 1/4″ in and 2″ down. Once the gear is in it will work very well. The (F for) Fuschia coloured bead shows me this is the (F for) Front of the tent . Obviously i have a Blue (for Back) at the other end. This helps orient it if you have taken it off. (PS: I admit I could have tidied up that sewing a bit!)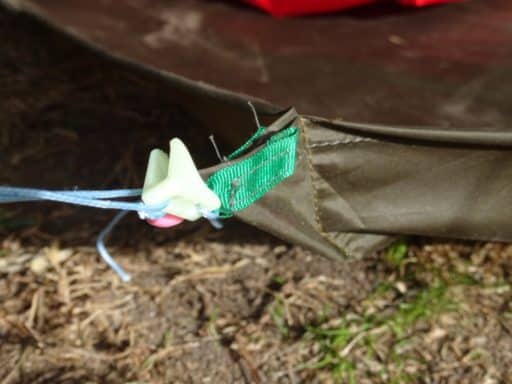 The sides sit up off the ground nicely without pulling the tent in at all.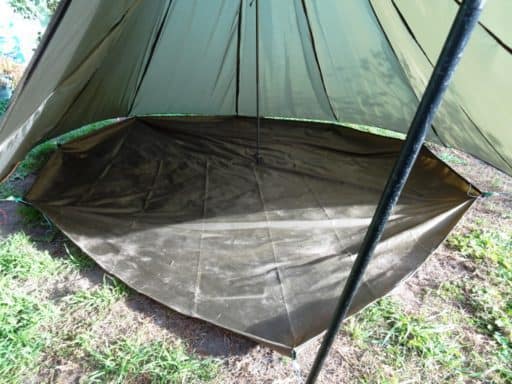 You can see how much room there is with the two pads (and lots of gear) inside. I wonder whether everyone sleeps on his wife's right hand side. If you want to be her right hand man you do! The one on the right is the Thermarest Neoair Womens.The one on the left is my new Big Agnes Insulated AXL Air Pad (300 grams) and 3 3/4″ thick! This is the most comfortable hiking pad i have ever owned. It is 6′ long. I could still cut it down by 6″ to save 30 grams.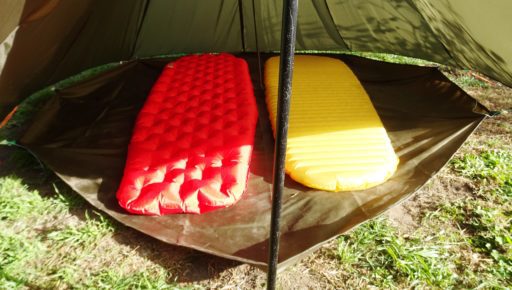 You can easily reduce the height of both poles if it comes in to rain, reducing the opening to say 18″ so that all the other corners are pegged to the ground. This will make sure you stay dry no matter how much rain there is. I see no reason for doors – just something to go wrong. or insect netting. A head net and some insect repellent is all you need.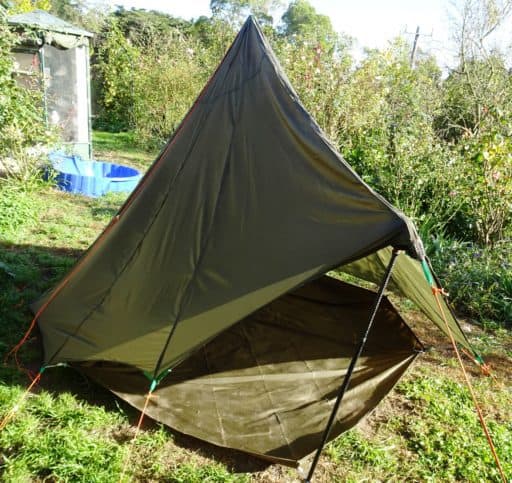 Just a couple of bush poles makes us happy anyway. Here we were canoeing the Wonnangatta recently.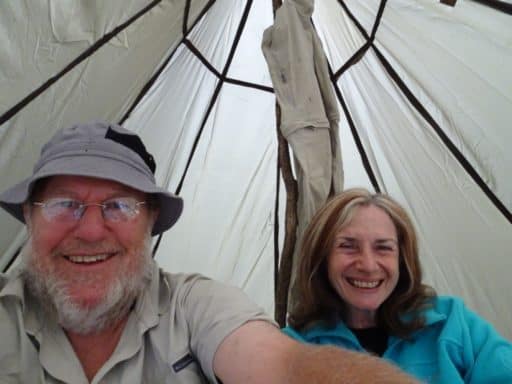 See Also:
http://www.theultralighthiker.com/new-decagon-octagon-tyvek-igloo-tent-design/
http://www.theultralighthiker.com/honey-i-shrank-the-tent/
http://www.theultralighthiker.com/the-siligloo/
http://www.theultralighthiker.com/big-agnes-axl-air-pad/
http://www.theultralighthiker.com/womens-are-great-in-bed/
http://www.theultralighthiker.com/mozzie-nets/
http://www.theultralighthiker.com/end-the-misery-of-insect-bites/
http://www.theultralighthiker.com/wilderness-siligloo/
http://www.theultralighthiker.com/canoe-wonnangatta-kingwill-to-meyers-flat/