Not so long ago people thought this was impossible. I have been complaining for years that hiking manufacturers could not get their heads around making their products seriously light, so I have been making my own (such as this and this). Now, Big Agnes have made one for those of you who cannot do so for themselves, and they have even done it better than me! The Fly Creek Hv-2 Carbon. What a brilliant little tent! Of course you will have to have US$849.95 (March 2019). If you only have $10, you should try this instead.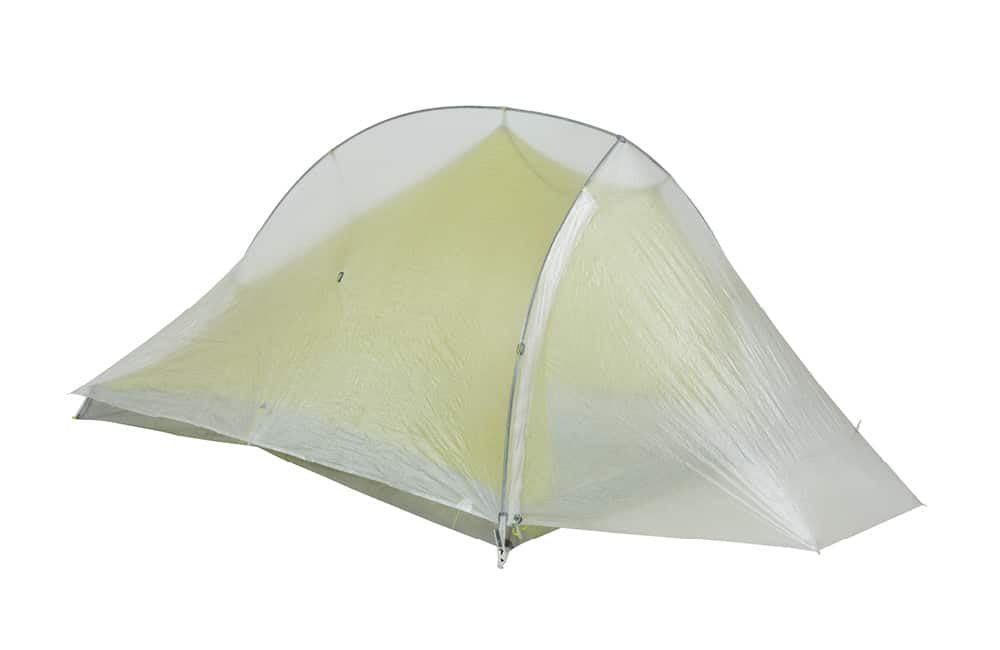 There has been a lot of serious thought gone into this tent. There is even room for my Jack Russell, Spot Of course you will have to be very careful with it but Dyneema is very strong. So long as you do not physically destroy it, it won't let you down.
I have been using an 8′ x 8′ Dyneema tarp for years as a shelter. It weighed 150 grams (I have since added 'wings to it) – I use a piece of Polycro or a space blanket as a ground sheet. I have slept under it, either on the ground or in a hammock many, many times. I am careful and I have not punched a hole in it (yet!) If I had, cuben tape is just about the best repair tape I have found. I have even repaired my sleeping mat after a certain puppy chewed it just about to pieces (when it was brand new). It had many small puncture marks in it, which a single piece of tape has prevented each from leaking for over 6 years now! Here is my tarp. You can even sleep two in hammocks under it.
Big Agnes recommends a footprint to protect the floor. I suggest a piece of Polycro would be the lightest alternative for this purpose, adding not much more than an ounce to your carry weight. You should get a couple of weeks out of a piece before you have to replace it. besides it's pretty cheap. I would probably not light a fire out the front of a $900 tent. If you are going to do that, get some Tyvek and make your own.
I have owned a number of Big Agnes products for over 20 years. You probably already know my favourite is their Cyclone Chair which I have raved about often enough. Get one yourself. It is the absolute best piece of outdoor gear. If you don't carry one, you are a mug! I expected to wear my 160 something gram chair out (and even bought a couple of spares for when I did) but both Della's and mine are still going as good as new for perhaps  (is it?) twenty years. So are the first Insulated Air Core mats we bought from them all those years ago. Probably no-one has yet made a better mat. They now have a 6′  uninsulated mat which weighs 270 grams It also happens to be the most comfortable mat I have ever slept on!The point I am making is that these people make very good equipment. I imagine this tent will be up to their usual high standard, but I doubt I will ever be buying another tent. I must already have ten I made myself to wear out already! Della would murder me. But I am tempted!
Specs + Sizing
| | |
| --- | --- |
| Trail Weight | 1lb 2oz / 510g |
| Packed Weight | 1lb 7oz / 652g |
| Fast Fly Weight | 15oz / 425g |
| Packed Size | 5″ x 18.5″ / 13 x 47cm |
| Floor Area | 28sq ft / 2.6 m² |
| Vestibule Area | 7sq ft / 0.65 m² |
| Footprint Weight | 4oz / 113g |
| Number of Seasons | 3 |
| Number of Doors | 1 |
| Intended Use | Fast & Light |
https://www.bigagnes.com/Fly-Creek-HV-2-Carbon
See Also:
https://www.theultralighthiker.com/2018/06/30/axl-air-down-pad/
http://www.theultralighthiker.com/sleeping-pad-reinvented-big-agnes-q-core-slx/
http://www.theultralighthiker.com/cyclone-chair/
https://www.theultralighthiker.com/2019/03/04/510-gram-2-person-double-walled-framed-tent/
Hits: 33