Here is my new ultralight 'Sil-igloo' tent at 379 grams. As you can see it is huge: big enough to stand up in – I guess it is over 100 square feet (9-10 square metres) of cover. There is plenty of room for two large adults and two small dogs, and to spread our gear all over the place. For scale that  groundsheet is 5′ by 8′ (150 x 240 cm & 100 grams)
It requires 10-12 Shepherd's Hook stakes to erect it.
The tent has a lovely airy feel to it. I am going to love this tent. Particularly I will love carrying it!
By the way, that is a 3/4 length (4′) Thermarest Neoair mat for scale.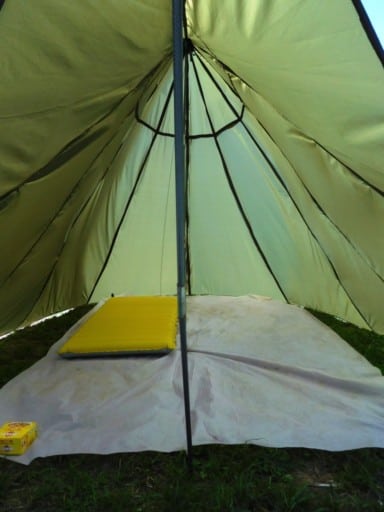 It goes up really quickly and simply, but it does not want to come down the same way – unlike so many tents. It will also keep you plenty dry in all sorts of weather, and you can have a warming fire out the front on cold nights without the risk of it raining inside the tent. I have solved a whole bundle of tenting problems right here.
It also has a 6′ (1.8 metre) internal clothesline for drying your stuff and five other internal gear hanging points. I made the tent out of a new 1.1 oz/yd 2 'Xenon' silnylon purchased from these guys (I have recommended them before) for A$11.95/metre (Dec 2017).
I could have wasted more material and done less sewing, but my money doesn't grow on trees even if yours does. I made the Pocket Poncho tent out of the same material, and it works splendidly.The material is extremely light and slippery and has a soft feel, like silk. I have sewn very few things this delicate, so I am still learning techniques (as you can no doubt see – I also had a problem with my bobbin). No doubt someone else could do a better job, but at least the tent will work, which is the main thing.
Tiny isn't it? .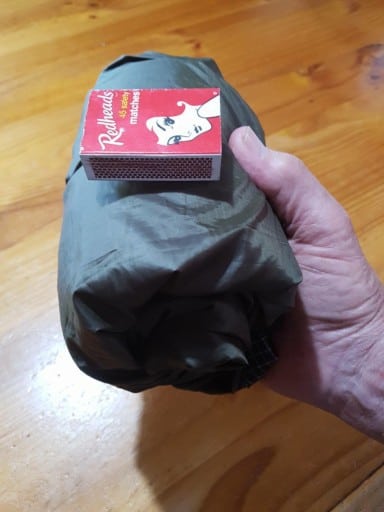 I have been working on this tent for some time. I nearly finished it before we went to walk Mt Bartle Frere back in late August when I did this post then I set it aside as I had other things to do – and no need for it. I want it now for a pack rafting expedition Della and I are about to head off on, so we finished it.
Many of you will recognise its evolution from this, to this. Some of you will also have noticed my Pocket Poncho Tent which I thought was quite an achievement at 185 grams and which I intended to be a floor for this tent..
I have now to finish my Deer Hunter's Tent and make a silnylon and perhaps a cuben fibre version of it. It will be an even lighter two person tent than this one. In cuben fire (top) and silnylon (bottom) it will probably be under 300 grams – quite an achievement for a two person tent you can stand up in and warm with a fire! Using the Pocket Poncho Tent for a floor, and with a silnylon roof it should still only weigh around 400 grams – not bad for a two person tent and a raincoat for one!
But plenty of room for two adults and two dogs.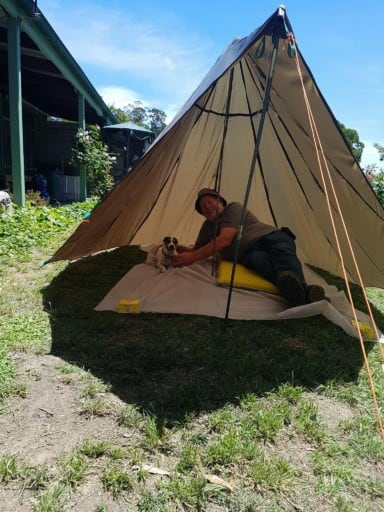 We have camped out lots of times in the prototypes of these three tents. For example, here we are in the Deer Hunter's Tent. Here in the prototype of the Siligloo. And here I am in the Pocket Poncho tent – so they work fine. And, Yes, I am planning to sell them, some time – but I am old (and still busy about the farm and such) and things just don't get done as quickly as they once did. Please be patient. Next year Jerusalem, as they say.
Only 379 grams, as you can see; pretty good for such a huge tent.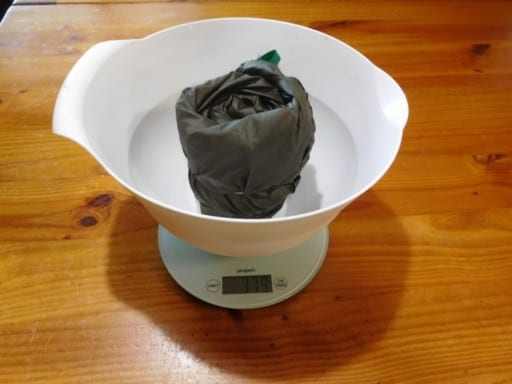 Front view.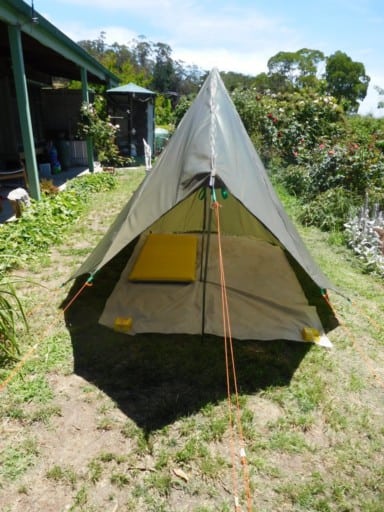 Side view.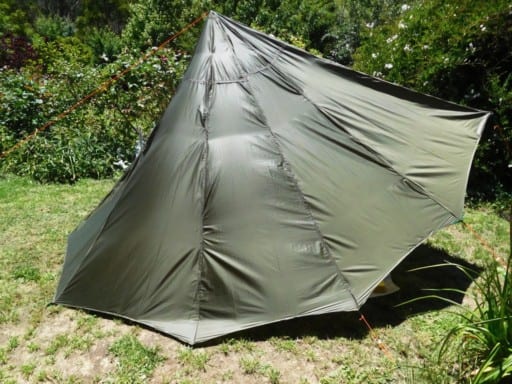 Rear view – you can see I have sewn a tie-out at the top to brace the top into strong winds.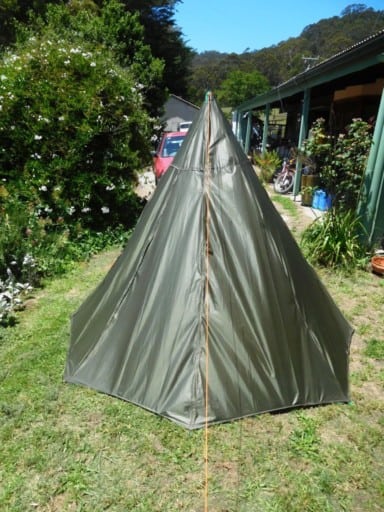 Some folks might worry about a tent which is always open on one side. In the prototype I sewed in a couple of flaps so I could close this, but I have not found it necessary so I have not included them yet in this model. I guess they would only add about half an ounce (15 grams). If a really bad storm comes you can take out the side pole and space out the pegs so the tent becomes a closed tipi which you would crawl into.
I may sew a couple of vents into the peak so that I don't get condensation in this or the closed configuration. Erected as a tipi it is nearly 10′ across! I guess in an emergency you could shelter nearly a dozen people sitting up.
I have not sealed the seams. I doubt they will need it. They are all flat-felled. The Tyvek versions never needed it. The tie-outs would add a bit more but I doubt it is 400 grams with them –  plus about 70 grams for the pegs. I will make a couple of small bags too: one for the tent and one for the stakes.
I will probably also make a floor for it – of course it was intended that I would use my Pocket Poncho tent for a floor, but I would wear it out pretty quickly if I used it all the time for that purpose. I will use it sometimes though – particularly on long trips with my wife, Della when we will also benefit from having a spare raincoat if needed.
The guy lines are the glow in the dark kind as are the micro line locks, as explained here. More about stakes.
Here it is in the bag with the stakes and the groundsheet: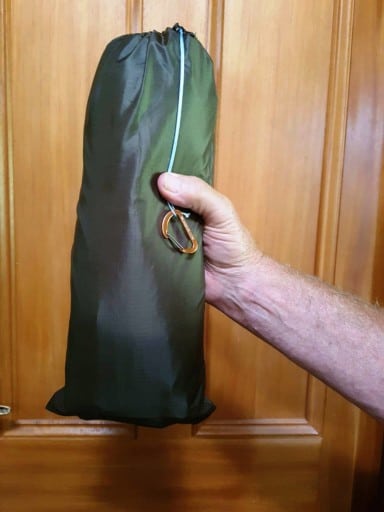 PS: I always carry my tent in the side pocket of my pack. I attach the tent to the pack with the carabiner so I don't lose it.
See Also: Tried it out last weekend:
http://www.theultralighthiker.com/wilderness-siligloo/
http://www.theultralighthiker.com/new-decagon-octagon-tyvek-igloo-tent-design/
http://www.theultralighthiker.com/the-deer-hunters-tent/
http://www.theultralighthiker.com/the-pocket-poncho-tent/
http://www.theultralighthiker.com/pack-rafting-the-remote-wonnangatta/
http://www.theultralighthiker.com/wonnangatta-waterford-to-angusvale-day-one/
http://www.theultralighthiker.com/the-last-of-the-mountain-men/
http://www.theultralighthiker.com/honey-i-shrank-the-tent/
Hits: 517