A friend of mine coined the phrase 'APC' being a play on words for a major patent medicine of the 50s and 60s. Instead of the three chemicals which were its constituents (Aspirin, Phenacetin and Codeine – you just can't get good pain relief cheaply any more!), her expression stood for 'Armpits and Crotch'. A quick freshen up of those important areas would 'do' if you were in a hurry – or as so often in rural areas in time's past, you were very short of water.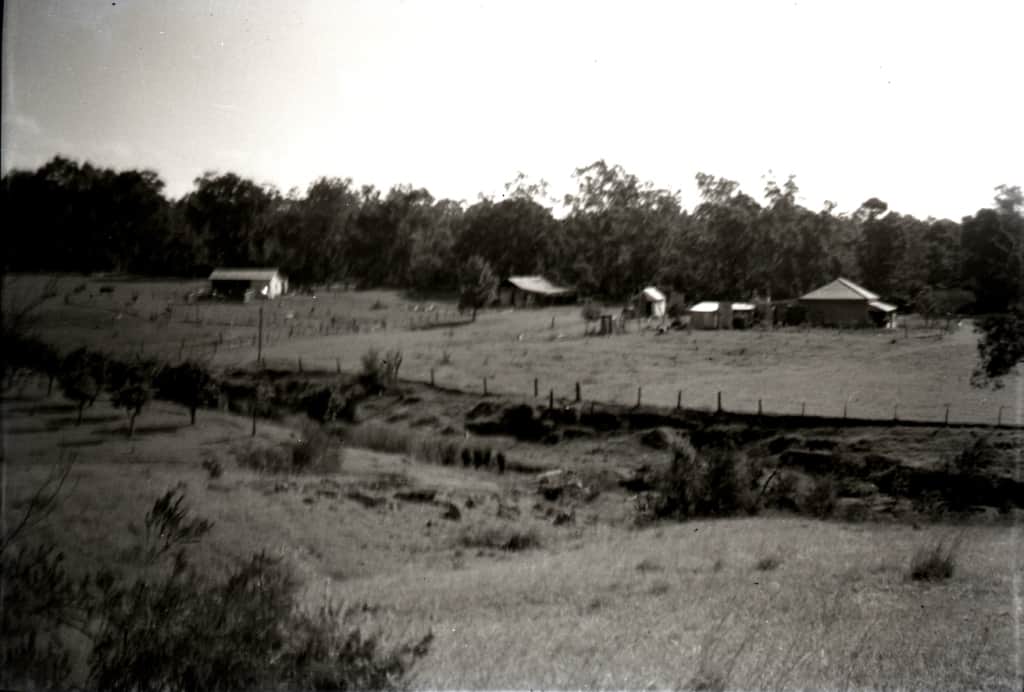 I know I grew up in a house on a farm near Paterson NSW with mostly a 'ground floor' which is what we said when there was no floor save the earth itself, and which had one 2,000 gallon much-repaired leaky galvanised iron water tank to serve a family of five – and frequent guests, some of whom arrived by horse and cart.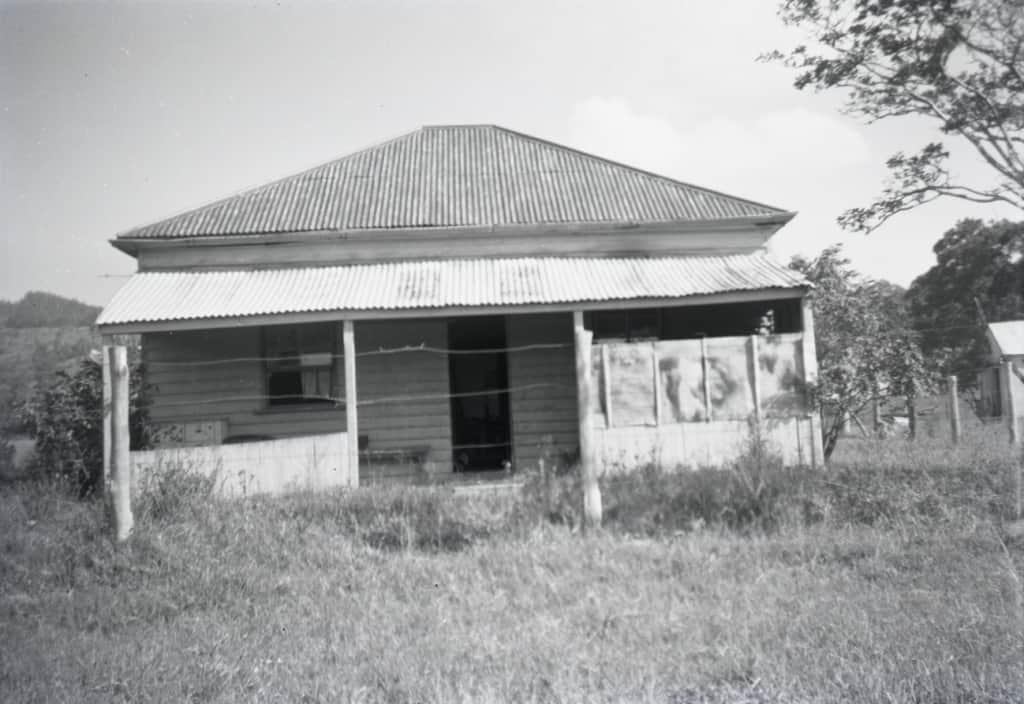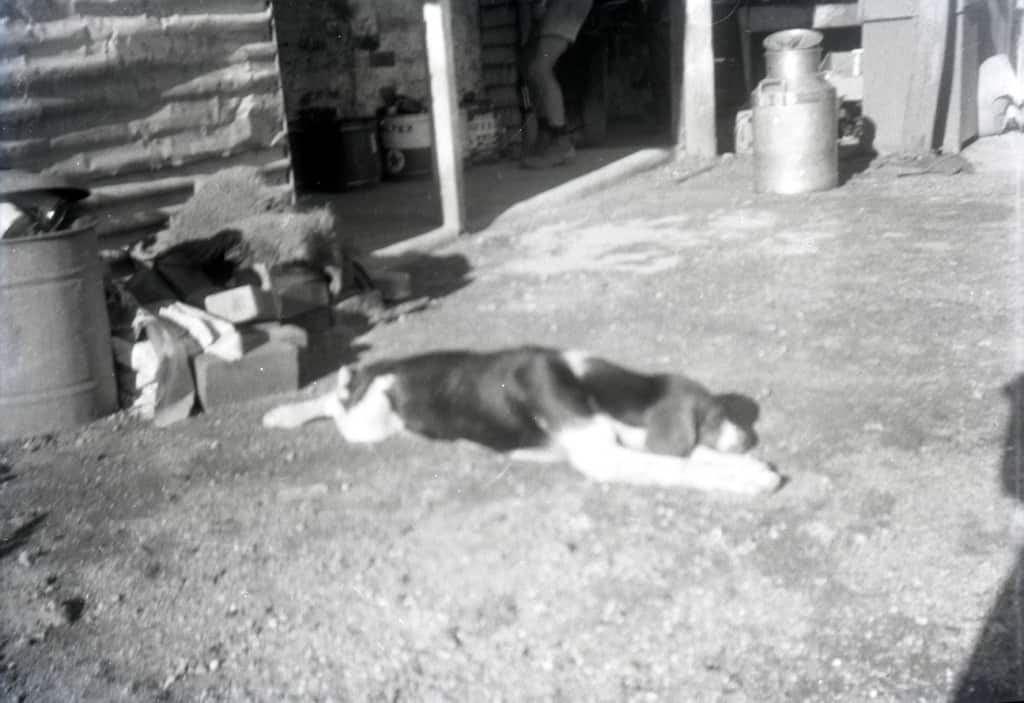 Most of the walls were hessian bags to which newspapers had been 'pasted' with a mixture of flour and water. It gave us something to read at least! My mother had cut out a picture of a harbour scene from a magazine, framed it and hung it on my bedroom wall as a decoration. Naturally it still has pride of place on my bedroom wall today. Baths were an occasional luxury particularly in summer, but fortunately there was a pretty much permanent swimming hole in Tucker's Creek nearby, shared with dogs, cows, goannas, black snakes and other assorted critters.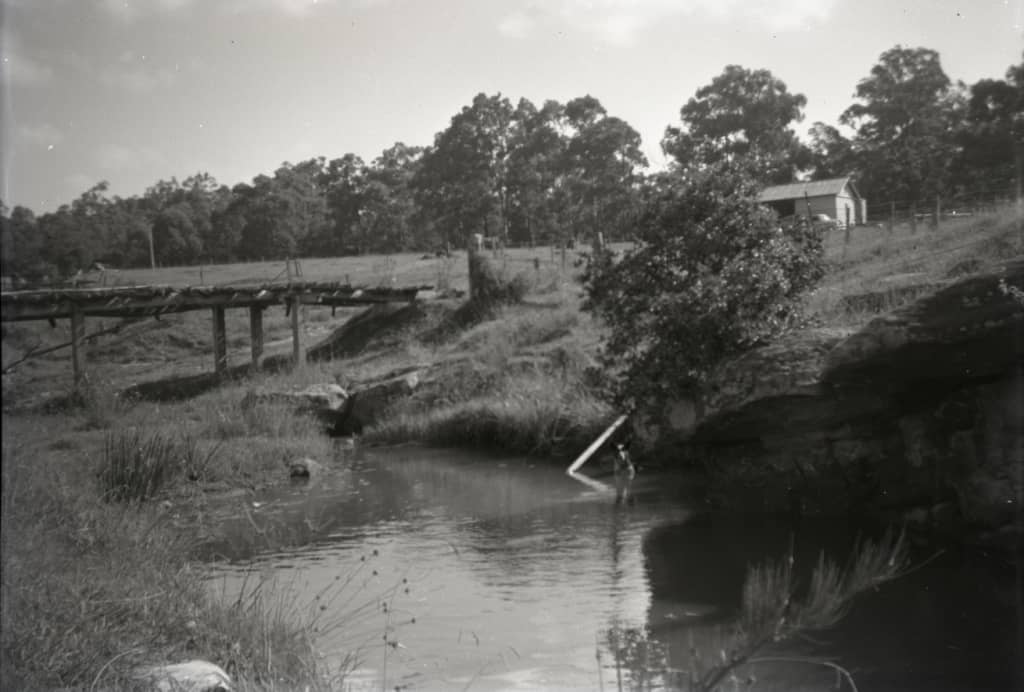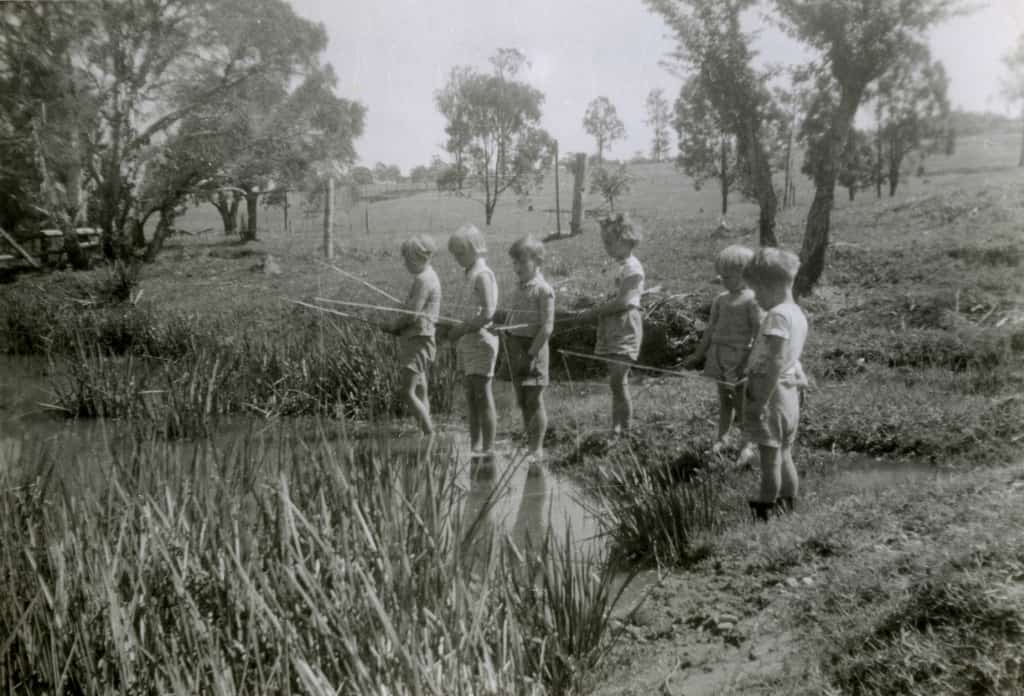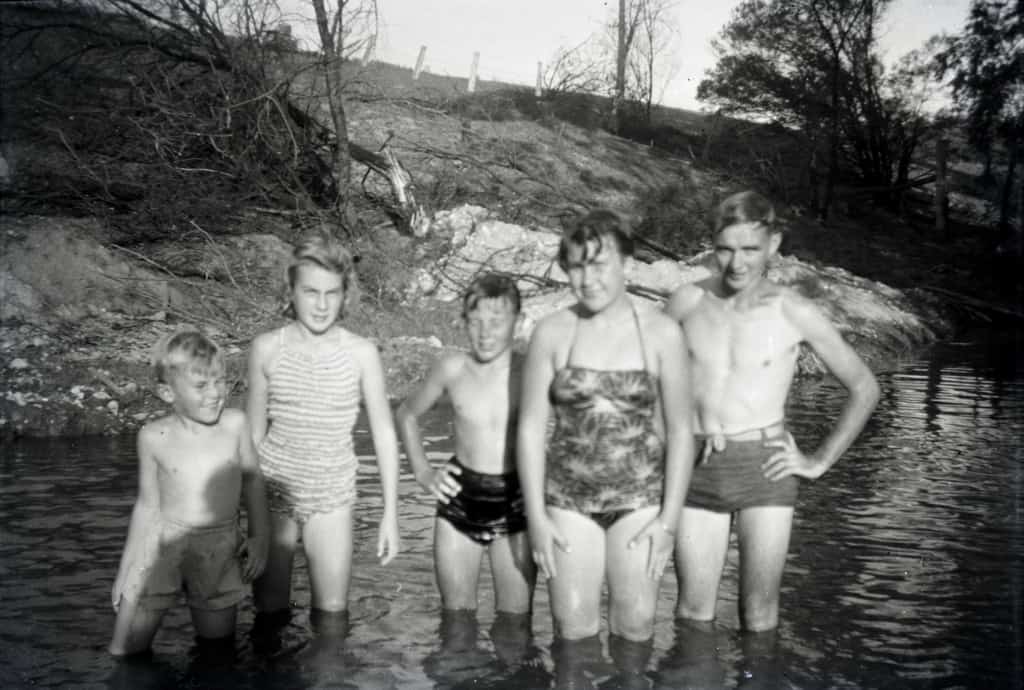 Most nights our mother gave us a standing up 'sponge bath'  in the kitchen. This involved just a face washer, a lick of Velvet Soap (which I still always use – I love the smell) and half a billy of warm water off the hob (there was always a fire burning in the range as that was pretty much all my mother had to cook with).
She started with the cleanest bits first and worked down to the really grubby feet – I never wore shoes until I was around 15 and starting shift work in a heavy metal refinery! Those compulsory 'safety boots' sure killed me then. The water was thrown on the fruit trees outside which flourished on its many nutrients, particularly a lime which furnished many refreshing summer drinks – It blossomed wonderfully next to  the outhouse!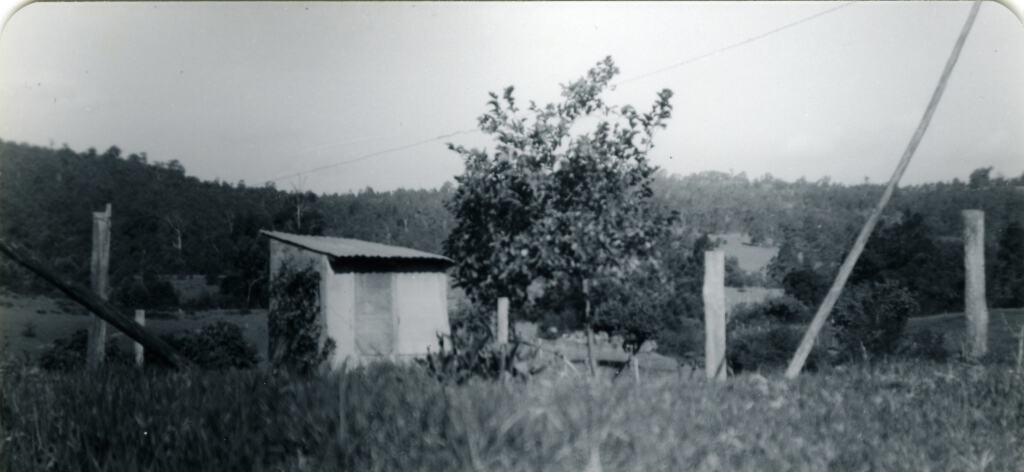 Kids in 'my day' pretty much all started full-time work at 15 (or earlier eg as farmhands with permission) having had various part-time work from around the age of 10 – cleaning shops, delivering papers, milking cows and such. Mostly they left home at the same time, boarding with some other family or renting a 'bed-sit'.
We were considered adults at 15 – and expected to fend for ourselves in all things, though we weren't allowed to vote till we were 21. We didn't miss much! Very few ever got into any trouble such as drugs, alcohol, crime or juvenile delinquency. Too busy working maybe! And too little money!
Of course growing up on a farm you learned to work pretty early on – before you went to school at least. I know I was up at 5:00am mornings to help my mother with the (hand) milking. My dad would have headed off to work by then eg as a fettler on the railways, or as a timber-getter in the forestry industry nearby, etc.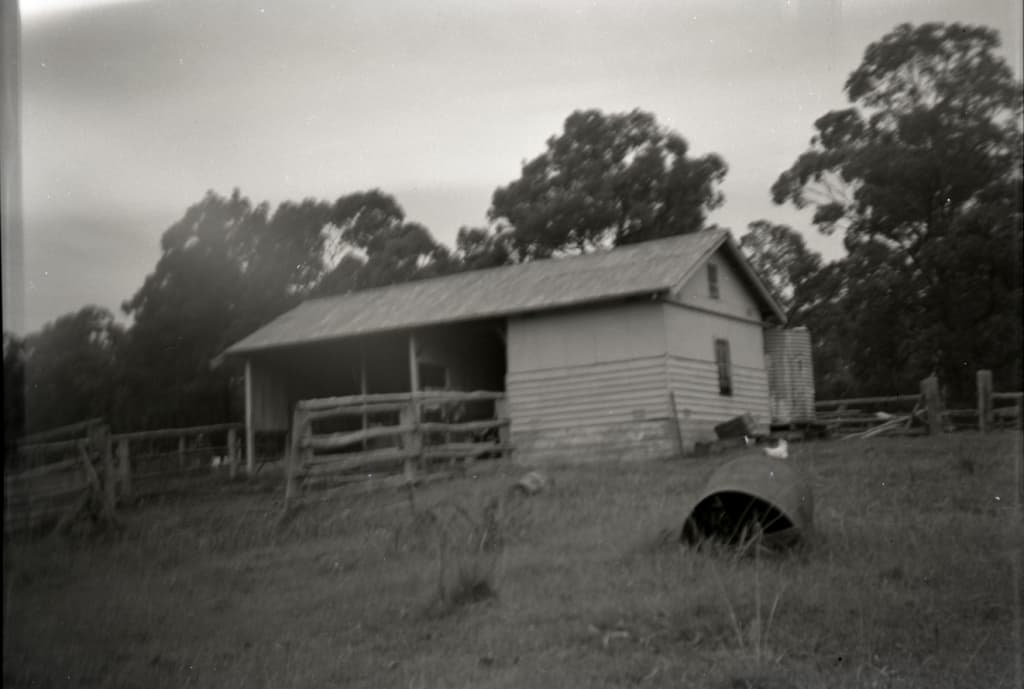 It was my job to first get the cows in from the frosty paddocks – in my bare feet, to get the cows in to the bails (and let them out), to carry the buckets of milk to the milk cooler and tip it in, to see that the milk cans did not overflow, to pump up by hand the well water which supplied the corrugated milk cooler, to wind the handle of the separator to make the cream, to wash up at the end of the milking – and give the milky filter paper (which he loved) to my great blue-heeler pup, Rover.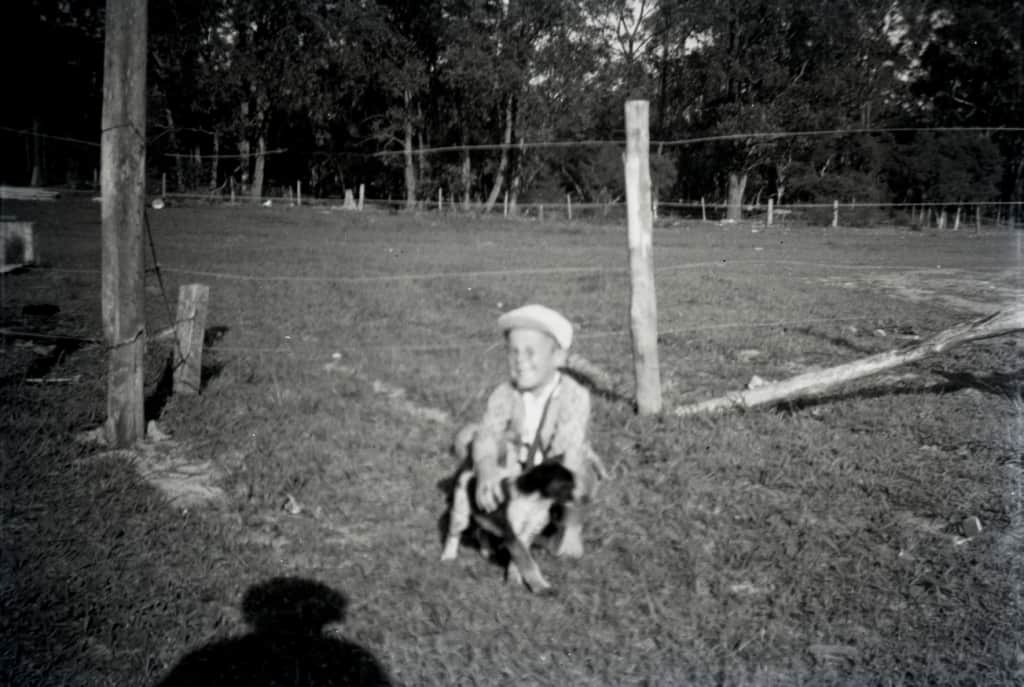 Of course we also had pigs (with the skim milk) and chickens to feed, eggs to collect, kindling to split, and so on. Mostly before breakfast, and some chores before I was even old enough to go to school. No doubt such 'child labour' is illegal in this weird world in which we now live, but it was very good for you and created a broad sense of self-discipline which is an indispensable component of good character.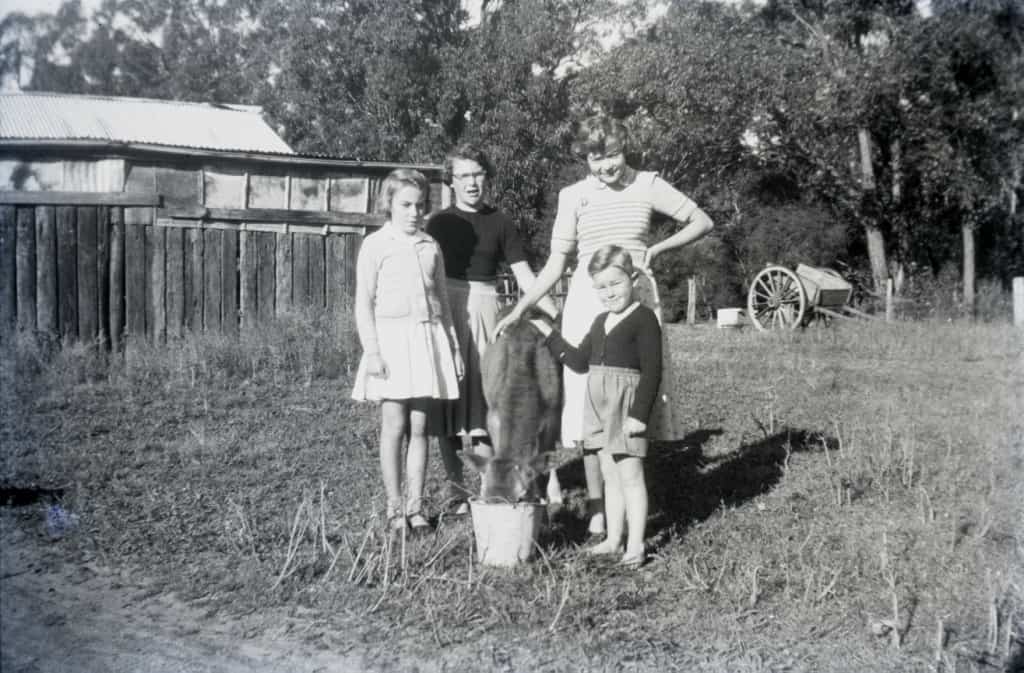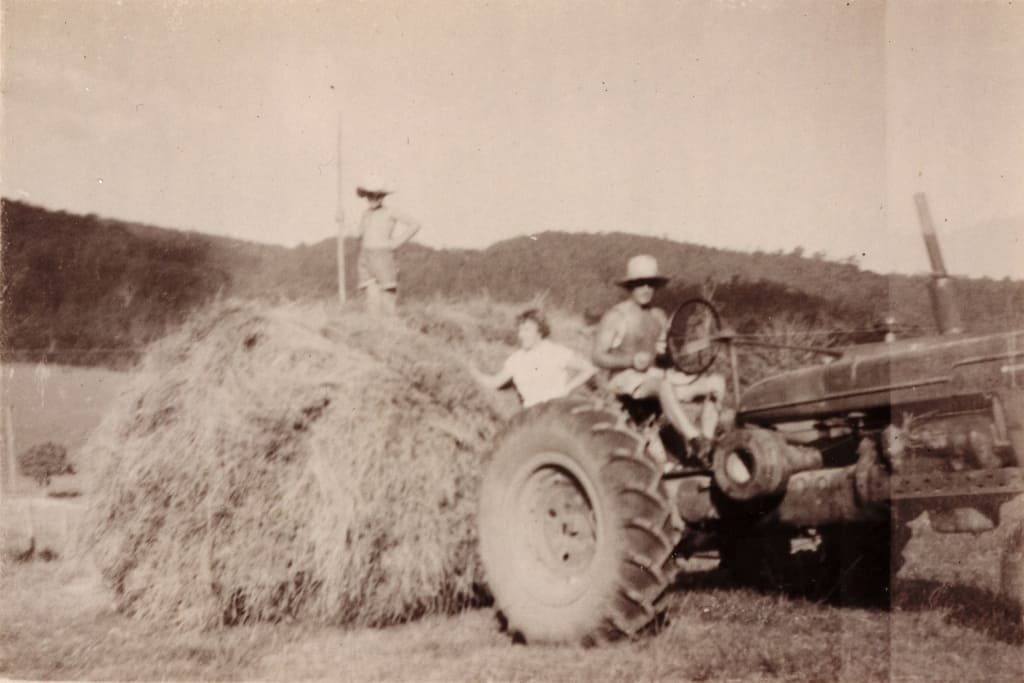 Growing up in the forest meant I learned to roam the bush at will as soon as I could walk. My mother just used to let me go and figured I would be home when I got hungry. I reckon I could lead you to some wondrous spots in those hills even today. A place where a giant sheltering Moreton Bay grew, another a maze of erosion gullies, yet another where a vast avalanche of car-sized stones had tumbled down the valley and been covered with rock-lilies, a remote bat-infested cave, etc.
Once a week (usually Saturday night, country dance night' = 'You Beautie'!) we would have a 'proper' bath, ie mum would heat enough water on the stove in a 4 gallon or 60 lb honey tin which is what my parents used instead of the ubiquitous kerosene tin (as they were also apiarists) to half fill a tin 'hip bath' on the kitchen floor.
She and dad would bathe first, then the order went: oldest to youngest. The water was pretty whiff by the time it got to the youngest (me). I always suffered from boils as a kid – as people do who don't bathe enough or bathe in such contaminated water. 'Everyone' did in those days.
Or maybe it was our diet of mostly carbs, salt and sugar – which apparently contributed to everyone's long life! At least, no generation which ever existed lived as long as the 'Great Generation' of my parents, so who knows? I think a steady diet of hard work and self-reliance helped a lot too.
I still have the mini craters here and there particularly on my legs where a horribly large boil was squeezed long ago. What an awful procedure that was! You don't want to know, particularly if you are not over-fond of pus. I am still unable to eat raspberry flavored custard!
We did so love those dances at Martin's Creek (where we also all went to Primary school). Saturday nights there were the highlight of the week. It may have seemed like an isolated sort of life to folks today. We had no electricity or TV. Our telephone was a 'party' line. We very seldom visited a town. I can only remember having two brief holidays in all my childhood, one at the seaside, one on a sheep station. We listened to programmes on the radio every night for an hour before we went to bed (early). Yet I think we had more friends and personal encounters (and continuity) than children have today – and those Saturday night 'old time' dances at the Martin's Creek Hall were amongst the happiest memories of my life.
Whilst I am not advocating a return to the hygiene standards of long ago, both these two bathing methods are useful on the trail – as is the occasional swim, even in cold weather. When I am 'up the bush' as we say, I usually manage a swim in the river or a creek every couple of days even in a Southern Australian winter (or in Fiordland, NZ) where daytime high temperatures are around 12C. It's usually pretty quick though!
I also wash my clothes regularly in a nearby stream and put them back straight on again to dry. There is no better ultralight clothes drier than the human body – and no quicker! They strike a bit cold at first, but some frenzied activity soon warms you up again.
At other times (or if it is too cold) an 'APC' at the end of the day is a good idea. Just one antibacterial wet tissue is all you need. Do it in that order, (armpits first- well, hands first actually) ending with your bum. I find that I can get by with 1-2 wet tissues and a similar number of (dry) 'Kleenex' per day, even with an APC at the end of the day. The 10-12 pack is  best as you can keep them dry even in the rain. This could also be a good idea.
It is a (very) good idea also o apply hand cream (or the like) between your thighs to prevent chafing. In the morning before you start out is best. Similarly it s a good idea to apply foot balm (or the like) to your feet every day before setting out as a blister prevention. If you wait until your skin starts to burn you are in for trouble and possibly risk a nasty infection. Likewise keeping those nether regions clean and sterile will prevent a lot of grief. See Foot Care.
I have encountered (eg) folk with multiple square inch sized infections between their legs which I had to lend them iodine to treat as it was all I had (painful but effective) – when they had nothing. This particular chap was stuck in the middle of a ten day hike unable to proceed or go back.
Fortunately I had plenty of food and a fishing line so was able to keep him going until he was on the road to recovery. It is a good idea to carry a small container of Betadine or similar for infections which may occur on the trail. It can also be used to purify water – but a Sawyer <10 micron micro filter is better.
My wife, Della usually prefers a sponge bath (from a billy) over an ultralight shower.  Because she is so small she gets cold outdoors under the shower- and she is modest. You only need to heat about half a billy of water to wash yourself all over, but you will need another to wash (and rinse) your hair, if you do, and you will need to carry an ultralight wash cloth and (half) a towel (is enough).
I recommend you test the various 'hiking' towels available. Most are just no damned good. The cheapest ones are (often) the best. You need to see how much (and whether) they will wick up the water off you, whether you can wring them dry, and how long they take to dry out. I use half a towel (as I said before- adequate even all the way to Everest) and cut the other half into two pieces I use for wash cloth, hand kerchief etc.
It is surprising how little water you need to get yourself quite clean, and how wonderfully refreshed you feel afterwards – particularly if you have those nice freshly washed wet clothes to put on afterwards! I would recommend scouring the billy after your bath and boiling something in it eg a cup of coffee before you eat out of it again though (e coli are nasty).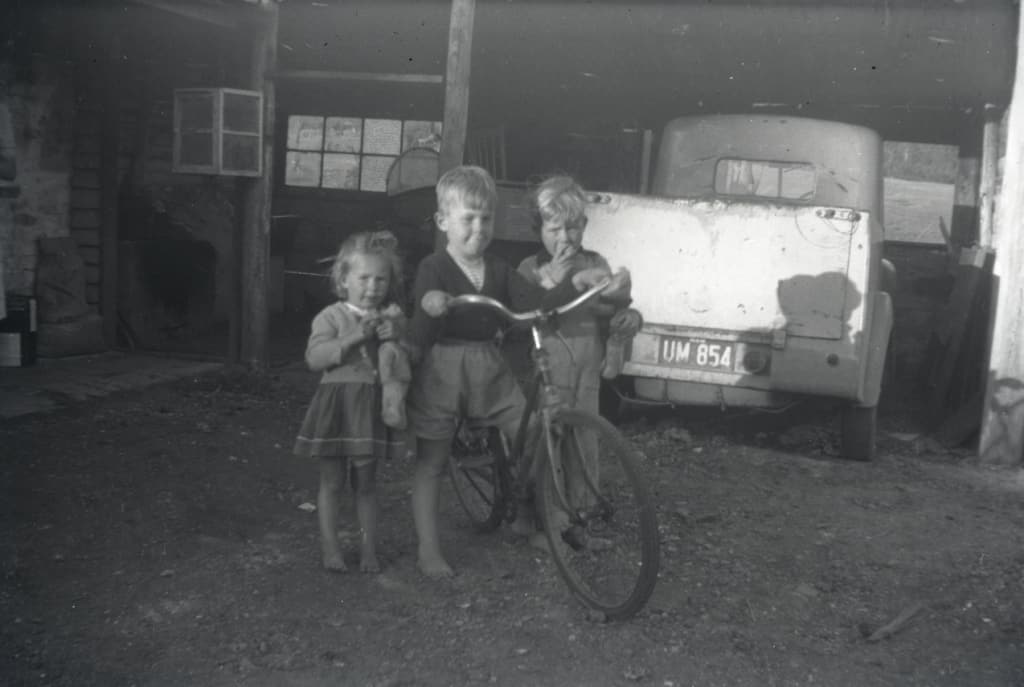 The back of our old house which just segued into a shed, as you see. Note the 'ground' floor. That was me on the bike (sans shoes). The meat safe (our frig) is hanging from the upright. The car + motorbike and sidecar were our only transport. You were allowed two adults (or one adult and two children) on the motorbike plus one adult and one child in the sidecar – believe it or not. All us children rode in the back of that ute when we went anywhere eg to dances in Martins Creek on Saturday nights.
See Also:
https://www.theultralighthiker.com/2018/06/23/you-must-learn-to-shoot-your-own-dog/
https://www.theultralighthiker.com/2015/08/07/foot-care/
https://www.theultralighthiker.com/2019/07/22/johnny-cakes/
https://www.theultralighthiker.com/2019/04/19/neat-feat/
https://www.theultralighthiker.com/2018/06/02/mattresses-i-have-known/
https://www.theultralighthiker.com/2016/08/02/a-friend-i-met-on-the-dusky-track-fiordland-nz/
https://www.theultralighthiker.com/2015/10/21/sawyer-water-filter/
https://www.theultralighthiker.com/2016/05/23/bathtime-on-the-trail-the-one-gram-platypus-shower/
https://www.theultralighthiker.com/2015/11/20/ultralight-personal-hygiene/
https://www.theultralighthiker.com/2017/05/10/the-ultralight-fisherman/
https://www.theultralighthiker.com/2019/08/03/a-hiking-bidet/
https://www.theultralighthiker.com/2018/10/31/i-followed-my-footsteps/
Hits: 67