You don't have to spend a fortune or carry around a tonne of bricks to secure a wonderful hunting/hiking backpack. I recently bought three of these Clever Lees 35 Litre Backpacks from Aliexpress. They cost me around US$14 each (April 2020) about twice what I would have paid had I lived in the US! As you can see from the Specs they weigh a mere 305 grams each. Zpacks Nero backpack for comparison weighs 303 grams and costs US199 (plus delivery); it may well be a better backpack, but it it 14 times better?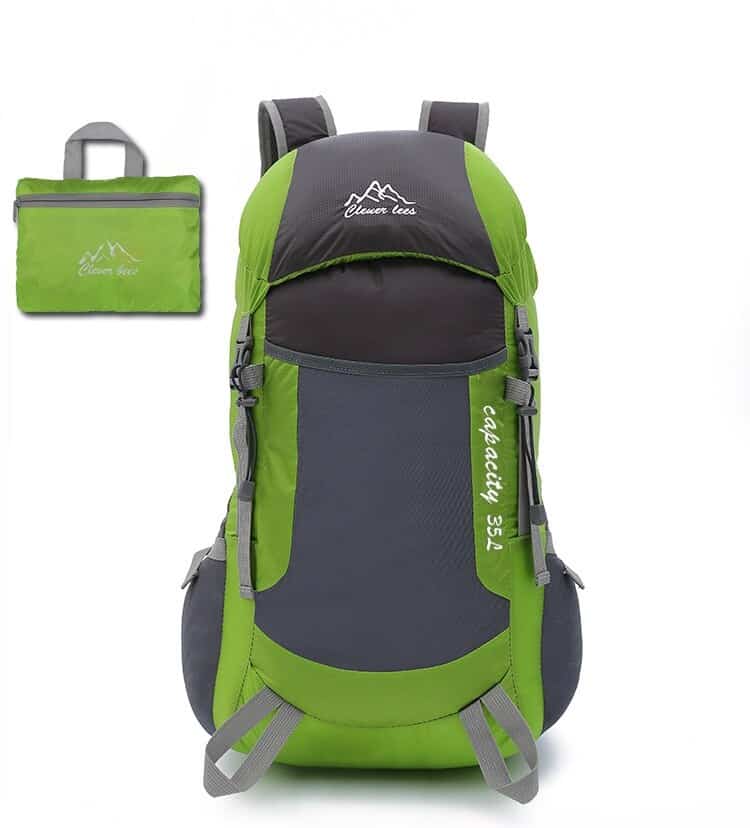 I intended to cut one of these cheap packs down then add an extension collar and pad holder. After I cut it down it weighed 184 grams and after I added the 8 litre extension collar it now weighs 193 grams – not too bad for an (approx) 40 litre hunting/hiking pack.
This will suit Della well  (she will save over 300 grams on the one she carried to Everest) and will be fine for me as a hunting day or weekend pack. Well, fine for 3-4 days surely? Mine no longer folds of course, but it still has three pockets as well as the main compartment – and a chest strap – with whistle! These little packs are really super comfortable. here's why: Backpack Tips and Tricks.
NB: If you just want to cut off the extraneous weight but leave the lid (adding nothing but a lighter drawstring and micro cordlock) you can save 45 grams with just a pair of scissors, bringing the pack's weight down to 260 grams – quite a handy weight for a 35 litre daypack. Many people manage to through-hike with packs this small. I certainly could.
Here she is just outside Dingboche. The pictures are to show that such light, cheap packs are eminently suitable for long-distance treks.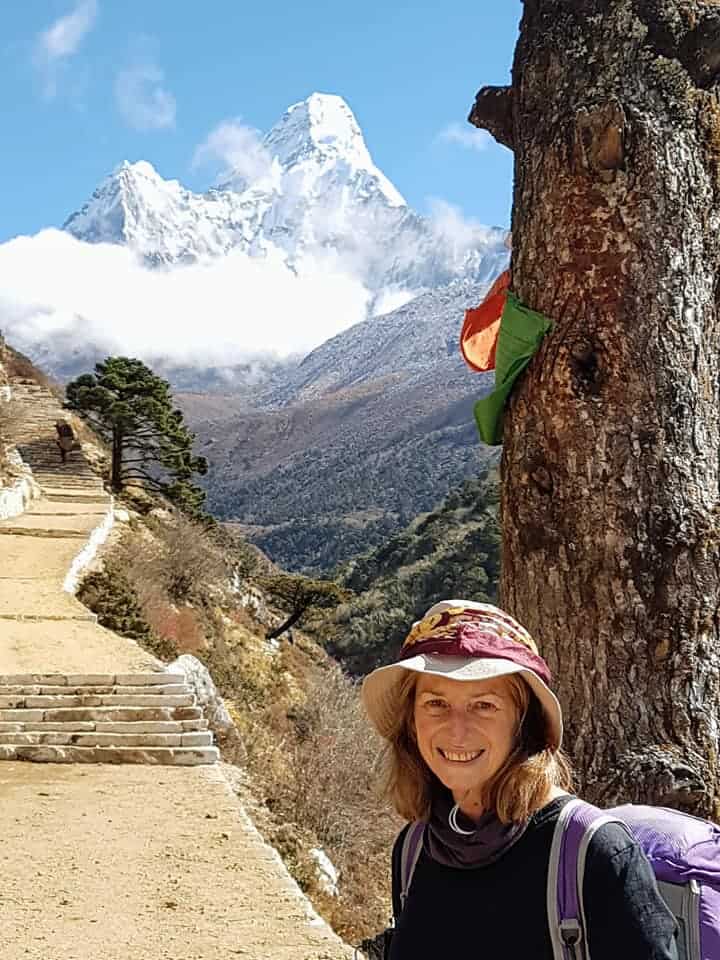 It really did weigh 305 grams -as you can see 308 including the packaging!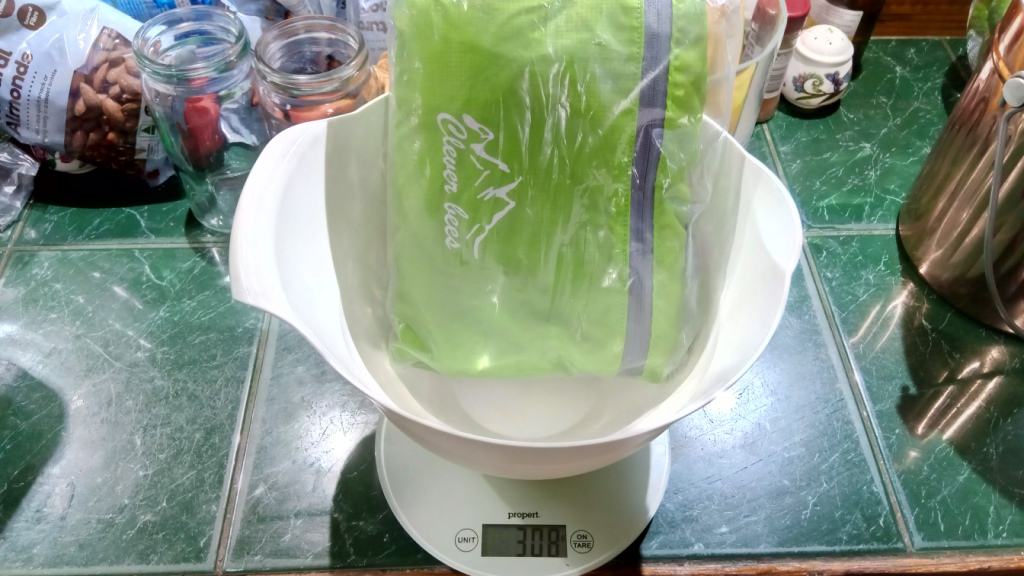 120 grams of bits and pieces cut off. May be some useful things here for another project!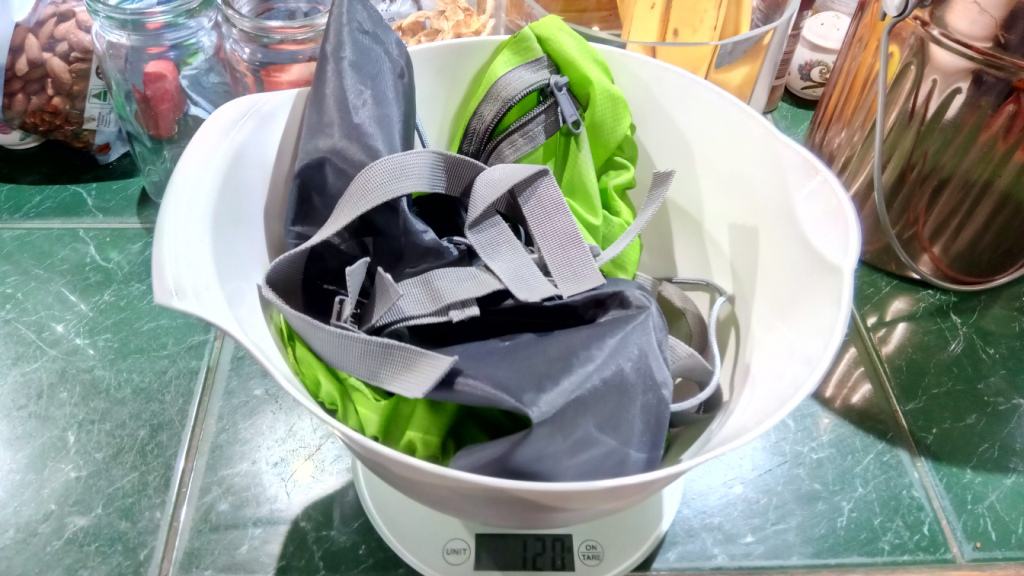 184 grams after cutting all that stuff off.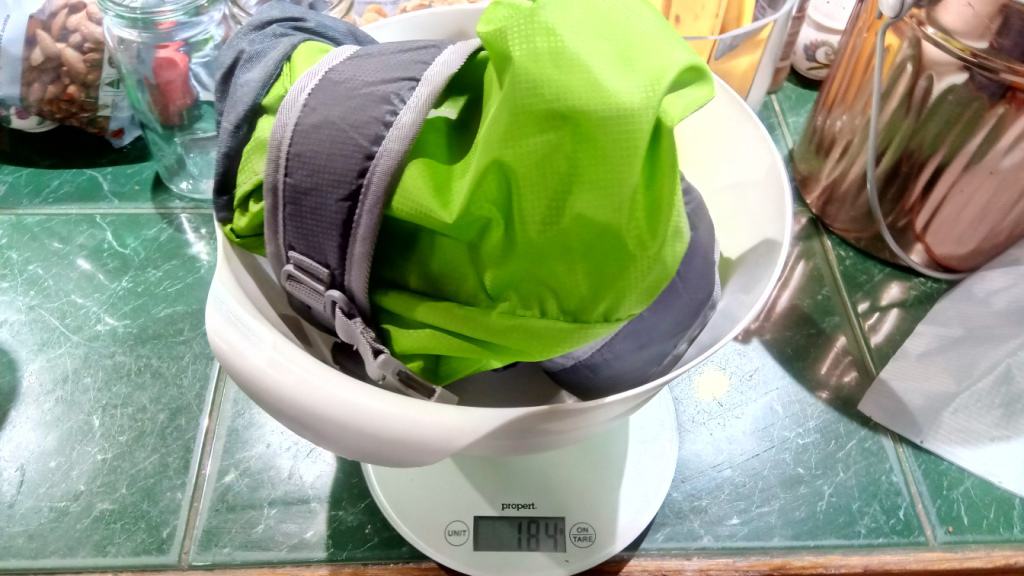 And 193 grams including the piece of material for the extension collar.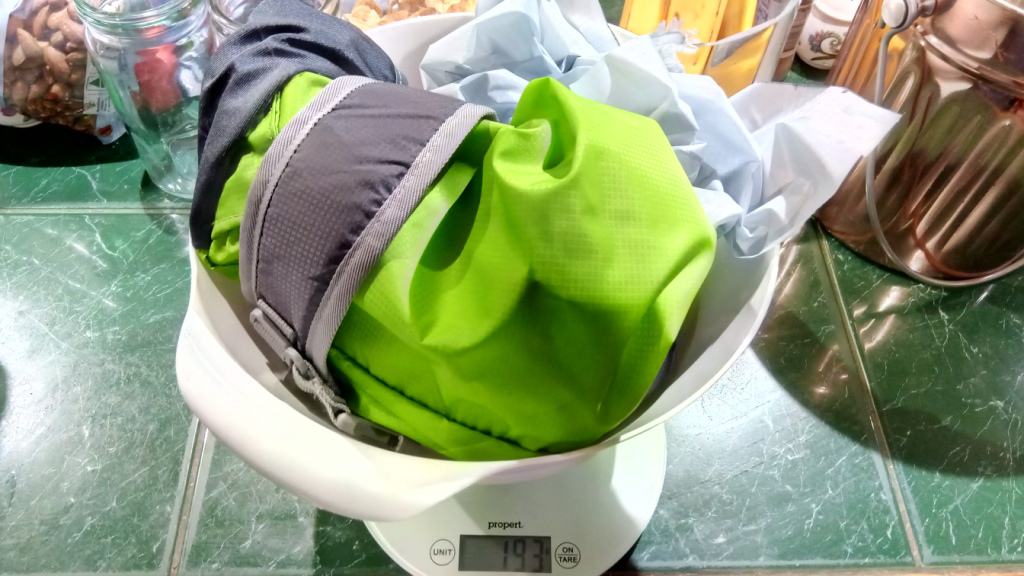 And here it is with the extension collar sewn on. Just the tie outs for the pad holder to go. Maybe she would like a waist belt too – though this (12 grams) will push it to just over 200 grams. I find that mostly with these shorter, lighter  packs I don't need one.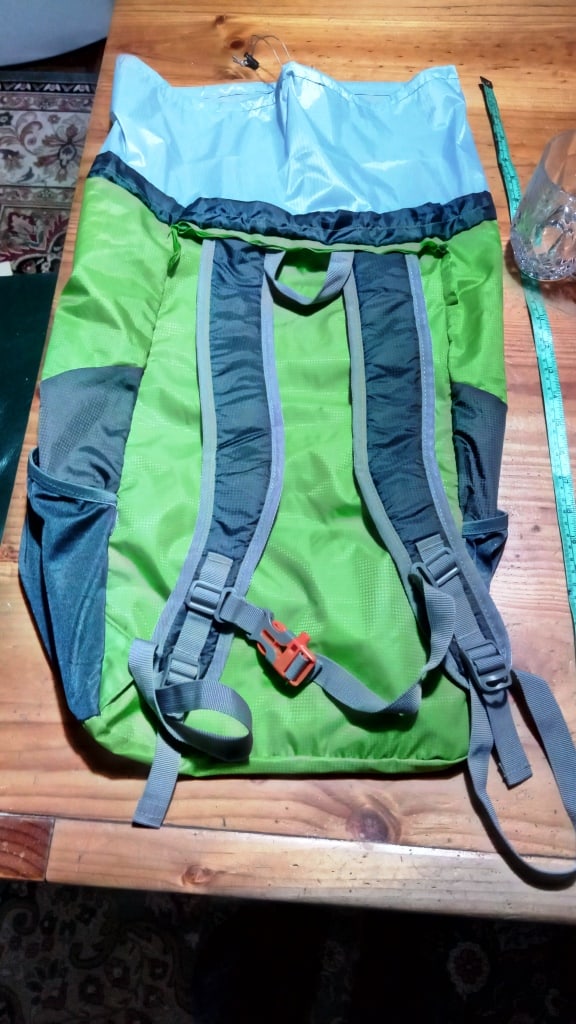 Here she is giving it a quick trial in the wind! She does need a pad holder and waist belt (she says). I added a second draw string (where the old one was) because she is unlikely to fill the whole 40 litres)and needs it to shrink the bag a bit. I will also add one of Joe Valesko's draw string tightening loops because they are the lightest backpack compression device I have seen. Show you later when I have finished the mods.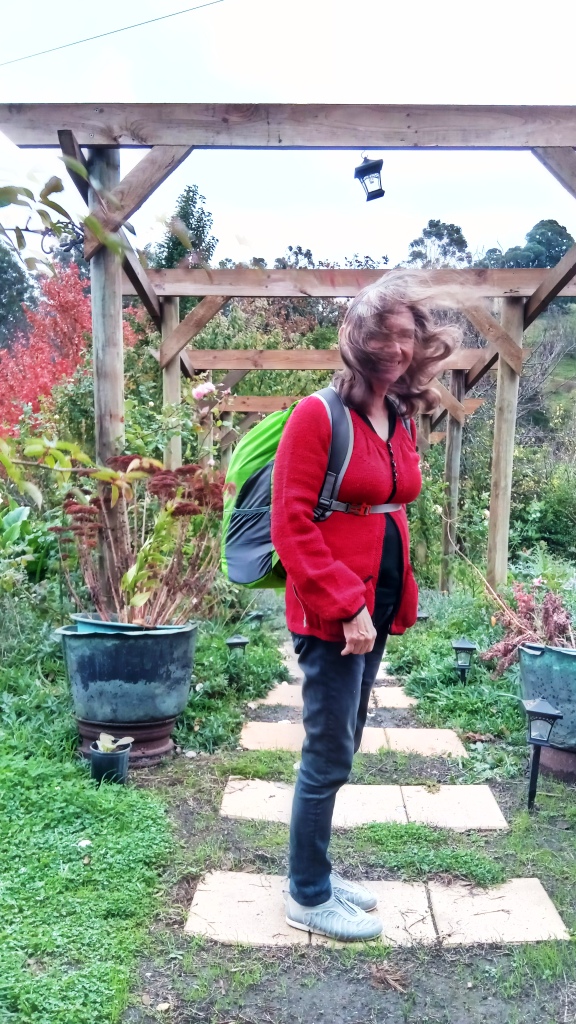 PS: I'm wondering whether I should have made the extension collar 8-10, or even 12″ high rather than the 6″ (15cm -I used). It would have added very little weight (less than 10 grams) but would have allowed the addition of a heap more (food etc) on occasion). 12″ would have (notionally) made this into a 50 litre pack). Perhaps I will with the second one? I will update when I/we have a chance to try this one out.
If you wondered what I carried in my similar 'Everest' pack, here I am just coming in to Dingboche. You can check out the contents here. This was back in early November before all these lockdowns began. We had planned to walk the Dusky Track (again) by now in pursuit of the elusive Fiordland moose, and many other adventures! Oh well, Spring perhaps? We have still been having fun at home – if you have been keeping up with my posts. I have made two beaut new tents for example. This is my pride and joy: The Deer Huntere's Tent #2.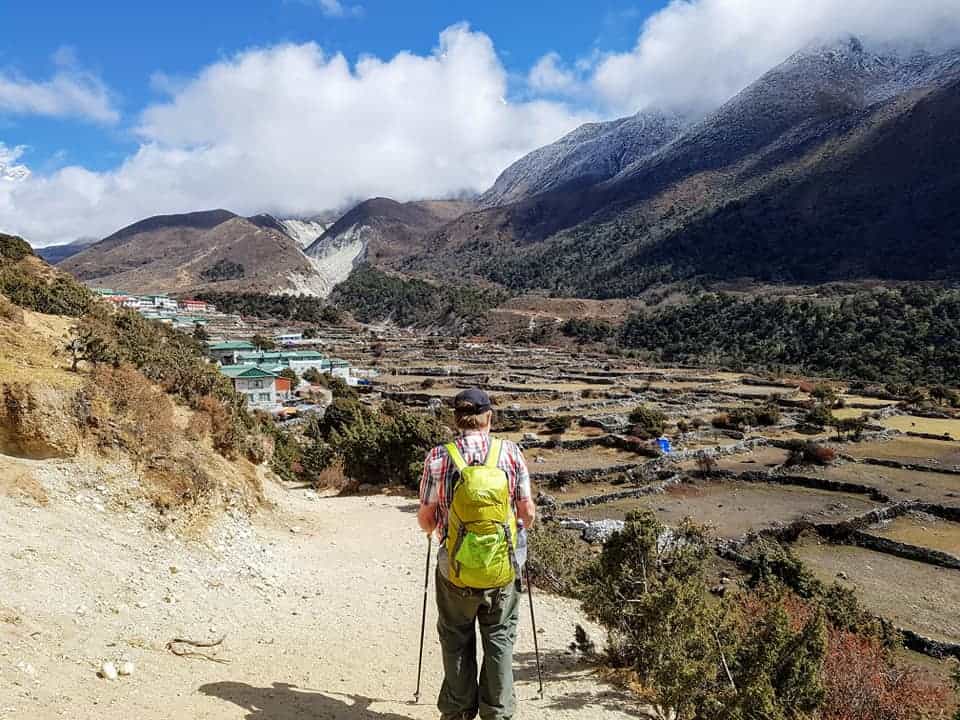 See Also:
Ultralight Ultracheap Backpack
Replies to Comments:
If you read the post you will see that I haven't had a chance to try it out yet (I am finishing making it this morning – and a cuben fly. This one: https://www.theultralighthiker.com/2020/04/25/deer-hunters-tent-2/) but we have been using other similar ones for a while now and found them better than many we have spent hundreds of dollars on (eg zpacks – which is what these are replacing, as they shredded quickly). For example we took two approx 350 gram packs on the EBC back in November. they performed better than any packs we have ever carried and haven't a blemish on them. They are light enough you could actually carry a spare! But for occasional trips you can see whether a pack is worn out before you leave. I always take a needle and thread (and some silnylon) anyway, and have had to make repairs to various equipment in out of the way places over the years. Cheers, Steve.
Hits: 441