A number of people wanted to know what we took on the EBC since we carried all our own gear and did not employ the services of a guide. I have answered some of their questions in the post Dos and Don'ts on the EBC but I realise people might like to see an actual gear list, and maybe some explanation as well.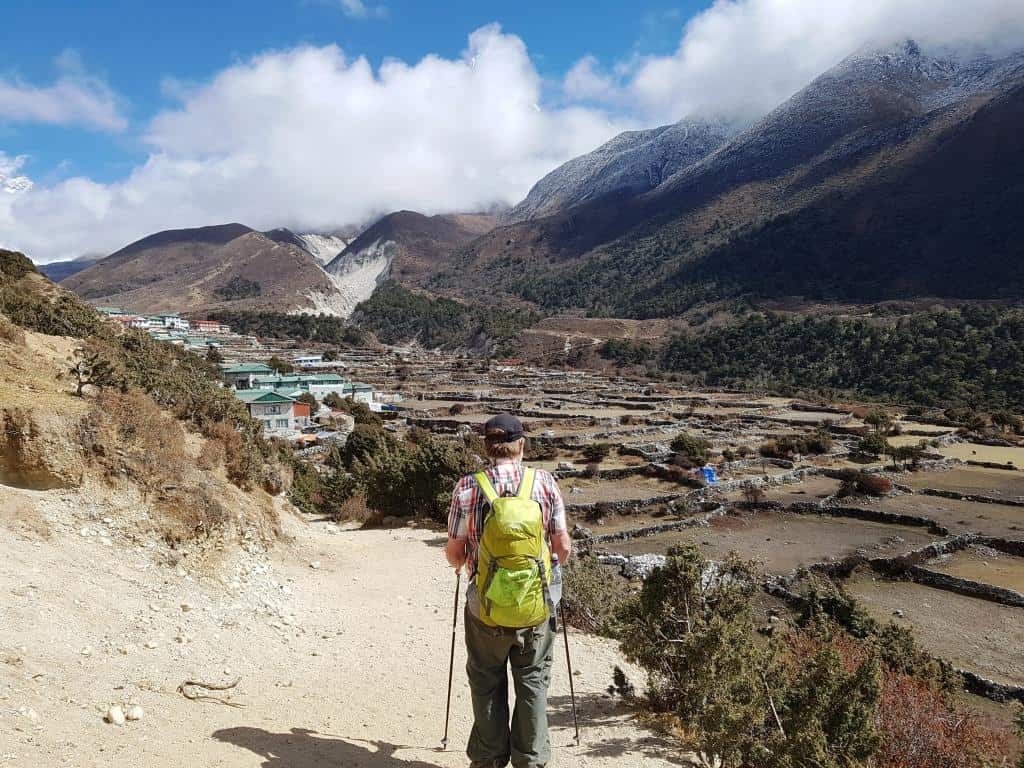 I carried more than some people might and a lot less than most people do. When my pack was weighed at some point (checking in for the flight from Kathmandu to Lukla I guess) my pack weighed 6 point something kg – which sounds about right. Della's was lighter than this, though she had more of some things (clothes) and less of others (communication equipment, safety, first aid, repairs etc).
NB: We were there in (very) early November (2019). The best of times. At other times of the year you might need more clothing. Check climate averages (eg for Namche/Lukla). It is also much colder above Dingboche – though the proprietor of the Snow Lions there told us (on a +12C day) that the same day last year had been -12C! Also check the weather forecasts!
Well, here goes (I have added links to some of the things mentioned):
NB: Surplus or unused in (brackets)                                                               Grams
Worn:
Columbia Silver Ridge Trousers                                                                     288
Icebreaker S/Sleeve wool shirt                                                                        223
Icebreaker wool knickers                                                                                58
Hankies (2) (Microfibre Towel cut into six pieces)                                         28
Keen Targhee 2 Hiking Shoes (pair)                                                               890
Samsung Galaxy S4 Mini Phone (inc battery, cards, protectors)                   124
Sony Camera (inc battery, wrist strap  & card)  CybershotDSC-TX200V    131
Camera Accessories: String Tripod & Stickpic                                               (19)
Gossamer Gear LT4 Trekking Poles (2)                                                          210
Kathmandu L/Sleeve Light Wool Top (as needed)                                        220
Gloves (as needed – rarely): MLD mitts 26 & Icebreaker Wool Liner 25     45
Hat/s: Columbia Sun 60, Icebreaker Jockey 77, and Icebreaker Beanie 38   175
Sub Total: 2547         (19)
Pack: G4 Free from Amazon (<US$20)                                                        439      (100)
(with some mods and DIY shoulder pouches)
Waterproof Sea to Summit Liner 50 litre bag                                                 85
Air Flow Sitlight Camp Seat (Pack frame and dry back)                              108
Sleeping Bag Montbell Super Spiral #3 with added down                            800
(in Sea to Summit Waterproof compression bag)
(Much repaired) Thermarest Neoair X-Lite Womens inflatable pad              351
Emergency Shelter (alternative 253 grams not in my budget)                        340 (87)
DIY Pillow                                                                                                     53
Sub Total: 2176         (187)
Weather: Montbell raincoat                                                                           214
Rain Pants (Zpack)                                                                                         100
Gaiters (MLD)                                                                                                59
Montbell Down Vest                                                                                      186
Down Socks                                                                                                    60
Jardine Bomber Hat                                                                                        33
Compression Sack (Insulated Clothes)                                                           65
Dry Bag (other) Clothes                                                                                 43
Dry Change: 3 spare hankies (as above)                                                         42
Icebreaker Longjohns (Pyjamas)                                                                    158
Kathmandu L/Sleeve Wool Top (as above)                                                    220
Columbia Trousers (as above)                                                             288
Icebreaker Shirt (as above)                                                                             223
Icebreaker Knickers (as above)                                                                       58
Darn Tough Socks (as above)                                                                         73
Microfibre Towel                                                                                            83
Sub-Total: 2152         (0)
Drink: 600 ml empty soft drink bottle (water)                                              29
Sawyer Mini Water Filter 59 and Squeeze Bottle 22                                     (81)
Emergency Communicaion: (old) Iridium Sat Phone (inc battery)             378
Spare Samsung Galaxy S4 Mini (inc Battery)                                                (124)
Delorme Inreach Poor Man's Sat Phone                                                         197
GoTenna (1 each)                                                                                            53
2 Litre Sea to Summit Waterproof Bag for above                                          17
Sub-Total: 769           (124)
Electronics: (batteries carried in three Aloksaks which weighed)                 21
Another stuff sack                                                                                          (17)
2 x Single 18650 Power Banks                                                                       144      (72)
Spare Electronics Bag (spare hearing aids, cables etc)                                   86        (84)
Surplus Charging Cable                                                                                  (26)
Unnecessary AAA Torch inc battery                                                              (26)
Unnecessary Spare AAA Battery                                                                   (12)
Unnecessary rechargeable Torch                                                                     (24)
2 x Rechargeable Torches (with head mod)                                                   21
Spare Sat Phone battery                                                                                  (65)
Spare camera battery (camera not taken!)                                                       (28)
2 spare phone batteries (one used)                                                                  66        (33)
2 spare camera batteries (flat – altitude, unused)                                            26        (26)
Sub-Total: 562           (329)
Other:
Toilet Bag inc 17 gram trowel & all wipes needed for trip                            267
(4 dry 2 wet) plus nano head net and insect repellent)
Chemicals Bag (Approx)                                                                                100
Repairs Bag                                                                                                     60
Spare Glasses and sunnies (inc container)                                                      59
First Aid Bag                                                                                                  297
Chewing Gum Bag (inc hearing aid safety and glasses cleaner)                    35        (17)
(Sore Throat) Lollies (unused! Available on track)                                         (175)
2 Unnecessary Knives (1 used) 36 + 45                                                         (81)
Knife Sharpener, Cig Lighter Micra Leatherman                                           70        (10)
Combination Padlock                                                                                                 (39)
Sub-Total: 1183         (322)
Total: 9499 inc 2547 worn so: 6962 grams inc unnecessary (981); Needed: 5981
As you can see I 'needed' a 6 kg pack weight though it included things others might not carry (eg a sat phone plus a Sat Messenger (378 grams right there), a shelter (253 grams – unwise not to), glasses, a camera, etc.
If I had been going on from Dingboche to Base Camp (at this time of the year), I might have carried an extra pair of Longjohns/ Down Trous (Della took hers – she feels the cold more = not enough adipose!) and a woolen T-shirt. It gets colder (and nastier) up there, but you can put all your clothes on when necessary. The mat and bag allows us to sleep on the floor! You get quite a good enough view though from the top of the hill at Dingboche and along the way (and less illness – be warned!)
Della's pack was substantially lighter (around 5 kg). Between us we had under 12 kg to walk the EBC.
As you can see, I accidentally had on board a pile of junk I usually carry (hunting etc) which I had forgotten (in the rush) to leave behind (or something?) Even so, I am still young and fit enough (at 70!) to carry this and more, and to walk 7 hours a day a few kilometres up in the sky – and I am overjoyed to say, so is Della – we had a simply swell time. Cheers.
You can find an older (more comprehensive) Gear List here: https://www.theultralighthiker.com/2016/08/30/a-gorilla-in-the-bush/
BTW: The (sub US$20) Amazon Packs carried this amount of gear perfectly, and were wonderfully comfortable. I have a few more mods I am going to carry out on them, and have ordered some more cheap packs from Aliexpress too. (I am looking out for a cheap one in the 50-60 litre range too that is under 500 grams. If you spot one please let me know) Also watch out for a related future post: 'Backpack Tricks'!
See Also:
https://www.theultralighthiker.com/2018/09/25/riding-on-the-sheepss-back/
https://www.theultralighthiker.com/2016/11/25/camo-merino-wool-for-deer-hunting/
https://www.theultralighthiker.com/2018/10/21/guaranteed-for-life/
https://www.theultralighthiker.com/2016/05/03/keen-shoes/
https://www.theultralighthiker.com/2014/11/13/watch-bands-for-hikingbushwalking/
https://www.theultralighthiker.com/2016/08/09/4-gram-string-reverse-tripod/
https://www.theultralighthiker.com/2016/01/01/stick-pic/
https://www.theultralighthiker.com/2017/11/03/ultralight-compact-hiking-pole/
https://www.theultralighthiker.com/2019/07/03/down-socks/
https://www.theultralighthiker.com/2018/11/07/i-just-love-hats/
https://www.theultralighthiker.com/2016/06/29/the-poor-mans-satellite-phone/
https://www.theultralighthiker.com/2017/06/04/gotenna/
https://www.theultralighthiker.com/2018/03/24/budget-pack-mods/
https://www.theultralighthiker.com/2015/05/14/dry-bags-sea-to-summit-ultra-sil-nano/
https://www.theultralighthiker.com/2018/01/25/gossamer-gear-air-flow-sitlight-camp-seat/
https://www.theultralighthiker.com/2017/03/11/adding-down-to-a-sleeping-bag/
https://www.theultralighthiker.com/2016/08/23/a-tardis-folding-space/
https://www.theultralighthiker.com/2018/08/15/womens-are-great-in-bed/
https://www.theultralighthiker.com/2014/10/19/survival-shelter/
https://www.theultralighthiker.com/2019/06/12/thermoplastics-101/
https://www.theultralighthiker.com/2017/03/27/new-ultralight-survival-shelter/
https://www.theultralighthiker.com/2019/11/17/preventing-batteries-from-going-flat-at-high-altitudes/
https://www.theultralighthiker.com/2019/03/20/lightest-cheapest-powerbank/
https://www.theultralighthiker.com/2019/11/23/ultralight-charging-cable/
https://www.theultralighthiker.com/2018/04/29/ultralight-rain-gear/
https://www.theultralighthiker.com/2016/02/17/ultralight-mitts-and-gaiters/
https://www.theultralighthiker.com/2016/09/21/montbell/
https://www.theultralighthiker.com/2016/08/22/smallest-rechargeable-flashlight/
https://www.theultralighthiker.com/2015/11/20/ultralight-personal-hygiene/
https://www.theultralighthiker.com/2019/10/16/small-is-beautiful/
https://www.theultralighthiker.com/2015/06/12/cuben-tape/
https://www.theultralighthiker.com/2017/03/21/ultralight-glasses-case/
https://www.theultralighthiker.com/2016/06/12/ultralight-knife-sharpener/
https://www.theultralighthiker.com/2014/11/14/leatherman-micra-multitool/
For more about the EBC See:
https://www.theultralighthiker.com/2019/12/14/ultralight-hiker-ebc-videos/
https://www.theultralighthiker.com/2019/12/01/ebc-gear-list/
https://www.theultralighthiker.com/2019/11/20/ebc-4-5-and-so-onwards-and-upwards/
https://www.theultralighthiker.com/2019/11/19/dos-and-donts-on-the-ebc-and-elsewhere/
https://www.theultralighthiker.com/2019/11/18/ebc-3-and-onward-to-xanadu/
https://www.theultralighthiker.com/2019/11/17/preventing-batteries-from-going-flat-at-high-altitudes/
https://www.theultralighthiker.com/2019/11/17/everest-days-1-2-lukla-to-namche-bazar/
https://www.theultralighthiker.com/2019/11/16/ebc-starting-out-kathmandu-to-lukla/
https://www.theultralighthiker.com/2019/11/15/9-days-trekking-the-ebc/
From my previous trip, see:
http://www.theultralighthiker.com/to-the-roof-of-the-world/
http://www.theultralighthiker.com/i-followed-my-footsteps/
http://www.theultralighthiker.com/i-saw-below-me-that-golden-valley/
http://www.theultralighthiker.com/thatendlessskyway/
http://www.theultralighthiker.com/the-diamond-desert-everest-base-camp-trek-8/
http://www.theultralighthiker.com/everest-base-camp-three-passes-trek/
http://www.theultralighthiker.com/cold-weather-face-masks/
http://www.theultralighthiker.com/my-life-was-wide-and-wild-and-who-can-know-my-heart/
https://www.theultralighthiker.com/2016/12/26/the-diamond-desert-everest-base-camp-trek-8/
https://www.theultralighthiker.com/2016/12/26/the-diamond-desert-everest-base-camp-trek-8/
Hits: 107