Here's the lightest carbon fibre Canadian I could find the Hornbeck Blackjack at 11 lbs (5 kg). An interesting alternative to a packraft (See below).
Hornbeck Blackjack
($1,695-$1,795 in carbon fiber, hornbeckboats.com)
L: 12′; W:30″; D: 10″, 11-15 lbs.
Made in Peter Hornbeck's pine shed just a short drive from our put-in at Follensby Pond, the Blackjack carbon fiber canoe is simply the lightest pack canoe you'll find anywhere. "It's almost surreal picking it up," one of our testers said, loading our demo high-profile canoe (the largest option available) onto the trailer for the first time. "My grandmother could lift this over her head."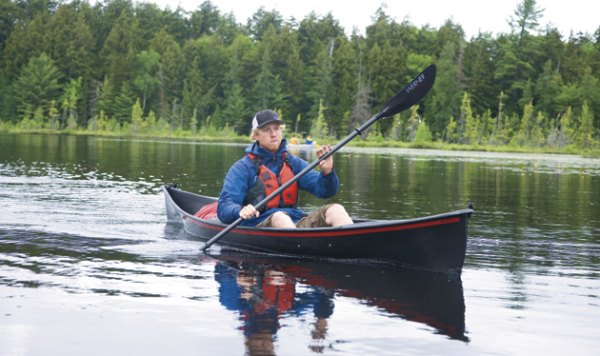 You could make one yourself (say 5 kg) having first made a plywood version such as this Peasemarch 10  or Dengemarsh 10 17-18 kg version as a mould. An interesting couple of weekend's work. You can buy the carbon fibre cloth cheaply enough from eg Aliexpress – a couple of hundred bucks! This instructable may help. NB Materials info here .
Or: New DIY Pack Raft  – the ultralight version weighs 815 grams and costs $A$ $227.46 (Jan 2021)
First Published on: Aug 8, 2014
Hits: 407